Closet Encounters: Lou Hansell
"Of course, we love it when a customer places an order for 200 pieces," says Pamela Kugel, the cofounder of luxury coat hanger company Lou Hansell — whose top-tier leather embellished hangers are priced upwards of US$250 each.
"But we're equally as delighted when someone calls us and they're buying their first piece, or getting something special as a gift, or they have a treasured garment, and they want to treat it with great care," Pamela explains. "I get just as excited about that."
Lou Hansell hangers are designed, Pamela says, to make your wardrobe "a place of beauty," just as visually appealing as any high-fashion boutique. Crafted in aluminium and fine Italian leather, they're customisable in a palette of more than 50 hues of hide and various trim options.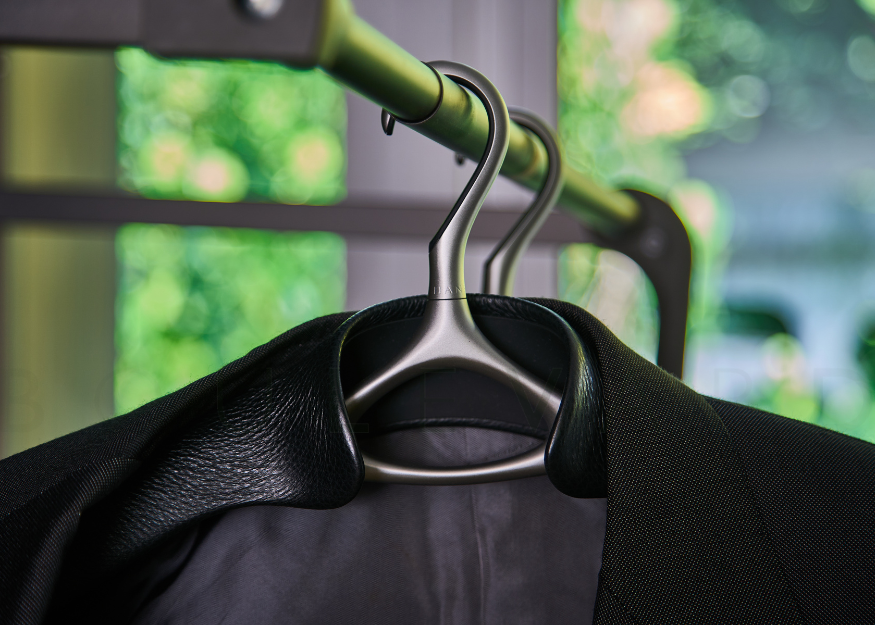 Beyond looking great, the hangers are shaped to mimic the human body, helping garments maintain their form. Conceptualising the product, Pamela says, "We felt that there truly wasn't a solution out there for a quality hanger in the luxury category. We wanted to create a product that will last a lifetime — unlike plastic hangers that get thrown into landfills where they take 1,000 years to break down."
Hence the decision to use long-lasting, easily recyclable aluminium as the primary material for Lou Hansell hangers. "We're really focused on sustainability," Pamela says. "We're focused on protecting and preserving garments, so they can be passed down, and on making hangers of such high quality that they can also be passed down for generations."
Of the shaping and construction of the product, Pamela explains, "We did a lot of research and spoke to top bespoke tailors, taking the time to understand their pain points. Our goal was to create a hanger that would protect and preserve those beautiful sartorial creations, particularly the sleevehead and the lapel."
Following two years of development and hundreds of prototype designs, "The tailors told us we'd nailed it," Pamela says. "We'd engineered the perfect hanger for luxury clothing."
To learn more about Lou Hansell, place an order or commission bespoke creations, visit the website.