The interview: Bangkok-based American interior designer Bill Bensley
Interior designer Bill Bensley says hoteliers, having paid for a big-name designer's vision, preserve the integrity of his design.
By Christian Barker
Prolific interior designer Bill Bensley has worked his aesthetic magic on more than 200 hotels, but just a small number of private homes. Why does the Bangkok-based American, known for his environmentally sensitive approach, prefer collaborating with hoteliers rather than home-owners? Primarily, it's because the former can be relied upon to maintain the integrity of his design.
"I will only take on one house per year, no more," he says. "In the past, I've worked on a house for five years, and then the owners move in, put baby pictures up all over the walls, and within one day, five years' work is ruined. That's not the case with hospitality, which tends to be more corporate." Hoteliers figure they've paid for a big-name designer's vision, "So they leave it alone, or they call me if they want to have something else done to it," Bensley says. "I much prefer hospitality because of that."
Some of Bensley's five-star hotel commissions include the One & Only Maldives, Rosewood Luang Prabang, the Four Seasons Tented Camp at Chiang Rai, and the acclaimed Capella Ubud, which was famously constructed without a tree being cut down onsite.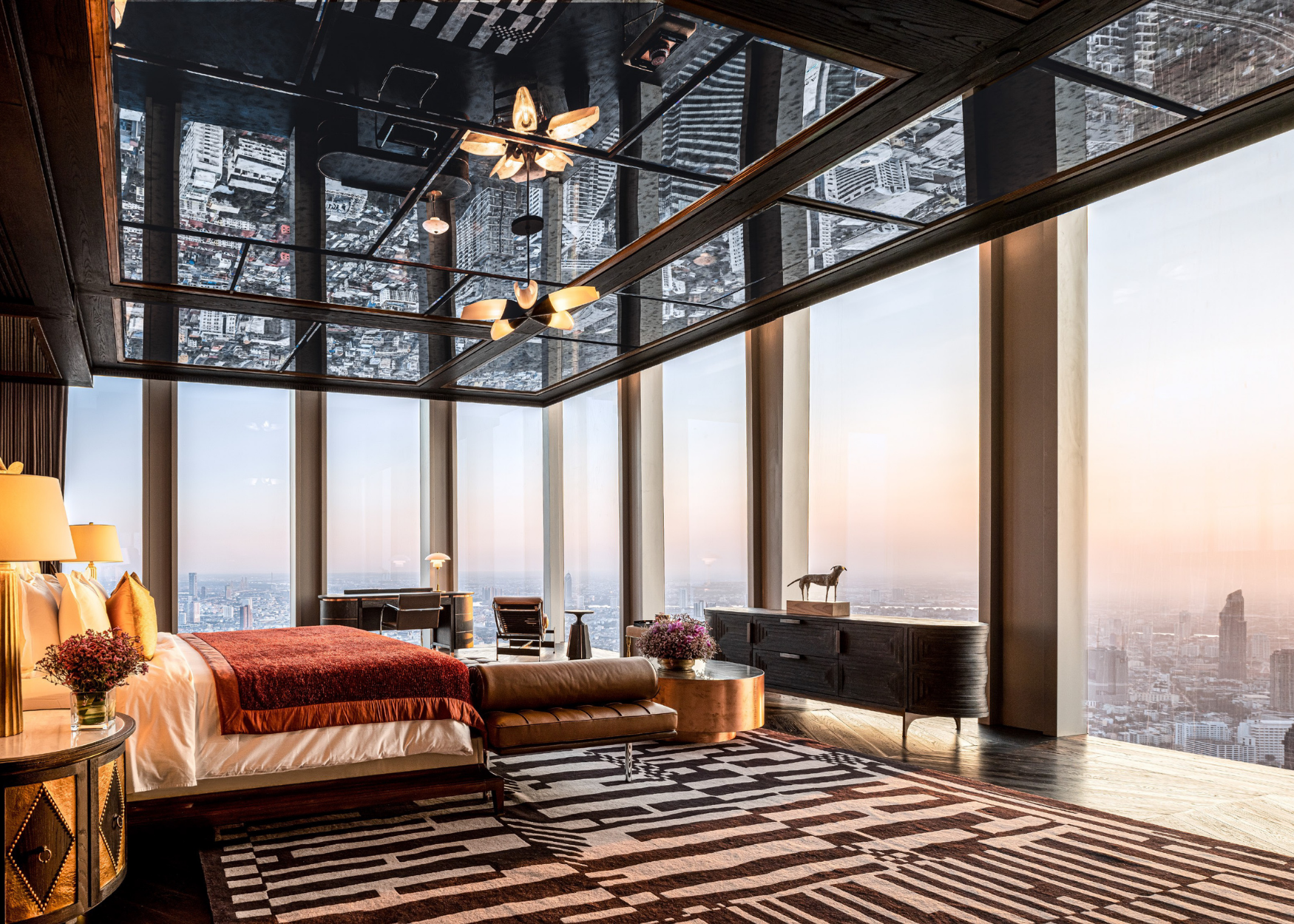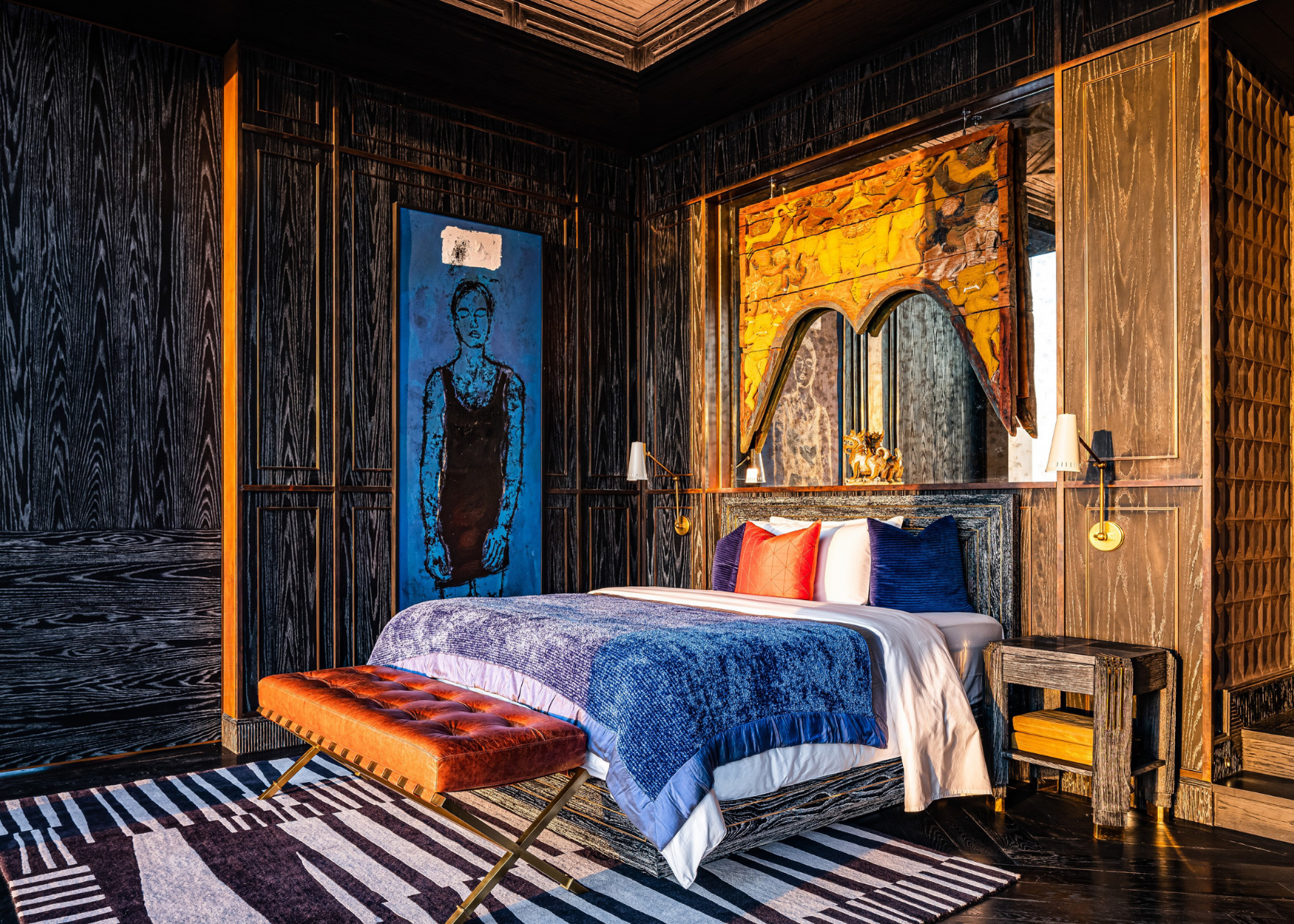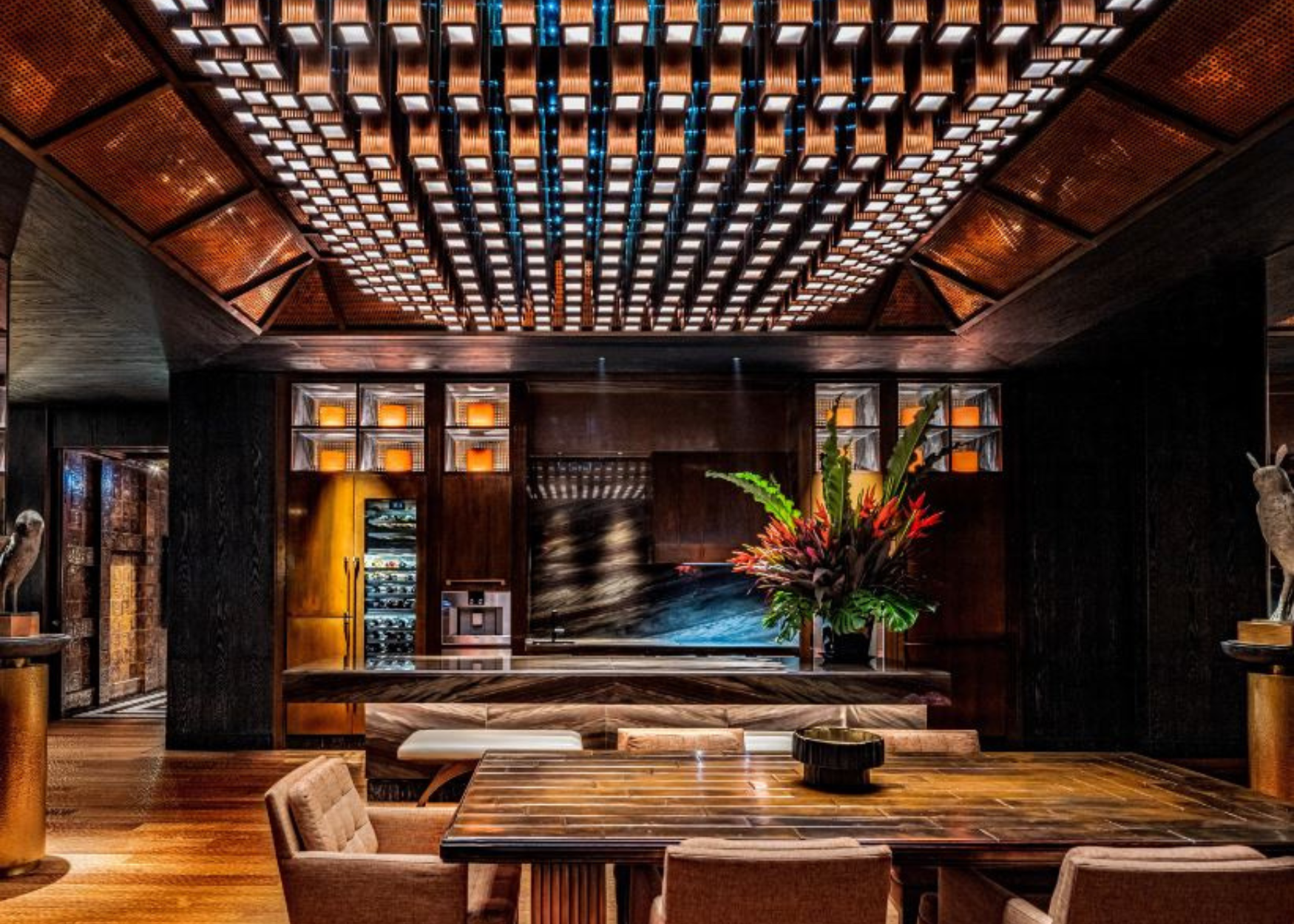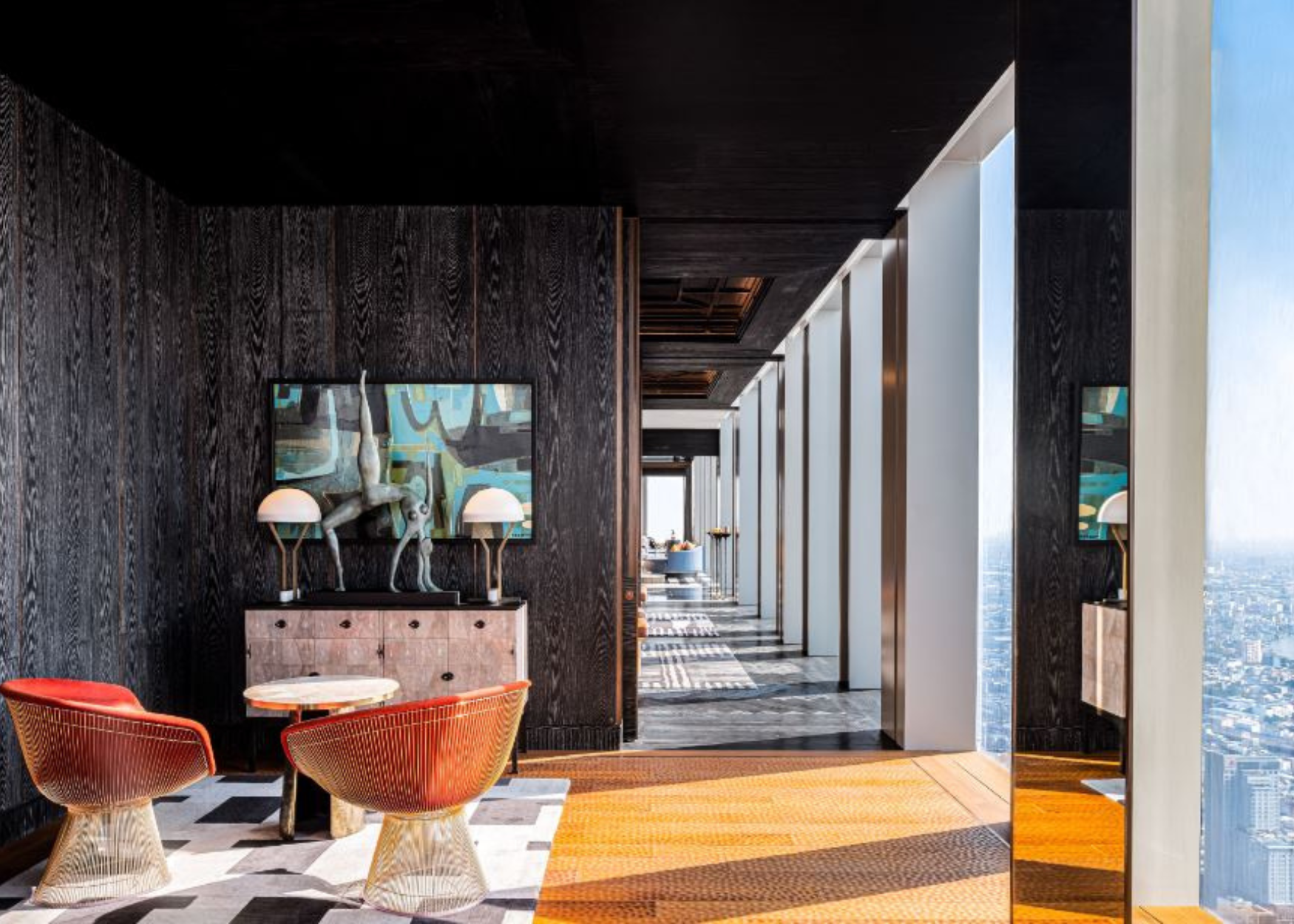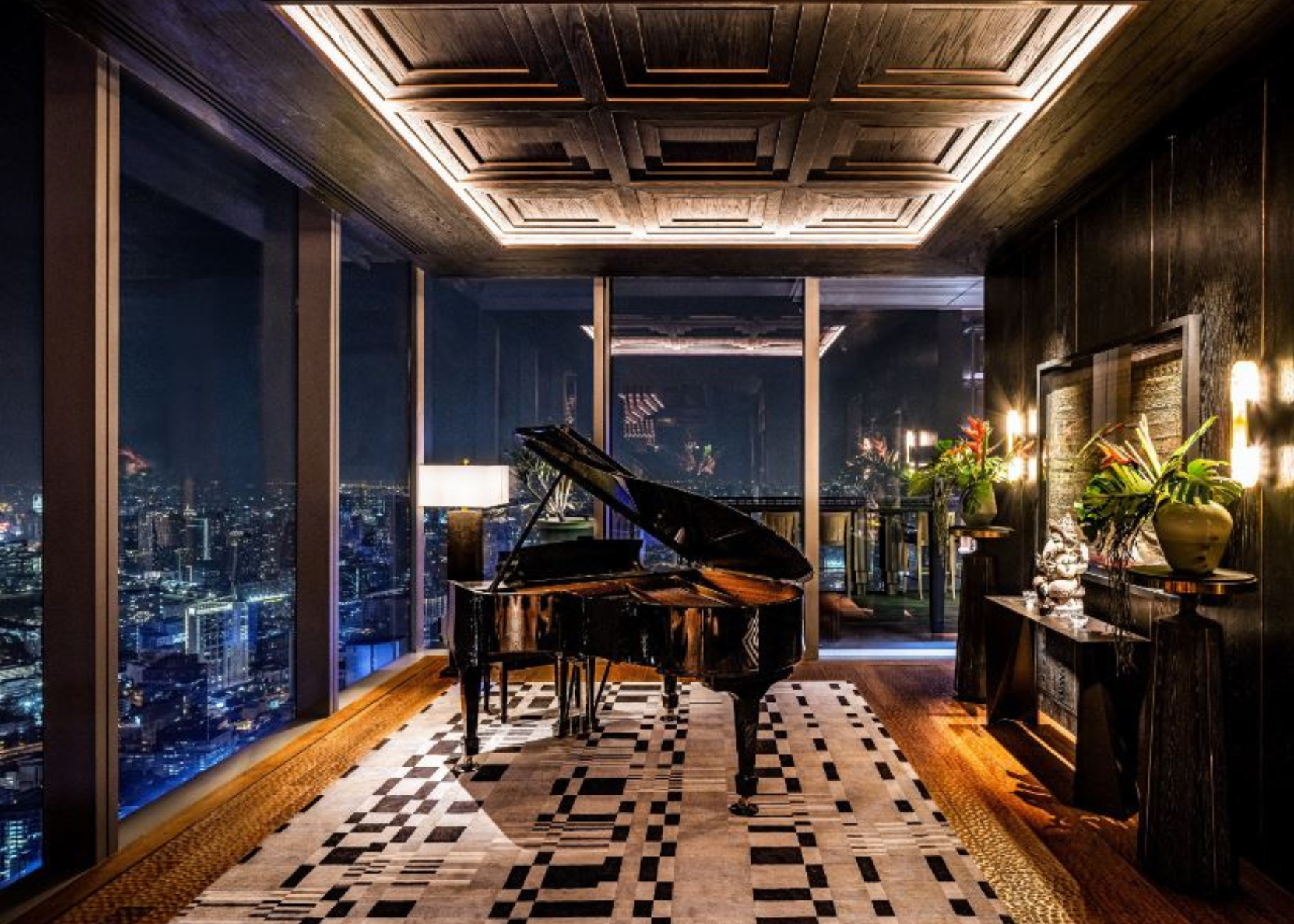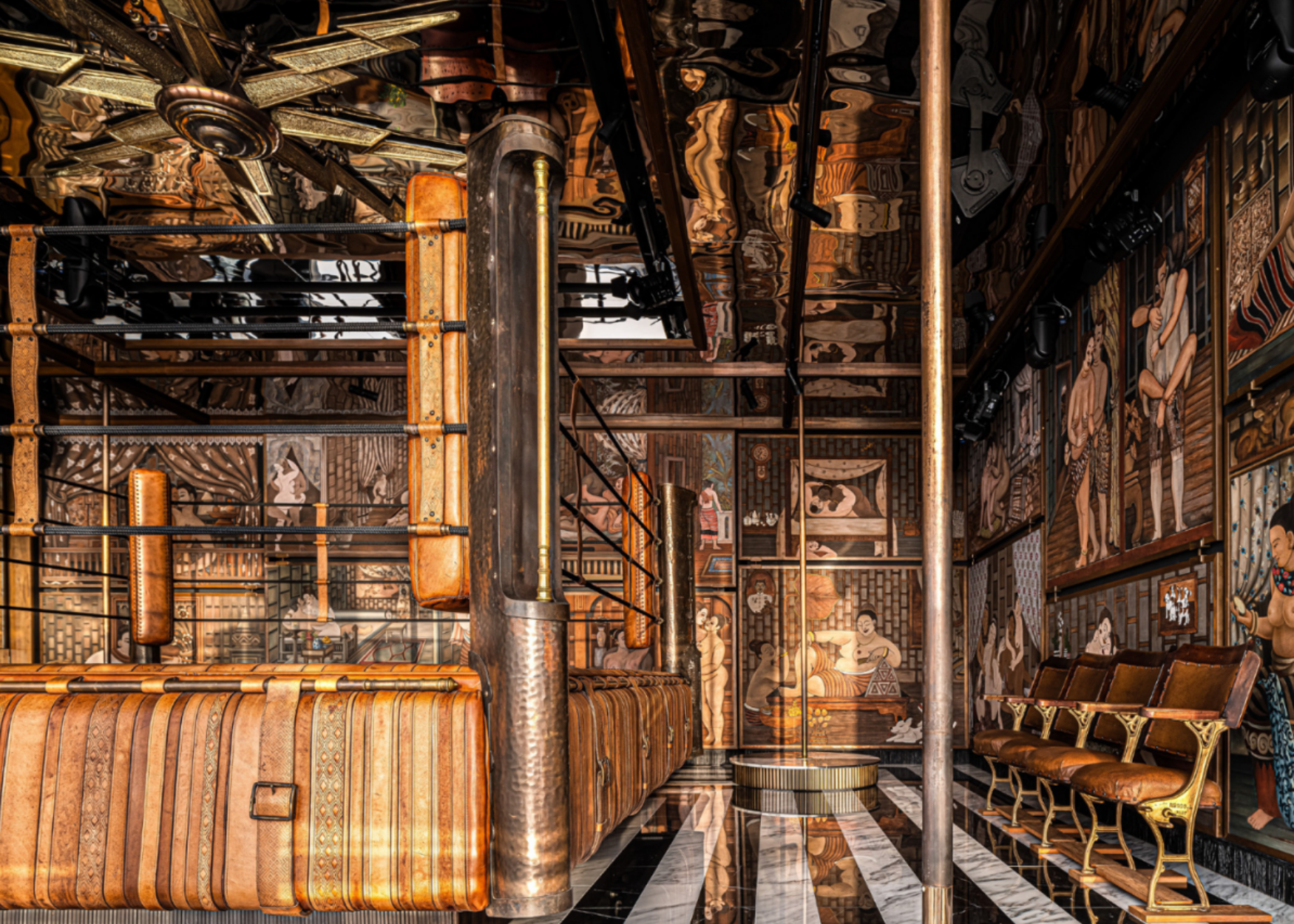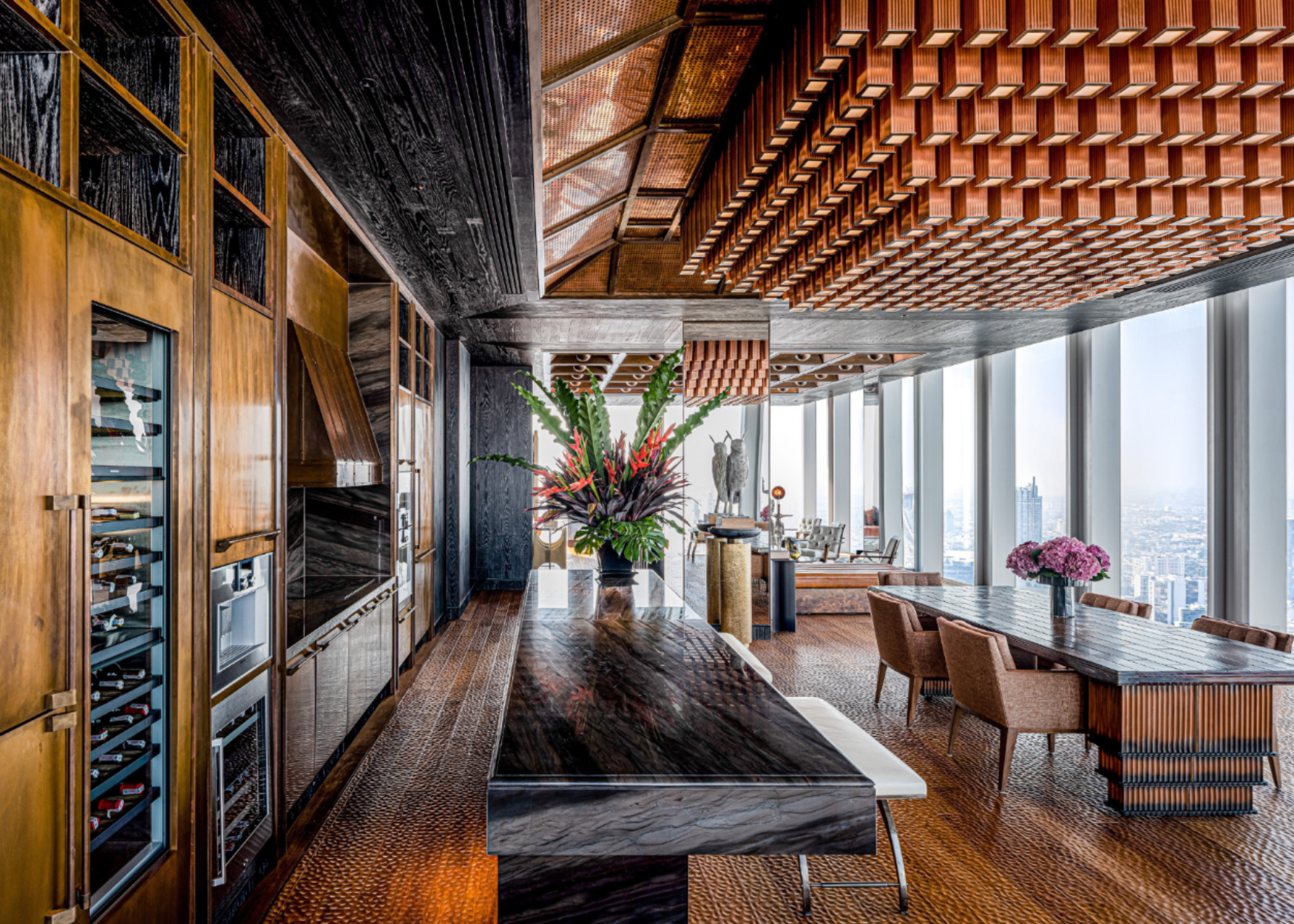 A private home at the Mahanakhon tower in Bangkok – one of Bensley's few residential projects. All photography by WBB & Co and Bensley.
"The Capella's interiors are made from garbage," Bensley says with pride. "I spent two years going through garbage dumps and pulling out stuff that I thought would be fun to renovate. All the rooms are furnished with junk, but it's junk that's been, as I call it, 'gayed up'. Coloured and amalgamated and covered with fabric or whatever, but it's basically made from garbage. That for me is a huge step in the right direction."
As a result of Bensley's passion for sustainability and expertise designing low-impact properties, he tends to appeal to clients with a commitment to the environment. "The people that come to us now, they understand the direction that we're going in," Bensley says. "We attract like-minded people, which is wonderful. I don't get too many clients asking me to do, you know, a 700-room high-rise in the middle of Tel Aviv." There are plenty of like-minded folks out there, it seems. "We're asked to do a new project about once a day," Bensley laughs. The challenge, really, is deciding which of them to work with.
"If someone can tell me that they have an idea to build a hotel that has a purpose, like educating or helping people or conservation, then I'm on it like a rat up a drainpipe," Bensley says, with a typically colourful turn of phrase. Beyond that, he'll often choose to accept a contract based on how interesting the location is. "A lot of it has to do with, have I been there before? No? If I haven't been there, if I haven't worked there before, in that place, it's a whole new challenge, so I'll pick that one first."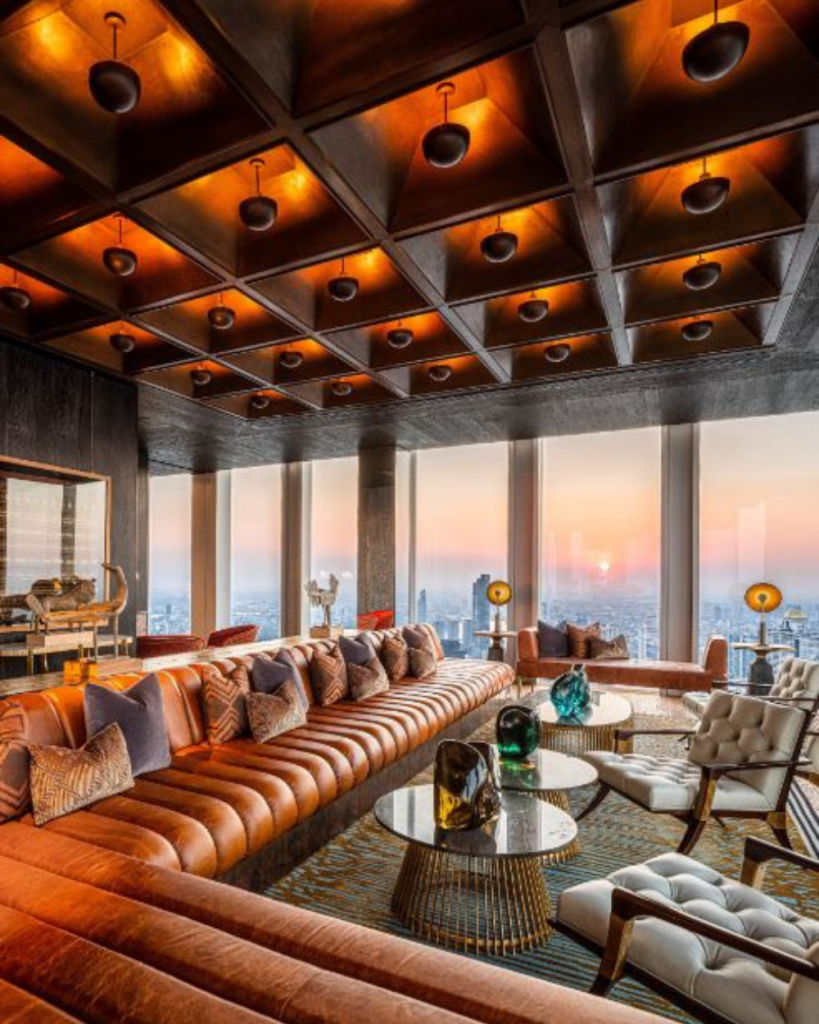 By way of example, Bensley says he's just taken on a small project in Almaty, Kazakhstan, and is also working on a series of five four-bedroom camps in the French Congo. "I've always wanted to do something in real deep, dark Africa," he explains. It helps that the Congo hotel's financier is genuinely committed to conservation. "My client is a philanthropist and she's been doing a lot of really good work all over Africa," Bensley says.
Unlike this individual, many hotel owners today simply view sustainability and giving back to the community as marketing tools that will help them improve the bottom line, Bensley reckons. "Their incentive is profit. If they can use the much-overused word 'sustainability,' and can make more money, more profit by using that word, then they'll do it," Bensley says. "But there are a few people that I've come across, like the client in the Congo, that are doing it because they want to make a better environment."
There's no cynicism to the corporate social responsibility and environmentally positive, conservation-focused values that are at the beating heart of the designer's own Bensley Collection resorts. Revenue from Shinta Mani Angkor in Siem Reap and Shinta Mani Wild in the Cardamom National Park, south-west of Phnom Penh, goes to support an array of initiatives aiding underprivileged Cambodians. Essentially non-profits, the hotels operate a free hospitality school, fund education and medical care, offer small business loans and work with village leaders to identify and assist families in acute need, among other programmes.
Shinta Mani Wild is something of a poster child for sustainable hospitality. In fact, its very existence is down to an act of conservation — Bensley and entrepreneur Sokoun Chanpreda acquired the 865-acre site to prevent the valley's being deforested by illegal logging and stripped bare by mining. The land is home to dozens of endangered species, threatened by poaching and the destruction of their habitat. Comprising 15 luxury tents, the resort now employs 70 percent of the local village's inhabitants, many of whom were previously involved in the poaching and logging they now work to prevent.
"Every single day, we're up against organised crime, hell-bent on extracting as much as possible from those forests," Bensley explains. "The wood and all of the animals would be gone if we weren't there with what is basically a 110-person private army. All of them carry machine guns. And they never travel in a group of less than four people. It's a real battle."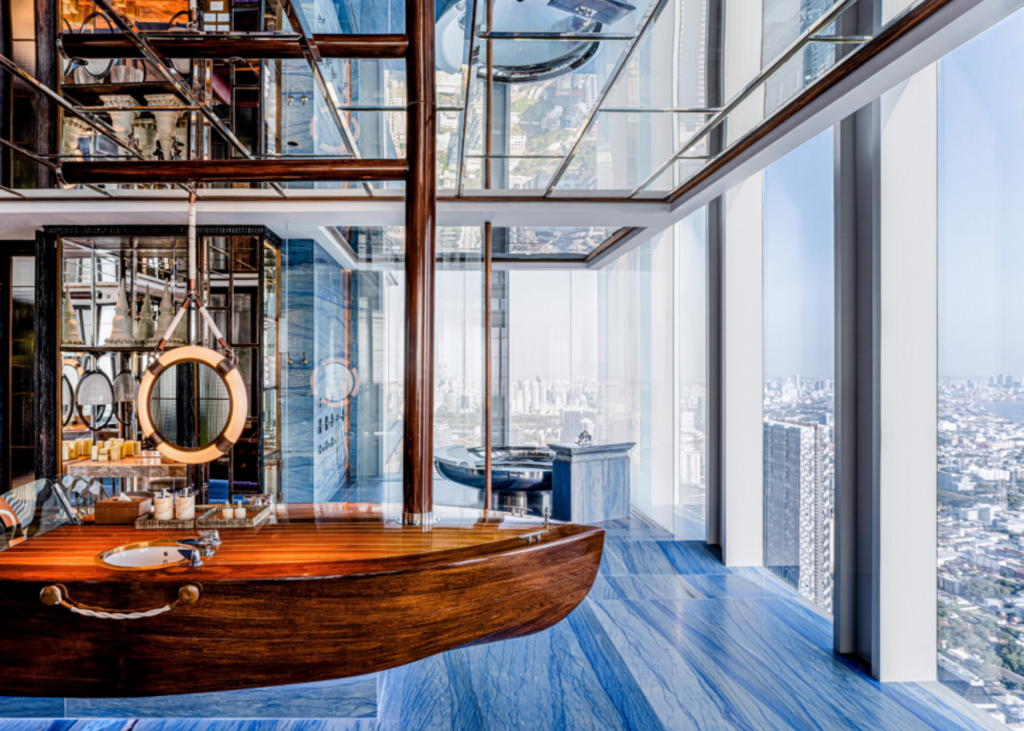 Each day, Shinta Mani Wild's anti-poaching troops find and confiscate dozens of snares and nets, used to trap vulnerable and endangered animals like the slow loris, pangolins, porcupines and exotic birds. "Last month, we lost a clouded leopard," Bensley says, his frustration palpable. "Do you know how rare they are?! This clouded leopard was on the ground, caught in snares and he died. We came too late. We found him dead."
Bensley believes a lot of good can be achieved through "high end, low impact" hotels like the Shinta Mani properties. Catering to an affluent clientele, resorts such as these not only "bring the money to do the things that we need to do," as Bensley says. They also raise consciousness in the next generation of the privileged. "I love seeing rich Americans or Europeans bringing their children over and having them spend a day in the local schools so they can understand that not every seven-year-old has an iPhone." And hopefully, to better appreciate just how fortunate they are.
---
Read next: