Jacob & Co. Astronomia Revolution: A sublime movement 8 years in the making
By Mike Huynh
The house of Jacob & Co. is synonymous with breathtaking timepieces featuring some of the world's most complicated movements. Each Jacob & Co. creation is immediately recognisable due to its often extravagant and striking design unlike anything else on the market. This reputation has seen Jacob & Co. pieces grace the wrists of celebrities from Conor McGregor to Elton John to Rihanna and Cristiano Ronaldo.
Jacob & Co.'s latest debut, the Astronomia Revolution, looks to extend that illustrious tradition. The timepiece's name and concept can be traced back to 2014 when the luxury house debuted the groundbreaking Astronomia Tourbillon, a technical masterpiece designed to capture the vast celestial landscape within the confines of a wristwatch. Since that model, every successor has seen more refinements and new meanings. Marking a nearly 10-year anniversary of Astronomia, the Astronomia Revolution is looking to redefine contemporary watchmaking through radical performance.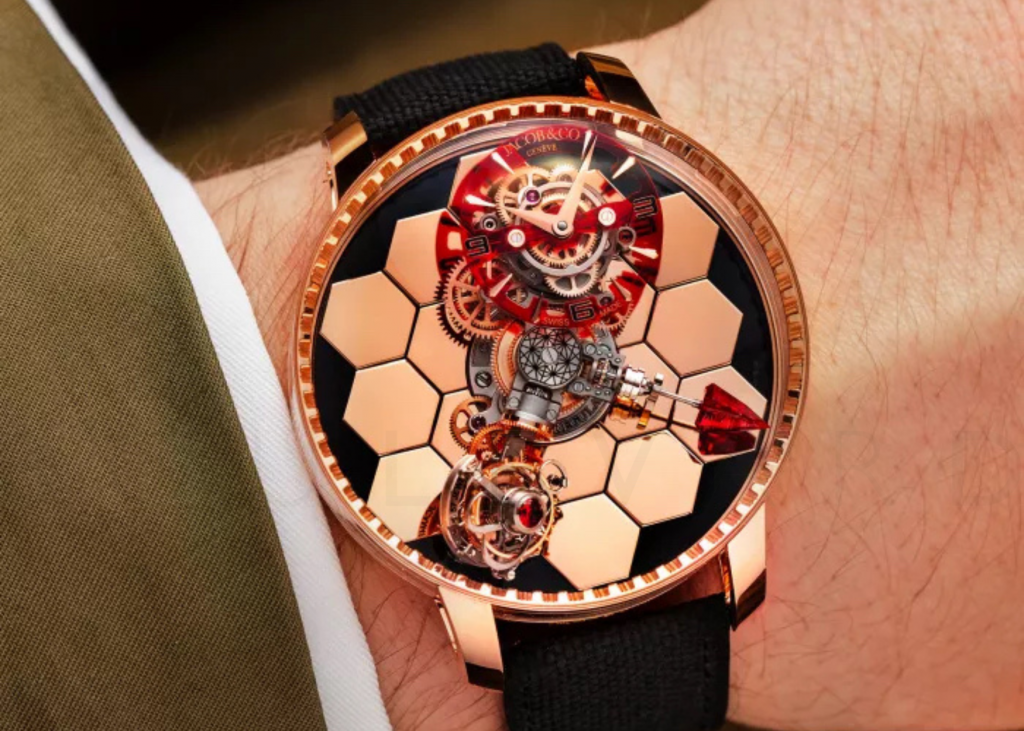 A new speed record
Astronomia Revolution is capable of revolving around its own axis in one minute. To put that into perspective, the first Astronomia accomplished one rotation every 20 minutes. Speed would eventually progress to one rotation every 10 minutes, followed by one rotation every five minutes. To reach this point of one revolution per minute, the Astronomia Revolution had to be entirely reimagined and re-engineered from the ground up. According to CEO Benjamin Arabov, it's a movement which required eight years of grooming to reach the final result. For the wearer, the timepiece's movement is set to deliver unprecedented levels of speed, accuracy and entertainment efficiency.
Interstellar design
Jacob & Co. took a fresh design approach with this timepiece. The goal was to embody a bright star of contemporary watchmaking, hence the Astronomia Revolution reflects both light and Jacob & Co.'s unique sense of narration in its designs. Underneath the revolving satellite carriage lies a curved, red gold, 18-mirror array inspired by the James Webb Space Telescope. The intricate timepiece displays the seconds via a space-probe-like spinning arrow with a ruby head. All of these design elements are further enhanced through the watch's beautifully sculptured 47mm case that is crafted entirely from sapphire and gold.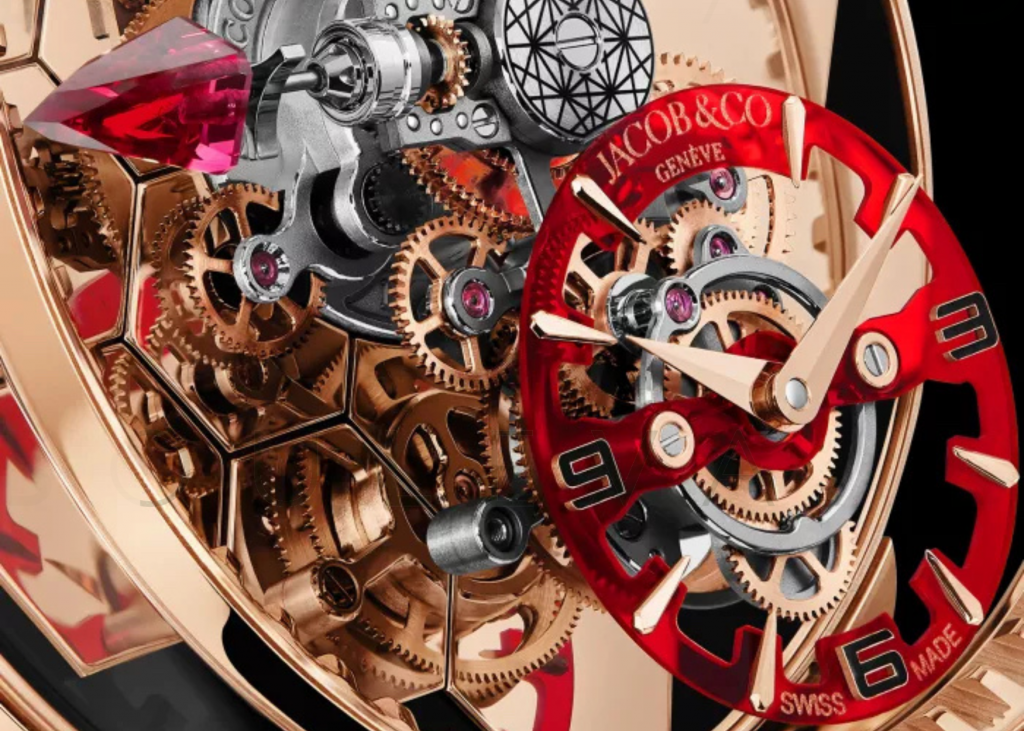 Technical specifications 
The collective concept of warp speed, massive energy, light distortion and sky-high chronometry demands superior mechanics and craftsmanship to get the job done. The Astronomia Revolution features Jacob & Co.'s exclusive manual winding JCAM48B movement with a power reserve of 36 hours. Its vast array of functions includes a rotating satellite carriage, a rotating arrow, a double-axis Flying Tourbillon, a 1st axis with 1 rotation in 1 minute, a 2nd axis with 1 rotation in 15 seconds, a constant force device, hours and minutes rotating dial and winding and time setting on the case back. On the outside, the watch features the aforementioned 18K rose gold and sapphire case paired with a black cordura strap with rubber lining. The case back is finished with engraved 18K rose gold. This case affords the watch a water resistance rating of 30 metres.
The Astronomia Revolution further exemplifies Jacob & Co.'s exclusivity with just 18 pieces produced worldwide – six in the featured 18K rose gold, six in white gold and six in black PVD-white gold. It retails for US$ 600,000 or AU$ 945,000.
Interested parties can register their interest with Jacob & Co.
---
Read next: