Interior designers in Singapore you need to know
We'll say it out loud. Googling for a great interior designer for your next renovation is like looking for a needle in a haystack. Well, good thing you found our handpicked list of Singapore-based interior designers that are bound to impress. This right here is your shortlist.

We also have a complete list of architecture firms if you're building from the ground up.

Sidenote: We add to this list regularly. If you know an interior designer who ought to be featured, drop us a line at hello@boulevard.co
---
Stacey Leong Interiors
We wish we could save Stacey Leong's entire Instagram feed on our Pinterest board. This local full-service design firm does everything from spatial planning and floor plan reviews to upholstery and artwork selection. Stacey is famous for telling a tale with her designs while respecting the scale and functionality of the space.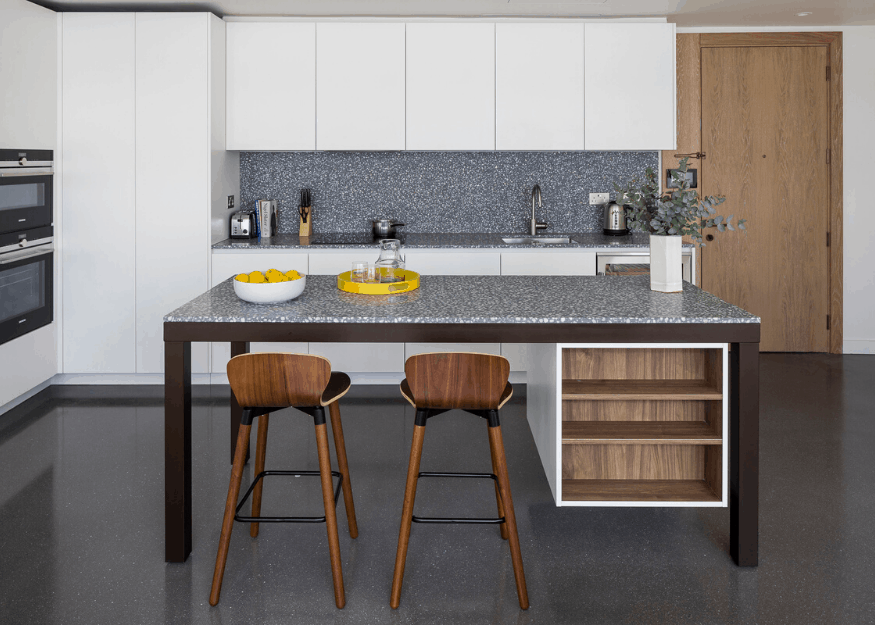 We're swooning over the Grove Lane project. Here she turned a 3-storey, 6-bedroom landed property into a graceful home that celebrates the slow and sublime using unpretentious materials.
Go further with Stacey Leong Interiors.
---
Make Room Singapore
More power to this all-women team of designers and stylists serving up end-to-end interiors service. We're obsessed with their Insta-worthy spaces that are infected with zhush. Clearly, they aren't afraid to experiment and often go that extra mile for joy-sparking purposes.
We're going heart-eyes for this 2-bedroom condo that riffs on upscale Hamptons-style decor. Isn't that shaker style cabinetry paired with brass hardware just gorgeous?
Go further with Make Room Singapore.
---
Asolidplan
As the name suggests, the good guys at this design consultancy swear by a well-conceived plan. Good design, they believe, pushes the envelope without compromising on functionality and durability. Interestingly, Asolidplan also has an architecture arm – Solid Architects.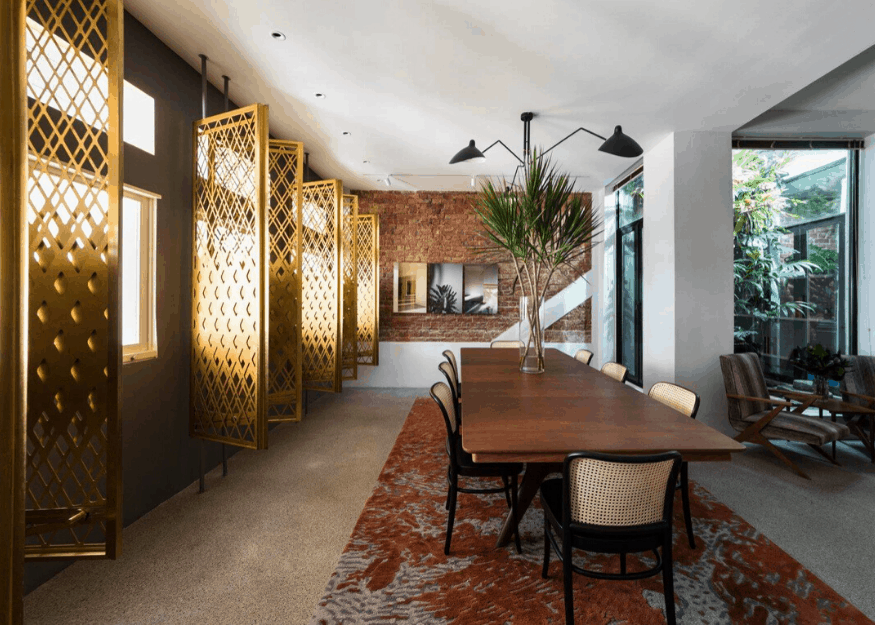 Take this magical Tiong Bahru conservation home that got an Asolidplan facelift. Have you ever seen privacy screens as sculptural as these?
---
Open Studio
Interior designers Jun Nan and Jax Tan don't believe in 'having a style'. They think of themselves as designers with an approach. "We've been trained in design thinking. Whatever problem we come across, we solve it with design. We don't subscribe to trends and style," adds Jun.
We loved everything about this Ang Mo Kio home where the duo's spacial planning allowed the homeowners to sort of shrink and expand the unit at will. Check out the full home tour and interview.
---
Aiden T
The regal roaring lion logo gives it away. All Aiden T projects have a touch of luxury and timelessness. Founded by Dutch ad-man turned interior designer Arjan Nijen Twilhaar, Aiden T is big on clean and liveable designs that are easy to maintain.
We love how he infused this Joo Chiat home with a modern resort vibe using a clever mix of wood, marble, granite and houseplants.
---
Home Philosophy
No one does colour-happy spaces better than Rashi Tulshyan of Home Philosophy. She's unafraid when it comes to transforming homes with hues. She even dished out her best styling tips here and we took back six super design inspirations from her 8 St Thomas project.
Of course, we're going ga-ga over her ready-to-move 3-bedroom apartments at 8 St Thomas – one channelling sophisticated Hollywood Glam vibes and the other with its edgier New York-style treatment. Watch the full home tour video.
Go further with Home Philosophy.
---
Emma Maxwell
An Australian designer who calls Singapore home, Emma parlayed a love of fine arts into a successful ID firm with clients including the forthcoming Parkroyal Hotel on Orchard. With an eclectic, almost omnivorous personal style, she brings a touch of flair to every brief – whether it's an upscale bar in London or a sustainable cafe in Bali. (More photos, and our interview with Emma here.)
---
Eightytwo
A full-service interior design firm, Eightytwo won't stand for a one-size-fits-all solution to a design problem. Ask founder and design director Terence Neo about his signature style and he talks about timelessness and minimalism born out of a holistic approach. Read the full interview.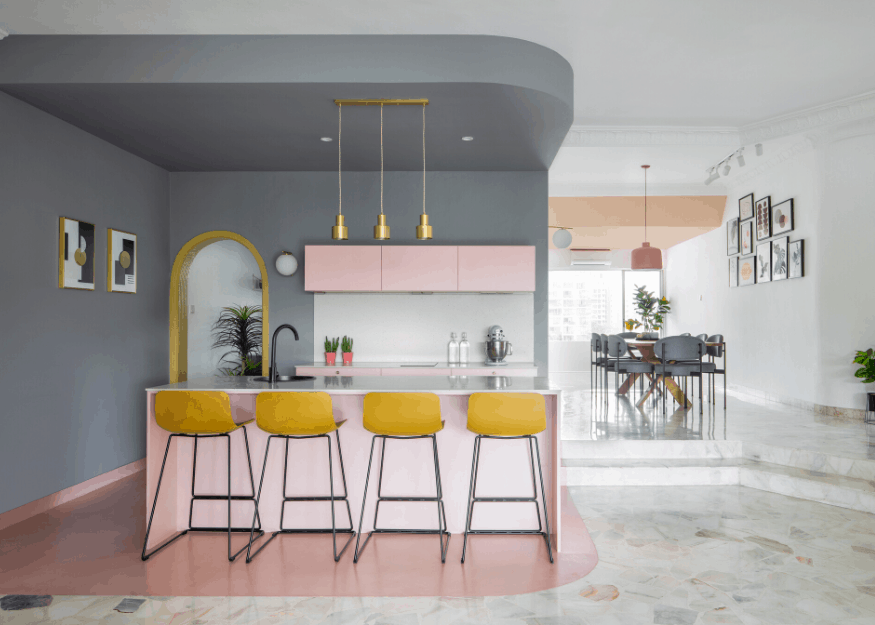 We're head-over-heels in love with Terence's Peach Garden home that's carefully injected with colour, vibrancy and nostalgia.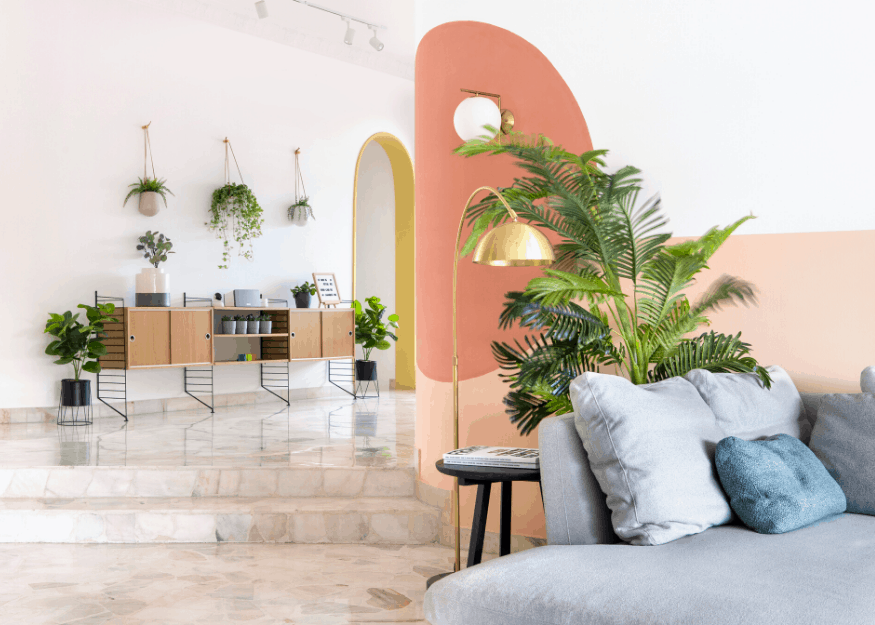 "…My house in Peach Garden condo is a really old and charming unit. I was drawn to it because of its history, beautiful terrazzo flooring and arched doorways… The task at hand was to make it come alive. It's easy to tear out everything but I didn't want that. I wanted to retain those retro and nostalgic elements that add character to this apartment."
---
Peter Tay Studio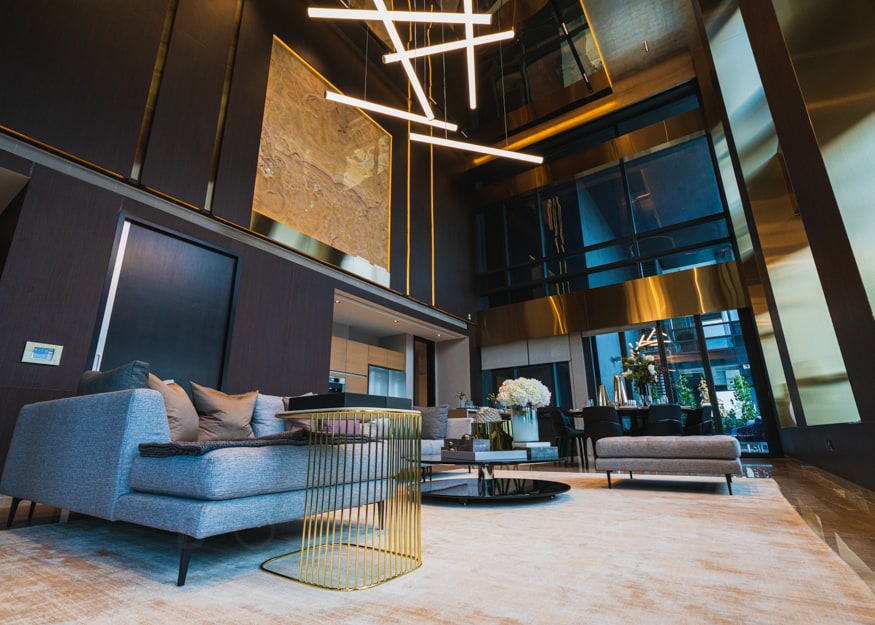 Can't really have a conversation about interior designers in Singapore without talking about the celebrity interior designer Peter Tay. Not only has he received several accolades including the prestigious President's Design Award, Peter Tay's clientele includes celebrities, CEOs and luxury property developers.
Perhaps one of the most famous luxury IDs this side of the globe, he recently designed the showflats for Guocoland's Midtown Bay and Martin Modern, Jervois Prive by Midas Land, Frasers Property's Rivière (pictured top) and Nouvel 18 (pictured above) among others.
Go further with Peter Tay Studio.
---
The Scientist
We don't know if the Coldplay song inspired the name, but we sure hear music when we see their homes. The designers at The Scientist base their decisions on five core fundamentals: inquisitiveness, exploration persistence, creativity and analytical.
We're particularly enthralled by their Cantonment Close HDB reno that's straight out of a design magazine. Zeroing in on a calmer shade of pink, this eclectic 969 sqft home doesn't shy away from dramatic patterns – just look at that terrazzo breakfast bar and those demarcating floor tiles.
Go further with The Scientist.
---
Free Space Intent
This award-winning design firm has a knack for crafting eclectic and memorable homes. The good guys at Free Space Intent have also broken apart from trend-focused, cookie-cutter designs. Over the last 20 years, they've played with bold colours, unique ideas and interesting patterns.
Take this moody Toa Payoh home with colour blocks that would make Piet Mondrian proud.
Go further with Free Space Intent
---
Archetype Studio
Spatial planning, interior design, landscaping, furniture and even graphic design, this dynamic studio works across the spectrum. They specialise in crafting outstanding interiors for landed homes and Good Class Bungalows (GCBs).
We can't get over this Caldecott Hill Estate home that was originally built in 1939 for the BBC Empire Service. Archetype Studio's use of elegant materials and a sublime colour palette resulted in a soothing sanctuary-like home.
Go further with Archetype Studio.
---
Third Avenue Studio
Craftsmanship and subtlety are at the core of Third Avenue Studio's instantly recognisable aesthetic. Founder Pamela Ong and Edwin Pang offer full-service interior design and also advocate for sustainable practices and material use.
We're crushing over their 5-bedroom Cable Road landed home that's magazine cover-worthy. With a tasteful palette of white, wood tones and greys, it makes a strong case for relaxed and refined modernism.
Go further with Third Avenue Studio.
---
Where to now?