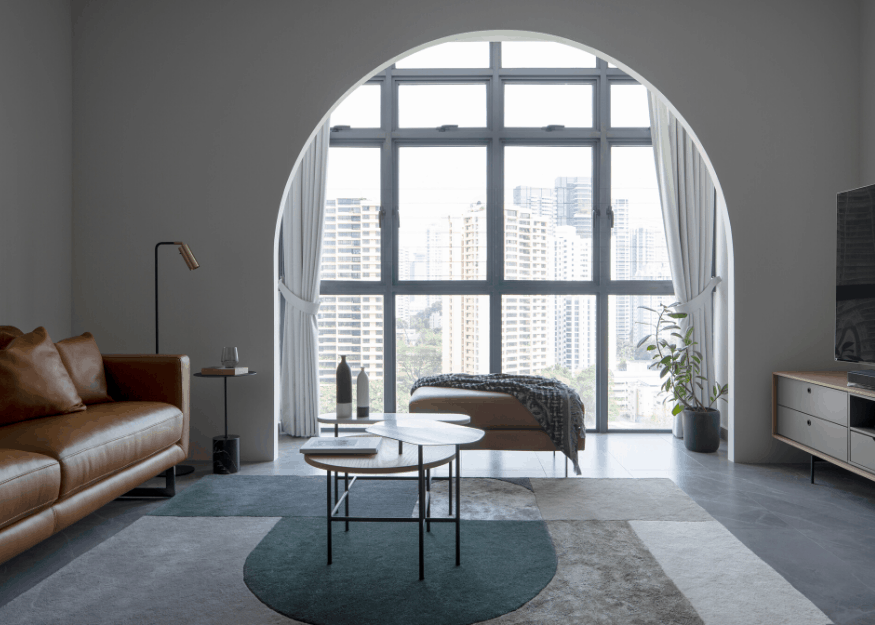 In conversation with Terence Neo of interior design studio Eightytwo
We write about what we love – and we've been crushing on Eightytwo's character-filled homes for a while now. A Singaporean full-service interior design firm, Eightytwo was founded in 2012 by Terence Neo. One look at their projects and a commonality presents itself; there's a distinct sense of timelessness that strings them together.
We caught up with the Terence, founder and design director at Eightytwo, to learn more about his methods.
---
What made you set up Eightytwo, a curiously named design practice in Singapore?
Terence Neo: I started Eightytwo about eight years ago because I wanted to bring good, affordable interior design to the local market. At that time, interior design wasn't as popular a concept in Singapore as it is now. Since then, we've seen the industry expand significantly.
We've worked on tiny studio apartments, all the way up to 10,000 sqft houses. We've also done cafes, bars and hotels, offices and other commercial spaces.
As for our name – Eightytwo – I chose it for its vagueness. I didn't want us to be boxed in by a name and as it happens, the number 82 is of special significance to my family.
How would you describe your signature style?
Terence: I like timeless, minimalist designs and focus on holistic approaches to create beautiful, functional and personal homes.
Our holistic approach takes into account the unit itself – its history, the environment, as well as the homeowners' behaviour, personality and habits. All of this informs how we approach the project conceptually.
We then move on to materiality, spaces and fluidity… and finally, accounting for the little details to bring everything together. I like to understand and treat different levels of the problem. There's no one-size-fits-all solution.
We're all heart-eyes for your Watten Residences project. It's a cluster home that just ticks all the right boxes. Walk us through it.
Terence: I was recommended to the client and went down for a site visit. I realised everything about the house was very old and gaudy. Although it's an interesting cluster house on a beautiful estate, the old owners didn't do justice to it… the interiors were dark and gloomy.
The new homeowners wanted a bright, airy and minimalistic home. I really wanted to bring more light into the house too, especially since they have kids. We kept the marble flooring and even restored certain elements. The walls were kept white as it helps brighten up the place.
It's a big house and many things went into making it. I'd like to stress on the core colour palette we used. There are only three hues – white, wood and concrete i.e grey. We chose a very muted colour scheme so that the owner's artworks, collectables and personal furniture pieces would shine.
The owners had a lot of interesting designer pieces so I didn't want to overwhelm the space. Instead, I wanted to allow their key character pieces to stand strong on their own instead making the house dominate and dictate the design direction. The redesign of the house was conceived to complement their belongings.
The homeowners were really cooperative – they trusted us and were patient throughout the process. They really loved the transformation and so did their neighbours. We acquired three more projects from their neighbours. It's a great testimony for us, and we're proud of it.
We hear you recently did up your own home?
Terence: Yes, my house in Peach Garden condo is a really old and charming unit. I was drawn to it because of its history, beautiful terrazzo flooring and arched doorways. Everything about it screams nostalgia and I liked it immediately.
The task at hand was to make it come alive. It's easy to tear out everything but I didn't want that. I wanted to retain those retro and nostalgic elements that add character to this apartment.
I planned the redesign around the needs of my wife and two kids. I needed wide open spaces for my children to run around, interact and play. I also wanted abundant countertop space in the kitchen… for my cooking, plating and my wife's occasional baking. All this was considered and accounted for during the layout and planning phase.
Yes, the colours are vibrant – pinks, peaches and hints of yellows. I chose those as its a family environment and I didn't want our home to look dull. Also, my kids love the colours and I know colour is the next big thing.
Peach Garden is a very old condo and I used colour to breathe life into it, all while keeping those stunning retro elements intact. A great juxtaposition of the old and the new.
What does luxury mean for homes in Singapore?
Terence: Luxury is having a space that works for you… where your creature comforts are within reach and little ergonomic elements contribute to your well-being.
First published March 2020.
---
Where to next?