Architecture and interiors insights: good design begins with Asolidplan
What happens when three good friends with a talent for architecture and interior design put their heads together? Well, they combine their strengths to envision evocative and award-winning structures and spaces.
Pals and partners Ker How, Zhong Yi and Jing Feng strongly believe that "good design begins with a well-conceived plan". So much so that they baked that ethos into the name of the firm — Asolidplan.
Browsing through Asolidplan's portfolio, you'd be hard-pressed to find two projects that look alike. They don't and never will look the same.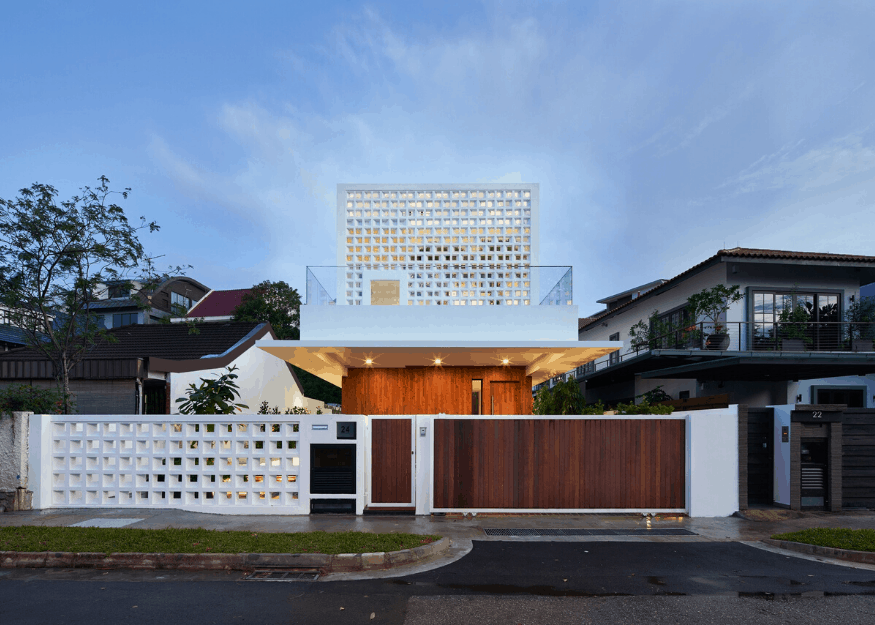 Asolidplan is a Singapore-born full architectural and interior design consultancy. Some of the team's most notable projects include the boutique beauty Hotel Soloha in Chinatown, NDP2018 stage, Mighty Jaxx's offices, Pangdemonium theatre company as well as award-winning residential interiors.
For the trio, contextual design takes precedence over stylistic pursuit: every project springs from a unique intersection of client, site and context.
It always starts off with an interrogation of existing conventions and ends with the creation of new design outcomes. They openly admit that this need to craft distinctive and unique spaces is somewhat of an obsession!
Here they share their design ethos, what makes a space pleasurable and stories from their most memorable projects, from a playful terrazzo-lined apartment for a young family, to a labyrinthic network of staircases for a home, inspired by M.C. Escher.
---
What does luxury mean for homes in Singapore?
Ker How (KH): With growing population density in Singapore, luxury is increasingly about space. Especially now when social distancing is the norm. Also, space is more than the quantitative extents — mood, functionality, and versatility all contribute to the perception of spaciousness.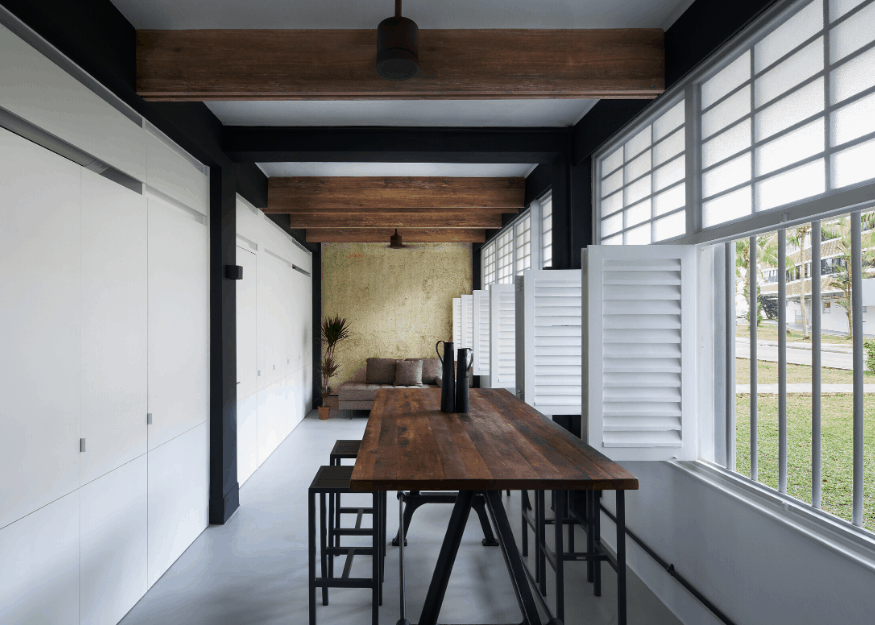 Jing Feng (JF): We often think about luxury as a stylistic look. But in Singapore's context of smaller homes, having physical space has become a luxury. And so is time.
I think with the increase in home-based learning and WFH arrangements, luxury is about having the space and time to enjoy a work-life balance.
Zhong Yi (ZY): To me, luxury is about having pleasures beyond the necessities. And it can mean different things to different people.
An obsessive collector would find it luxurious to have endless space to store and display, while a minimalist would find it luxurious to be able to live a fulfilling and meaningful life with fewer objects.
I think homeowners, while planning their new homes, should not deny themselves that one small pleasure that would bring them a little closer to their idea of luxury — no matter the space and budget constraints.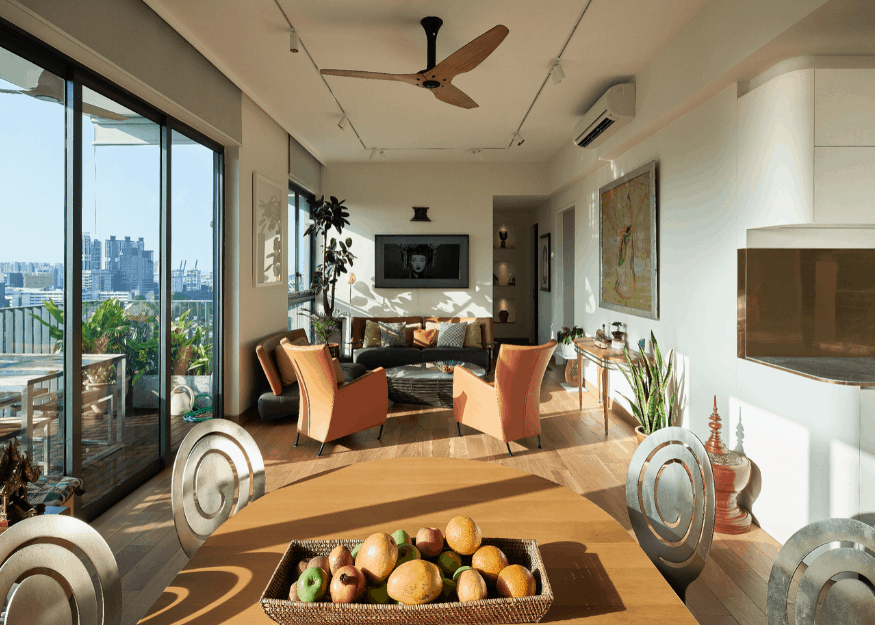 Tell us about the architects, designers and artists you turn to for inspiration…
KH: Le Corbusier's inspiring vision and ability to rationalise modern architecture built the foundation of my architectural learning. His works are truly timeless as many of them still stand as if they were built today. The inspiration to search for these timeless elements of architecture still stays in me subconsciously.
Ettore Sottsass' Memphis collective made me question the rigidity of modernist architecture and introduce more colours, textures and forms that perhaps resonate more with the zeitgeist.
Tokujin Yoshioka and Nendo design firm inspired my interest in materiality, spatial transparency, and three-dimensional flatness. Influenced by their works, I find myself focusing on the temporal and ephemeral qualities of space.
ZY: Junya Ishigami's obsessive pursuit of structural limits to achieve the thinnest and lightest designs is enviably inspiring. In his work Cuboid Balloon, he made a giant block out of aluminium, filled it with helium, and effectively made one tonne of metal float in the air!
While Japanese architecture firm SANAA is always an inspiration, Ryue Nishizawa's Teshima Art Museum — purpose-built for sculptor Rei Naito's artwork, Matrix — is particularly special for me as a reminder of the emotive power of architecture. If we are to subscribe to Hegel's classification of the arts, architecture would be the least expressive of all art forms. Yet, Teshima proved that architecture, despite being a static and non-verbal form of expression, can evoke deep emotions.
If you had to choose your most memorable project thus far, what would it be?
KH: For me, Bringing Light was a memorable project because of its dramatic transformation a maisonette. We implemented the idea of a social table successfully for the first time in a residential project and changed the way the homeowners interacted in the apartment.
Also, the Labyrinth Lightwell house was memorable because of the sculptural staircase. We started with the question "Can a staircase be more than a tool for getting from one level to another?"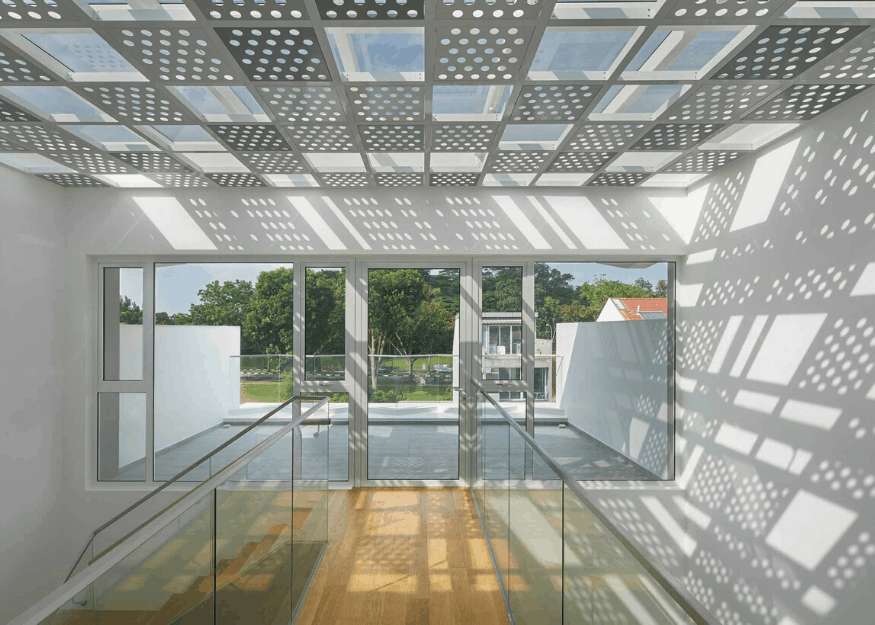 Inspired by the Penrose Stairs, M.C. Escher's Ascending and Descending, as well as the Hogwarts staircase, our staircase design in Labyrinth Lightwell became the answer to the exploratory question.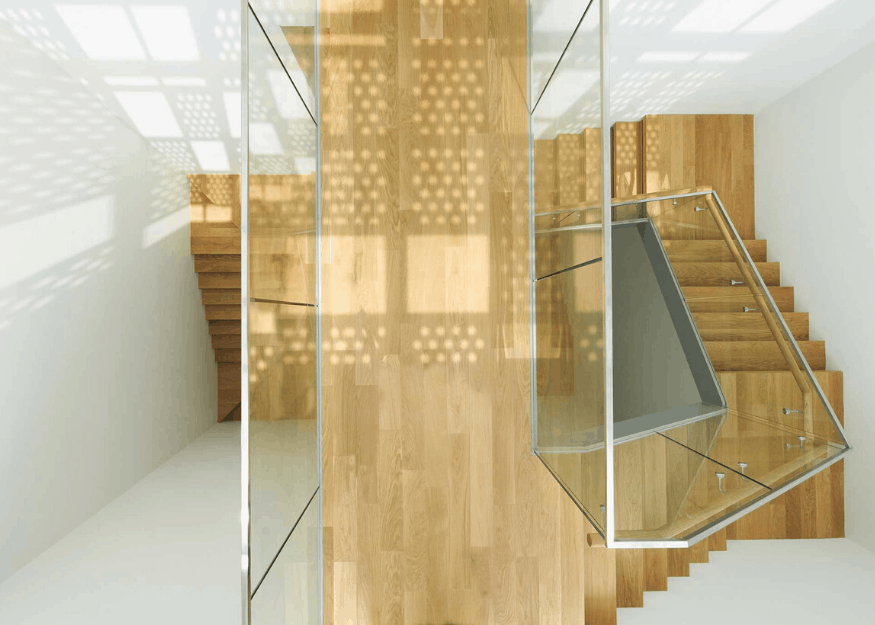 JF: The Coming Home project most memorable and emotional for me. Four siblings decided to buy and renovate a flat for their ageing mother in Tiong Bahru, the estate they grew in. In our design, we struck a balance between respectfully celebrating nostalgia and optimistically inserting some new.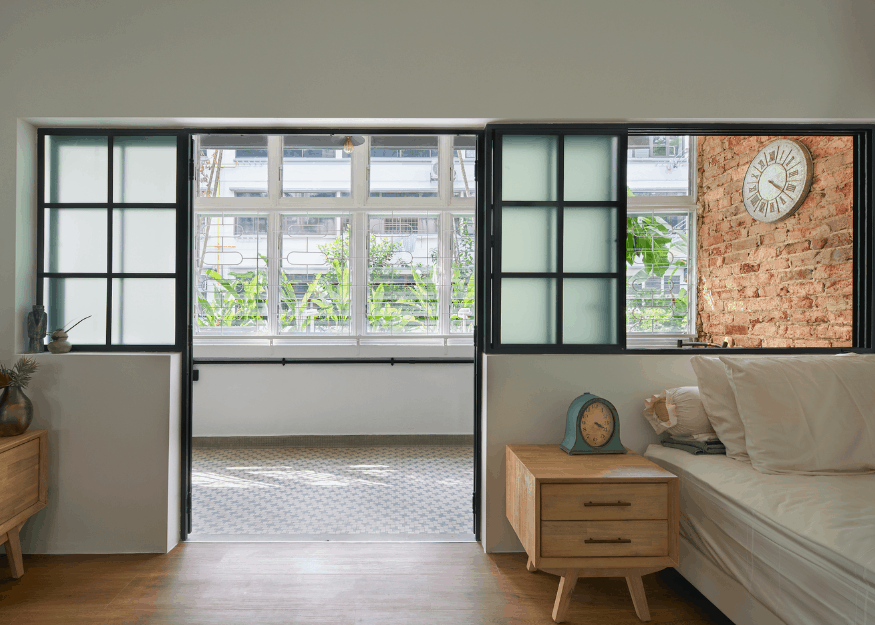 We wanted the site and the occupants to feel rejuvenated in a new, bright space filled with life, while embracing the history and beauty of graceful ageing. After the mother moved in, we were touched by how the design created a comfortable environment for her to spend her sunset years. It also successfully brought the family closer.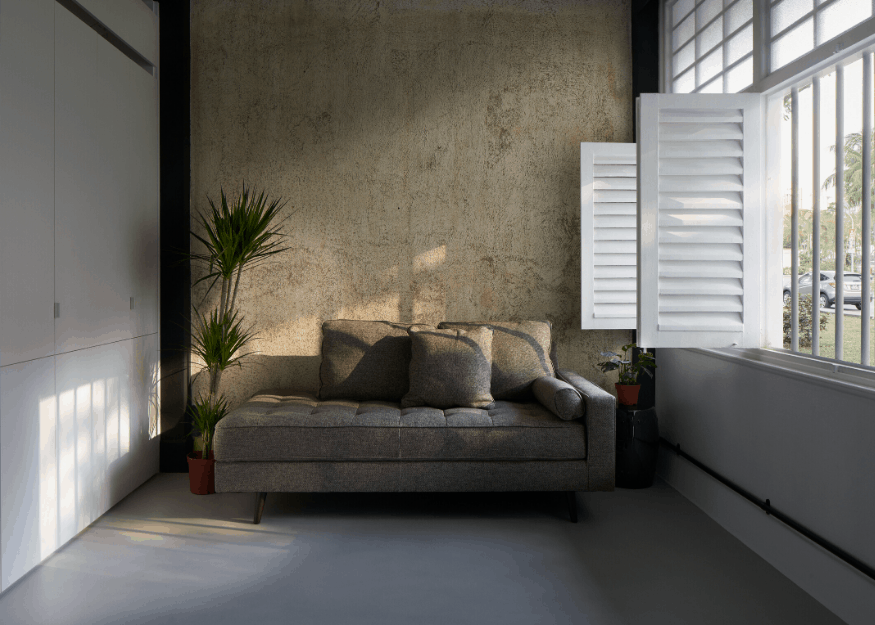 We learned recently that the mother passed, but the siblings are still regularly gathering there. We're happy to have been able to contribute to a family in such a meaningful way.
ZY: My most memorable project would have to be the NDP2018 stage design. As a former urban designer turned architect and interior designer, I sometimes wonder if my experience across a wide span of design scales would be distracting and disadvantageous in my current work.
My fears were unfounded, and my wide range of experience turned out to be useful in the NDP stage design. We used urban design strategies like visual porosity (the access in and out of a space), layering and tiering to guide form massing. Architectural detailing informed the intricate interweaving ramp and staircase.
Adding to it were interior design methods of pattern tessellation and colour matching (whereby we derived the colour palette of the stage floor paint from the colours of the buildings and water of Marina Bay) to create a stage that sat harmoniously in Marina Bay. It was visually engaging and brought the best out of the performers.
Are there parts of the design process that particularly excite you?
KH: Just witnessing the transformation of a vision to physical and spatial reality thrills me.
JF: The exploration process always excites me. Our collaborative experimentation of multiple solutions can sometimes lead to pleasantly surprising results.
ZY: Despite always having the designed space in my head, down to the details, there is always that moment… when I feel the materialised space – with light, breeze, and life. That moment sometimes makes me well up.
Design notes from Asolidplan
Walk us through the interior design of the whimsical Holey Moley home.
The brief
A young and growing family wanted a cosy home with sufficient open-play space for their active two-year-old toddler, newborn baby, and two cats.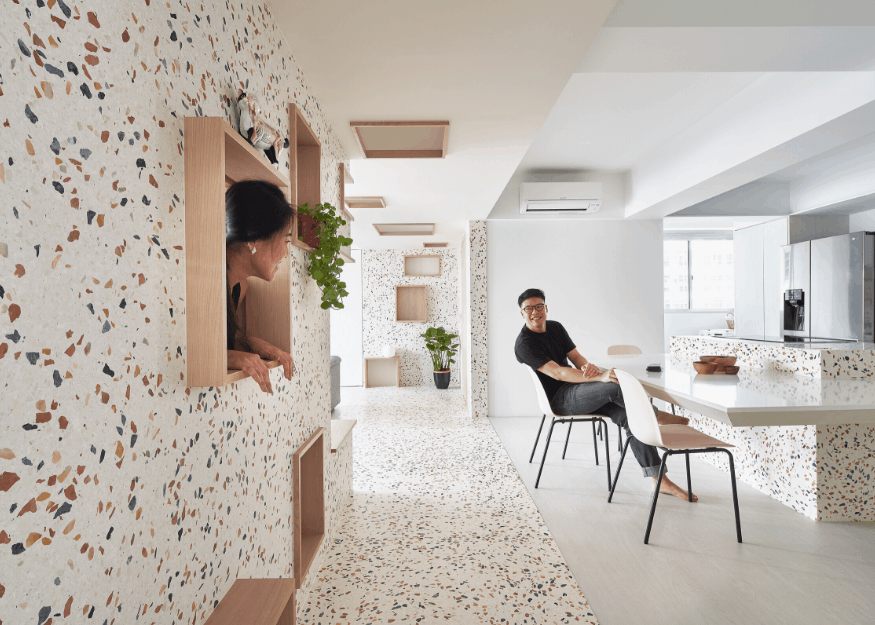 The home also needed to double as a multifunctional living and dining space to serve occasional large social gatherings. It needed to maintain an uncluttered, bright airy living space to relax in, all with the unblocked view of the Sengkang Wetland as the backdrop.
Design strategy
To create diverse opportunities for interaction for this growing family, we unlocked the spatial potential by removing all existing non-structural walls.
The apartment was then divided into two realms: a public zone with the living and kitchen space for entertainment, and a private zone with the master bedroom, helper and kids' bedroom.
This created a new realm of interactive space by activating the often-neglected transitional space of corridors. Pockets of recessed square shelves of varying sizes were designed for display and storage to highlight this feature space. This design also serves as a play area for their cats!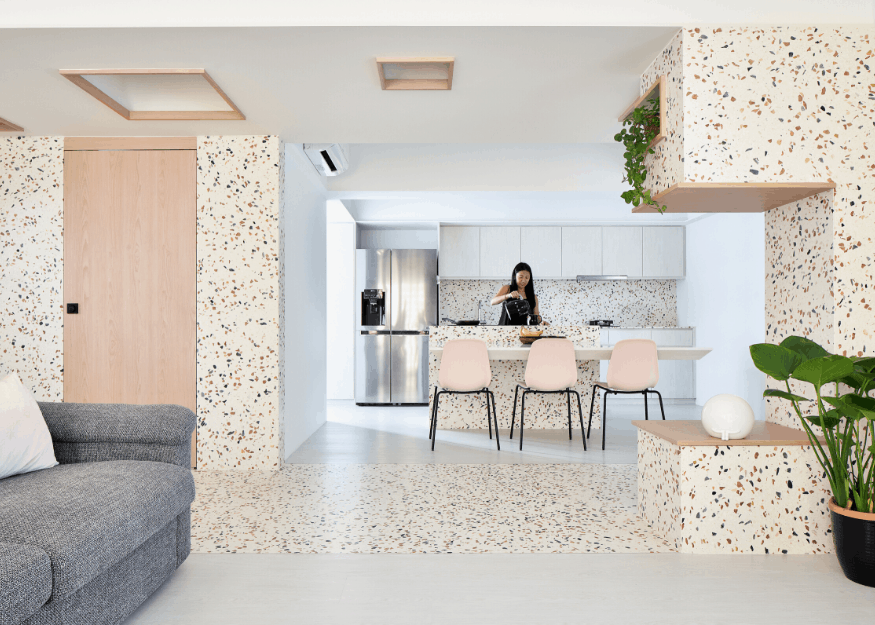 We strategically designed custom square sliding windows for each aperture along the corridor, enabling the contrasting realms of private and public spaces to connect visually. This design facilitates safety, as the parents have a clear line of sight of their children while they go about their daily chores. These apertures also enable clear cross-ventilation across the apartment.
For example, the couple can watch their children in their room through the sliding window while they cook in the kitchen. Similarly, an aperture is fixed at the master bedroom's study desk, enabling the parents to interact with their children while they work in their room (with the sliding window opened).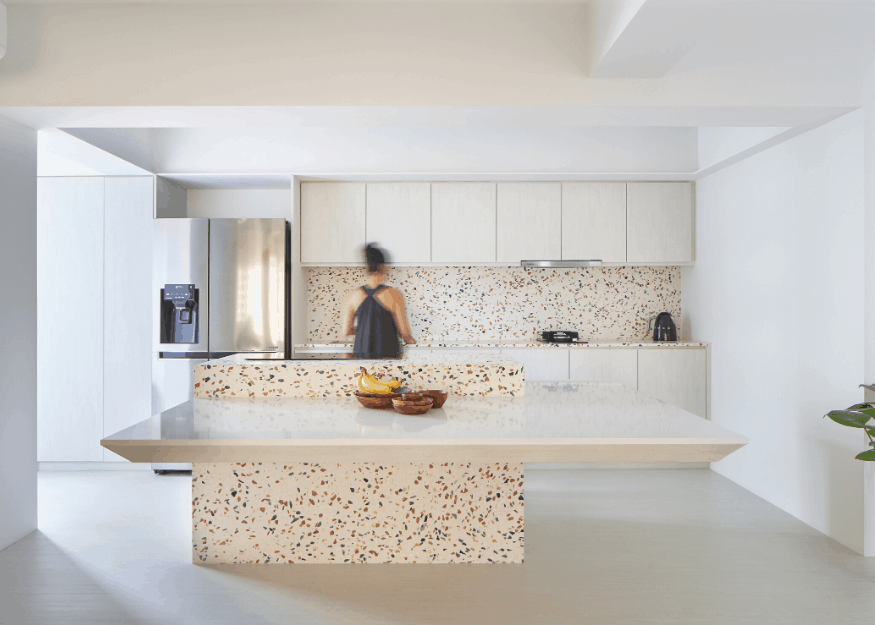 We designed an open kitchen to facilitate a direct connection with the living space. This frees up space for large social gatherings. Terrazzo was used as the feature material in the house, along the feature corridor and in the kitchen. We picked terrazzo to bring out a playfulness of colours. We also accentuated the feature corridor by utilising varying textures and shades of white in other spaces.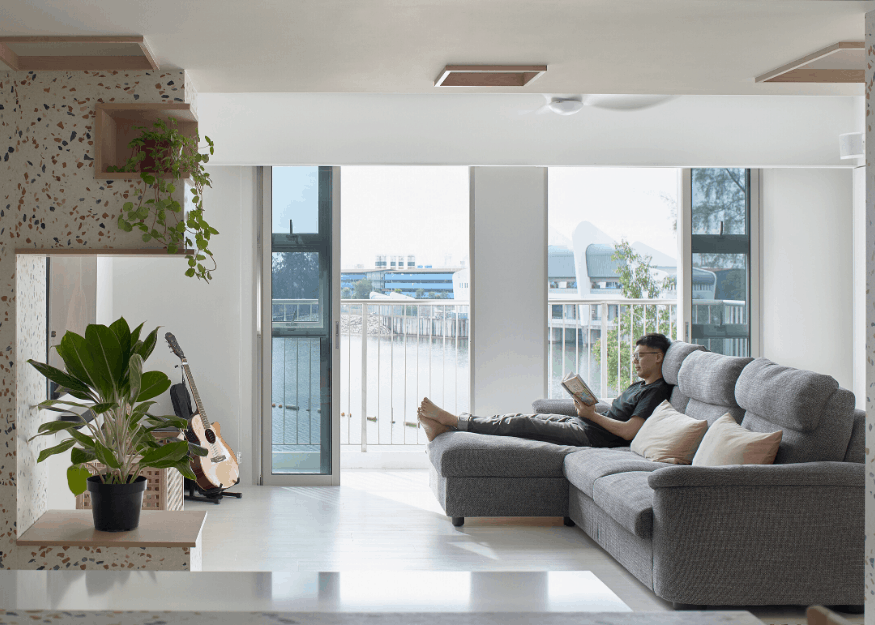 The shadow play of the Breeze Block House is poetic. Walk us through this architecture project — from brief and concept to feedback.
The brief
A boutique developer approached us to design a bungalow for public sale. On a long narrow plot with a Northwest-Southeast orientation, we were tasked to design a house with commercial viability — efficient, cost-effective, and attractive — while considering the unfavourable microclimatic conditions of the site.
Design strategy
The Breeze Block House is our exploration of a contemporary design language that responds to the local climate and microclimatic context. We conceived it as a double-skin house with an internal hermetic envelope and an external breathable facade.
The outer skin is built up with breeze blocks to encourage airflow and to shield the internal spaces from the harsh sun and curious neighbours. Planters and circulation occupy the interstitial spaces between the two skins and function as thermal and visual buffers.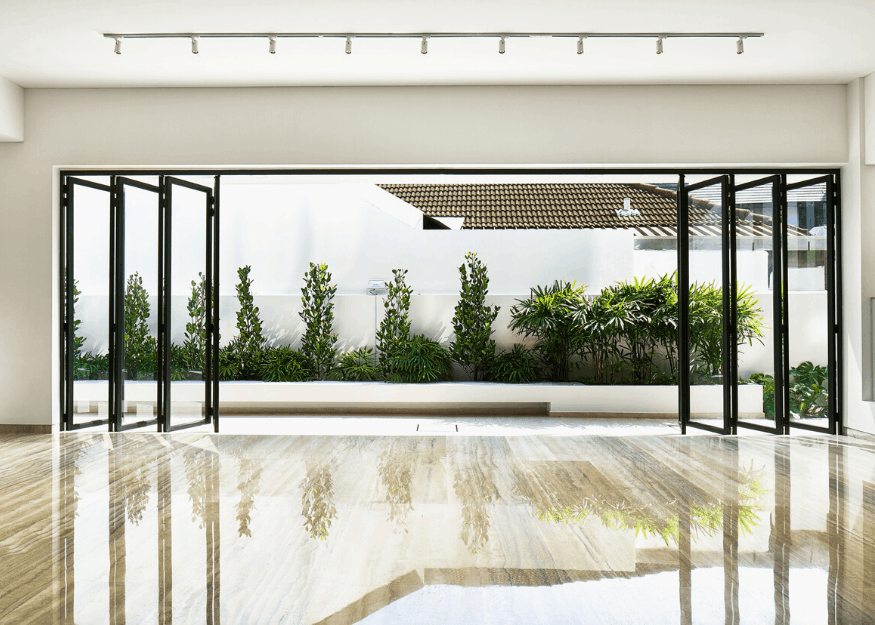 Beyond its technical performance as a microclimatic device, the breeze block skin is also delightful in the way it catches sunlight and casts animated light and shadow patterns across the day.
At night, the reversal of light turns the house into a public lantern with intriguing shadows of movement and light.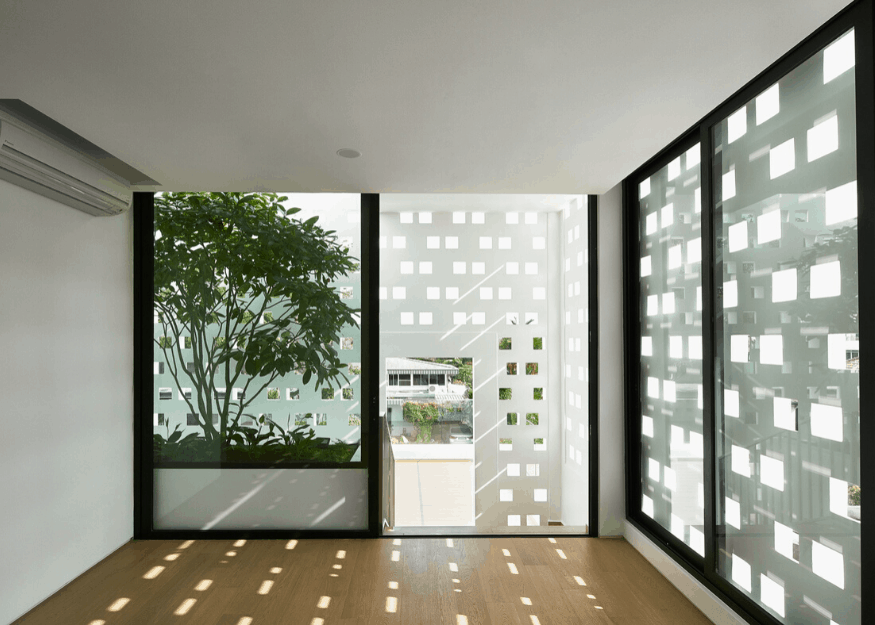 Feedback
The completed house generated a little attention in the neighbourhood, that led to a few enquiries. The house was sold very quickly after it was put on sale.
Most importantly, the buyer of the house came back to us for the interior design. We've just started working on it and hope to finally complete the house holistically from outside to inside.
---
Where to now?