Penthouses for sale in Singapore: The top luxury condos on the market
Occupying the highest floor, or floors, of the most iconic condo developments across the island, these unique residences feature opulent interiors and extraordinary amenities, from private lifts and private pools to double-height ceilings, bars, sky gardens – and one with a secret hidden den.
Here are Singapore's penthouse apartments on the market right now…
New, completed penthouses for sale:
New launch penthouses for sale:
Resale penthouses on the market:
---
New penthouses for sale
Bishopgate Residences penthouses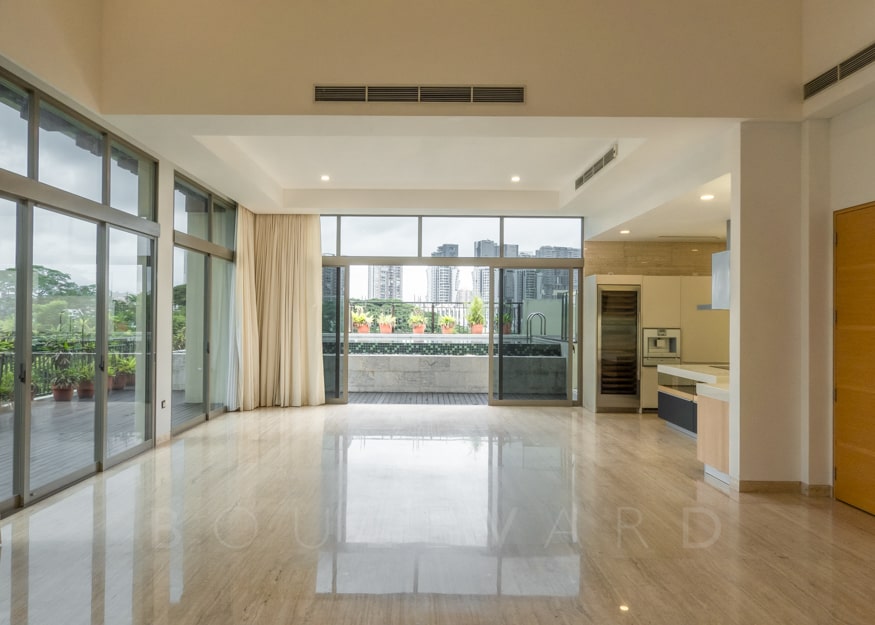 There are only 31 units in this ultra-low volume condo, and four of them are penthouses ranging from 3,907 to 6,082 sqft. (A further three are triplex maisonettes.) Just two new penthouses remain, each with a private pool and lush views across the Bishopsgate landed house enclave.
The interiors are elegantly sumptuous, with exquisite materials including Travertine marble and white oak timber floors, designer kitchens by Poggenpohl with Sub-Zero wine fridge, knockout master suite and vast indoor and outdoor entertaining areas.
The 6,082 sqft, 4.5br penthouse has just been reduced to $25.3m down from a list price of over $26m.
View the Bishopsgate Residences penthouse listing: photos, details, enquiries.
Go further with Bishopsgate Residences: amenities, location, unit mix.
---
Nouvel 18 penthouses and Sky Suites
Two brand new penthouses and one "Sky Suite" are on offer at the stunning Nouvel 18 condo. This prestigious development by world-renowned architect Jean Nouvel ticks all the boxes, with a coveted address in the Ardmore enclave in District 10 – minutes to Orchard Road – a wealth of amenities and concierge services.
The penthouses at Nouvel 18 are fully furnished by designers Peter Tay and Sumisura, starting from 6,071 sqft of designer living space from $33.4m. The Sky Suite offers 4,306 sqft including double-height living-dining, a walk-in cellar and private jacuzzi on the master bedroom balcony.
View the brand new Sky Suite for sale at Nouvel 18.
---
Reignwood Hamilton Scotts penthouses and junior penthouses
Famed for its "Sky Garages" which see your luxury cars parked next to your living room, Reignwood Hamilton Scotts offers two penthouses and two junior penthouses with spectacular views across Goodwood Hill. This ultra-luxury project features a pool, gym, concierge and breakfast service, with a prized District 09 address minutes from the shopping and dining of Orchard Road.
The junior penthouses at Reignwood Hamilton Scotts boasts 3,229 sqft of elegant living situated on the 28th floor, including a double-height lounge, separate dining, sumptuous master suite and spacious balcony with those knockout views. Listed for sale at $12.8m.
The penthouse at Reignwood Hamilton Scotts stretches over three floors with 6,975 sqft of formal and informal living, including a rooftop entertaining deck, private pool and 4 bedrooms plus family room. Doubtless one of the top luxury properties on offer in Orchard; listed for sale at $30m.
Go further with Reignwood Hamilton Scotts: floorplans, amenities, location and recent transactions.
---
South Beach Residences penthouse
The iconic South Beach complex by renowned architects Foster + Partners launched with 190 units ranging from the 23rd to the 45th floors, including no less than six penthouses, each with rooftop terrace and private pool. There are now only two penthouses left:
– A 4,446 sqft 4br duplex penthouse priced just north of $19m
– A 4,424 sqft 3br duplex penthouse with city and bay views at $18.02m
Go further with South Beach Residences: listings, amenities, pricing, unit mix, floorplans.
---
Wallich Residence penthouse
Where better to start than Wallich Residence, which boasts four penthouses and that super-penthouse making headlines back in 2019 when it sold for a reported $73.8m to James Dyson.
The super-penthouse spans the 62nd to 64th floors with a whopping 21,000 sqft of living space, including a private lift, private 12m swimming pool, jacuzzi, observation deck and sky garden. But the regular penthouses aren't too shabby either, perched on the 60th and 61st floors and weighing in at 3,509 sqft.
There's just one remaining new penthouse for sale at Wallich Residence, asking $18.6m. Originally laid out as a four-bedroom apartment, it's been converted to an indulgent three bedrooms featuring a sumptuous master suite with his and her wardrobes and glamorous ensuite, stunning living area with built-in bar, and wrap-around views of the city, the sea and beyond.
Go further with Wallich Residence: amenities, pricing, unit mix, floorplans.
---
New launch penthouses for sale
15 Holland Hill penthouses and maisonettes
Launched in April 2020, it took only four months to sell all three penthouses at 15 Holland Hill. Little wonder: it's a stunning new launch condo on a rare, elevated hilltop moments to Holland Village. Happily, there are three duplex maisonettes still available at 15 Holland Hill (for now), featuring more than 5,000 sqft of minimalist, luxury living by Atelier Ikebuchi, as well as extensive, lush gardens by Ramboll Studio Dreiseitl.
Go further with 15 Holland Hill: amenities, pricing, unit mix, floorplans.
---
Les Maisons Nassim penthouses
Destined to become one of the most exclusive condo residences in Singapore, Les Maisons Nassim will offer just 14 apartments of which two will be penthouses. The penthouses will weigh in at more than 12,000 sqft each, with a choice of three interior design treatments.
Go further with Les Maisons Nassim: interiors, location, developer, enquiries.
---
MeyerHouse penthouses
Destined to be among the most desirable luxury homes on the East Coast, the six duplex penthouses for sale at MeyerHouse offer the peak of luxury living in a rare, low-rise residence. Offering 5,587 – 5,608 sqft of formal and informal spaces, the apartments feature a private lift and lift lobbies, roof terrace and double-volume balcony, and exquisite interiors by Yabu Pushelberg.
Starting from $13.5m, the penthouses at MeyerHouse are a unique offering – and the showflat simply has to be experienced.
Go further with MeyerHouse: condo facilities, floorplans, design.
---
Never miss a new penthouse listing
---
Resale penthouses on the market
Leedon Residence penthouse
This exceptional triplex penthouse is one of the top condo residences in the sought-after Leedon Heights area in District 10. Offering 7,007 sqft of luxury living, it features double-height living and dining, private pool and rooftop terrace, a sumptuous master suite with adjoining study and a dedicated lift inclusive of private lift lobbies on the carpark and ground floors.
The Leedon Residence penthouse is offered at $15m (negotiable).
View the Leedon Residence penthouse listing for photos, floorplans, details and enquiries.
---
St Thomas Suites penthouse
This light-filled duplex penthouse at St Thomas Suites offers 3,401 sqft of elegant family living, with expansive living-dining and double-height ceilings, generous bedroom suites and an enviable River Valley location minutes to Orchard Road and Robertson Quay.
Offered for sale at $7.5m (negotiable).
View the St Thomas Suites penthouse listing for photos, details and enquiries.
---
Trilight penthouse
An exceptional triplex penthouse, this designer home is beautifully appointed, offering formal and informal living of generous proportions. offers luxurious proportions. The Trilight penthouse features a lounge, separate dining with double-height ceiling, stunning dry kitchen and spacious balcony, plus family room, four bedrooms and rooftop terrace with private swimming pool.
Offered for sale at $14m (negotiable).
View the Trilight penthouse listing for details, photos, pricing and enquiries.
---
More penthouse apartments on the market
The Marq on Paterson Hill super-penthouse
The super-penthouse at The Marq will break records if it sells at (or even near) its indicative pricing of $128m. So what does that get you? A sumptuous 17,500 sqft for starters, set across the top three levels of the Signature Tower at this coveted SC Global development. Amenities include a private pool, five bedrooms, plus a secret den behind a rotating cabinet. It's also entirely furnished by Hermès.
Also for sale at The Marq: A grand 4 bedroom residence offering 6,232 sqft with double-height ceilings and a private pool, for a much more modest $27m.
View The Marq 4 bedroom apartment listing: photos, details, enquiries.
---
Hilltops penthouses
Developer SC Global's second entry on our list is Hilltops, one of the top developments in the prestigious Cairnhill enclave with, as the name suggests, a stunning elevated location. At the top end, there are four penthouse apartments on offer, ranging from 5,300 sqft through to the super-penthouse at 12,600 sqft, all of which feature a private pool and roof terrace.
---
Concourse Skyline super-penthouse
Taking over levels 39 to 41 of the Concourse Skyline on Beach Road, this standout super-penthouse spans more than 11,000 sqft. Aside from sweeping views of Singapore, this high-end home is decked out with luxurious labels and custom-built furnishings made by some of the world's greatest artists, designers and craftsmen. Oh and there's also a private spa and a private pool on the second floor for the ultimate unwind.
---
Reflections at Keppel Bay penthouses
Designed by renowned architect Daniel Libeskind, Reflections at Keppel Bay is breathtaking – as are its views of sea and the Singapore CBD. This simply astonishing development comprises 1,129 apartments across six towers and 11 villa blocks. There are three villa penthouses available, as well as three last tower penthouses of 5,576 sqft priced from $14.1m.
---
Where to now?