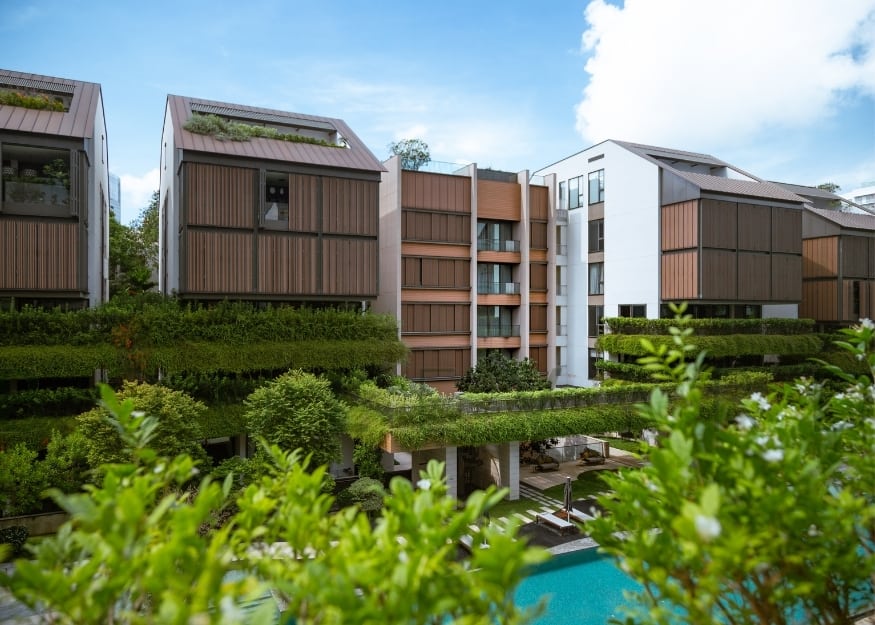 Landscape architects in Singapore you need to know
Singapore has taken the term 'Garden City' as literally as they come. Foliage can be seen pretty much everywhere – lining our roads, spilling from rooftops and balconies, and taking things to a whole new level in our airport.
Little wonder that we're drawn to homes with greenery: water features, green walls, and gardens in abundance are practically mandatory in every new condominium. For every jaw-dropping, resort-like condo, office building and green space, we've got these Singapore-based landscape architects and master planners to thank.
Here are Singapore's top landscape architects:
---
Ong & Ong
Ong & Ong, one of Singapore's biggest names in architecture, also offers landscape architecture and master planning along with interiors, lighting and branded.
With Lena Quek Poh Lian at the helm, the award-winning firm has added condos like Boulevard Vue, Sloane Residences as well as commercial buildings like Farrer Square, Gateway Theatre, Frasers Tower to their portfolio. Catch a glimpse of the landscape architecture of Sloane Residences, a boutique luxury condo in Balmoral.
Read the full interview with Ong & Ong's Lena Quek Poh Lian.
---
Ramboll Studio Dreiseitl Singapore
Ramboll Studio Dreiseitl's Singapore team is a force to reckon with in its unique biophilic-centric approach. They are behind some of the biggest urban planning and landscape architecture projects on the island. We're talking about the Sungei Buloh Wetlands Reserve, Kampung Admiralty, the Esplanade Forecourt Garden, Bishan Ang Mo Kio Park and even the much anticipated Mandai Nature Safari Park. Plus, Ramboll Studio Dreiseitl's residential portfolio's latest additions include Kheng Leong's new luxury condos MeyerHouse and 15 Holland Hill.
Boulevard caught up Chris Long, Director for Urban and Landscape Design at Ramboll Studio Dreiseitl to a dig a little deeper.
Read the full interview with Chris Long.
---
Coen Design
Some of Singapore's most iconic residences are stamped with Coen Design's unique landscape experience. From mixed developments like Duo in Bugis and CBD's CapitaSpring to top-notch residences like the Sky Habitat, Eden (new launch condo), The Wharf Residence, Highline Residences, The Palette and Sims Urban Oasis.
Coen Design is also responsible for the Bali-esque landscape architecture of The Village and The Barracks Hotel, Far East Hospitality's stunning property in Sentosa.
---
STX Landscape Architects
Principals Dr Russell Arthur Smith, Helen Smith-Yeo and Sherman Stave together head one of Singapore's most recognised firms specialising in landscape architecture, master planning and urban design.
Their designs are truly captivating – and chances are you've already marvelled at them. From Oasia Downtown Hotel and the NUS University Town to the CapitaGreen building and Park Hotel at Alexandra, STX has one striking portfolio. And their award-winning residential projects stand as proof of their timeless and memorable designs. Some of which include Belle Vue Residences, Rivergate, Duchess Residences, Helios and others.
Go further with STX Landscape Architects.
---
Guz Architects
Guz Architects are behind some of the most beautiful homes that we've seen in Singapore (take a gander through their portfolio to see for yourself). They may not solely be a landscape architecture firm, but they're on this list because of the heavy influence that nature has on their designs, and their seamless integration of gardens, water features and trees in the compounds.
What we're super impressed by: they also plant trees on behalf of their clients to offset their carbon footprint. They've planted 3,200 trees to date!
Go further with Guz Architects.
---
Coopers Hill Singapore
Coopers Hill's jaw-dropping portfolio looks more like our travel wishlist! They are one of the leading hospitality landscape architecture and master planning firms in the world.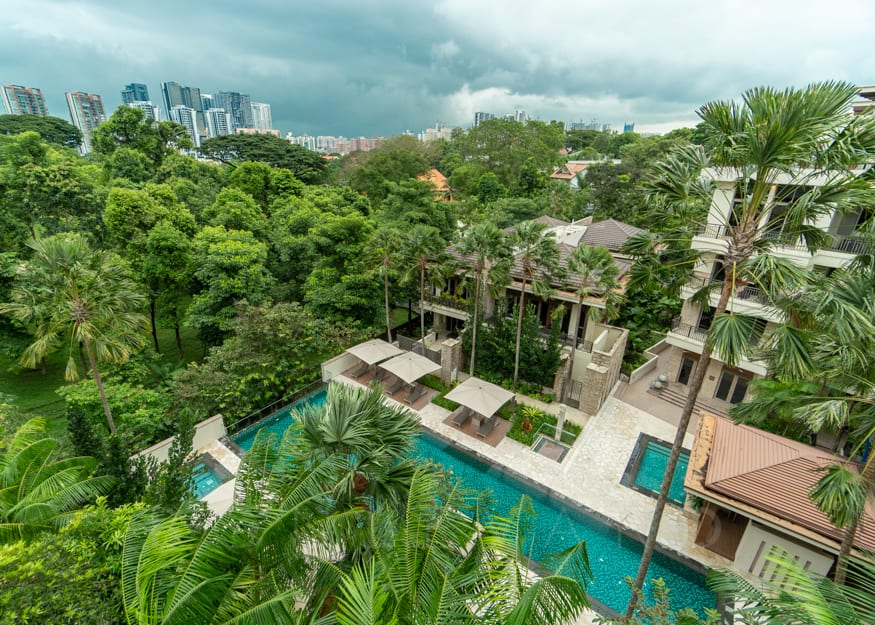 Coopers Hill is behind popular resorts like Conrad Bali, Dusit Devarana Hot Springs & Spa in China, Song Saa Private Island in Cambodia, Jal Mahal in India and several other award-winning properties. And they've left their remarkable mark on Singapore's urbanscape too. Apart from five-star hotels like Raffles Hotel, The Fullerton Hotel and Capella Singapore, the team at Coopers Hill envisioned resort-grade condos like The Meyerise, One Balmoral, New Futura, Bishopsgate Residences (see the condo in our video below) and Rivertrees Residences.
Go further with Coopers Hill Singapore.
---
Salad Dressing
Into Balinese resort vibes? Who isn't.
Chang Huai-yan, founder of the quirkily coined Salad Dressing, worked in Bali alongside Made Wijaya (Google for the man's impressive reputation in creating tropical garden landscapes).
Salad Dressing has been going strong since 2002, and you may have seen some of their work at the highly Instagrammable Harding Road and Ann Siang branches of PS Café, and White Rabbit. Their international portfolio includes homes in Japan, Indonesia, China and even Italy.
Go further with Salad Dressing.
---
Grant Associates Singapore
Grant Associates is one of the world's most reputable landscape architects and sustainable developers.
In 2017, the British firm expanded its presence in Asia with an office right here in Singapore. After all, they were one of the key creatives behind the 54-hectares large Gardens by the Bay and the 600-hectare island of Sentosa! Apart from master planning our most famous landmarks, Grant Associates also worked on the development of Capitol in the Civic District, Robinson Tower in the CBD and more recently, Funan Mall. Safe to say, Singapore's urbanscape wouldn't be the same without their contribution.
Go further with Grant Associates.
---
Hassell Studio Singapore
One of the world's leading multi-disciplinary design practice, Hassell's Singapore office has been responsible for some of our favourite establishments – Atlas Bar, Luke's Oyster Bar and Chophouse, The Great Room Offices, and The Regent's Tea Lounge.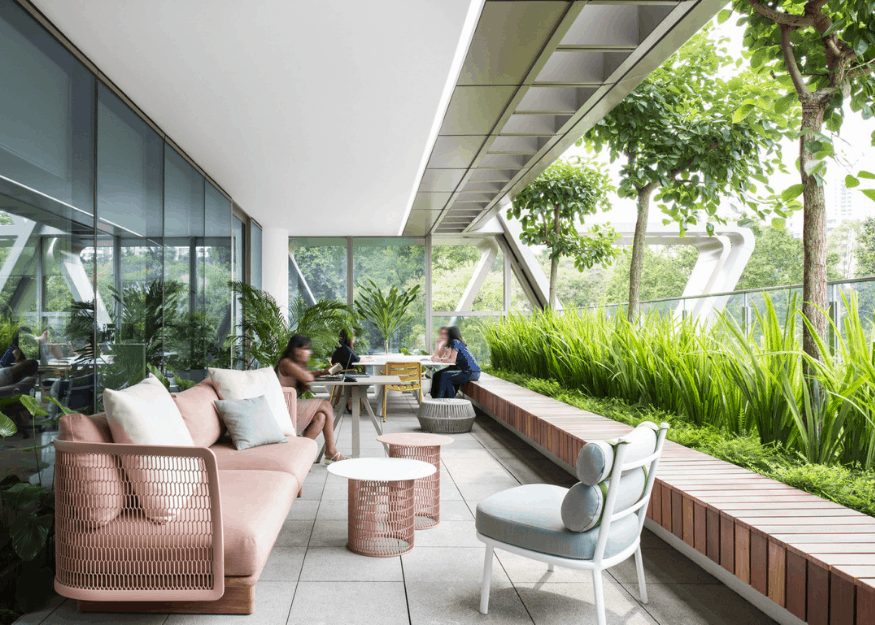 At the 2019 Singapore Landscape Architecture Awards, Hassell went on to bag numerous awards including one for the new GSK Asia House at One North, a lush biophilic office design makes for a healthy and stimulating work environment.
Go further with Hassell Studio Singapore.
---
DP Green
Landscape architects and arboriculture consultants DP Green's projects are meant to be beneficial for the people who interact with them as well as the environment as a whole. This interdisciplinary firm tends approaches each project by responding to the "site's natural genius loci". One of their most recognisable residential projects, Jardin on Dunearn Road, is bursting at the seems with greenery and offers its residents a chance to live within a garden.
---
Bonus: Landscape and garden designers
Singapore Landscape Design
If you have a smaller patio or balcony that needs sprucing up, landscape architect Josh Theoh is your man. From planters to rooftop terraces to even an outdoor percussion set, Josh has a knack for finding a space for even the smallest of alfresco gardens. His 13 years of experience is backed up by a reassuring number of client reviews.
The company also has a nursery in Lim Chu Kang if you'd like a more visual and tactile approach in choosing your greenery.
Go further with Singapore Landscape Design.
---
Greenology
Winner of OCBC's Emerging Enterprise Award 2017, Greenology offers urban farming for those who are keen, but we're more intrigued by their vertical garden walls. Not every home has the luxury of having a spare balcony or patio to tinker with, so we like the concept of a customised green wall that fits into the space you have. Plus, having an indoor garden means you get an in-built air purifier.
The feel good factor: Greenology has offered horticulture therapy to seniors with dementia, where they work on gardening projects over regular sessions.
---
Where to now?