Home tour: Hamptons-inspired interiors by LemonFridge Studio
Singapore-based, young and immensely talented, it's no wonder founders Renee Lim and Jeffrey Lee of LemonFridge Studio have had their hands full. Over the last five years, their interior design studio has crafted a series of amazing homes across the island. When one LemonFridge Studio's recent — and remarkable — projects popped up on the Boulevard Instagram feed, we simply had to ask us them to share the inside story.
Read on as we chat with co-founder Renee Lim about the studio's core philosophy and walk through a beautiful HDB that feels as if it's straight out of The Hamptons.
---
In conversation with interior designer and co-founder Renee Lim
What a curiously named interior design studio! Tell us the origin story behind the name and what led you and Jeffrey Lee to establish your firm?
Renee: Prior to founding LemonFridge Studio, Jeffrey and I worked at an interior design firm. When he made the decision to move from there, we decided to start a company of our own, with another partner. We wanted a place where we'd have full control of the company's direction in terms of design and services.

We thought the term 'LemonFridge' was a nice name for us. Lemon brings to mind freshness in terms of ideas, while the word fridge (an essential home appliance) sounds good with lemon.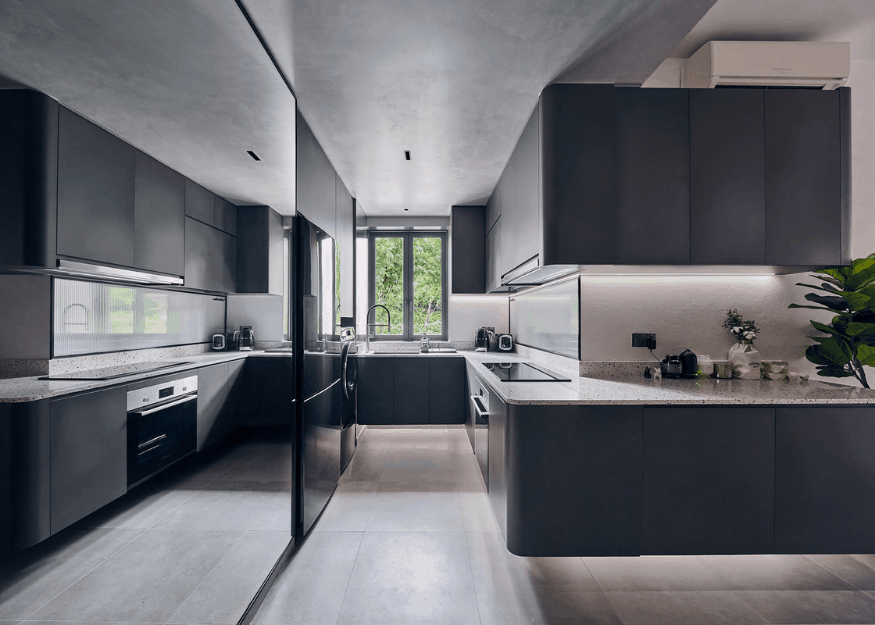 What's at the very core of a LemonFridge Studio home?
Renee: We specialise in residential works. So we've worked on everything from HDB and private apartments to landed homes. Sometimes we do commercial work too.
I make it a point to work intimately with our clients to design their dream space. The goal is to help them achieve their desired aesthetic and functionality, while complementing their lifestyle and needs.
We've has always been known for our ability to develop a unique creative vision while working alongside our clients to meet their desires and needs. We're inspired by Scandinavian interior design, which is characterised by minimalism, simplicity, and functionality. Our homes have a soft colour palette with a touch of character that embodies the client's individuality.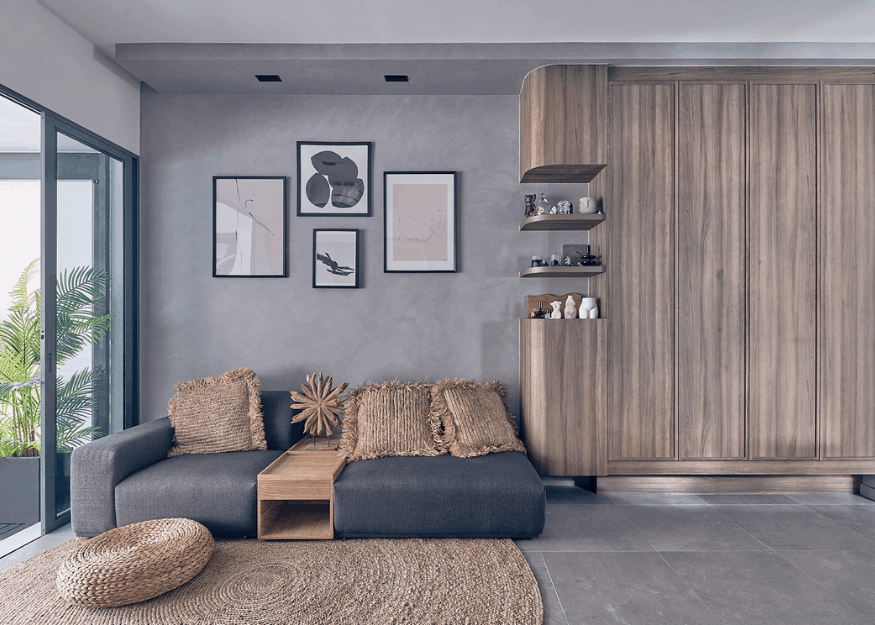 Did 2020 change the way you offer services or approach projects?
Yes! Zoom meetings are the norm now instead of face-to-face meet-ups. I think this is something that's here to stay. It works well for initial meetings or interactions that don't require us to be on-site.
---
Home tour: a Hamptons-inspired HDB by LemonFridge Studio
We can't get over this ultra-chic 1,550 sqft HDB unit on Chai Chee Avenue in Bedok. Featuring two rooms, two bathrooms and a balcony, the team at LemonFridge Studio transformed it an open, airy home that's not only charming, but timeless. Oh and wait till you see the master bath…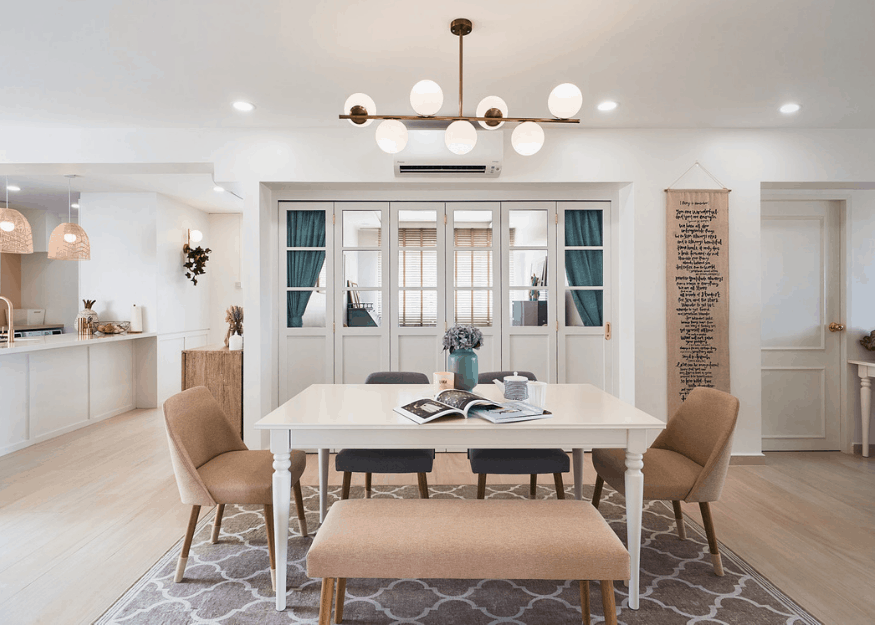 The team at LemonFridge make it a point to craft every home as a reflection of the homeowner's character. The brief for this Chai Chee Avenue HDB was "Scandi with a sprinkling of colour for personality".
Fortunately, this project didn't have a specified timeline as the client understood some of her requests were planning and work-intensive. This breathtaking home for the homeowner and her three dogs took around five months to hand over.
Loving this calm colour scheme? Us too. The client wanted a sprinkling of colour in her new house.
LemonFridge's designers recommended juxtaposing the plain white walls and wooden flooring with the warm beige-brown of rattan furniture and accessories in soft green, teal, whites and creams. They layered natural textures like linens, jute and rattan to complete the look.
The white carpentry and wood flooring create a safe backdrop that gives the homeowner the flexibility to play with colourful accessories and mix up the look of the space without a major renovation.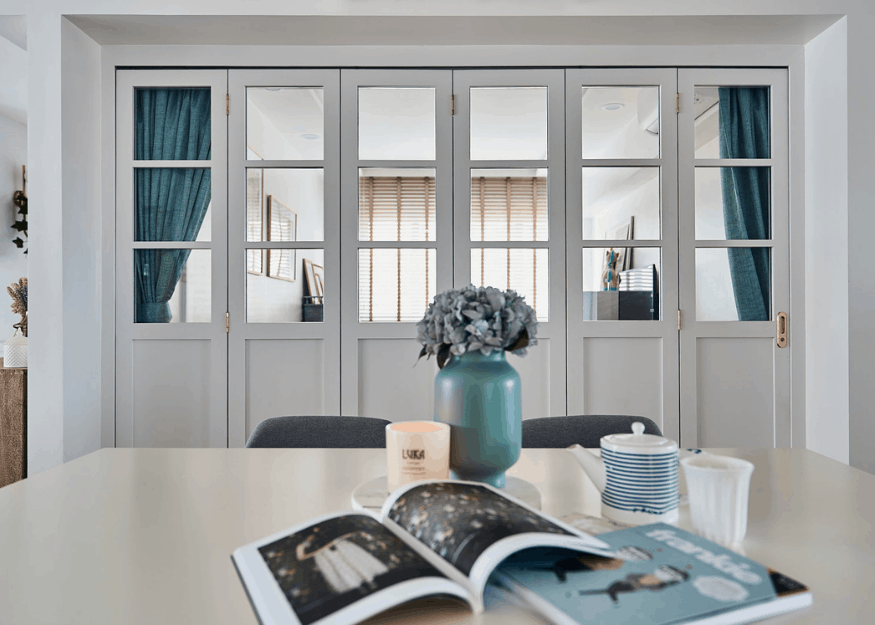 The front door opens to a foyer and an expansive living room with an open kitchen. The homeowner loves hosting and entertaining, so a large kitchen island was just what the interior designer ordered!
The stylish kitchen island, pictured below, allows creates a seamless flow from the kitchen to the living room.
As soon as you walk in, you can almost see the entire home in a single, sweeping glance. Walls were hacked and an open layout was adopted to create a sense of vastness and seamlessness.
When it came to the open ensuite master bath, the homeowner was initially on the fence. But one look at the 3D design and she changed her mind.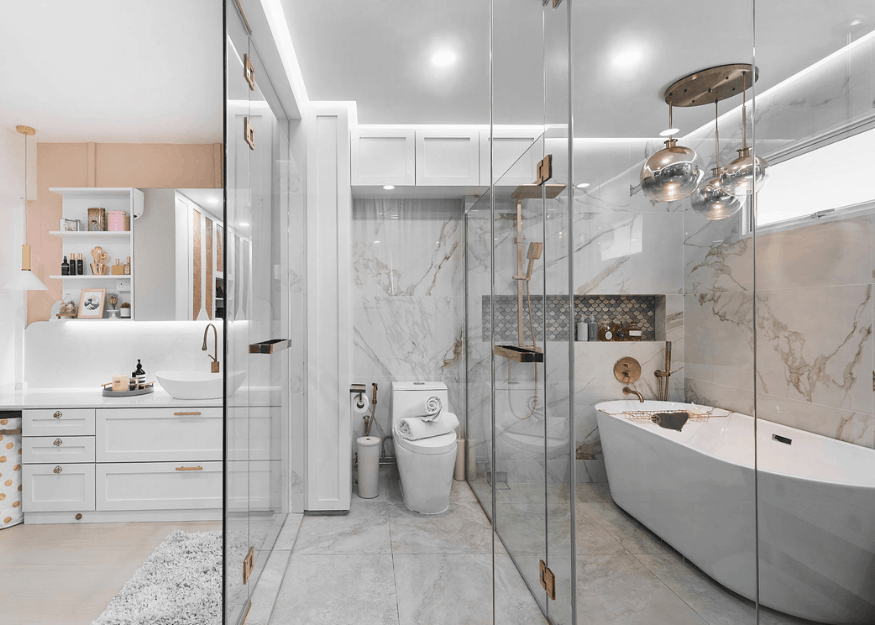 The client specifically asked for a bathtub in the master bathroom. A task that required planning as the original bathroom couldn't accommodate it. Lead designed Kristie Yong's solution was to shift the sink outside the bathroom into the walk-in closet with a long vanity area.
Even the team at LemonFridge considers the planning, problem-solving and execution of this stunning ensuite their biggest win in this apartment
You've got to love the storage units – Shaker-style kitchen cabinetry and cupboards with rattan inserts truly stand out. And one last thing: take a moment to wow over the beautiful placement of tiles throughout this home — the marble, heritage patterns and fish scales make this place truly memorable.
Go further with LemonFridge Studio.
---
Where to now?