Home tour: Free Space Intent's retro-fabulous home is straight out of a Wong Kar-wai film
Raymond Seow isn't an ordinary designer. He appeared on Singapore's nascent interior design scene at the turn of the millennium wielding his comic book collection, a low-key obsession with all things retro and a desire to have fun with interior design. For the last two decades, as founder and design director of Free Space Intent (FSI), he and his team have been carefully crafting homes that brim with character, colour and FSI's unique vibe.
We caught up with Raymond to look back at what got him interested in design in the first place. Plus, he walks us through a retro-chic HDB apartment that could easily be a Wong Kar-wai movie… set in 1980s Tiong Bahru.
---
In conversation with interior designer Raymond Seow of Free Space Intent
Free Space Intent has been designing homes in Singapore for the last 21 years. From where you're standing right now, what about your practice has evolved and what has remained largely unchanged?
Raymond: I founded FSI in 1999. We used to be called Free Space Desire and along with my partners, we offered graphic design, advertising and interior design under one roof. After five years, we decided to split ways and that's how Free Space Intent, my full-service design firm, was born. While we occasionally do retail, F&B and commercial spaces, the core of our business is and always will be residential design with special attention to small spaces.
Back in 1999, interior design was mostly about contractor work and not so much about holistic design. I started my firm because I wanted to design homes with an aesthetic that I could be proud of. I remember the zen aesthetic was all the rage but I liked colourful and retro things. I love comic books. And I've always believed that interiors should be fun, vibrant and filled with character.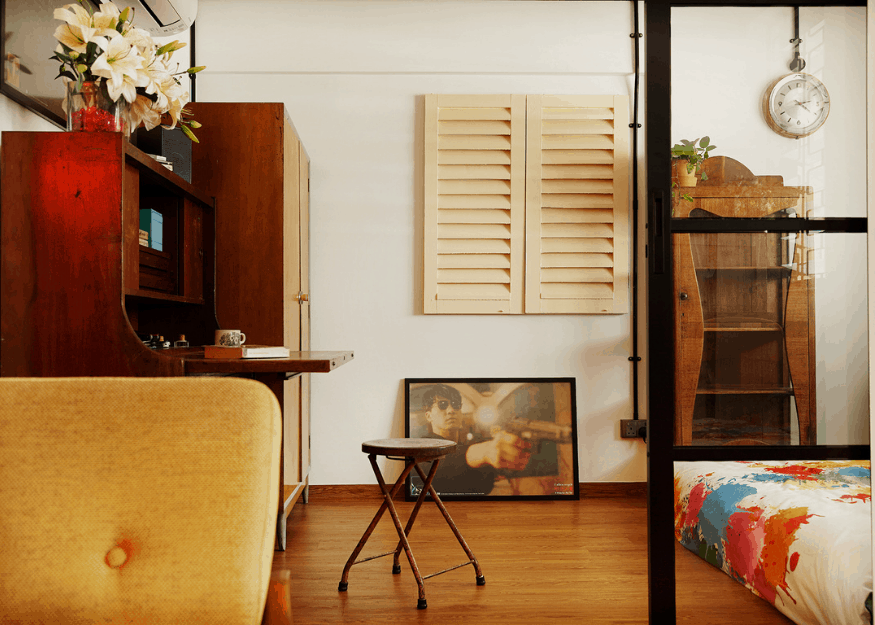 What has changed about Free Space Intent? Well, we're still a boutique design firm but now we're much bigger in size and have more systems in place. Initially, I was concentrating on creating retro-themed homes but if you look at our portfolio now, you'll see we are diverse in style. We don't do themes and we don't churn out templates. We put in a lot of time, effort and manpower into everything we do and each home has a different personality.
One thing that has remained unchanged is our love for residential design. Even now, I enjoy designing HDBs and condos, especially smaller spaces. I was and continue to be extremely passionate about design. I don't think of it as work because it brings me so much joy.
---
Take us back to the beginning. When and why did you decide to pursue design?
Raymond: Actually, my story isn't that interesting. I'm Gen X and for my generation, schooling was quite important. The aim for Gen X in Singapore was to be white-collar… that was our culture in the '80 and '90s.
But I wasn't an academic person. I was bad at school and was two years behind others. School was all about how much you can mug up and then replicate in the exam. But my mind couldn't lock things in like that.
So when it came to deciding on a career, I figured being a designer would be fun. I was interested in design. But I also thought it would give me licence to rebel. I could be stylish, sloppy with long hair, walking around with a portfolio and look cool like a creative. *laughs*
So I went to study at Lasalle College of the Arts. Sometimes I feel like I was in the right place at the right time. I think if I was even a little better at academics, I would've gone to Singapore Polytechnic and become an engineer or something.
---
Walk us through Free Space Intent's design process.
Raymond: When a client comes to us, we start with explaining to them how we work. The interior design scene in Singapore can be a bit complicated. There are some firms that provide free design like a cookie-cutter template. We don't.
So we try to understand what kind of service the client is looking for. We are a design-focused firm and when a client decides to hire us, they have to hire us as design consultants first and pay a design fee. We don't give out free designs. This is also our way of shortlisting our clients because we're all about quality and not quantity.
We do bespoke and personality focused work. This means we need our client to do some homework as well. We want to know what you like and don't like. We're not artists. We aren't going to draw something on the wall and the client has to just accept it. It's a two-way street. We work in collaboration with them to understand their lifestyle, needs and preferences.
---
Home tour: Tiong Bahru meets Wong Kar-wai in this Sin Ming HDB flat
This 756 sqft HDB apartment in Sin Ming, Bishan is straight out of an artsy movie set, isn't it? The three-room flat belongs to a bachelor who grew up in Tiong Bahru. While he moved out of his old neighbourhood, he didn't want to leave "that Tiong Bahru feeling" behind. And he didn't have to.
Raymond brought home the essence of '80s Singapore, through the lens of the homeowner's (and Raymond's) favourite movie director.
We simply can't get enough of the warm colour palette that celebrates brown in all its shades and the refreshing jolt of green to contrast. The mid-century modern furniture, captivating movie stills, smart space planning and multiple task-focused areas truly capture the intended mood without compromising on functionality.
---
There's so much to take in and we can't help but feel as if we've time travelled or walked onto a movie set. We're curious to know the design story of this house…
Raymond: You're right, it is meant to look like a movie set. The homeowner grew up in Tiong Bahru in one of those lovely pre-war HDB flats. He loves that vibe and wanted to bring it to his new house. Coincidentally, we both love Wong Kar-wai, the famous Hong Kong film director. His movies are incredibly tasteful – from the colours and score to the general mood and characters. Honestly, you can pause anywhere during the movie and that scene will be poster-worthy.
All the movie posters in the house are from the homeowner's personal collection. Initially, he didn't want to frame and display them but I encouraged him to do so. These posters should be looked at and enjoyed every day. What's the point of hiding them away? The design idea was to recreate the late '80s and early '90s Singapore HDB vibe. Even the sofa set with the wooden handrail and cushions is something you'd find in an old HDB during that time.
From retro mosaic tiling in the kitchen and bathroom to the colour scheme, we tried to bring that old Tiong Bahru vibe to this Bishan HDB. There's an interesting story behind the louvre windows. The homeowner actually found it in Tiong Bahru. Somebody threw it out but he picked it up and we incorporated it into the house. They don't make these fantastic windows anymore!
---
Walk us through the flow of this home…
Raymond: Floorplan wise, it's a rather typical HDB flat with a longish layout. In this case, it's open-plan layout where in one whole stretch you go from the living room to the kitchen right up to the bathroom at the end of the house.
The master bedroom is on the right-hand side and shares a wall with the kitchen. That's where we opened up a hole for the special Tiong Bahru window.
This is a two bedroom home, so we turned the second bedroom into a study. We hacked the wall and added a glass sliding door with a black frame. Initially, the house wasn't very airy but since we hacked away certain elements, it looks bright and open.
Personally, I love the bathrooms in this house. They are not the usual kind of bathrooms that we make. We tried to create that old-time look with green and blue mosaic and subway tiles that were widely popular in the past. It reminds me of my childhood home.
---
What was the most enjoyable part of designing this home?
Raymond: As I mentioned before, I'm not an academic person. I don't enjoy reading books. But I love watching movies and reading comic books. I'm a visual person and I can feel images. In general, movies inspire me and with this project, I had the chance to do up a house that was kind of inspired by movies. That was an enjoyable experience, particular getting to rewatch Wong Kar-wai's movies like Chungking Express and In the Mood for Love.
The main aim of this project was trying to recapture the essence of an old HDB flat. Coincidentally, there are certain aspects of Wong Kar-wai's aesthetic that feel at home here too, like with the posters. This is where the homeowner's personality comes into the picture.
---
Let's talk about the challenges. Did you face any hurdles or was it smooth sailing?
Raymond: There's no such thing as an uneventful project. Just like in a movie, the protagonist has to go through ups and downs… otherwise, there's no story. It's a cliche, I know, but it's crucial for character development. In the same way, we had many challenges.
For most projects, the first and main challenge is the budget. We have to balance the painful process of deciding what's good to have and what we need to have.
Then there's meeting the owner's expectations. Interiors are made by humans and humans aren't perfect. If you buy something from Ikea, it will 100% perfect because it's machine-made. But when people are building things, one cannot expect absolute perfection and accuracy. After all, a robot didn't paint the Mona Lisa.
Go further with Free Space Intent
---
Where to now?