Everything we love about 8 St Thomas units styled by Rashi Tulshyan
The last time we checked in with Rashi Tulshyan, she prescribed colour – a whole lot of it. Remember when she so rightly said, "Colours evoke emotions, and I believe there are always colours that speak to us; having something that gives us instant calm, or lifts our mood is a great asset in any home."

We live our lives in colour, so why should our home be any different?
Lucky for us, we recently watched her transform two identical apartments at the swanky new 8 St Thomas condo by Bukit Sembawang (read our insider condo review here) into completely different spaces and experiences, all with her not-so-secret weapon. Read on as we take the tour through two unique fully furnished three-bedroom apartments and drool over the blending of colours, patterns and personalities.
And yes, they are for sale.

---
For starters, both these 8 St Thomas condo apartments have precisely the same layout but entirely different treatments. One is an edgy New York-style apartment in moody hues of blacks, greys and browns, while another is a lighter, dreamier Hollywood Glam-style home with pinks, off-whites and greys.
#1 Contrasting is cool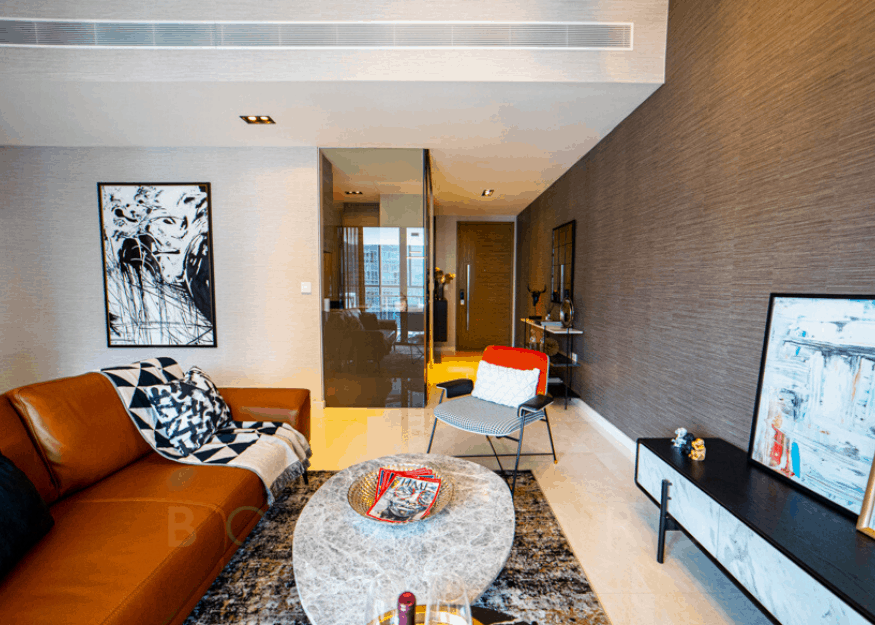 Love a bright pop of colour. The tan sofa in the living room is paired with black and white marble-top coffee tables and a cosy chair that introduces colour (bright orange at that) and a pattern (a masculine houndstooth).
On the same note, the Hollywood Glam-styled home featured a lounge-ready L-shaped sofa, neutral wallpaper (with silhouettes of tropical leaves) and bright orange velvet chairs waving out for attention.
#2 Play it up
Whoever said that black and brown don't go together needs to look at this gorgeous New York penthouse-like home. That mid-century modern sofa in the loveliest of tans shines in a largely black and grey room. We wouldn't have it any other way.
#3 Team up with textures
Apart from colours, Rashi's style also celebrates textures. And she has successfully juxtaposed several textures to create a tactile and comfortable space. Namely, the soft cotton and softer velvets, textured wallpapers and upholstered headboards, macrame cushion covers and leather armrests…
#4 All about that art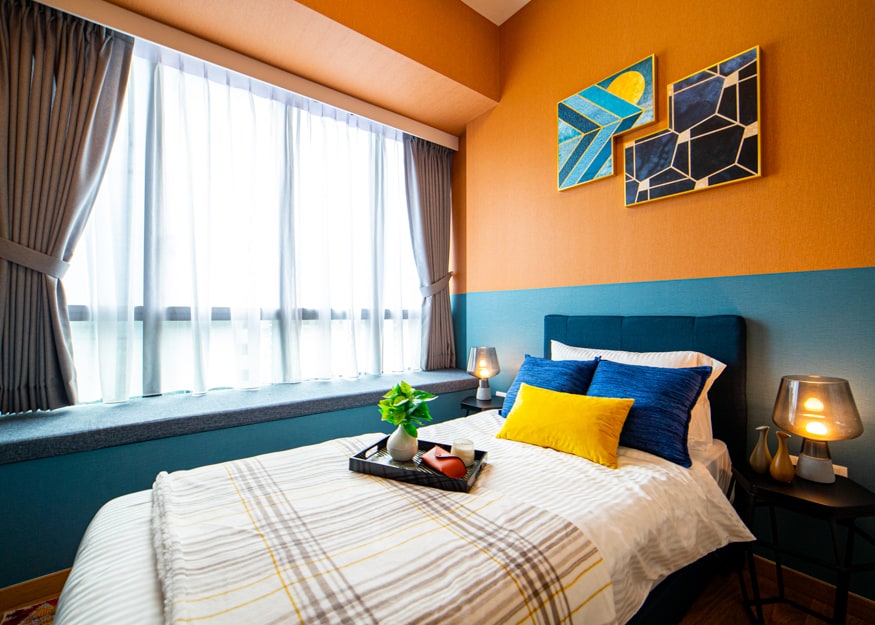 Conversations starters and space zhushers, artworks and decorative artefacts can lend a lot of personality to any space. See how Rashi peppers the living room with abstract paintings and the bedroom with cool geometric wall art.
#5 Metals are colours too
In both these 8 St Thomas condo apartments, Rashi introduced metallic accessories and decoratives. Not only does it infuse the space with sophisticated glitz, it also brings shades of dull gold, silver and brass to the palette. Even simple additions like a headboard with silver rivets, a metallic vase on the dinner table or a golden art piece above the bed go a long way.
#6 Wallpapers are wickedly good
We're wild about the wallpapers she used in both these apartments. We've been closely following wallpaper trends for 2020 and have always admired the freedom it brings to the table. You can create curiosity with something subtle like the sound wave-patterned treatment in the bedroom. Open doors to colour blocking with orange and blue wallpaper. And have fun with patterns on a feature wall.
---
Where to next?