Where to buy art in Singapore: Galleries we've got our eye on
Picasso once pronounced that art washes the dust of everyday life off the soul. It also effortlessly sweeps the bland off our walls.
It's never too late to start your own collection. Singapore has a burgeoning contemporary art scene with several art galleries celebrating local and international artists. If you're looking to zhush up your home with a painting or installation, canvass these art galleries for treasures.
---
Miaja Gallery
This River Valley art gallery is from the house of Miaja Design Group by Isabelle Miaja, renowned architecture and interior design group behind some of the most luxurious resorts and high-end residences around the world.
Miaja Gallery showcases unique and talented contemporary artists to fortify the cultural bond between Europe and Asia. Some of its artists include teamLab (Japan), Soonik Kwon (Korea), Govinda 'Sah' Azah (Nepal/London), Allen Tang (Singapore), Kim Xu (Singapore), Nandita Mukand (Singapore) and others.
Plus, interdisciplinary art collective teamLab's multimedia artworks are hosted as a permanent exhibit at Miaja Gallery in collaboration with Ikkan Art Gallery.
Read our interview with Isabelle Miaja here.
Go further with Miaja Gallery.
---
Fost Gallery
Established in 2006 by Stephanie Fong, this Gillman Barracks gallery shines a light on progressive contemporary artists from around the globe and pays special attention to local Singaporean creatives.
One of Singapore's leading galleries, Fost tends to showcase artists at different stages of their artistic journey while emphasising on education and dialogue. Some of its artists include Adeel Uz Zafar (Pakistan), Zul Mahmod (Singapore), Bovey Lee (Hong Kong), Kray Chen (Singapore) and others.
---
Sundaram Tagore Gallery
Established in New York in 2000, the Sundaram Tagore Gallery has outposts around the world, including one in Singapore at Gillman Barracks. It has a strong focus on a cross-cultural exchange that encourages spiritual, social and aesthetic dialogues. Interestingly, the gallery's founder Sundaram Tagore is a descendant of the Nobel Prize-winner poet and artist Rabindranath Tagore.
Sundaram Tagore Gallery's artist include Miya Ando, Tom Doyle, Golnaz Fathi, Denise Green, Kim Joon, Nathan Slate Joseph, Jane Lee, Judith Murray, Ricardo Mazal, Nino Sarabutra, Edward Burtynsky, Annie Leibovitz, Steve McCurry and others.
Go further with Sundaram Tagore Gallery.
---
Artitude Galeria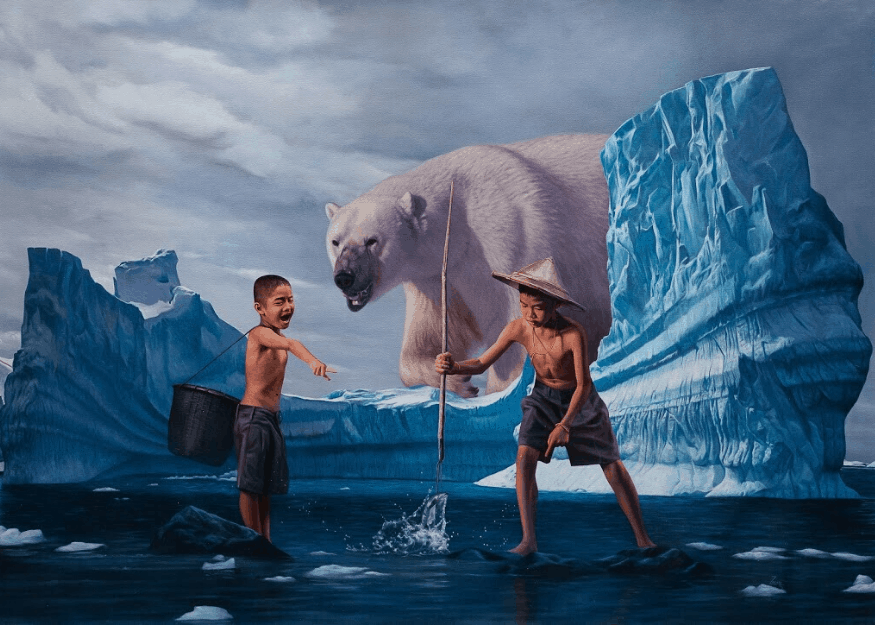 Singapore's first Colombian contemporary art gallery was founded by Holly Turner, a locally-based British collector and curator. The gallery buys, sells and consigns Latin American and Colombian artworks from established and emerging creatives. Located on Pagoda St, you are bound to find vibrant artworks, many created with a dash of magical realism.
Go further with Artitude Galeria.
---
Sullivan + Strumpf
Established in 2005 in Sydney, Sullivan + Strumpf's Singapore gallery represents thought-provoking Southeast Asian artists while nurturing its Australian relationships. It's known for innovative and progressive exhibitions across genres and media. One of Asia-Pacific's leading contemporary art galleries, it represents about 38 established and emerging artists.
Go further with Sullivan + Strumpf.
---
Deck
A unique multi-concept space on Princep Street, Deck is a dedicated gallery for contemporary photography by Art Photography Centre. Made entirely of re-purposed shipping containers, it houses three galleries, a resource library, artist studio and cafe/bar. It's also home to the Singapore International Photography Festival that's scheduled to host its 7th biennale in 2020.
Deck's permanent gallery in the Print Room showcases exclusive limited-edition photographic artworks from Southeast Asian artists.
---
Mizuma Gallery
First established in Tokyo in 1994, Mizuma Gallery opened its Gillman Barracks gallery in 2012. Its prime aim is to introduce and promote Japanese artists as well as showcase promising East and Southeast Asian artists to the world.
Some of its artists include Aida Makoto, Aiko Miyanaga, Amano Yoshitaka, Ikeda Manabu, Ai Weiwei, Du Kun and Agan Harahap, Agung Prabowo, Albert Yonathan Setyawan, Angki Purbandono and others.
---
The Artling
You don't need to leave home for this. An online gallery and art consultancy, The Artling has teamed up with 250 galleries and 2,500 artists from around the world. Headquartered right here in Singapore (with a brick and mortar gallery in Shanghai), this e-gallery's showcase grows frequently and includes design books, prints and even furniture.
---
Where to now?