Design Build: The Tomlinson's starchitect lineage
So much to do, so little time to stop and admire our homes and wonder how they came to be.
Well, we've done the wondering – all you need do is put down that critique of 17th-Century Dutch economics and marvel at, in this edition of our Design Build series, the starchitect lineage of The Tomlinson condo.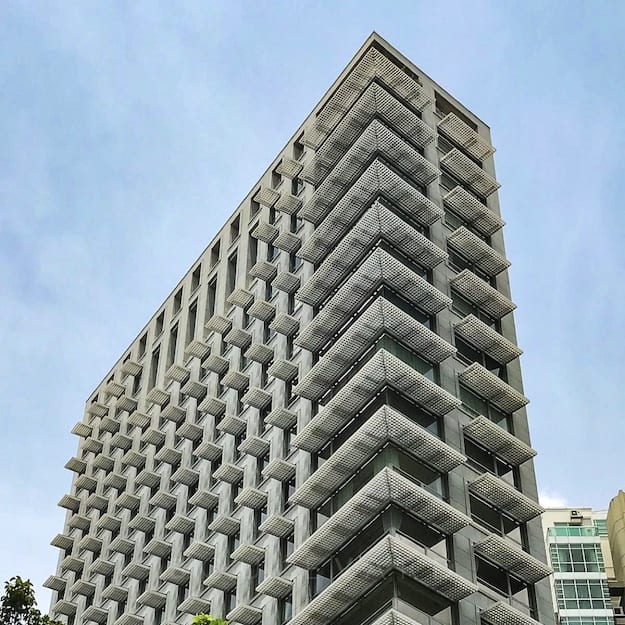 With its granite walls, checkerboard fenestration and projecting lintels, The Tomlinson cuts a fine and fascinating figure.
The Orchard condominium was designed by Pei Cobb Freed & Partners, who have a number of significant projects under their belt, as well as an even larger number of projects underway. These include two stunning residential developments – for anyone setting their property investment sights on Mumbai:
The forthcoming One World tower

The architects' proposed residential tower
These projects notwithstanding, the firm is perhaps more famous for being founded by I. M. Pei: legendary architect of some of the world's most recognisable – and controversial – modern architecture.
Think the John F Kennedy Library…
… our favourite building in Hong Kong, the Bank of China…
…and perhaps the Twentieth Century's most hotly debated architectural foray: the pyramid at the Musée du Louvre.
(Indeed, we at Boulevard are not in total agreement over the merits of the awful Louvre pyramid.)
More recently, Pei came out of retirement to design the wonderful Museum of Islamic Art in Doha.
It's likely the great man didn't play too active a role in The Tomlinson's conception – perhaps sneezing while strolling past the huddled designers' offices. After all, he was 86 at the time of the condo's launch in 2003. (He's now 100).
Nonetheless, it's a wonderful lineage to ponder while reposing in one of The Tomlinson's 29 expansive apartments.
---
The Boulevard Brief: The Tomlinson condo
That's right, just 29 apartments – indulgently laid out across 19 floors
Freehold
All the usual facilities
Average price of $2,100 psf – fractionally above the luxury market trend in recent months which has seen Singapore property market prices rise to $2,050.
---
Where to now?