The interview: Top Australian menswear designer Patrick Johnson
By avoiding fusty gentlemen's club cliches, men's style savant Patrick Johnson has shaped a new, uniquely Antipodean sartorial aesthetic.
By Christian Barker
Photography by Leonidas Matis
Think 'classic men's outfitter' and immediately, your mind will dance with visions of chestnut leather Chesterfields, dark wood panelling, oil paintings of horses, tartan-upholstered cushions and rich mahogany shelves lined with leatherbound books. What you're picturing is an old-school Savile Row tailor's premises — or more probably, Ralph Lauren's sleek, romanticised remix.
Despite being a 'classic men's outfitter', perhaps Australia's best-known today, Patrick Johnson's shops bear absolutely no resemblance to this image. And that's their charm. "Obviously, I'm not from the UK, I'm not from Savile Row, not from that background," says Johnson, who grew up on the outskirts of Adelaide. "I'm a massive admirer of Savile Row and its history, its traditions, everything it stands for. To me, that should very much be protected in its own right and not mimicked."
Besides which, Johnson reckons if he'd launched his business simply emulating the British or Italian paradigm, in terms of straight-up aping the garments or retail environment, "We'd have hit a brick wall pretty fast." Unashamedly copying those comfortable, recognisable clichés, as so many have done in the past, "Yeah, you might be able to get a quick win on that," Johnson says. "But I think longer term, unless you're doing something that's true to yourself, and really pushing your own aesthetic and your own identity, you'll never create anything that has a sense of purity."
Whether situated in Sydney or Melbourne, London or New York, a Patrick Johnson space feels unmistakably Australian — easy, breezy, bright and laidback, reflecting our sunkissed country and its multicultural melting pot. Smart and artsy, creative, but never snooty or 'up itself'. Fresh. Friendly. New.
"One of the great things about being Australian and having the understanding that we're kind of country bumpkins, that we are from the other side of the world, you have this clean slate, which you can start to build out from scratch," Johnson says. "You don't have this weight of history holding you down and saying you should do this or do that."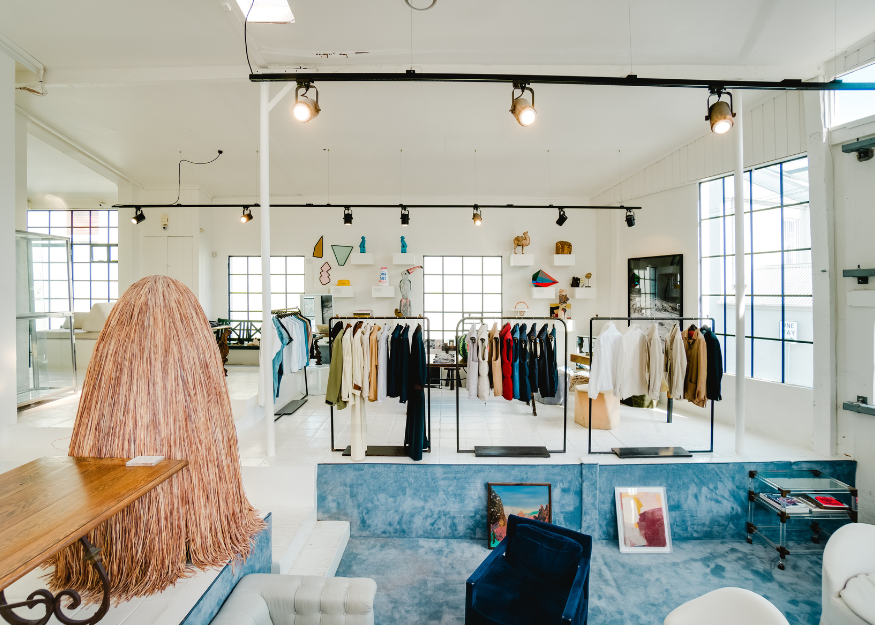 Johnson explains, "What we've tried to do, my wife and I, in creating the aesthetic for our spaces is to take what we find to be the best little bits from around the world, the things that interest us, and weave those into something that is uniquely us — uniquely Australian. It has this slight coastal essence to it, and also this youth and energy."
As many readers will be aware, Johnson's wife, Tamsin, is one of the country's best and most sought-after interior designers. It's fair to say that the environments she has helped Patrick create have played a big role in his success — selling pricey tailored garments to an often parsimonious, style-averse Aussie male consumer, and selling Australian style to Brits and Americans.
The secret? Thanks in no small part to Tamsin's touch, Patrick Johnson's spaces feel comfortable, quietly communicating that you'll feel comfortable in his clothes, no matter how 'flash' they may be.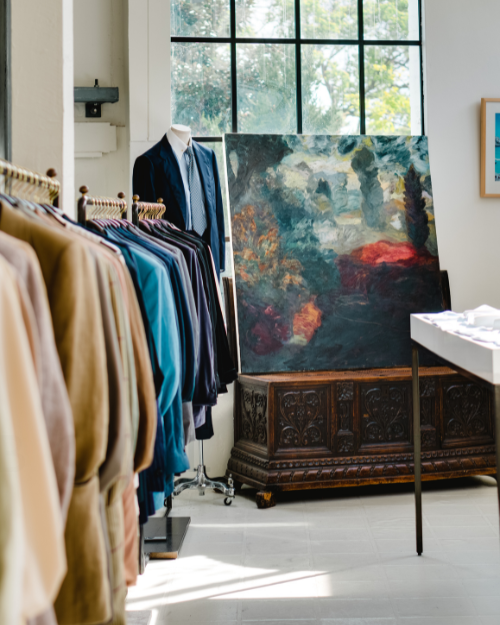 His shops should serve as "an oasis, away from the energy of the city, where people can come and relax and genuinely just feel at ease and calm," Johnson says. "In our job, we really need to disarm people and make them open up and be themselves, because otherwise, we can't really make clothes for them." To that end, Johnson says rather than sales-floors, he designs his shops to work like hospitality venues.
"We love to spend time with our clients, they become some of your closest friends. We're really trying to create environments that I want to hang out in, with our clients, our teams," he explains. "We treat it much more like a restaurant or hotel, where you're hosting people."
The designer equally hopes his customers feel instantly at home, at ease, in the garments he custom-tailors for them. "We want to make something that's going to have a freshness, utility, a lightness, a softness to it," Johnson says. "Something that will be elegant, that will be beautiful." Step into one of Johnson's stores, peruse the apparel, scope out the space, and you'll see exactly what he means.

To learn more about P.Johnson's ready-to-wear and personally tailored offerings, for men and women, visit the website.
---
Where to now?