Luxe kicks: George Cleverley bespoke sneakers
Following several years of painstaking R&D, top British luxury shoemaker George Cleverley recently launched its first sneaker. With classic, minimalist lines, these handmade luxury 'kicks' are available for bespoke orders in an array of exotic hides — from crocodile to ostrich, lizard to kudu — plus a rainbow of colours.
Cleverley CEO and creative director George Glasgow Jr. says unlike many other luxury shoemakers, his family company was in no rush to create an upscale sneaker. "We've always had the demand for a sneaker from our clients. In fact, the first few pairs went to passionate customers like Dwayne Johnson, Jason Statham, Henry Golding and Tony Robbins — people who've been fans of ours for many years," Glasgow explains. "But if we were going to make a sneaker, we wanted to execute it in a manner that was in keeping with the brand and the DNA of the business."
For Cleverley, that meant no cutting of corners. "A lot of other British shoe companies have chosen to manufacture their sneakers in Italy," Glasgow says, "whereas we wanted to stay true to our British-made heritage, where every single shoe that we make is crafted in England. It was essential that those values be transplanted into the trainer."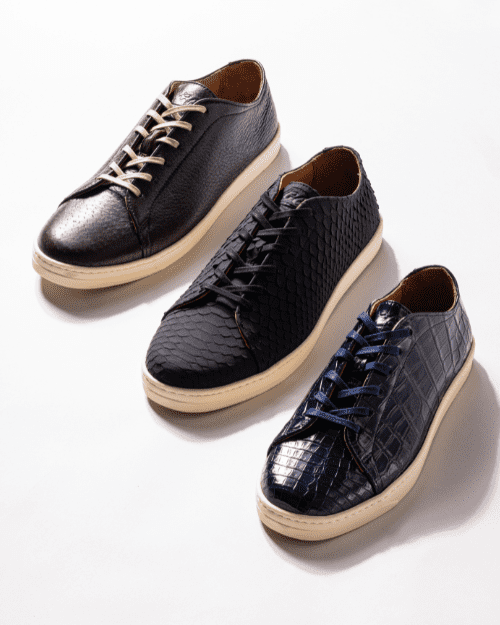 In designing this shoe, which represents something of a departure from Cleverley's usual traditional lines, Glasgow says his team set out to make a versatile, its styling neither too smart nor too casual. "It needed to be classic and elegant enough to be worn with a suit, but easily transition to wearing with a pair of jeans," he says.
"We wanted to create something extremely luxurious, with an upper in the same top-quality calfskins and nubuck that we use in our shoes, as well as exotic materials, such as alligator, which have become increasingly popular," George says. It was also vital that the sneakers could be resoled, to ensure they were long-lasting and despite their expense, represented excellent value for money via years of enjoyment.
Available ready-to-wear in a variety of hides and hues, the sneakers are also offered bespoke, allowing customers to dream up one-of-a-kind variants. "People have been ordering them in lizard, nubuck, python, ostrich, porosus crocodile, and they've chosen all sorts of vibrant colours," George says. "Our clientele, they've always been really fun and up for trying new materials and new ideas, different styles. Someone just ordered a pair in ballerina pink, which is going to look brilliant."
The Cleverley 'Jack' sneaker is sold ready-made in 10 colours via Mr Porter, while those seeking a truly exclusive iteration should make an appointment for one of the shoemaker's upcoming international trunkshows (email: [email protected]). Or of course, you could always visit the historic store in Royal Arcade, Mayfair, and have a chat with Glasgow's dad, George Snr.
"My father always told me, 'Invest heavily in your bed and your shoes, because if you're not in one then you're in the other,'" says the younger Glasgow. Whether referring to classic Oxfords, louche loafers or a sleek sneaker, truer words were never spoken.
---
Where to now?