James Tylor explores his cultural roots in 'Turrangka… In The Shadows' exhibition
By Elizabeth Reidy
James Tylor's current touring exhibition, 'Turrangka… In the Shadows' presents a survey of the past decade of his practice exploring his Nunga (Kaurna Miyurna), Maori (Te Arawa) and European heritage. Featuring five exhibition rooms, the survey opens with a body of expanded photographic work, sculptural and culturally significant objects, and designs Tylor developed over a two-year journey along the 300km Hans Heyson trail through the Lofty Mountains and Flinders Rangers.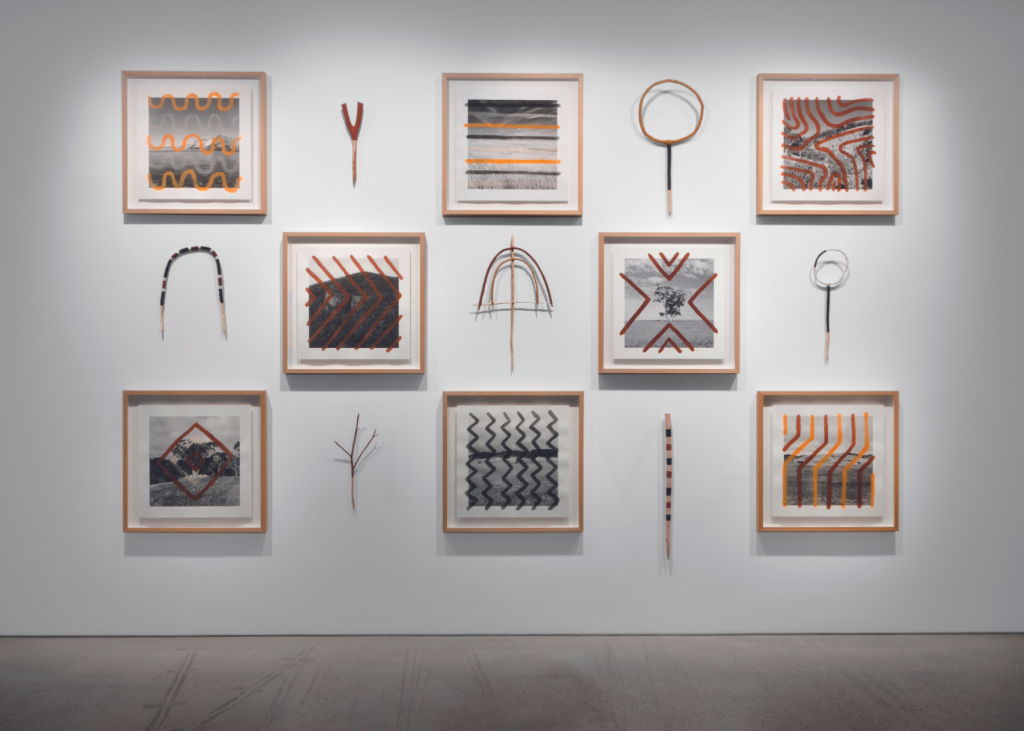 These are the traditional lands of the Nunga Nation, of which Tylor is a descendant, but also bear the colonial name of German Australian impressionist painter, Heyson. Tylor's double-edged exploration takes up the traditional designs and motifs of the Nunga Nation as well as an expanded photographic reflection of the landscape that is more popularly known by its colonial connections to Australian impressionism. The images mirror the landscape subtly embodying Nunga culture with dimensional elements of pipeclay, ochre and charcoal Tylor sourced from the locations in the photographs.
Deeply political, beautiful, and haunting Turrangka… In the Shadows unfolds into series after series of images and objects exploring the artist's reconnection to and learning of traditional Indigenous cultural practices while confronting the realities of colonisation and its dislocating effects. The body of work Un-resettling (2013-2017) presents a hand-coloured series of works documenting a range of Kaurna cultural practices that had been lost as the result of colonisation, while From an Untouched Landscape (2020) combines photography with hunting implements, clapping sticks, spears, and painted wood tools in an extended installation that responds to the removal of Indigenous culture from the land through colonisation. Fire Country (2022) presents a living room furniture installation co-created with Canberra based artist Rebecca Selleck. Tylor and Selleck constructed Scandinavian modernist furniture and accompanying photographic frames and prints which they chose to burn to carbon black and seal with animal fat. The series embraces the Aboriginal custom of controlled wildfire as a management system for the land and suggests fire as part of our collective Australian landscape.
Tylor's practice marries the digital and hand-made, contemporary with tradition in a bid to reclaim connection to culture through practice. His work is a political intervention extracting information from images to revision culture into country.
James Tylor's 'Turrangka… In the Shadows' is showing at UNSW Galleries, Paddington, until 30th July, and then at the Centre of Contemporary Photography in Melbourne from 22nd September to 17th November.
---
Read next: