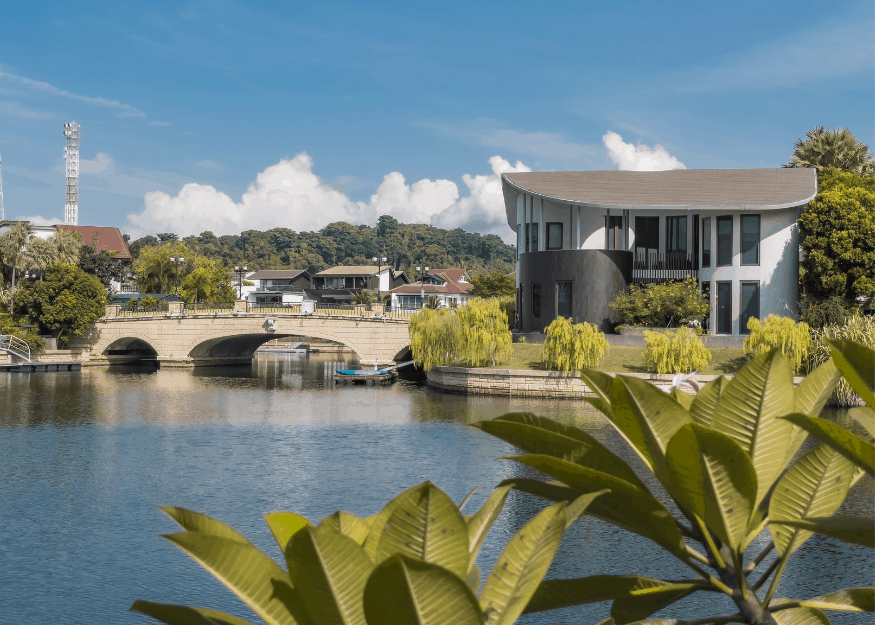 The essential guide for expats and foreigners buying property in Singapore
You can, and doubtless should spend a fair amount of time investigating the ins and outs of expat property ownership in Singapore. But if you're just getting started and want no more than the cheat sheet for now, here are five key things to know about buying real estate in Singapore as a foreigner.
And then, yes, you can go back to dreaming about that divine, strata title shophouse (hello, Wharf Residences).
---
1. What types of real estate can foreigners buy in Singapore?
There's a long answer to this question, but the short one is that foreigners can largely buy the following property types in Singapore:
Most condos;
Some strata landed houses;
Landed houses on Sentosa;
An executive condominium that is more than 10 years old.
Note that even some strata landed properties within a condo development are still off limits and exclusive to citizens – like the villas at Normanton Park.
---
2. Does it make a difference if I'm a Singapore permanent resident (SPR)?
It does. Most notably, Permanent residents enjoy more (but not complete) access to HDB flats and executive condominiums. They can also apply to the Singapore Land Authority to buy a landed house (but will have to demonstrate an economic contribution to the country). And moreover, there are significant implications for tax. (See #3.)
---
3. What taxes do foreigners need to pay to when buying a property in Singapore?
Sorry, long one here.
Anyone buying a property in Singapore must pay a Buyer's Stamp Duty (BSD), which is calculated as follows for residential properties.
On top of BSD, foreigners must pay an Additional Buyer's Stamp Duty (ABSD), which is different for permanent residents and non-SPRs.
SPR first property: 5%;
SPR second and subsequent properties: 15%;
Non-SPR foreigners: 20%.
Major caveat: no ABSD applies for foreign nationals of the following countries:
Iceland;
Liechtenstein;
Norway;
Switzerland;
United States.
You may also be up for Mortgage Duty, legal and other administration fees.
---
4. Can foreigners apply for mortgages?
Foreigners can indeed apply for mortgages in Singapore. It's worth noting that there are limits on the loan to value (LTV) ratio of your mortgage, as well as mandated minimum cash downpayments.
The loan to value ratio is typically 75% for a first home loan (but depending on your age and the tenure of your loan, it can be as low as 55%). The cash downpayment required is typically 5% (but, similarly, it can be as much as 10%).
Unsurprisingly, the LTV is lower and downpayment higher on second and subsequent home loans.
---
5. Do I need an agent to buy a property in Singapore?
It's not required, but it's probably advisable to have a buyer's agent on your side to assess and negotiate pricing, as well as to navigate the paperwork, taxes and fees.
Speaking of which, buyers' agents will typically charge a fee of around 1%.
---
Connect with a real estate agent
Questions? Calculations? Or just keen to explore the market? Connect with Boulevard's partner agents.
---
The top areas where foreigners buy property in Singapore
Robertson Quay, Districts 03 & 09
This sought-after area is just a 10-minute walk to the city, and is known (and loved) for its cafes, bars and restaurants, blissful river views, jogging trails – and, yes, its enviable condos.
Two standout condos in Robertson Quay
Martin Modern: Completing in 2021, this brand new condo is almost sold out – and offers unrivalled lush green spaces, striking modern design and indulgent interiors across its 2br to 4br apartments.
Rivière (left): This new launch occupies one of the premier sites in Robertson Quay, right by the river. The development boasts a rare mix of leek design, generous apartment sizes, heritage godowns onsite and views from every apartment. See the listings, unit mix, pricing and availability.
Go further with Robertson Quay real estate: condos, amenities, enquiries.
---
Sentosa / Keppel Bay, District 04
Sentosa is the only part of Singapore where foreigners can own landed residences – and accordingly there's a wealth of extraordinary bungalows offering oceanfront views, private berths, designer interiors and eye-popping architecture. But the condo market in Sentosa, along with the neighbouring Keppel Bay area, is equally popular with foreigners, offering lower entry points, spectacular amenities and elevated views.
Two standout condos in Sentosa and Keppel Bay
The Coast at Sentosa Cove (right): This exclusive, low-rise condo features large-format apartments, a sprawling lagoon pool and direct waterfront views. Sublime.
The Reef at King's Dock: The recent new launch promises smaller-format apartments with sleek interiors, water views and Singapore's only floating pool. See the listings, unit mix, pricing and availability.
Coral Island (left): One of five islands in Sentosa Cove, these stunning resort-like islands feature a small number of bungalows typically with waterfront estates and private berths. See this 8br Coral Island bungalow for sale.
Go further with Sentosa real estate: condos, amenities, enquiries.
---
Cairnhill, District 09
Cairnhill is an exclusive enclave moments from Orchard Road, close to the world-famous shopping but also top schools and the esteemed Mount Elizabeth Medical Centre. Once the site of nutmeg plantations, Cairnhill then became known for bungalow estates favoured by Singapore's elite, and today it's one of the most prestigious residential areas in the country. Rows of heritage shophouses rub shoulders with luxury condos set on secluded cul-de-sacs.
Two standout condos in Cairnhill, Orchard
Go further with Cairnhill real estate: condos, amenities, enquiries.
---
Amber / Meyer Road, District 15
The East Coast is a favourite among families in particular, with easy access to miles upon miles of parks and coastline, cafe and restaurant hotspots and an easy commute to the city. Resort-like condos line the park with unblocked views of the glittering sea,
Two standout condos in Amber and Meyer Road
Silversea: Perhaps the top recent build in the area, Silversea features luxurious interiors, resort-grade amenities and stunning sea views – all within an easy walk of the East Coast Road shopping and dining. View the penthouse for sale at Silversea.
Meyer Mansion: This new launch project will offer rare 1br apartments with sea views through to spacious 4br residences, in a spectacular setting where 75% of the site has been given over to wowfactor facilities and landscaping. See the listings, unit mix, pricing and availability.
Go further with East Coast real estate: condos, amenities, enquiries.
---
Where to now?