Six new launch condos vie for supremacy on the East Coast
Hold on to your hats, Inner East Coasties, the District 15 development scene is taking off. An astonishing line up of luxury condos is heading for the Katong and Marine Parade areas, taking full advantage of sea views, the East Coast Road dining precinct and proximity to the CBD.
With six projects already underway, and more to come, the pressure is on to build something that stands out from the crowd to offer distinctive, luxurious living.
And these wowfactor new launch condos don't disappoint.
---
Meyer Mansion
GuocoLand went all out with this freehold residence right on the coastline. Set on the prestigious Meyer Road, it takes inspiration from the old waterfront bungalows of Katong – updated of course for a modern and luxurious condo.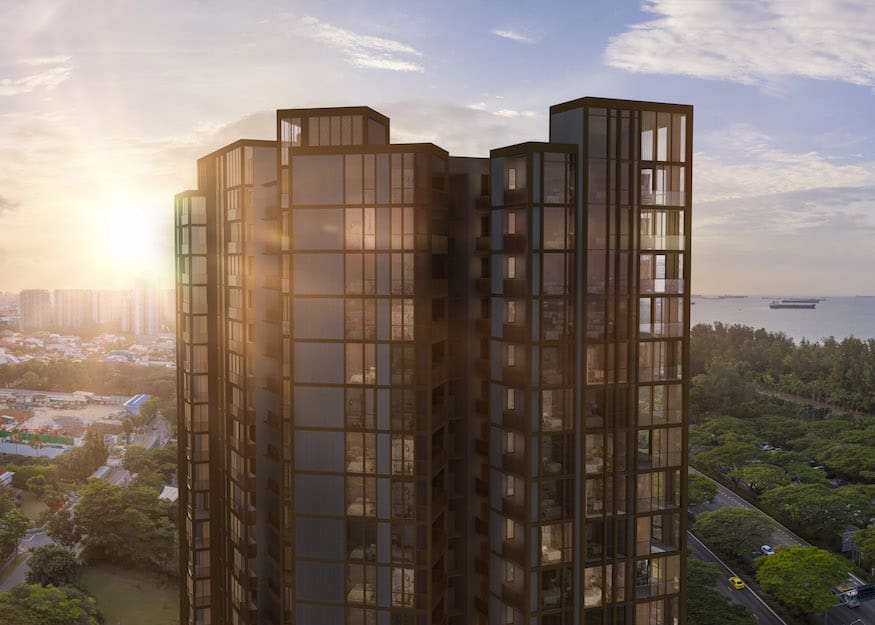 Whence the large-format balconies, eat-in kitchens, family-friendly living spaces, but also the luxe condo amenities and unblocked views and unblocked views of the glittering Singapore Strait or the sweeping landed house estates.
You're looking at:
Address: 79 Meyer Rd, Singapore 437906
Number of units: 200
Unit mix: 1-, 2-, 3-bedroom. Plus, 3- and 4-bedroom premium with private lift lobby
Towers: 1 block of 25 storeys
Expected TOP: 2024
Tenure: Freehold
Can we tempt you with:
An enviable combination of luxury, space and location! Our picks: the super-rare one-bedroom unit with spectacular views, or the spacious four-bedroom premium apartment facing both the sea and the land – the best of both worlds!
---
MeyerHouse
The charming Nanak Mansions were something of a Meyer Road icon, and the incoming MeyerHouse looks to build on that legacy. Designed by WOHA architects (think Parkroyal on Pickering and the lovely Watten Estates), and comprising only 56 units, MeyerHouse will offer their signature green-centric living in a stunning boutique complex surrounded by lush, cascaded landscaping.
See Boulevard's Condo Insider MeyerHouse review for more
You're looking at:
Address: 128 Meyer Road, Singapore 437938
Number of units: 56
Unit mix: 3 bedroom, 4 bedroom and penthouses
Towers: 1 block of 5 storeys
Expected TOP: Q2 2021
Tenure: Freehold
Can we tempt you with:
Space! An almost unheard of amount of space. The three-bedroom units start at an astonishing 1,862 sqf (larger than many four bedrooms in the area), while the four-bedroom units start at 2,820 sqf and the penthouses enjoy a sumptuous 5,587 sqf.
Go further with MeyerHouse condo:
---
Amber Park condo
Stealing the limelight with its tower-spanning sky terrace (pictured top), Amber Park is set to dominate the Katong skyline – and also reshape our expectations of jogging trails. Rising up from the former Amber Gardens site, the CDL-built condo will combine modern fit-outs with out-there facilities and unbeatable views.
You're looking at:
Address: 14 Amber Gardens, Singapore 439960
Number of units: 592
Unit mix: 1 bedroom through to 5 bedroom plus study and 4 sumptuous penthouses
Towers: 3 blocks of 21 storeys each
Expected TOP: Q3 2023
Tenure: Freehold
Can we tempt you with:
Well, that sky terrace, aka "The Stratosphere," obviously. At 235m above sea level, it features a 600m jogging track, pool, kitchen and gym. Perfect for wellness, entertaining and endless selfies.
Go further with Amber Park condo:
---
NYON
This boutique development by AurumLand promises light-filled interiors giving onto park and water views, all within a short walk of the lifestyle precinct of East Coast Road. NYON goes heavy on facilities for a smaller condo, boasting cabana pods and a treehouse playground alongside the obligatory pool, clubhouse, and BBQs.
You're looking at:
Address: 12 Amber Road, Singapore 439858
Number of units: 92
Unit mix: 1, 2 and 3 bedrooms
Towers: 1 block of 18 floors
Expected TOP: September 2022
Tenure: Freehold
Can we tempt you with:
Gorgeous Peranakan design that give the common areas a timeless heritage feel in an otherwise ultra-modern development.
---
Coastline Residences
This wow-factor condo replaces the former Parkway Mansion with a stunning new build also by Sustained Land, who are clearly feeling District 15 just now. Coastline Residences' dreamy, futuristic design and luxury facilities promise up the ante for designer living in the Inner East Coast.
You're looking at:
Address: 7 Amber Road, Singapore 439953
Number of units: 144
Unit mix: 1 through to 5 bedrooms
Towers: 2 blocks of 21 storeys each
Expected TOP: December 2022
Tenure: Freehold
Can we tempt you with:
This rooftop pool with a view. Move over, MBS…
Go further with Boulevard's listings for Coastline Residences.
---
One Meyer condo
On the site of the former Albracca, and right across the road from the future Katong Park MRT, One Meyer will enjoy one of the best positions on this sought-after strip. Built by Sustained Land, One Meyer will offer luxurious living on the cusp of the city.
You're looking at:
Address: 1 Meyer Place
Number of units: 66
Unit mix: 2 and 3 bedroom
Towers: 1 block of 19 storeys
Expected TOP: July 2023
Tenure: Freehold
Can we tempt you with:
Stunning unblocked views across both Katong Park and East Coast Park to the water beyond.
Go further with Boulevard's listings for One Meyer.
---
Also in the District 15 development pipeline…
Developer Bukit Sembawang Estates has bought the substantial Katong Park Towers site at 114 Arthur Road.
---
Where to now?