Home tour: a street-art inspired apartment designed by Elliot James Barratt
This British designer based in Singapore possesses a modern eclectic style, blending elements from different eras to craft timeless spaces that are infused with a sense of comfort and serenity — whether it's an edgy office in the heart of the city, a character-filled condo or an intimate bar in a heritage hotel.
When he thinks back to his earliest influences, Elliot credits his parents. "My father is an engineer and my mother was a huge interior design fanatic. From an early age, my brother and I would help with plumbing, building and running cables with my dad and also be surrounded by paint samples and fabric swatches," he reminisces.
Elliot let us in on his journey from being the Head of Design for The Telegraph newspaper in the UK to founding an award-winning luxury interior design studio in Singapore. Read on as he walks us through one of his Singapore projects — a sophisticated 5,000 sqft apartment on Cuscaden Road that's inspired by street art…
---
In conversation with interior designer Elliot James Barratt
How did Elliot James Interiors come to be?
Elliot James Barratt: Well, I had a small practice in the UK and I was splitting time between that and my position as Head of Design for The Telegraph newspaper. I had studied product and furniture design at university and then retrained in interior design. Influencers through my university days would have been people like Terence Conran, Christian Liaigre and Kelly Hoppen.
I was producing a number of custom installations and one-off pieces of furniture and while installing them, I'd identify other issues with the space and ways I'd want to change and improve it. It made me realise that I needed to create the whole space, not just a few iconic pieces within a space.
Fast forward a few years, my business partner was in Singapore and proposed that we relocate and have an adventure. Singapore had a very new and open-minded design scene and we felt we could put our stamp on it. My girlfriend and I packed our bags, arrived with a very flashy website (regrettably created in Flash) expecting a queue of people wanting our services. Unfortunately, that wasn't the case. A few years later, we got great exposure in the market with amazing clients and were able to push our boundaries on where we wanted to go with our design.
Tell us about the spectrum of spaces you've worked with and design services you offer…
Elliot: We're a luxury full turnkey project management interior design consultancy. We cover residential design, commercial and corporate. We pride ourselves on our custom-made furniture and cabinetry and will design everything from home automation, cinema and sound systems, through to bespoke kitchens, bathrooms, lighting and furniture.
We will design the bed you sleep in, the room you wake up in and down to the glasses you drink from. Our services would have us collect your keys on the day and give them back along with your new wi-fi password so you simply have to log in to the home control and unpack your suitcase!
Our clients range from homeowners in Singapore, global business owners requiring the design of their family office here in Singapore to hoteliers, nightclub owners and global entrepreneurs.
What's the most meaningful feedback you've received from a client?
Elliot: Recently, a client cried happy tears at the sight of her walk-in wardrobe concept. She called us magicians! We love to over deliver and surprise our clients with life-enhancing features within our design that will either bring a sense of joy or a small subtle feature that will make their lives so much easier. There's no bigger reward in our industry than a happy client!
---
Home tour: refined x bold apartment in D10
This 5,000 sqft apartment in Singapore's Orchard district is proof that a home can be edgy, refined and welcoming all the same time. Inspired by the homeowner's hobbies and interests (see: street art), Elliot James Barratt crafted a clean and calm home with a dose of cool.
Explore this award-winning family home that features four bedrooms, six bathrooms, two balconies, a jacuzzi, private lift lobby and an impressive design concept.
We understand you designed not one but two homes purchased by father and son at this D10 condo. What was the brief like for this particular apartment for the son and his family?
Elliot: The son was very much into his street art, surfing and skateboarding. He loves music and movies and wanted a home he could relax with his family but also a place he can entertain and socialise.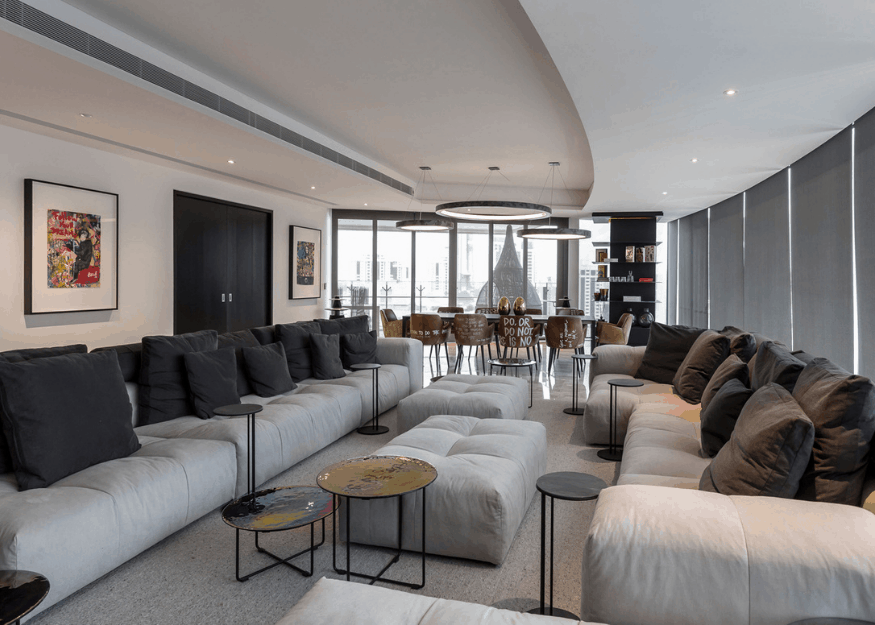 He wanted something understated, fresh and timeless with an injection of fun. In comparison, the father's apartment is a little more mature and glamorous with brass and leather.
One of the biggest challenges was creating a completely different look and layout to the father's apartment as they are identical units. It would've been easy to design them with a similar layout and finish. But once we understood the client, how he likes to spend his time at home, his family's habits and such, we were able to create a flow and style that was truly personal to them.
---
What's that one extra special feature you're particularly proud of?
Elliot: We designed a lot of custom furniture and given the space, we were able to create some larger pieces One of my favourites is the oversized circular chandelier with raw steel finish over the dining table.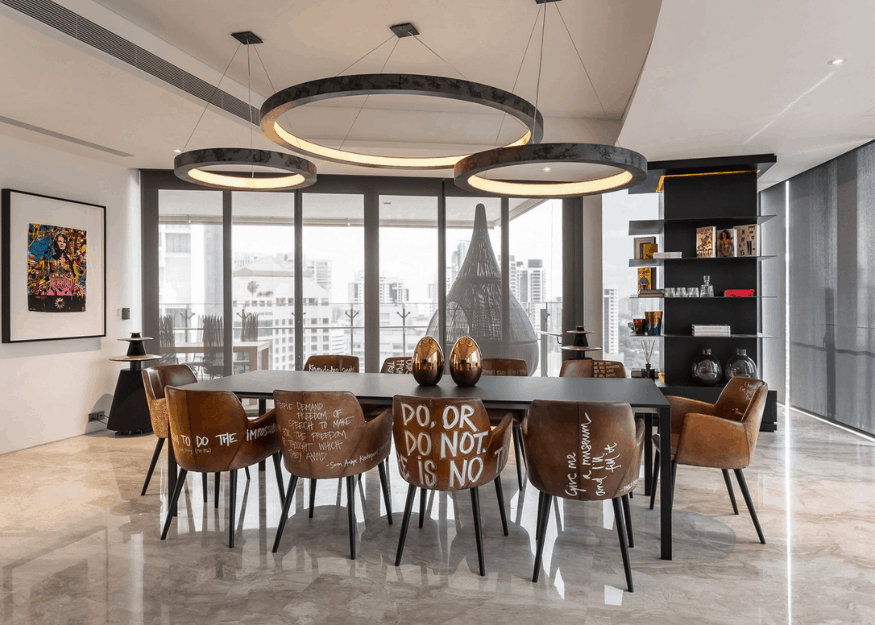 That along with the five metre-long sofas creates a dominant presence throughout. Having said that, one thing that receives more attention than most are the dining chairs. We had the client provide us with 12 of his favourites quotes — from Plato to Yoda — and had them graffitied onto the leather!
---
Art and sculptural furniture play an important role in infusing hints of boldness and fun into this apartment. Tell us about your curation process…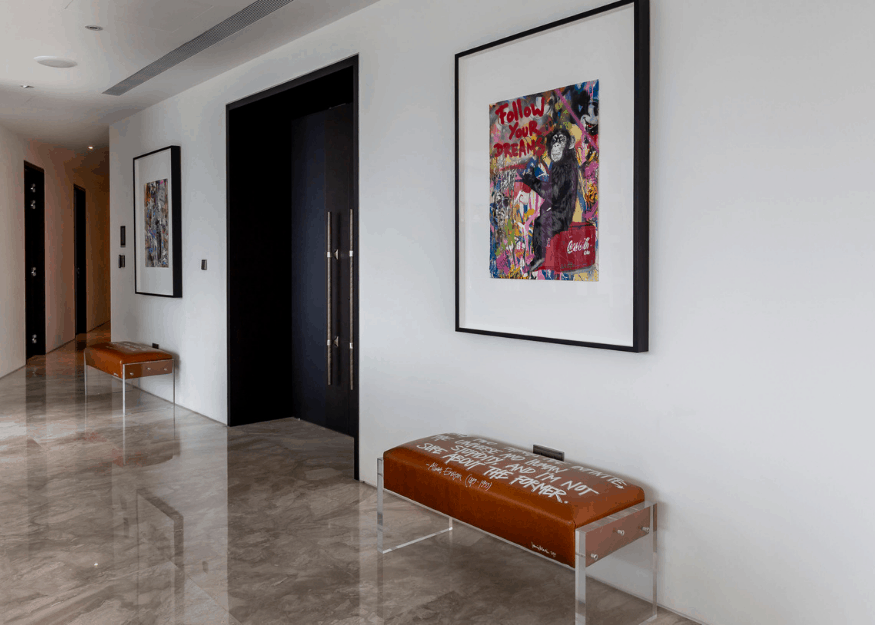 Elliot: As street art was really a starting point for our design, we explored famous names such as French-born, Los Angeles-based street artist Mr Brainwash and then built out on those. We commissioned a number of pieces from him — the two pieces of artwork on either side of the entrance doors, the Life Is Beautiful wall sculpture and the oversized spray can.
We also commissioned the dining chairs and benches from Jimmie Martin, a London-based luxury brand. A recent addition included two custom spray painted waste bins to fit with the graffiti theme.
---
The sprawling open-plan living and dining area is certainly the star feature of this apartment. Walk us through the space.
Elliot: The two Beolab 85s and the large 75 inch Bang & Olufsen TV were always going to be a key focal point of the living area. Given the client's love of music and these large speakers, we wanted the living, dining and balcony to all connect and flow well. We wanted these individual areas to be inviting and cohesive in style, yet be defined as separate spaces.
We did this by slightly enclosing the living room with the Sabo sofas and rug; the dining room with the large chandelier and Jimmie Martin dining chairs; and the balcony with the high-back chairs from Kenneth Cobonpue and the Nest chair.
---
Take us through the design concept of the bedrooms...
Elliot: The master bedroom was meant to be a place of escape for the clients — a space that had everything the client would need if they wanted to shut themselves away.
We created a spacious window sofa utilising the concrete window ledge. We also created a lounge area on the balcony with ample planting and privacy with ambient light and sound for the pool. The client wanted the theme to again be simple, strong and not too fussy.
As for the kids' rooms — for the son we wanted to give him a room he could grow into. We added subtle touches with the cushions and blinds with bicycles prints that were slightly younger-looking, but put together with darker walnut tones and a steel headboard that would age well once he hits his teen years. We created a study area and a place for him to play Xbox.
For the daughter, we wanted to create a haven — a space she could escape with her books, and again a space that would grow with her. We created a large feature wall with the roses and then a large hanging bubble chair with fur cushions.
Go further with Elliot James Interiors
All images courtesy of Elliot James Interiors
---
Where to now?