Our little black book of independent furniture stores
The only thing worse than spotting someone wearing the same outfit as you? Walking into a friend's place to find the same repro designer chairs you just picked up on the furniture high street.
Here we let you in on the independent furniture stores around Singapore worth browsing for beautiful teak furniture, mid-century vibes, one-of-a-kind sofas and designer chairs, dining tables and shelving, a spot of vintage decor – oh, and be prepared to walk out with some unique homewares too…
Where to buy furniture in Singapore:
---
Grafunkt
Multi-label furniture store Grafunkt is big on accent colours, retro nods and statement pieces. With a flagship showroom in Funan, the store releases exclusive collections with local designers to run alongside their big name brands such as Ligne Roset and Conde House. Read Boulevard's interview with co-founders Nathan Yong and Jefery Kurniadidjaja here.
---
Journey East
Another Tan Boon Liat drawcard, Journey East (pictured top) is a hotspot for industrial-style furniture, vintage and mid-century pieces and recycled teak furniture. Also thrown into the mix are luxe accessories, lighting, retro oddities and quirky design: the vintage biscuit tin lamp by Jonas' Design has been a long-time favourite here. Storage ideas here are entirely non-boring: think stacking boxes and open shelves by D-Bodhi, and characterful reclaimed wood shelving. If you're a fan of the restored vintage or the industrial look, this huge showroom is a real treat to explore.
Take the photo tour of the gorgeous Journey East showroom.
---
Scene Shang
Local duo Jessica Wong and Pamela Ting have taken the best of Shanghai 1930s deco and updated the aesthetic with modern touches and materials. The result is stunning rosewood (yes!) sofa suites, brass and marble sidetables, and signature lines such as the awarded stacking drawers, below left, and gorgeous bankers' lamps.
---
Singapore Trading Post
A little furniture bazaar in Tan Boon Liat, Singapore Trading Post is your "I'll take everything" destination for original Asian furniture. Everything from duck-egg Chinese brass-accented credenzas through to shell-encrusted mirrors and dreamy wicker outdoor chaises, this is the pan-Asian furniture fix you've been waiting for.
Go further with Singapore Trading Post.
---
XZQT
XZQT is the name in imported Italian furniture (and we don't mean 1980s-style Ferrari-red leather showstoppers). With top interior brands on the roster, including Bonaldo and Calligaris, the look is a modern take on classic Italian design.
Think statement dining tables such as Bonaldo's room-defining "Ax," above, or the plush, strikingly turquoise "Mies" sofa by Calligaris, below. The range also takes in serious executive desks, playful bookcases and sidetables, and unique master beds for those who like to stand out while they lie down.
---
Mountain Teak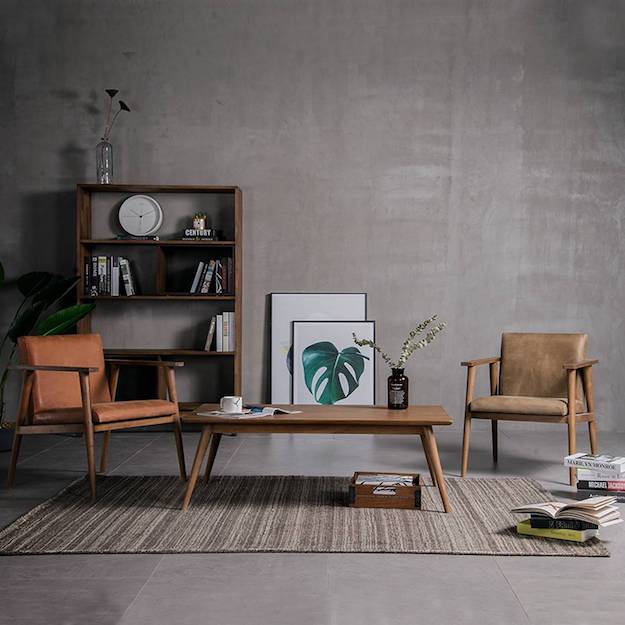 You'll find Mountain Teak at Singapore's Mecca of furniture and interiors: Tan Boon Liat Building. Industry insiders and shoppers in the know head to this ageing tower on Outram Road for gems like this showroom. Alongside its own brand of furniture that moves between mid-century minimalism and industrial style, Mountain Teak supplies designs by European labels Karpenter, White Lofty, Square Roots and Wendelblo. It's all about premium, sustainably produced furniture here: most of the solid wood designs are Forest Stewardship Council certified, and each brand represented is VOC-free. Karpenter's Vintage Collection is our pick – who can resist tapered legs and timeless timber?
Go further with Mountain Teak.
---
Taylor B
This massive showroom (we're talking 140,000 square feet) is right by the port, and its bi-weekly drops make it a go-to for furniture and interiors addicts looking for something unique. The owner travels extensively throughout the region sourcing pieces for this epic collection: expect everything from antique Chinese furniture to designer brands, and beds and sofas to rugs and room dividers.
The showroom is open every day, including public holidays, and here's the clincher: inventory is available immediately, so when you fall in love with a piece, you can bring it straight home instead of pining away for weeks waiting for a shipment to arrive.
---
Möbler
Leading the charge for Scandi style in Singapore, the ladies at Möbler Emilie and Ellen Hedén are all about unique, vintage pieces sourced directly from Sweden. Container-loads of these gorgeous mid-century armchairs, hardwood tables with classic tapered legs, and to-die-for side-tables arrive throughout the year, so it's worth keeping an ear to the ground if you're on the hunt for that perfect, one-of-a-kind piece.
---
Where to now?