Where to live in Singapore: the old-world charm of Tiong Bahru
There's something about Tiong Bahru. Walking around this heritage neighbourhood feels like travelling back in time to an era when walk-up apartments were all the rage, neighbours talked to each other and those graphically pleasing grills could be found on almost every front door or balcony window.

The old-world charm, retro architecture, CBD fringe location and the peaceful pace all contribute to making Tiong Bahru one of the most coveted neighbourhoods in Singapore. Of course, it's also incredibly photogenic – alongside the incredible architecture, it's a beautiful place for wandering through quiet laneways and discovering the iconic murals throughout the neighbourhood, including works by local artist Yip Yew Chong depicting scenes from Singapore's past.

Tiong Bahru is also the original epicentre of Singapore's cool cafe and independent boutique scene – it's one unique neighbourhood you'll never forget living in.

---
Is Tiong Bahru well-connected?
You bet. One of our favourite District 03 neighbourhoods, Tiong Bahru is conveniently located just off the city centre. Being on the fringe of the CBD has its benefits. It's got that special community vibe with all the convenience of being close to the buzz of the city.
Take the Tiong Bahru MRT (East-West Line) and you'll find yourself at Tanjong Pagar, Raffles Place and City Hall in less than five minutes. Alternatively, you can hop onto a bus or cycle to the CBD too.

If you're working in and around One North, the MRT with one change to the Circle Line will get you there in just 15 minutes. Sentosa and Orchard Road are both a sweet 6-10 minutes drive away too. Besides, the upcoming Havelock MRT station on Thomson-East Coast Line will further enhance the connectivity.

---
Where to live in Tiong Bahru?
Tiong Bahru is one of the oldest residential estates on the island. It's home to some of the most iconic homes that include shophouses and unique pre-WWII apartments that are painstakingly conserved, including the original mosaic floor tiling and those iconic spiral staircases. It's where art deco meets Straits shophouse-style architecture.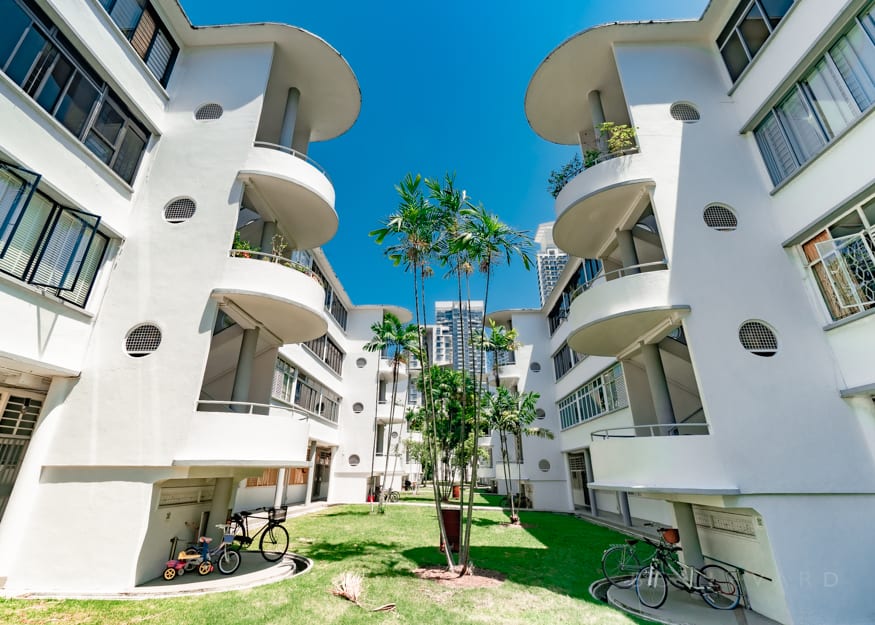 As for condos, there are only a handful in this heritage neighbourhood. The newest build, Keppel Land's Highline Residences (completed in 2018) has 500 units across two 36-storey, one 21-storey tower and four 4-storey blocks with dual-key apartments. The unit mix at Highline Residences ranges from 1 bedroom through to 4 bedroom and penthouse, although the floor areas are relatively tight at just 1,227 sqft for the four bedder. The condo boasts an enormous pool, gym, concierge and even an "urban farm". And of course there's it's unbeatable location, across the road from the MRT, mall and supermarket and enjoying incredible views – both big wins if you want to buy or rent a unit here.

Then there's The Regency at Tiong Bahru (completed in 2010), a lovely freehold development with 158 apartments across 35 floors. The highlight has to be the views, along with proximity to public transport. And there's more space on offer, with 2 to 4 bedroom apartments ranging from 926 to 1,636 sqft.
Next door is Twin Regency, the oldest but also the most spacious. Completed in 2007, the development offers 234 freehold units, the expected list of condo facilities, and 2 to 4 bedroom apartments ranging from 980 sqft through to 2,120 sqft (bless those older builds and their spacious layouts!).
If you're looking to rent, consider co-living brand Hmlet's gorgeous shophouses at 3 & 5 Yong Siak or the new collection of studio apartments. Commontown and Cove are two other co-living start-ups with rentals in Tiong Bahru.
---
Is Tiong Bahru family-friendly?
Tiong Bahru is a culturally rich area for families, with a good dose of local history and flavours, green spaces to roam and a strong cafe culture for relaxed meals out together.

The area also has its share of urban parks for the little ones to run around and play, including Tiong Bahru Park Playground which is famous for its tilting train-themed playground, sand pit and toddler maze. Right beside Highline Residences is Kim Pong Park, a favourite with young and old for its nostalgic metal swings for two. If you have a beloved family dog, you'll appreciate the grassy Sit Wah Dog Run, which has plenty of trees to provide shade while your pet enjoys some exercise.
If you want to venture further afield for time in green spaces, Tiong Bahru also close to Mount Faber, Fort Canning and Pearl's Hill City Park. If escaping to the beach with the kids is high on your agenda, a Sentosa Islander membership might come in handy as the entertainment island is only two MRT stops away, or under 10 minutes by car.

In terms of education options, for families with little ones, there are childcare centres and preschools in the neighbourhood, while nearby schools include CHIJ Kellock Primary, Radin Mas Primary, Crescent Girls' School, CHIJ St Theresa's Convent and Bukit Merah secondary school. The closest international schools are Ascensia International School on Henderson Road and EtonHouse International School on Orchard Road. For mature students, SMU, PSB Academy and Duke-NUS Graduate Medical School are in the vicinity.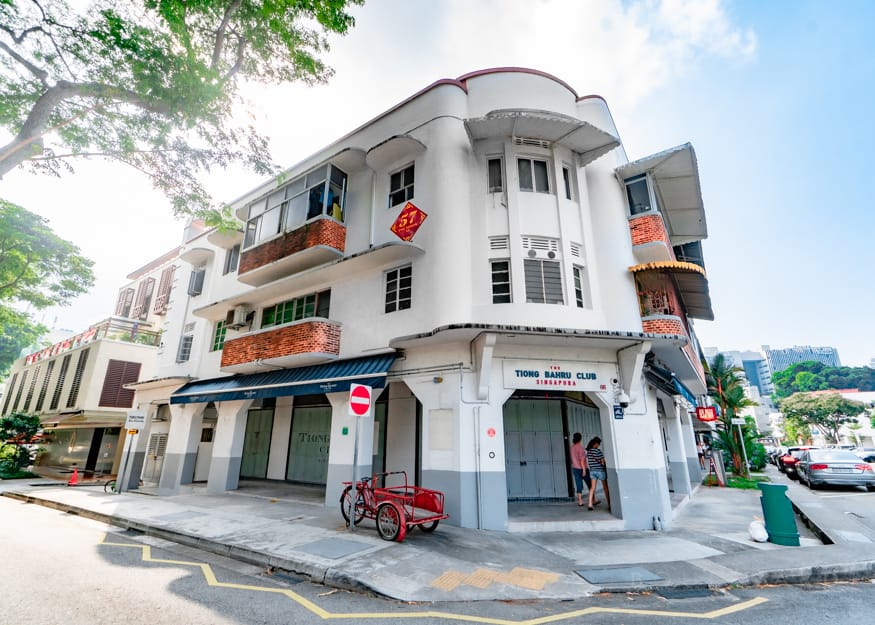 ---
Things to do in Tiong Bahru
This is one hip neighbourhood and you'll seldom run out of things to do or eat here. Let's start with the famous scene…
Cafes and dining in Tiong Bahru
Love local food? Tiong Bahru Market is one of the most popular hawker centres in Singapore and home to insanely good chicken rice, chwee kueh, prawn noodles and more. Food-loving residents are lucky to have this iconic destination on their doorstep.

The neighbourhood is unrivalled for its local cafe scene, and is where some of Singapore's most successful originated. Firm favourites are Forty Hands – famed for its specialty coffee and breakfast menu, Tiong Bahru Bakery, the source of Singapore's best croissants and Plain Vanilla, which has evolved far beyond a gourmet cupcake bakery to an excellent cafe and deli. Other notable brunch spots in the neighbourhood are Flock and Prive.

The dining scene is international and eclectic: here you can enjoy everything from fantastic French at Merci Marcel, to Nonya cuisine at House of Peranakan Petit, feast on Greek fare at Bakalaki or be wowed at gluten-free restaurant The Butcher's Wife. And that's the tip of the iceberg.

Shopping in Tiong Bahru
No neighbourhood in Singapore without a mall, and here Tiong Bahru Plaza ticks the usual boxes (albeit with a couple of surprises including iconic eatery 328 Katong Laksa and The Whisky Distillery). But the real drawcard for us is Tiong Bahru's independent stores and providores.

Yong Siak Street is one of Tiong Bahru's coolest clusters: alongside Plain Vanilla and Forty Hands, you'll find Nana and Bird, offering a well curated collection of local and international designers. Cat Socrates carries an eclectic range of homewares, books and fashion accessories that make for an interesting browse, while cafe and concept space Monument is an enticing spot for good coffee and small, handpicked homewares and fashion labels. Here, you'll also find the showroom of Olive Ankara – a vibrant lifestyle label drawing on African fabrics – and children's bookstore Woods in the Books, which is a true treasure trove.

Shopping for fresh produce is fantastic at Tiong Bahru Market, while gourmet produce and fine cheeses can be found at Foodie Market Place on Outram Road, which is also an excellent butcher.

If sprucing up your home is on the agenda, you can pick up beautiful fresh flowers back at Tiong Bahru Market, or lose yourself in the lush plant nursery Tumbleweed, where you can also get invaluable advice on keeping your house plants alive. Or head over to Tan Boon Liat building in Outram for Singapore's best collection of furniture and homeware stores in one place.
---
Where to now?