CEO Profile: Torsten Müller-Ötvös, Rolls-Royce Motor Cars
"Whatever it costs, it's not a problem, as long as it's something very special," says Torsten Müller-Ötvös, CEO of Rolls-Royce Motor Cars, and without doubt one of the foremost names in luxury, in savoir vivre, in how to spend it. Müller-Ötvös is holding court in his Presidential Suite at Raffles, Singapore, ensconced in a private high tea and referring to the demands of his clientele for ever more extraordinary, and more personal cars.
"Something off the shelf is not interesting. People want to commission; they want to put their signature on the car. It should carry their story," he continues. "This emotional layer is extremely important at the ultra-high end."
In many ways, Rolls-Royce is a near-victim of its own success. As the global cohort of UHNWIs has expanded, as the corollary demand for status symbols has exploded, and particularly as Covid has inclined us all to indulge in revenge spending, the venerable auto marque's sales have shot up to the extent that the Goodwood factory is now running 18 hours a day across two shifts – and is still outpaced by its order book.
But with increased volume comes the risk of dilution. And this is where the brand's turn towards a unique level of personalisation was remarkably prescient – not merely colours and fabrics and extended sizes, but custom art pieces in the dashboard 'Gallery,' and Starlight ceilings attuned to the owner's date of birth.
Perhaps in recognition of the existential threat represented by the marque's own success, or of its fantastically successful evasion of the same, Müller-Ötvös adds: "I dare say that Rolls-Royce would be dead without bespoke."

In 2017 Rolls-Royce extended beyond its already astonishing level of personalisation to revive its 'Coachbuild' heritage of next-level bespoke manufacturing, which the marque describes as "limitless creations at the request of its remarkable clientele." Catering to the client's extrinsic passions (for yachting or high watches or a particular brand of Champagne), carved firstly in clay, and outfitted with whimsical if rigorously engineered accoutrements such as automatically unfolding parasols, Coachbuild is devastating in both its appeal and its unavailability.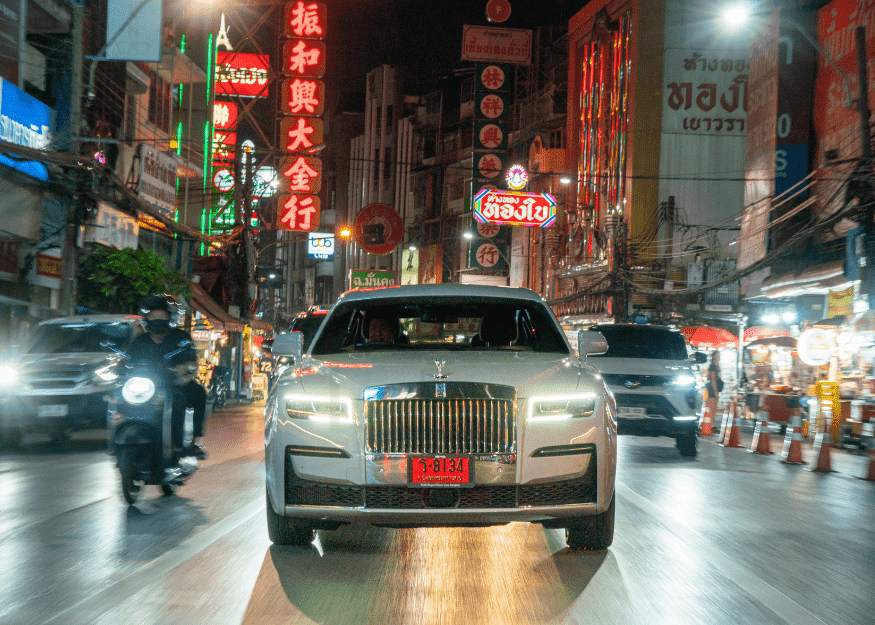 Upon the release of the second modern Coachbuild vehicle, dubbed 'Boat Tail,' we're told the team was deluged with enquiries. Most, if not all of which, were turned down.
"I have no appetite to increase the volume of Coachbuild," says Müller-Ötvös. "These cars are part of the history of the brand. And you're walking a very fine line when it comes to true exclusivity."
It's one thing to turn down revenue – serious revenue – in order to preserve scarcity. It's another thing for a brand to rebuff its own best customers. Customers who themselves are not accustomed to being declined.
"There's a lot of people who say to me, here's the cheque, you fill in the number, and let's go," says Müller-Ötvös. "And we don't do that, because I want to do Coachbuild with clients we really know, who have a certain understanding of our brand, but also clients who have the time to invest in the project. It's a four-plus-year process, involving multiple site visits and signing off every stage. It's a commitment."
While Coachbuild remains almost unbelievably limited, the (dare we say it) 'standard' bespoke services are ramping up, and most recently extended to the first-ever launch of a 'Private Office' outside of Goodwood, in July this year in Dubai.
"The great experience for our clients is to visit the home of Rolls-Royce in Goodwood," says Müller-Ötvös. "But at the same time, we wanted to export the feel of being in Goodwood, of sitting with our designers, and that was the creational moment of the Private Office. So now we can give you an exclusive tour of a car, show you early prototypes – Spectre for instance – in a very confidential manner."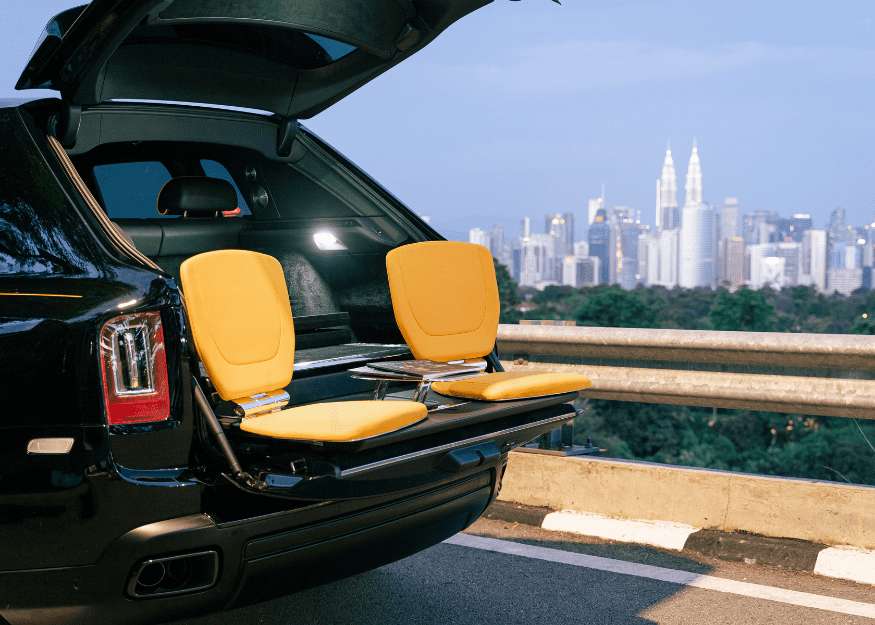 Dubai is just the beginning – there are ambitions and perhaps plans for South Korea, Tokyo, Los Angeles, New York and China. And this enhanced bespoke service may serve to offset the growing output – and the growing wait.
Based on the current order book, buyers will wait more than one year for delivery. But that seems entirely reasonable compared to the six-figure deposits put down two years in advance for 'Spectre' – the very first Rolls-Royce EV. And while we've had a few, tantalising glimpses, we still don't actually know what it will look like. But that seems only to have increased its appeal.
"Spectre is a true Rolls-Royce," says Müller-Ötvös. "A Rolls-Royce first and an electric car second. The way it looks, feels, sounds, wafts. We would never compromise the experience. And that's not an easy thing – the amount of work required to give it that 'flight on land' feeling. But that will define Spectre."
The all-electric future of Rolls-Royce could well depend on the launch, and moreover the experience of this first iteration (Müller-Ötvös has committed to a complete transition to EVs by 2030). It's one thing to reinvent the 'post-opulent' Ghost, to mastermind the next-gen Black Badge, or to launch the Cullinan SUV. It's another to commit to a complete overhaul of the line-up within eight years. And it takes an almost innate appreciation for the desires of the marque's clients – along with the nature of luxury itself.
"If you aren't passionate about luxury, passionate about brands and fine details and exquisite materials, then you're probably not right at the helm of RRMC," says Müller-Ötvös. "I love luxury. I love watches and jewellery, fashion and so on. It resonates for me."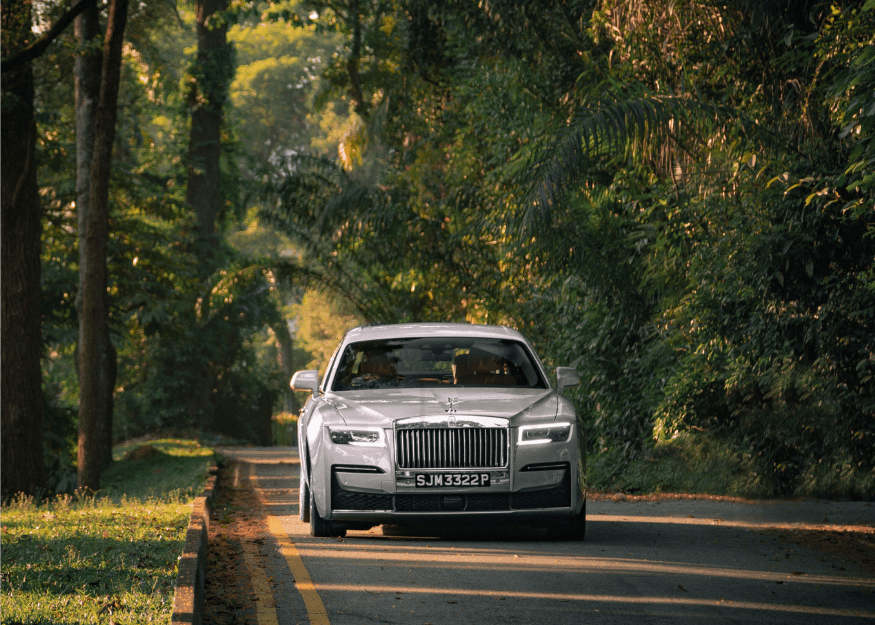 And that multi-disciplinary approach to some extent defines Rolls-Royce, in its detail, its breadth, its bespoke offering. From the engineering to the art pieces in the Gallery, the styling to the hand-stitched cow-hide, the sound (or rather the 100-plus kilos of insulation) to the waft, it's less a question of fulfilling clients' expectations as setting them, as defining luxury and desire for generations to come.
"It's an honour to work for a brand that's 118 years old," says Müller-Ötvös. "I'm humbled each day as I drive in to Goodwood, and I feel what I call an obligation – to keep the brand at this level, living up to the founders' vision, striving for perfection."
It's a mantra that's taken up by the entire RRMC team, this striving for perfection. A mantra that lives in the details, but also, and perhaps more importantly, in the vision – and in the sheer audacity of turning down elite clients offering blank cheques.
Where to now?