MeyerHouse condo insider review: Truly next level
Billed as "The Nassim of the East," this is perhaps the most luxurious development in District 15. With a prime position on the coveted Meyer Road, MeyerHouse is uniquely positioned as the only East Coast condo boasting the size of a landed home with the convenience and amenities of a condo.
Developers UOL and Kheng Leong has assembled a renowned design team to create a truly standout project: WOHA Architects (of Parkroyal on Pickering fame), interiors guru Yabu Pushelberg (also known for five-star hotels), and landscapers Ramboll Studio Dreiseitl.
They've taken the "house in the sky" concept and run with it – from the château-inspired, low-rise structure to the English cottage gardens and sleek natural interiors of wood and stone. Every four- and five-bedroom unit boasts a dedicated carpark, and every single unit has a private lift. Because, well, houses have private access.
It represents a level of luxury and amenities that have never been seen before – not just in District 15, but in Singapore.
All this space, privacy and ultra-low plot ratio do come at a cost, and you can buy the very best views of the sea from the other side of Meyer Road for these price tags, not to mention an actual landed home. But we can also see the allure, and we tend to agree with the developers that at least 56 property consumers will see it to – and fall in love.
One thing is for sure: the MeyerHouse showflat is worth a visit, with its cottage garden, sublime, tactile interiors – and sheer space. This project simply has to be seen to be appreciated.
Book your viewing today with estate agent Navin Bafna.
The Boulevard Brief
– Who it's for: Multi-generational families and landed home owners longing for the convenience of a condo
– What's to love: Private lifts (there are 56 lifts for 56 condos), low-rise seclusion, serious design cred and garden vibes
– How much it will set you back: Somewhere in the region of $7.4m and above for the spectacular four-bedroom unit
– Our pick of the crop: How could it not be the duplex penthouse?
– Standing out from the crowd: The plot ratio of just 1.4 is what's getting our attention (in an otherwise high-rise and high-density area)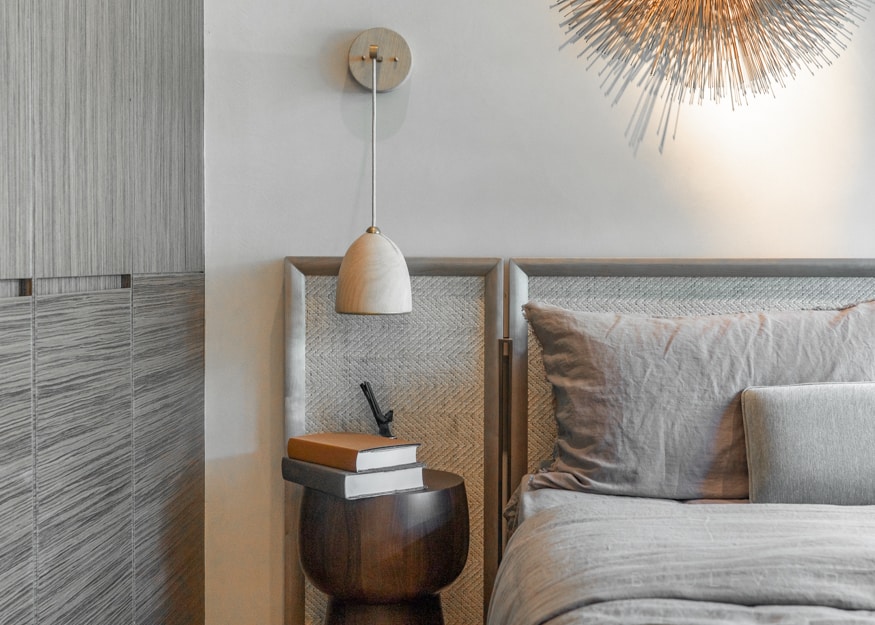 Skip ahead to the unit mix, siteplan, and floorplans
– Unit mix
– Floorplans
– Siteplan
– Pricing
Skip across to the listings
– MeyerHouse 3 bedroom apartment
– MeyerHouse 4 bedroom residence with dedicated parking
– The 4.5 bedroom duplex penthouses at MeyerHouse
---
MeyerHouse key info
District: D15 East Coast
Area: Katong
Address: 128 Meyer Rd, Singapore 437938
Completion: 2021
Developer: UOL and Kheng Leong
Land size: 109,630 sqft
Gross floor area: 153,482 sqft
Tenure: Freehold
Number of units: 56
Towers: 1 tower of 5 storeys plus "attic"
---
MeyerHouse unit mix
With its large site area of 109,630 sqft, the MeyerHouse development could have yielded as many as 200 or more units. Instead, developers UOL and Kheng Leong opted for a rare level of space and exclusivity, as well as the seclusion and tranquility of a low-rise condo. No number tells this story better than the plot ratio of just 1.4.
The 56 units at MeyerHouse are exclusive indeed, featuring only 10 three-bedroom layouts with the rest either four-bedroom or penthouses.
| | | |
| --- | --- | --- |
| Unit type | Volume | Area (sqft) |
| 3 bedroom | 10 | 1,862 – 2,013 |
| 4 bedroom | 40 | 2,820 – 3,315 |
| Penthouse | 6 | 5,587 – 5,608 |
Compared to the newer Meyer Road condos of The Meyerise (whose larger 4+1 bedroom unit offers 2,056 sqft) or Aalto (with a 4+1 bedroom unit at 2,443 sqft), MeyerHouse is unique in reaching well beyond even these largest comparable formats to offer a luxurious amount of space – on top of the low-density living.
---
MeyerHouse floorplans
With 12 stacks arrayed around the central gardens and pools, there are slight variations between layouts, but here are the key formats.
The 3 bedroom units
The floorplan for the 3 bedroom units simply doesn't do justice to the size of the apartment. Think vast open-plan living, generous bedrooms and plenty of storage throughout the unit.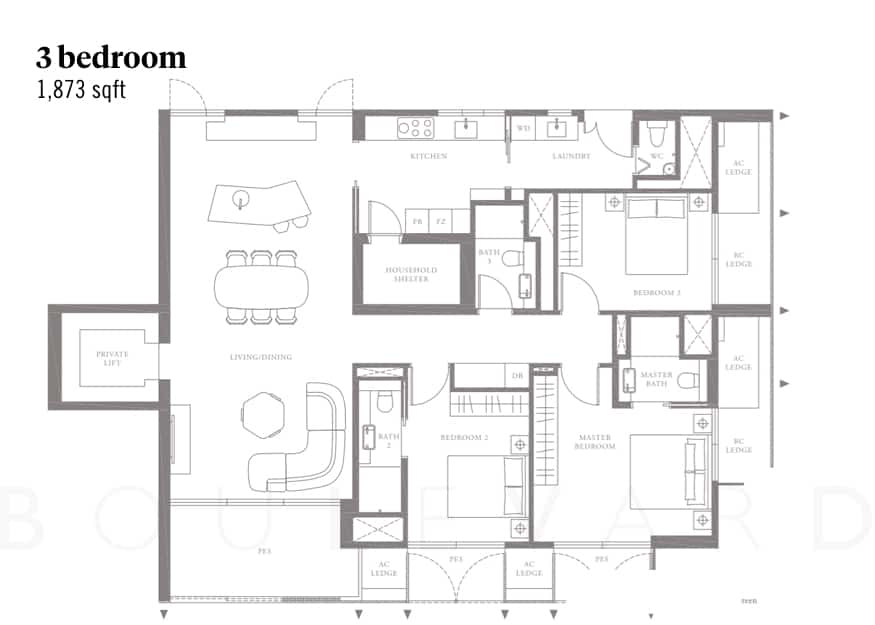 Can we tempt you with:
Fabulous amount of space for a three-bedroom unit
Love the lower-ground private lobby and upstairs foyer
Huge entertaining space complete with onyx marble bar
Both a home shelter and full separate laundry
The 10 three-bedroom units at MeyerHouse all enjoy a private lift with your own lobby on the lower-ground carpark level. It's elegant and spacious with storage for shoes and outdoor gear.
Upstairs, that private lift opens to a foyer and leads into a generous combined living and dining room. It's an enormous space with custom bar, plenty of room for a lounge, dining and separate reading nook, plus the enclosable balcony. The kitchen leads off the dining space and features a household shelter and separate laundry room.
A long hallway leads to a powder / common bathroom, a generous ensuite bedroom and second bedroom or study (both with built-in wardrobes), and the large master bedroom – light-filled and spacious with its own ensuite.
The 4 bedroom units
The four-bedroom units at MeyerHouse offer tremendously generous proportions along with the prized feature of dedicated car-parking right outside your private lift.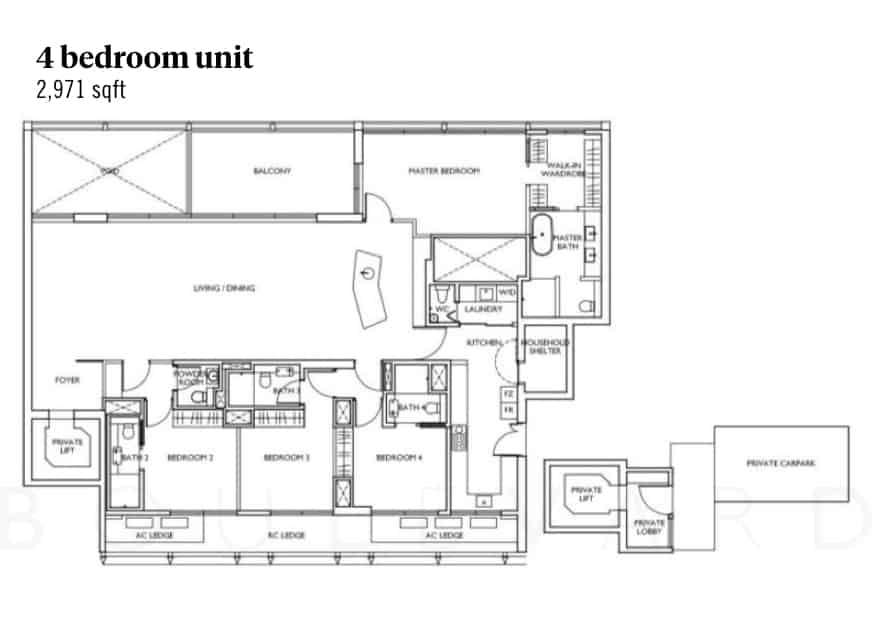 Can we tempt you with:
The living-dining-bar faces the balcony and garden views, offering amazing natural light and greenery
The master suite (with direct access to the balcony) has a stunning walk-in wardrobe filled with light from the window
That entertainer's kitchen – wow
The four-bedroom units at MeyerHouse are the hallmark of the development – there's a reason 71% of the total units are this type. And they do live up to the concept of "houses in the sky," with stunning, expansive living areas that flow from formal dining to impressive lounge to cool bar to relaxed (and enclosable) balcony.
The master suite, especially, caught our eye – and not just with its floor-to-ceiling windows and bedroom with space for a lounge or desk. The walk-in-wardrobe also enjoys a full-length window, which is such a rarity, flooding the space with natural light. And the ensuite is straight out of one of Yabu Pushelberg's hotels: dripping in cool with its dark marble, Axor by Hansgrohe fittings and Maison Apaiser bathtub.
The 4.5 bedroom penthouse
And here it is: without doubt some of the largest condos in the East Coast, and certainly among the most luxurious. The duplex penthouse at MeyerHouse is next level.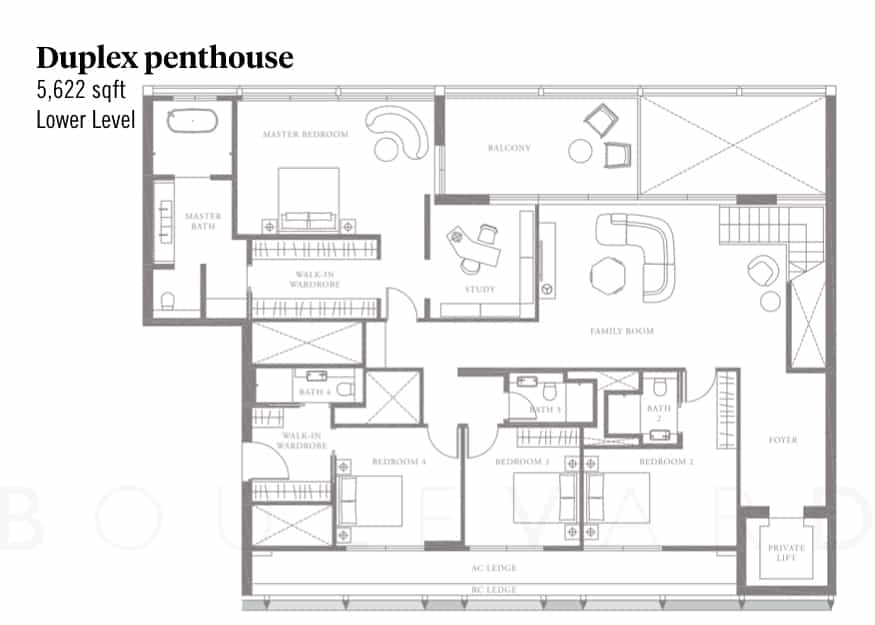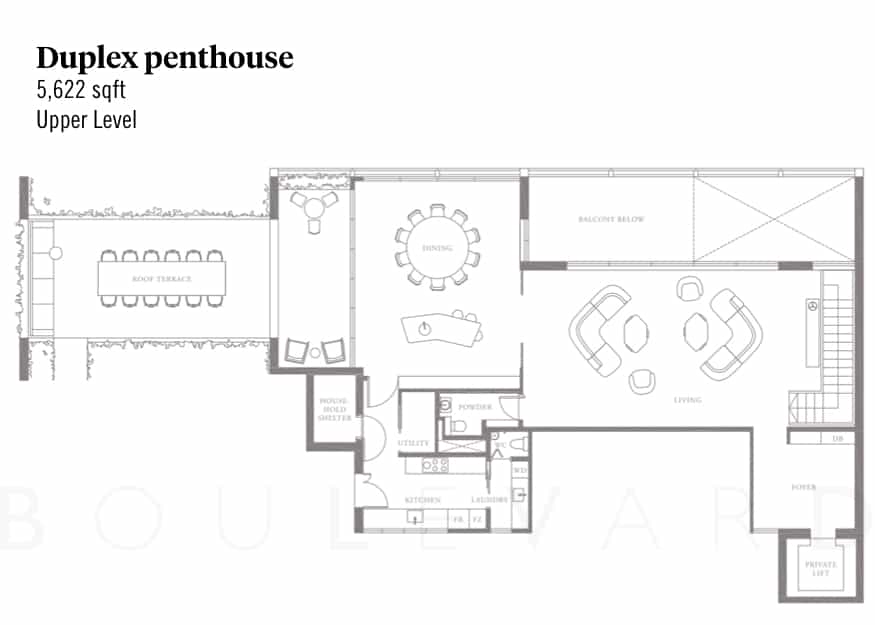 Can we tempt you with:
The ultimate master suite with space for armchairs and lounge, a separate study, vast walk-in wardrobe and a bathtub by the window
The upper-level entertainment setup, including sumptuous living and dining, that chic onyx marble bar, large balcony and enormous open terrace
What more is there to say? These are among the most prestigious homes in District 15.
---
Siteplan
MeyerHouse is cleverly laid out to maximise the 109,630 sqft plot – and yes, it's an unusually and perfectly square plot, which we understand from feng shui guru Dato Joey Yap is right on the money. It also takes full advantage of the neighbouring Meyer Road Park, which is also set to be transformed by landscapers Ramboll Studio Dreiseitl.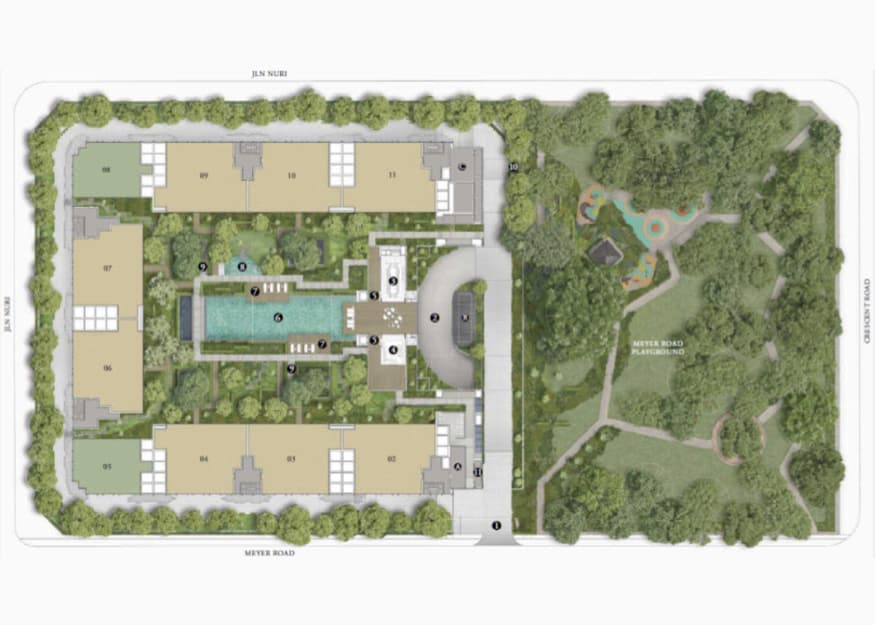 MeyerHouse facilities include:
Entrance
Ramp to car park
The Clubhouse
The Dining Room
The Lounge
Lifts to lower ground
30m pool
Pool deck
Kids' pool
Garden stairs to lower ground
Private entrance to park
Guardhouse
While the lower-ground level includes the drop-off and arrival lobby, concierge, water courtyards and gym.
---
Pricing
We mentioned that it comes at a price – it has to. The private lifts, the dedicated parking, the ultra low, almost unheard-of plot ratio (at least on Meyer Road, where there are 30-floor towers on one side and landed houses on the other). Note to mention the space.
Sales to date for this new launch condo have averaged a price psf of $3,029, per the URA. Ranging from $7,452,000 through to $8,306,000, the MeyerHouse transactions represent the absolutely top end of District 15 luxury condos.
Based on transactions over the last two years, this is how Meyer Road shapes up at the luxury end.
| | | | |
| --- | --- | --- | --- |
| Project | Av. Price | Av. Psf | Av. Area |
| MeyerHouse | $7,915,600 | $3,029 | 2,614 sqft |
| Sovereign | $5,247,667 | $1,830 | 2,860 sqft |
| Aalto | $3,185,912 | $1,805 | 1,773 sqft |
| The Meyerise | $2,698,250 | $2,088 | 1,276 sqft |
| The Belvedere | $2,213,126 | $1,654 | 1,357 |
---
All in all… It's a large quantum, and unusually high for this area. But it will appeal to those looking to downsize from a landed home – looking for the convenience, the spectacular luxury.
Our advice: visit the showflat, see if you fall in love.
Book your viewing at MeyerHouse showflat with estate agent Navin Bafna.
---
Where to now?