Condo Insider: The 8 St Thomas review
There's no shortage of new launch condos in Robertson Quay just now, but 8 St Thomas offers a rare level of sophisticated, modern living – jam-packed with useable facilities and lush landscaping, and district views to boot. The flexibility of dual-key apartments or fully furnished (and custom designed) units are the icing on the cake.
The Boulevard Brief
– Who it's for: Rob Quay types looking for a slick modern condo
– What's to love: The wrap-around landscaping and jogging track is high on our list
– Our pick of the crop: The four-bedroom dual-key flats for multi-generational families
– Standing out from the crowd: The designer three-bedroom units fully furnished by Home Philosophy's Rashi Tulshyan
Skip ahead to the unit mix, facilities and floorplans
---
8 St Thomas key info
District: D09 Orchard
Area: River Valley
Address: 8 St Thomas Walk, Singapore 238146
Completion: 2019
Developer: Bukit Sembawang Estate
Land size: 99,508 sqft
Tenure: Freehold
Number of units: 250
Towers: 2 towers of 35 storeys each
---
8 St Thomas unit mix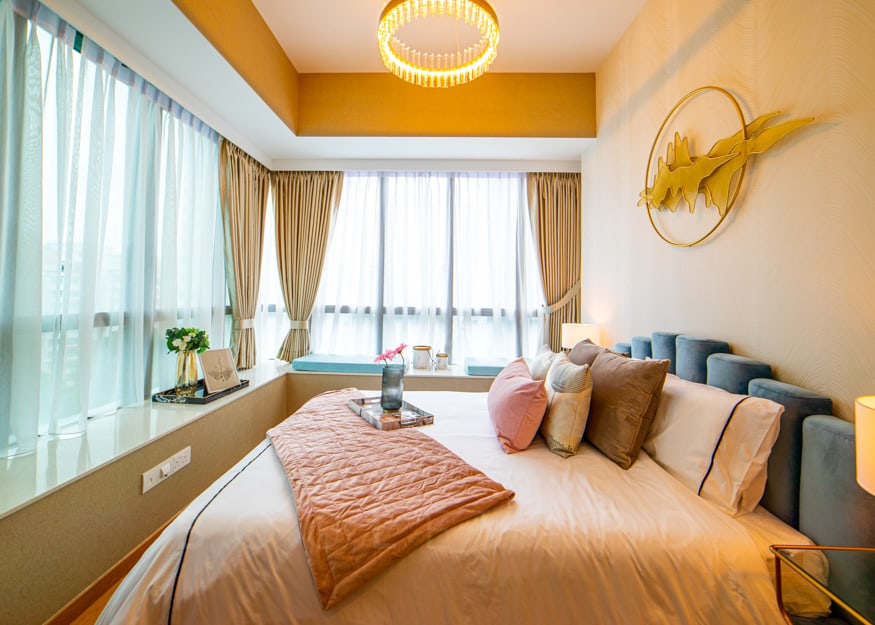 While there is a wide range of unit types, it's worth noting that a whopping 175 of them (out of 250 total) are 2 and 3 bedroom units – ideal for professionals and young families.
Interestingly, there are more four-bedroom dual key apartments than regular four-bedders. At 1,690 sqft, these 20 dual key apartments feature an entire one-bedroom self-contained wing.
The two penthouses sit atop the 8 St Thomas towers, enjoying River Valley views from the 35th and 36th storeys.
| | | |
| --- | --- | --- |
| Unit type | No of units | Area (sqft) |
| 1 bedroom | 39 | 441 – 517 |
| 2 bedroom | 94 | 549 – 1,044 |
| 3 bedroom | 81 | 1,141 – 1,302 |
| 4 bedroom | 14 | 1,744 – 1,755 |
| 4 bedroom dual key | 20 | 1,690 |
| Penthouse | 2 | 2,422 |
---
8 St Thomas floorplans
There are several variations on each unit type, so here are some (but not all) of the key layouts.
Need more? See the floor plans of the 3 bedroom units come alive in our home tour video. The two fully-furnished listings were designed by Home Philosophy's Rashi Tulshyan.
Head over to the listings:
Skip ahead to the floorplans:
The 1 bedroom unit
The one-bedder is a cosy 517 sqft space featuring a master bedroom, bath and an open-plan living space and kitchenette.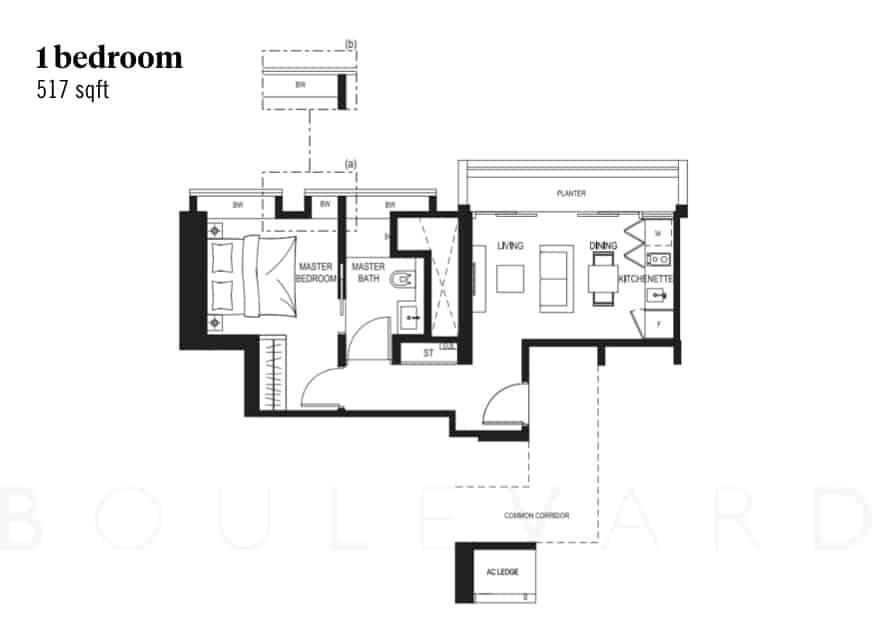 8 St Thomas 1 bedroom unit highlights:
Good size for professionals and couples
Investment potential for rental return: rental yields for the 1 bedroom unit at 8 St Thomas have been on the rise, going as high as $4,100 in Dec 2019
Large windows with ledge seating and light-filled rooms
The 2 bedroom unit
Most of the two-bedroom units come with a good-sized balcony, and are made for couples in need of a guest room/study or young families. With 94 units across two towers, there are plenty of options and aspects to choose from.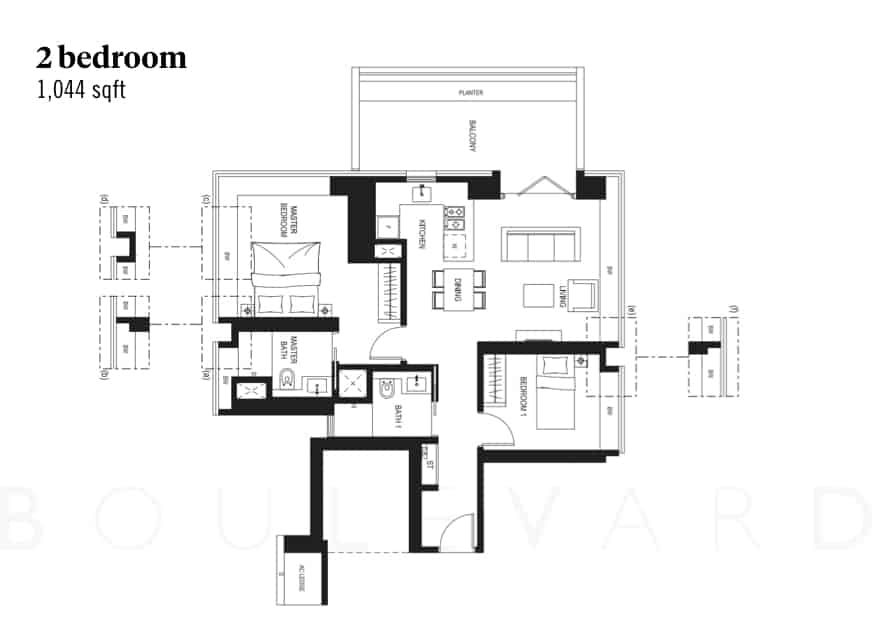 There are a few variants of the 2 bedroom units. This 1,044 sqft apartment has a modern open-plan living space that fits a four-seater dining table. The living room flows to a large balcony, almost as large the room itself.
8 St Thomas 2 bedroom unit highlights:
Lovely master bedroom with large floor-to-ceiling windows across two walls
Built-in ledges for extra seating or storage
Open-plan kitchen-living that spills onto a large balcony
The 3 bedroom unit
The 3-bedroom units, ranging from 1,302 – 1,152 sqft across three layouts, are pretty incredible with light-filled spaces, spacious rooms and a gorgeous balcony. These particular 1,302 sqft units are also available fully-furnished and with interior design by Rashi Tulshyan of Home Philosophy – one with New York-style decor and another inspired by Hollywood Glam.
See these stunning custom-designed units for yourself: Get in touch with real estate agent Kenneth Cheong to book a viewing.
8 St Thomas 3 bedroom unit highlights:
It's all about roomy, light-filled spaces
Enclosed kitchen with glass divider for a workable, open-plan layout
A large shaded balcony that can fit outdoor loungers and even a breakfast bar
Master ensuite with built-in bathtub
Yard and utility room
The 4 bedroom units
This four-bedroom apartment takes sheer liveability to a whole new level. Taking over levels 28 through to 34 in one tower are 14 extensive four-bedroom units available in two sizes: 1,744 and 1,755 sqft. Each of these units reaps the added benefit from the high-rise living – jawdropping views, breezy apartments and that magical feel of living among the clouds. (More on the perks of a high rise condo here.)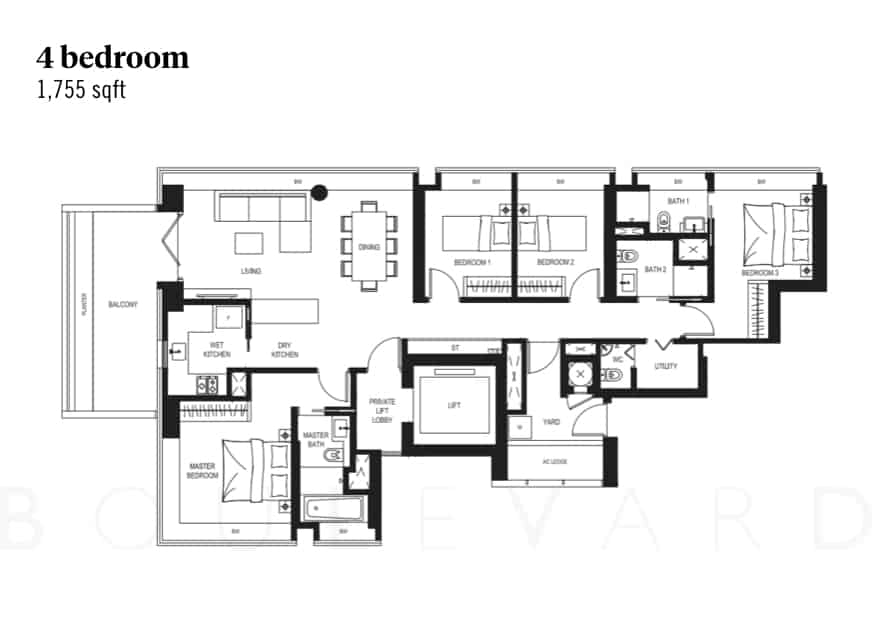 8 St Thomas 4 bedroom unit highlights:
An entertainer's dry kitchen in the open-plan living area
A flexible mix of additional bedrooms to be used as a library, study or media room
Large windows in each room
From the private lift lobby, walk into a large, light-filled living area with sufficient space for a lounge and eight-seater dining table. The stylish dry kitchen is calling you to throw epic soirees. It also extends into an enclosable wet kitchen. The large balcony further makes a compelling case for alfresco meals and sundowners with a view.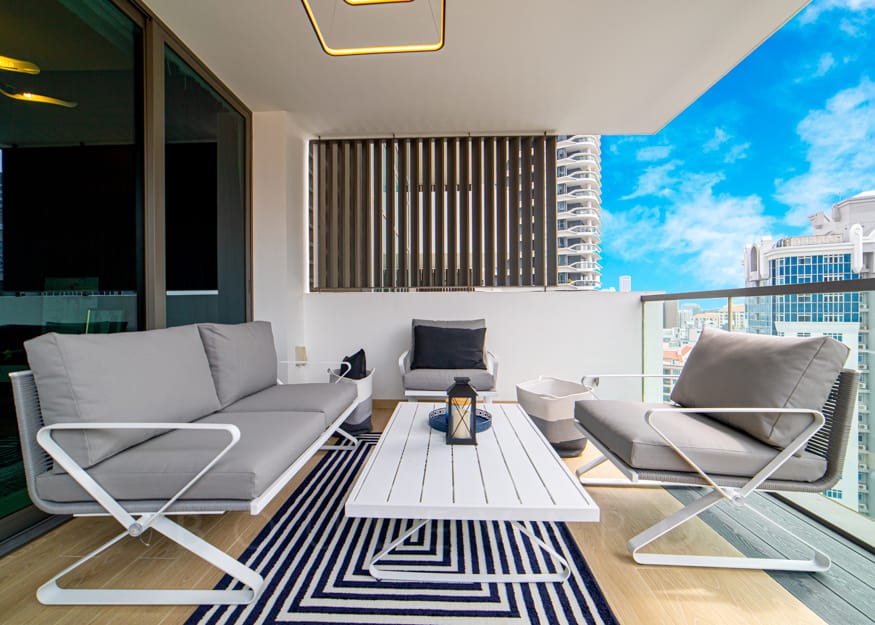 The master bedroom comes with good storage space and an ensuite with a large bathtub. There are also three baths, a yard and utility room.
The 4 bedroom dual key units
We love the flexibility of the dual-key four-bedroom units, purpose-built for multi-generational families with two self-contained homes for the cost (and ABSD avoidance) of one.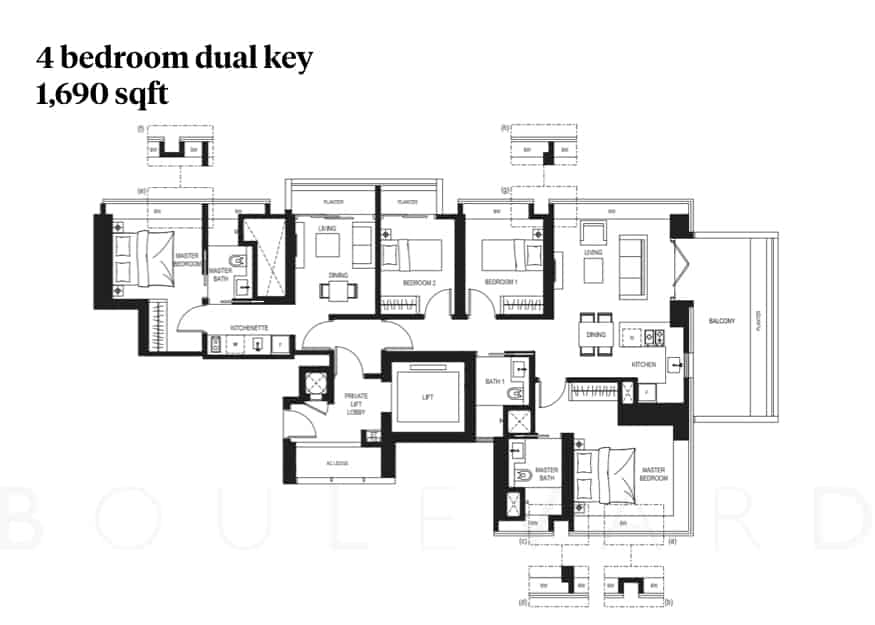 8 St Thomas' 4 bedroom dual key units highlights:
The open-plan living area overlooking the large balcony
Multi-generational living with total privacy
Large sub-unit with wholly contained living and kitchenette
The private lift lobby leads you down two hallways – one towards the one-bedroom unit and another to the three-bedroom unit. Entirely self-contained, the dual key apartments are a smart buy for multi-generational families who value privacy but love being close to each other. It's also great for homeowners looking to rent out the sub-unit.
The sub-unit is fairly large for a one-bedder with a separate living room, kitchenette, master bath and master bedroom. The main unit, on the other hand, is a grand three-bedroom one with two ensuites and a lovely balcony.
---
8 St Thomas interiors
Refined and elegant, the interiors at 8 St Thomas pair perfectly with its peaceful, nature-loving build. All evident in the use of natural materials like marble countertops and wooden floors as well as the emphasis on good-sized shaded balconies.
As for the two fully furnished, ready-to-move-in apartments by Rashi Tulshyan – read on to find out what we love about her interior design treatment.
Good to note that all the kitchens are fitted with Miele everything – cooker hob, hood, convection oven and washer dryer.
Interiors & fittings highlights:
Some fully-furnished apartments ready to move in
Solid surface kitchen worktop
In-built home automation controls
Floor to ceiling windows in every room
Generously spaced balconies in most units
---
8 St Thomas siteplan
Evidently, slow sophistication is at the heart of 8 St Thomas' plan. Sitting on a plot of 99,508 sqft, the developer has managed to make the most of the area without crowding it. Between both towers is a large pool. And a level above it, almost circumscribing the pool, is a floating walking/jogging track that's simply incredible.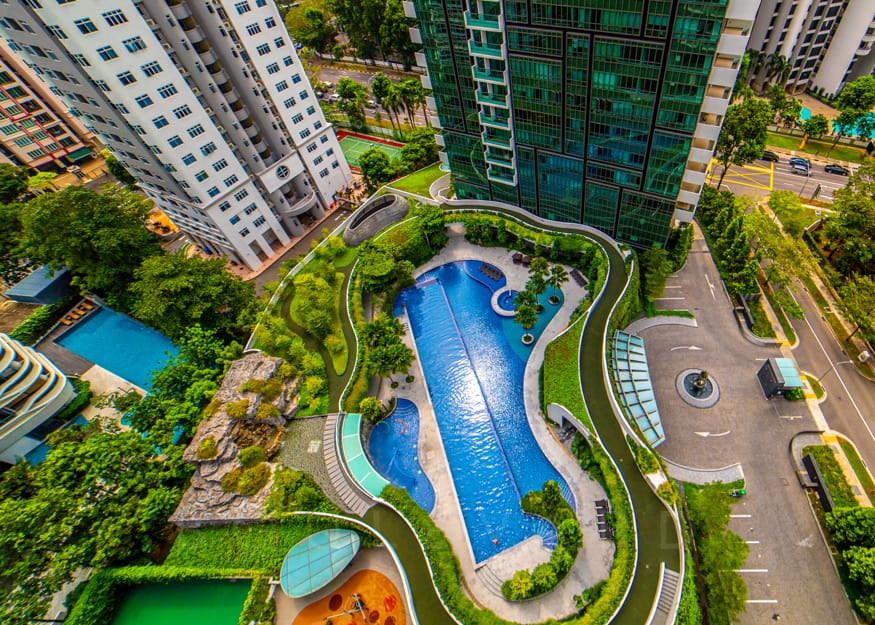 Also loving: the landscaping
The hanging gardens spill down from the jogging trail and surround the pool with greenery – for a built-up area it feels wonderfully enclosed and lush. Vertical gardens have been introduced across the property and several apartments are even fitted with planter ledges.
With water features and the large blue swimming pool sharing space with lush green foliage, there's a sense of calm in the air. The facilities are also quite spacious, especially considering there are only 250 apartments in this condo. It all makes for a clever use of the plot.
Also love: sustainability initiatives
It's always nice to see condos doing their bit to promote a greener, more sustainable lifestyle. 8 St Thomas was awarded BCA Green Mark Gold for its many energy-saving initiatives including:
Energy-efficient fridges in all apartments
Common areas naturally lit during the day
Common areas with motion-activated lights at night
All apartments coming with water-efficient fittings and washing machines
Rainwater harvesting for landscape irrigation
Green lots for charging electric cars
Designated bicycle lots
---
8 St Thomas facilities
For us, it's all about the pool and that elevated, quasi-floating jogging trail. It's a tree-line trail that almost envelopes you in greenery. If you plan on living here, chances are early morning/midnight runs might be a regular activity. Besides, the sculptural water feature adds to the ambience.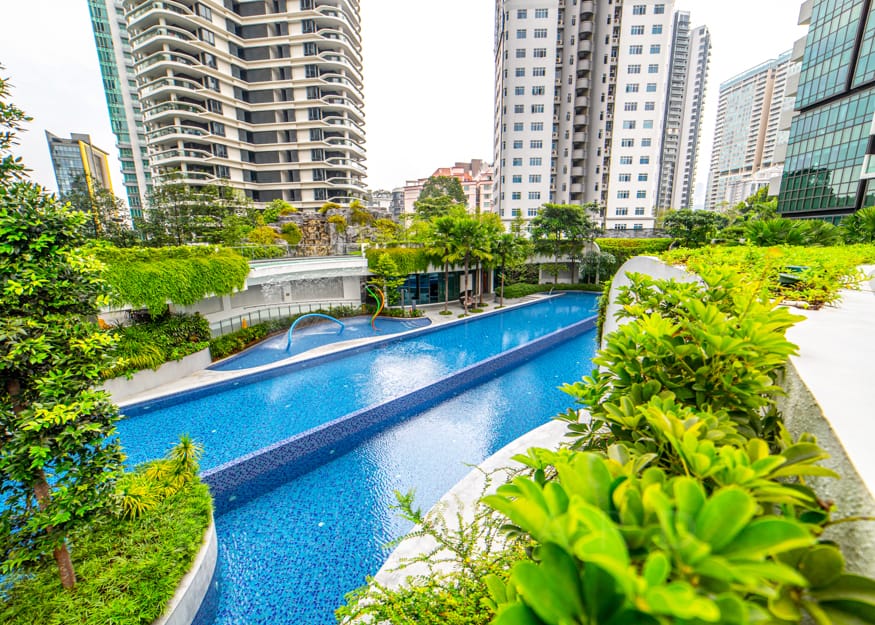 As for the pool, it's visible from almost every apartment. There's a splash pool for the little ones, several shaded pool loungers, a restful sanctuary pool and some in-pool loungers too. Plus, tucked away is a spa alcove for relaxation.
Apart from the standout pool zone, there's also a full-sized tennis court, fitness corner, gym, and of course a function room.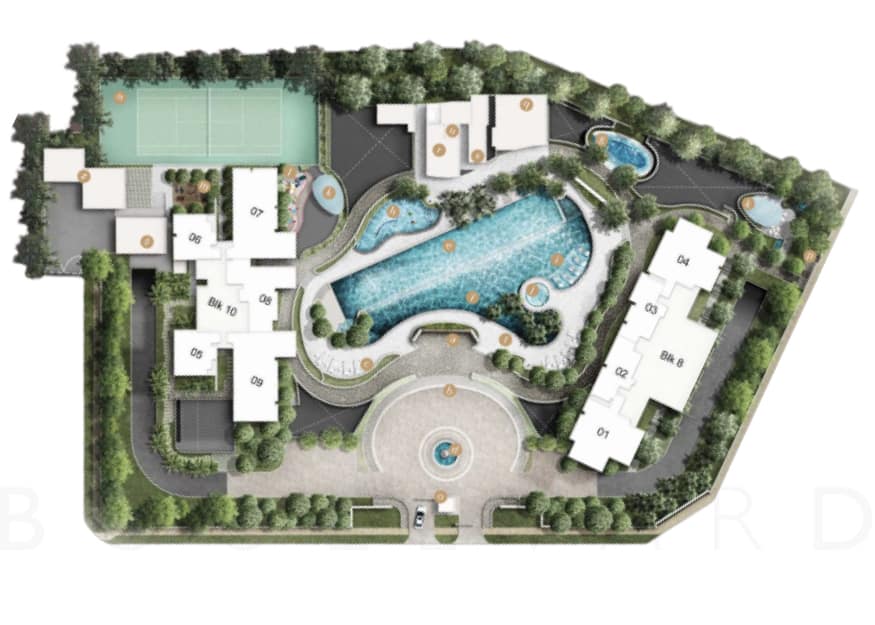 Facilities highlights:
A. Concierge and reception
C. Sunshine deck
D. Water feature
E. Lap pool
F. Lounge pool
G. Spa alcove
H. Kids splash
I. Continental water deck
J. Sanctuary pool
K. Garden BBQ pavilion
L. Children's funplay
M. Fitness centre
N. Tennis court
Q. Function room
R. Gym
S. Steam room
T. Garden trail
Other facilities on higher levels
Apart from the many facilities on the lower levels, 8 St Thomas also boasts quiet retreats and amenities across the two towers. One tower features five mini gardens at various levels, while the other boasts amenities including:
Game lounge
Children's discovery deck
Serenity deck
Yoga and fitness deck
Cocktail lounge
Gourmet dining
---
Where to now