Step inside the most powerful Range Rover ever
By Mike Huynh
The faithful Range Rover nameplate has come a long way since its debut as a four-wheel-drive luxury SUV back in 1970. Whilst the simple utility and practicality of a larger body was the name of the game for its original creator, British Leyland, the Range Rover moniker of today has evolved to stand for an entirely new driving experience in any terrain.
Engineered and refined for the world's most discerning drivers and their passengers, the modern Range Rover lineup includes the Evoque, Velar and Sport variants. The latest to debut from the latter vertical is the Range Rover Sport SV – the brand's most ballistic performance flagship model to date.
This new model leverages the latest in Range Rover technology to elevate driver engagement to the next level, from the most advanced suspension system in its class to a sensory audio system with built-in wellness benefits.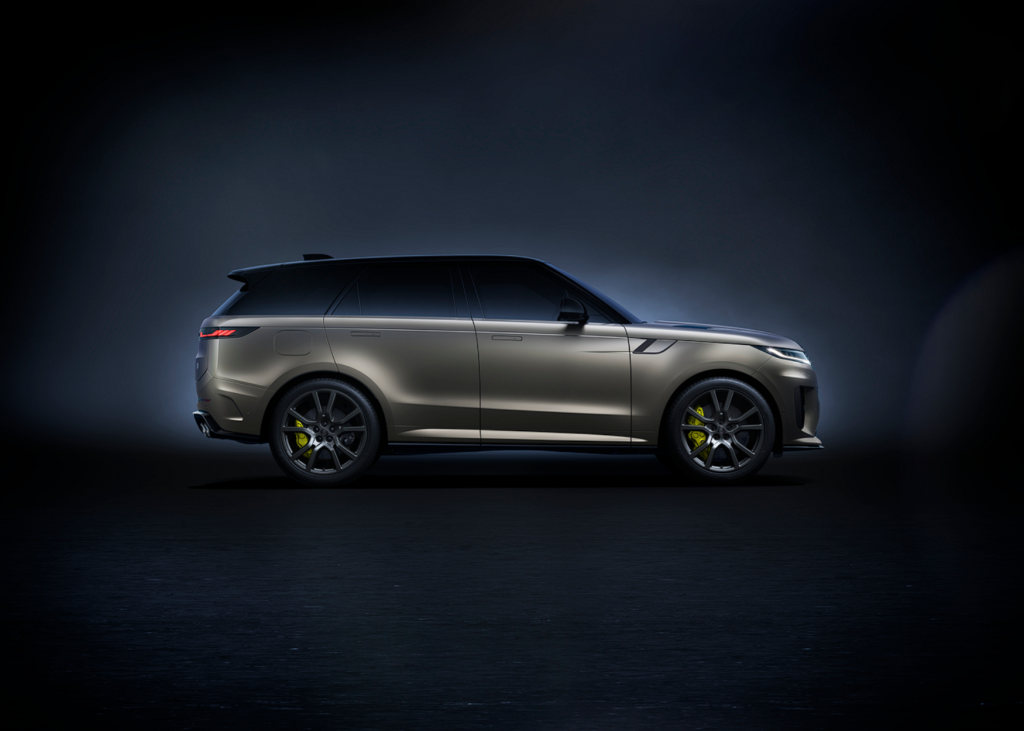 Perfecting practical performance
As the most powerful Range Rover Sport ever, the SV marries supreme performance and dynamism with the company's signature capability, refinement and reductive design.
At the heart of this platform is the exclusive powerplant, a new 4.4-litre Twin-Turbo MHEV V8 petrol engine delivering 467kW of power and 750Nm of torque. These latest figures present a significant jump in performance from the previous generation Range Rover Sport SVR's Supercharged 5.0-litre V8. More importantly, the 0-100km/h sprint time is now down to 3.6 seconds alongside a top speed of 290km/h. Showcasing the engineering prowess of Range Rover, the new engine's carbon emissions are also 15 percent lower than the previous generation's.
Elevating this key performance trait is the liberal use of weight-saving, aerodynamics and technical material choices throughout to help deliver a total 76-kilogram reduction in mass. All of these minor enhancements culminate in reinforcing the model's final driving dynamics. In addition to this, Range Rover is also offering a world-first option in the form of 23-inch carbon fibre wheels for a production car – the perfect accompaniment to optional carbon ceramic brakes and the carbon fibre bonnet as standard.
"The new Range Rover Sport SV exemplifies Range Rover's philosophy, not just as a bold evolution beyond its Range Rover Sport SVR predecessor, but also in the personalised approach we are taking with our most discerning clients," explains Geraldine Ingham, Managing Director, Range Rover.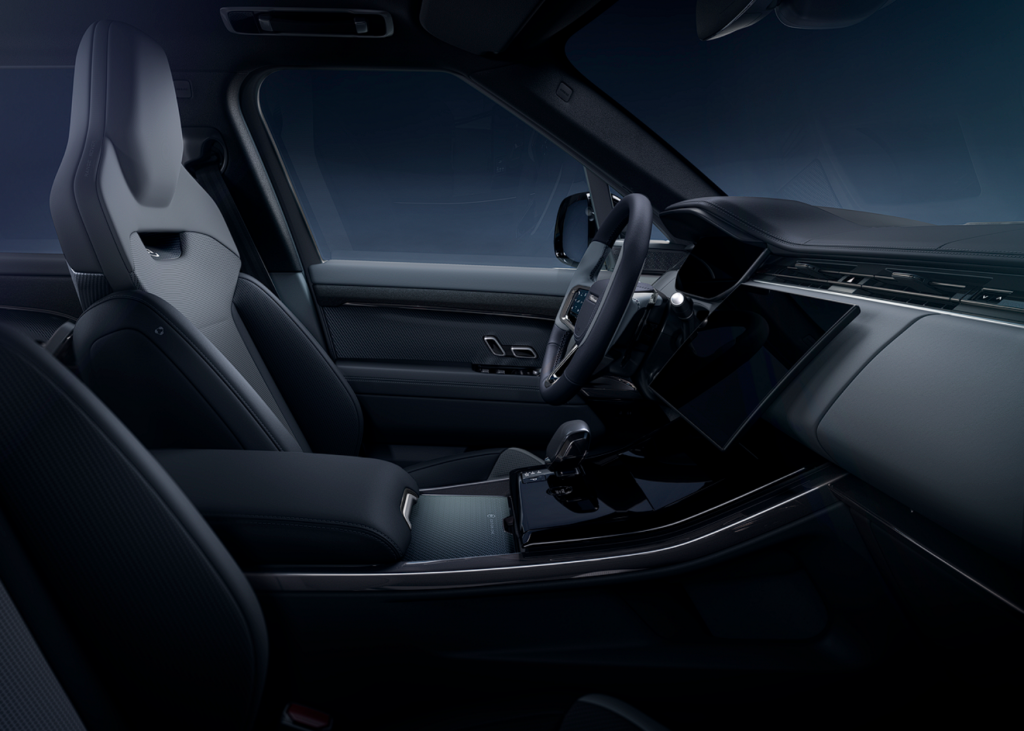 Revolutionary driving dynamics
The new Range Rover Sport SV features the company's latest 6D Dynamics suspension system which is deemed the most sophisticated in its class. Utilising a world-first combination of hydraulic interlinked dampers, height-adjustable air springs and pitch control, this semi-active suspension system is designed to maintain a near-level body stance during extreme cornering and acceleration. It also achieves this while reducing weight, increasing grip, and benefiting from new levels of comfort and refinement.
All it takes for drivers to change the car's characteristics is the push of an 'SV mode' button on the steering wheel. This feature allows drivers to intensify the car's sporting attitude instantaneously. A step beyond Range Rover Sport's existing Dynamic mode, SV Mode optimises the steering, eight-speed automatic gearbox, throttle response, exhaust note and 6D Dynamics suspension system – including lowering the ride height by an additional 15mm – to deliver the most visceral experience possible in an SUV.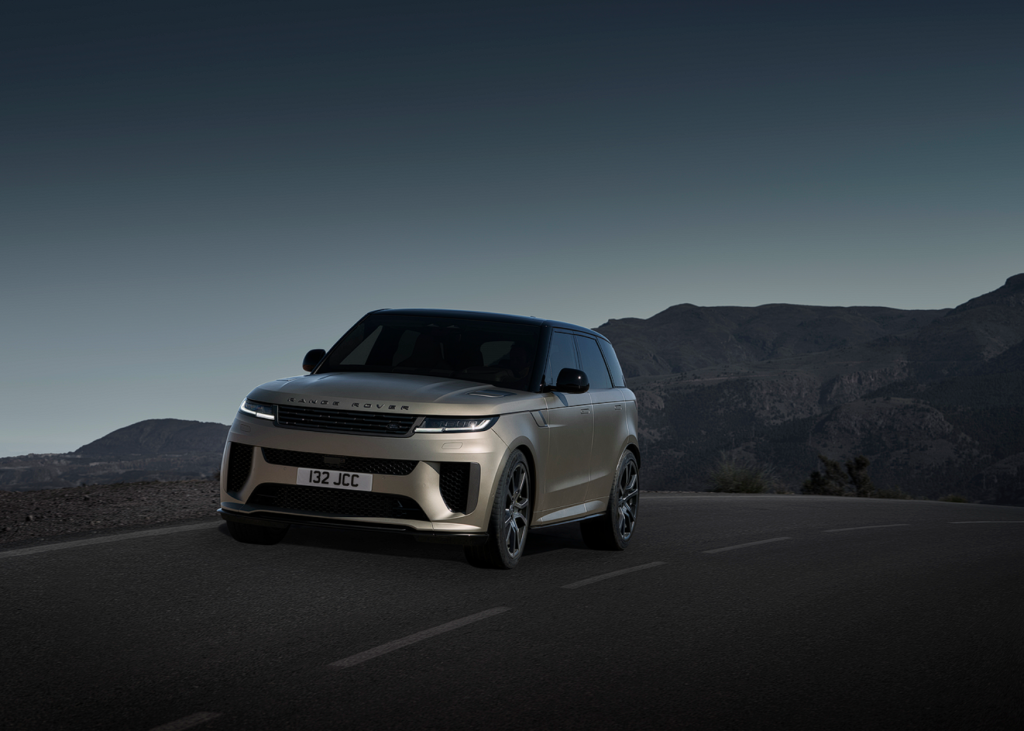 Assertive elegance from all angles
The Range Rover Sport SV commands attention from every angle. Despite its chic silhouette, its design still manages to incorporate an airflow-enhanced front-end, reprofiled lower body sides and functional carbon fibre-tipped quad tailpipes for the active exhaust system as focal points of the rear aspect. There's also carbon fibre detailing on the Range Rover script, front bumper blades, grille surround and bonnet vents. Side vents can be supplemented with an exposed finish for the centre section of the carbon fibre bonnet.
On the inside, the car exemplifies its cockpit-inspired cabin where carbon fibre once again takes centre stage alongside equally exotic appointments. There are exclusive satin carbon fibre-backed SV Performance Seats with integrated headrests, sculpted bolsters and illuminated SV logos on their backrests. The latest Ultrafabrics PU interior is also available with lightweight, seamless, and '3D Knit to Form' textile options.
Even the gear-shifting instrumentation hasn't been overlooked with the world's first translucent edge-lit gear shift paddles and svelte black ceramic used on the console gear shifter.
Class-leading cabin comforts
Craftsmanship and technology adorn every touchpoint of the cabin confines. For seamless connectivity, there's the latest touchscreen Pivi Pro infotainment system which provides intuitive control of all vehicle functions through the elegant 13.1-inch floating glass display. Simplicity and user-friendliness are the secrets here with approximately 80 percent of common tasks being able to be performed within two taps of the home screen. Haptic feedback provides an added level of tactility and communication with the user. Drivers will also appreciate the integrated Amazon Alexa voice AI and Land Rover voice control systems to help keep their eyes on the road while making changes to the cabin environment.
For sublime occupant comfort, Range Rover has raised the stakes with Country Road Assist technology which enhances passenger comfort when using Adaptive Cruise Control. This intelligent system uses navigation data to automatically adjust the target speed, taking into account bends in the road and changes to the speed limit, effortlessly accelerating or decelerating the vehicle accordingly. It all equates to a seamless and smooth journey for those long-haul drives.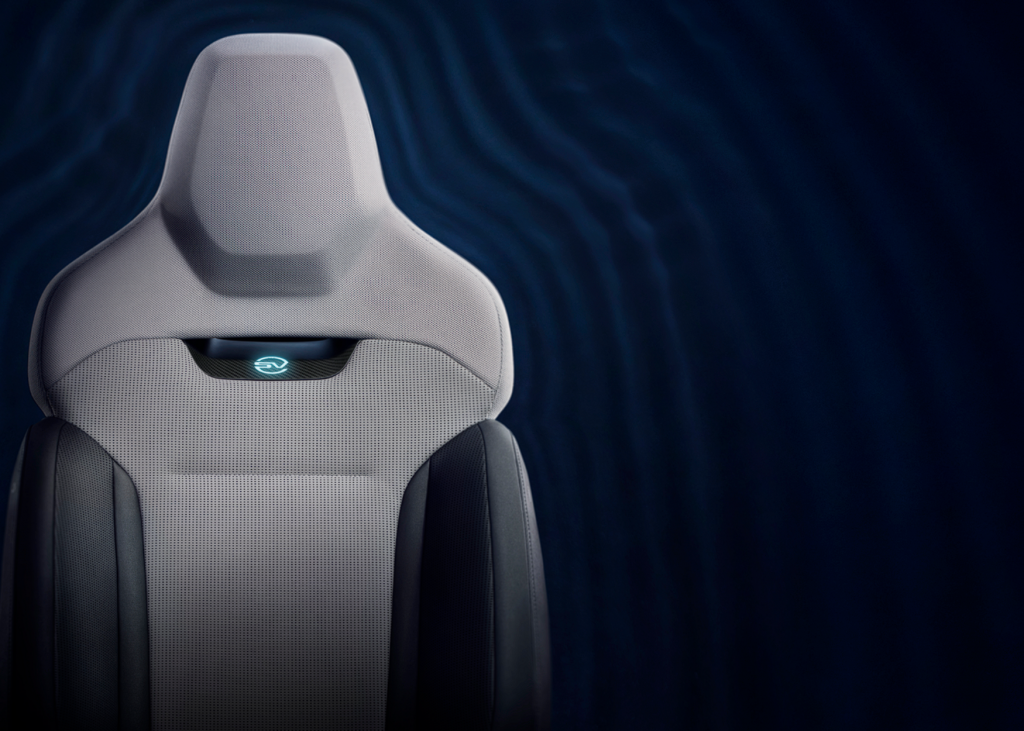 And for something truly pioneering, the new Range Rover SV features Body and Soul Seat (BASS), a multi-dimensional audio experience with wellness benefits which allows front seat occupants to feel the sound while on the road. This is the first production vehicle to incorporate a tactile audio system from industry leader SUBPAC – audio technology used by the world's top recording artists and composers.
By implementing SUBPAC AI optimising software alongside transducers aligned to front seat occupants' backs, Body and Soul Seat can analyse media in real-time to generate high-fidelity audio vibrations. The result? The most engaging and immersive in-car audio. It's a system which works in unison with the 29-speaker, 1430W, Meridian Signature Sound System.
Beyond immersion in music, the Body and Soul Seat Wellness programmes can also help enhance front-seat occupants' mental and physiological health by influencing heart rate variability (HRV) – the variation in time between each heartbeat. Range Rover claims that High HRV is indicative of lower stress levels and relaxation. A welcome feature for when the SV isn't being unleashed on the winding roads.
Realising the height of exclusivity
For the first year of production, the new Range Rover Sport SV will only be made available to select clients to order by invitation. This debut run of special examples will be labelled as the limited edition Range Rover SV EDITION ONE.
Visit Range Rover for more information.
---
Read next: