Design
Annalisa Ferraris: Painting Houses
Artist Annalisa Ferraris says growing up in the historically significant Sydney suburb of Castlecrag, her interest in architecture was piqued early. "My grandparents lived nearby — typical Italian family — and when I would walk through the streets with my Nonna when I was little, I just loved all of those signature Walter Burley Griffin flat-roofed houses," she recalls.
Developed by Griffin and his fellow architect wife Marion across a swathe of northern Sydney harbourside in the 1920s and '30s, Castlecrag's classic structures possess a solidity not found in the modern homes being built in California during the same period. Ferraris says she finds the sturdiness of this early Australian modernist architecture one of its greatest charms.
"Here in Australia, our materials are so different to what was being used in America. In Castlecrag, many of the homes are built in sandstone," Ferraris says. "There's an elegance to them, but also a certain toughness, which I think is a nice pairing."
The same could be said of Ferraris's paintings, which tend to depict beautiful spaces, idyllic settings and glamorous moments, though often with a palpable sense of melancholy or loneliness. The houses are abandoned, the party is over.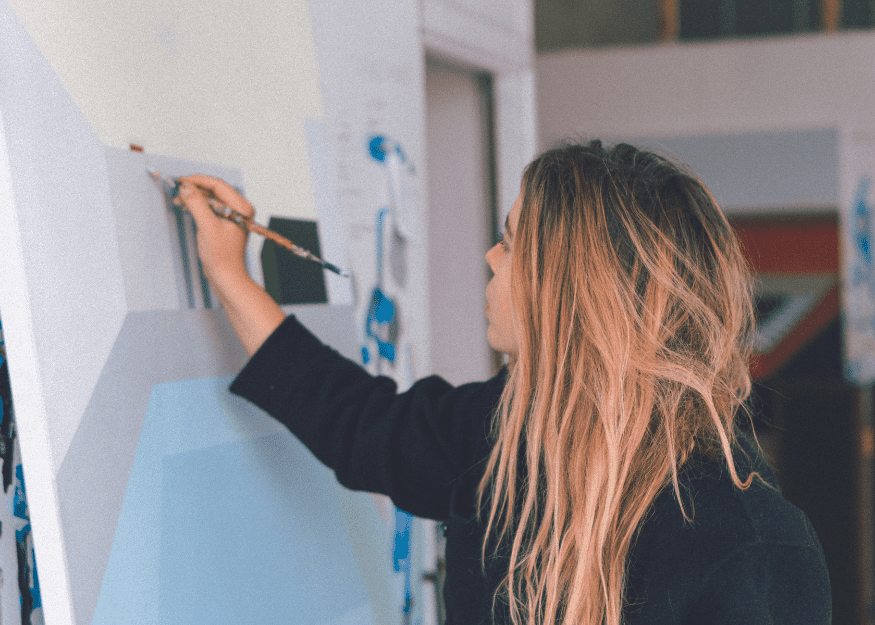 By creating this feeling of emptiness, "The viewer can read what they what they wish into the image," Ferraris says. "There's a calmness to it as well, when you're not holding the viewer's hand and walking them through it step by step. They can project whatever feeling they want onto it, which is just as valid as whatever I had in mind."
A Ferraris leitmotif is the swimming pool, drained of water. "I like the shadows, the straightness and harshness of an empty pool," Ferraris explains. "As soon as the water's gone, pools have such a strange feeling to them. All the merriment that surrounds them is gone," she says. And yet, some ghostly remnant of the happy moments that once occurred in the pool remains, Ferraris reckons. "I like the idea of that."
Echoes of good times gone by are also evident in Ferraris's charmingly coloured still-life scenes of extinguished cigarettes, exhausted martinis, swallowed oysters and (presumably) freshly emptied firearms. "There's a dichotomy to things like guns and cigarettes — things that are associated with a dark and dirty type of lifestyle — portrayed in this soft pink, pastel-ish way. It's contradictory. I don't know, kind of juicy?"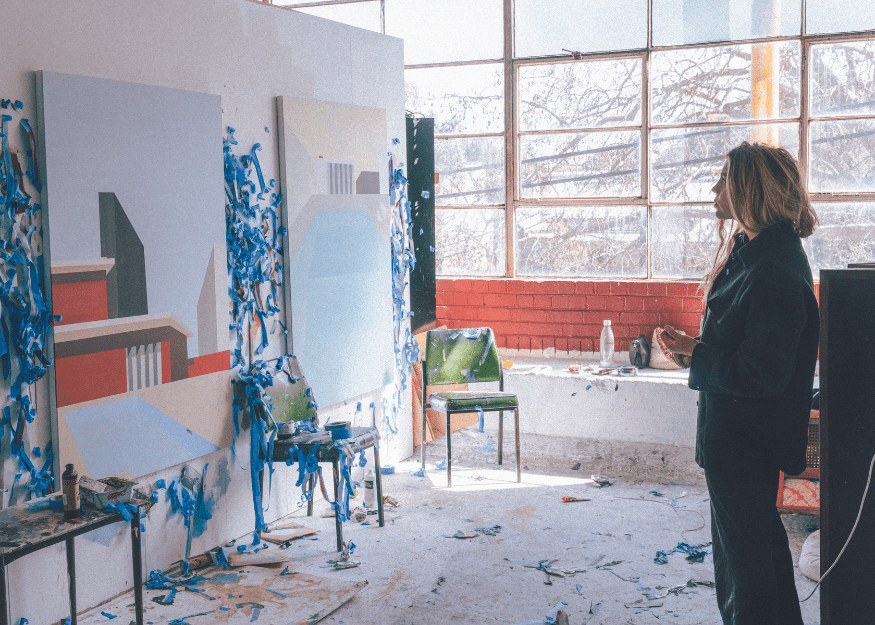 Comparisons with artists such as David Hockney or Jeffrey Smart are easy to make, and Ferraris acknowledges these influences, along with Richard Diebenkorn and John McKracken. "But I also love a lot of abstract artists," she says, "even though it's not closely related to my work. Though you're inspired by artists whose work is similar to yours, it can be more exciting to look at work that's very different. Mark Rothko and Helen Frankenthaler are two of my favourites, but I can't see any correlation between our work, except for maybe in terms of palette."
Exploring different styles is one thing, exploring different disciplines quite another. To that end, Ferraris is about to step outside her comfort zone, beyond flat surfaces and into 3D, with the creation of a limited-edition furniture collection.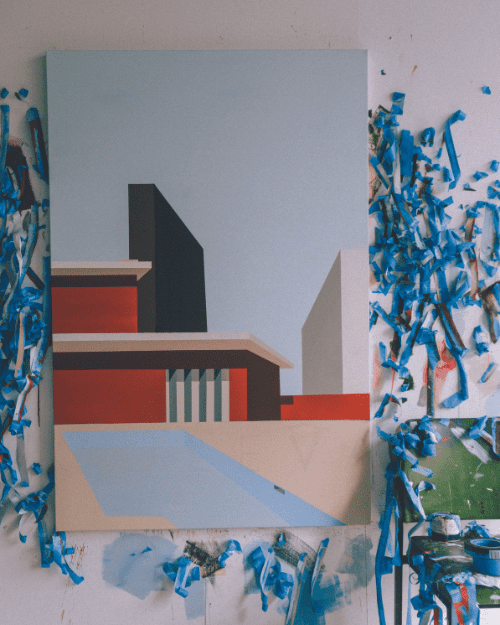 The pieces, which have been individually crafted in Australia, were in many ways designed out of necessity, Ferraris says. "I was furnishing our new house in Paddington, and I was getting frustrated because a lot of Australian-designed furniture has a very beachy aesthetic, lots of whites and wicker," she explains. "There's very little with that New York City feel — hard edges, sophisticated, elegant."
While the designs for Ferraris's furniture remain under wraps at press time, the lines and hues of her art offer a strong hint of what to expect. "I was talking to an architect friend, showing him what we're doing, and he was saying, 'It makes so much sense. It reads really well with your work, everything's got the same outlines.' So yeah, I'm super excited to have that coming up."
Discover more of Annalisa's work on her Instagram.