South Beach Residences condo insider review: Bragging rights and big spaces
Some buildings don't need much of an introduction. South Beach Residences is one of them. It's taken a permanent place on the Marina Bay skyline with two gently bulbous towers outlined with curved light-bands. Smack in the middle of Singapore's historic Civic District, it sure calls for demands attention and envy.
The Boulevard Brief
– Who it's for: Those who love the city centre life and the major bragging rights that come with it
– What's to love: Location. Location. Location… and those breathtaking unblocked views (including one of the best spots in the city to watch the F1)
– How much it will set you back: They're not giving them away… The average sale price psf is a ritzy $3,360
– Our pick of the crop: The nicely sized 2-bedroom home with an epic frontage overlooking either the Marina Bay area or the island-side
– Standing out from the crowd: As hard as it is to choose from six penthouses, we're extra impressed with the 5-bedroom unit that spans a palatial 6,728 sqft. Keep reading for more on this…
Skip ahead to the unit mix, facilities, and floorplans
---
South Beach Residences key info
District: D07 Beach Road
Area: Beach Road
Address: 28 Beach Rd, Singapore 189768
Completion: 2016
Developer: City Developments Limited (CDL)
Land size: 37,6295 sqft
Tenure: Leasehold
Number of units: 190
Towers: 1 tower from level 23 to 45
---
South Beach Residences unit mix
While there's a wide range of unit sizes, one can't help but notice that there are six massive penthouses for the picking. Let's break it down…
| | | |
| --- | --- | --- |
| Unit type | Area (sqft) | Volume |
| 2 bedroom | 936 – 1,798 | 88 |
| 3 bedroom | 1,604 – 2,282 | 61 |
| 4 bedroom | 2,239 – 2,616 | 35 |
| 3 bedroom penthouse | 3,897 – 4,424 sqft | 3 |
| 4 bedroom penthouse | 4,446 – 5,070 sqft | 2 |
| 5 bedroom penthouse | 6,728 sqft | 1 |
Interestingly, the duplex or triplex penthouses don't have a monopoly on the uppermost floors. While they do take up a large chunk of space, you can also find 2 and 3 bedroom units with that view from the sky.
---
South Beach Residences floorplans
Here's a look at the original floor plans for CDL's South Beach Residences. Note that these refer to just one format for easy reading, but every unit type has numerous size and layout variants.
Skip ahead to the floorplans:
The 2 bedroom units
Yes, it's our pick of the crop. While we'll be talking about one unit type, you should know that there are over 50+ layout variants for the 2-bedroom unit. Ranging from 936 – 1,798 sqft, these apartments enjoy incredible views and generous, hotel suite-like interiors.
South Beach Residences' 2 bedroom unit highlights:
Large (and wide) open-plan living room
Hotel-grade master bedroom with ensuite
Beautiful, good-sized kitchen that doubles up as breakfast bar
Insane frontage with a sweeping views of the city
Enclosed yard (rare for a 2br!) and foyer storage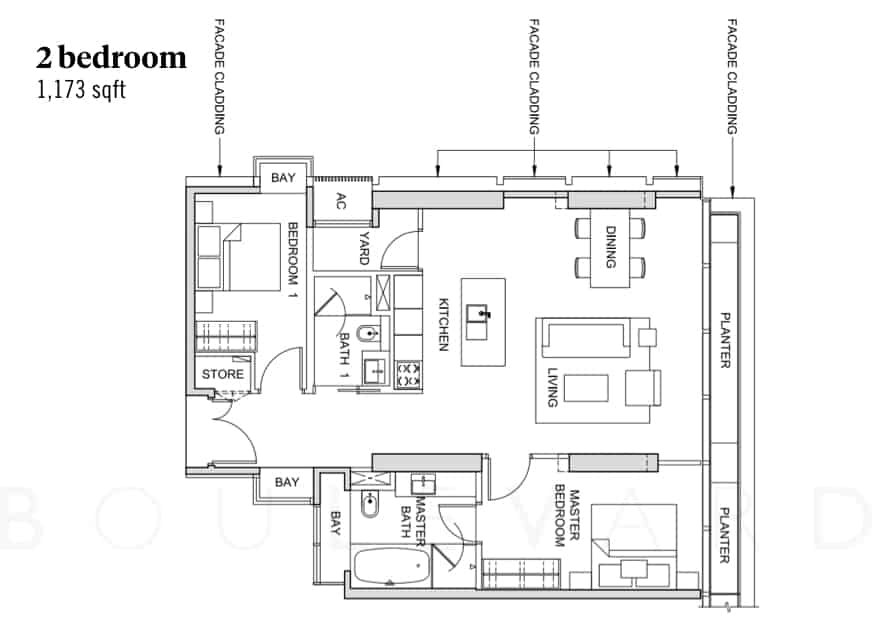 This particular 1,173 sqft unit is perched on the 40th floor of the iconic tower. And it checks all the right boxes – prime location, premium design, unblocked views and five-star amenities.
We particularly love the generosity of space. The open-plan living room nicely fits a large sofa and seaters, a dining table and a massive kitchen with an extended island.
The 3 bedroom units
The 3-bedroom units are pretty impressive too. There are 61 of these ranging from 1,604 – 2,282 sqft, and a surprisingly large number of unit types too.
While there are a good number of units with two balconies, there's one that really stands out. At 1,959 sqft, this fully-furnished unit is meant for entertaining. The balcony spans the width length of the living room, one of the bedrooms as well as the master bedroom. Say hello to that alfresco life!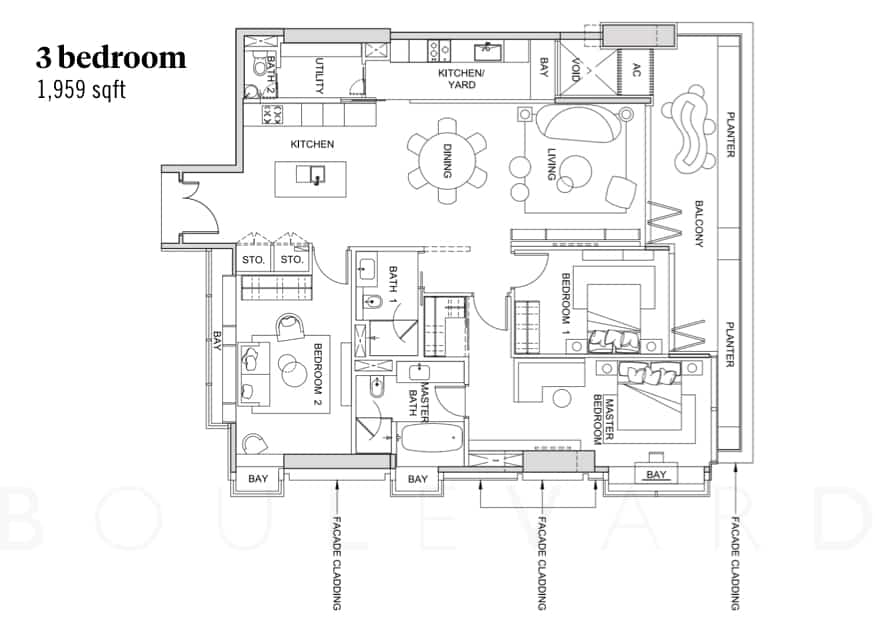 South Beach Residences' 3 bedroom unit highlights:
Sheer space!
Entertainer's open-plan living room
Gorgeous dry kitchen and an enclosed wet kitchen
One loooong balcony
Master bedrooms akin to hotel suites
There's also a one-of-a-kind apartment on the 23rd storey spanning a neat 2,067 sqft and featuring a marvellous open-to-sky roof terrace. Not done yet – it also has two more balconies, one by the living room and one in the master bedroom.
Every single 3-bedroom unit has a stunning dry kitchen in the open-plan living room, but only a handful get a private lift lobby.
The 4 bedroom units
We'll say it again. Despite the prime CCR location, apartments at South Beach Residences are big on space. The four-bedroom units range from 2,239 – 2,616 sqft and include at least one balcony. After all, residents are buying more than a home with world-class amenities… they are acquiring a rare and spectacular view.
This 2,616 sqft unit has two balconies, and both can be accessed via the living area. The master bedroom has direct access to the larger balcony – always a plus! Apart from a plush king-size, it also fits a study desk and a lounger with room to spare. The other three bedrooms can be whatever you want them to be – so much potential and flexibility. This floor plan depicts a conversion where two bedrooms have been combined into a super large family room.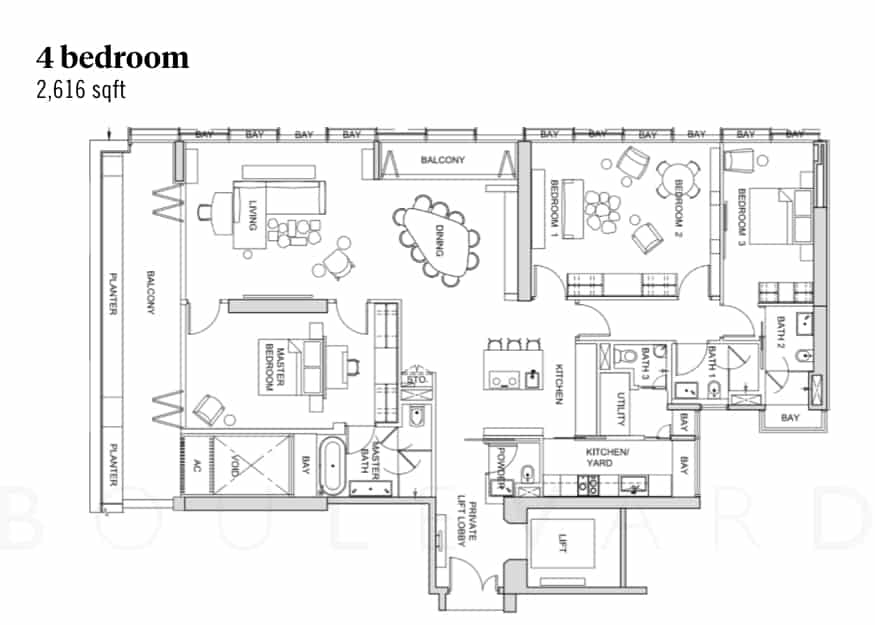 South Beach Residences' 4 bedroom unit highlights:
The parents' retreat with private access to the balcony
That million-dollar view
A flexible mix of additional bedrooms; think of the potential – it could be a family room, media, games rooms or a study/library
Elegant open-plan living space meant for soirees
Private lift lobby
Penthouses
Six – that's the total number of opulent penthouses in South Beach Residences. Rightfully, they take over the uppermost floors of the iconic structure. To break it down: there are three 3 bedroom, two 4 bedroom and one 5 bedroom.
It sure is comfortable at the top. Skylights, private rooftop terrace, walk-in wardrobes, double-height ceiling, spa pool and of course, an insane amount of space. Thoughtfully, they all are fitted with private internal lifts!
The "smallest" 3 bedroom penthouse is a 3,897 sqft triplex while the largest is a 4,424 sqft duplex. The master bedrooms are sizeable, complete with a walk-in wardrobe and dressing area.
When it comes to space, the two 4 bedroom penthouses – a 5,070 sqft triplex and a 4,446 sqft duplex – stretch it out a little. It's a spa day every day with a spacious master bath featuring a massive built-in bathtub and his and hers vanity sinks with premium fittings.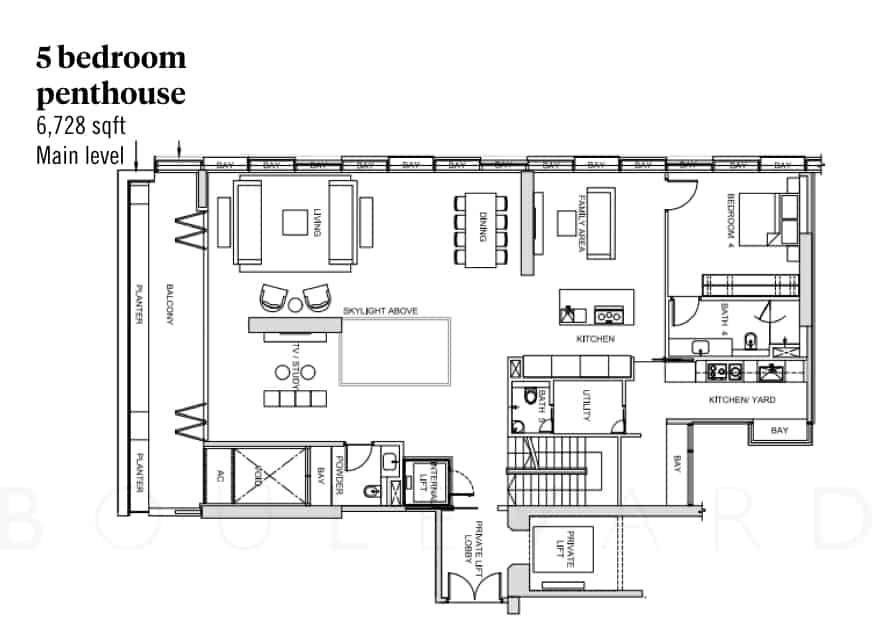 And then there's the 5 bedroom triplex on the 42nd floor at a whopping 6,728 sqft. Yes, it's as extravagant as you might imagine. Roll up into a private lobby and you'll see a sprawling living space and family room taking up most of the main level, along with a balcony and one ensuite bedroom. Perfect for houses guests!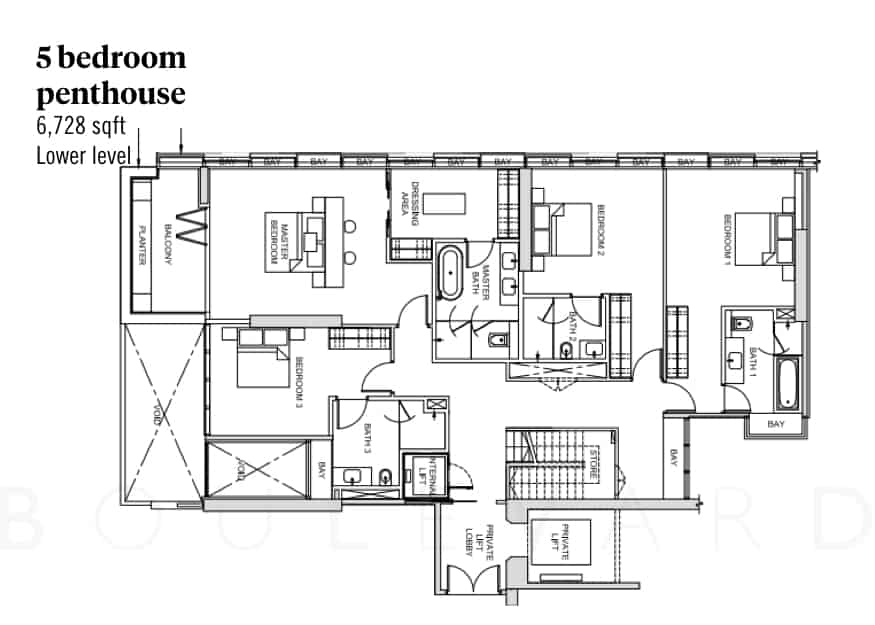 Downstairs, the master suite steals the show. It has a private balcony, extensive square footage, large walk-in wardrobe and master bath. It shares the floor with three other sumptuous bedrooms with ensuite, all of which can be accessed via stairs or the internal lift. The top level is open-to-sky with postcard-worthy views of Singapore. It's kitted out with the essentials of luxury living – you know, a spa pool, steam room, shower and a fabulous rooftop terrace with an epic view.
South Beach Residences' penthouses highlights:
The ultimate rooftop terrace with spa pool, steam room and a million-dollar view
OTT master suite with a private balcony
Flexibility of having five bedrooms to play with
To-die-for living and entertainment areas
Internal lifts for the win
---
South Beach Residences facilities
One look at South Beach Residences' jaw-dropping infinity pool and you'll forget all about the MBS hotel pool. It's definitely in the runnings for the best condo pool in the country. Taking over one half of the Sky Garden on the 22nd floor, this pool has one of the greatest views money can buy. Float around and watch the sunset over Marina Bay Sands, the historic Civic District and the CBD skyline. 
With a Core Central Region (CCR) postcode, one can't really expect sweeping lawns and gardens in this mixed-use development. But it's a fair trade-off if you crave city living, spectacular views and five-star luxury.
Facilities highlights:
Swimming pool
Jacuzzi
Wading pool
Pool deck
Outdoor function area
Indoor function room with kitchenette
Indoor and outdoor gym
Exercise deck
Children's playground and pool
Gourmet pantry
Reading room
The arrival lounge is on level 1, where you'll also find the concierge. Downstairs in the parking level, there's another, even larger lounge along with dedicated lockers for their golf bags. Tee-rific!
It's these little details combined with the large, more in-your-face perks that make South Beach Residences a sought-after address.
Feeling peckish? You don't have to go too far. Owning an apartment in this swish mixed-use development also means easy access to fine dining restaurants, cafes and bars. It's all in your backyard.
---
South Beach Residences pricing
Yes, it comes at a cost. Of course it would, and should. The average sale price psf, per URA data from the last 2 years, is $3,360.
It's worth noting that this luxe city centre condo could yield attractive rental returns. In Dec 2019, a 1,000 – 1,100 sqft 2 bedroom rented for $7,000 per month, and a 1,900 – 2,000 sqft 3-bedroom unit went for a cool $22,500 per month.
| | |
| --- | --- |
| Last 2 years' transactions | |
| Price range | $3.37m – $26m |
| Price psf range | $2,795 – $3,950 |
| Average sale price | $6.6m |
| Average price psf | $3,360 |
| Number of transactions | 86 |
| Rental range (monthly) | $7,000 – $24,000 |
| Rental average | $14,046 |
When compared to nearby condos as well as upcoming new launch developments, it's easy to see that South Beach Residences' premium pricing comes with the luxury of space.
| | | | |
| --- | --- | --- | --- |
| Project | Av. Price | Av. Psf | Av. Area |
| South Beach Residences | $6.60m | $3,360 | 1,946 |
| Duo Residences | $2.89k | $2,183 | 1,326 |
| Concourse Skyline | $2.60m | $2,064 | 1,251 |
| Midtown Bay (new launch) | $1.83m | $2,904 | 628 |
| The M (new launch) | $1.58m | $2,487 | 642 |
Yes, the price tag is highest in the area – but the average unit area is also the largest. Looks like that's the price one pays for living in an architectural masterpiece featured on Singapore's most recognisable skyline.
---
Where to now