19 Nassim condo insider review: Rare smaller units, coveted address
Nassim Hill hasn't seen anything like this before.
With a super-prime location in the prestigious embassy district, 19 Nassim is the first new launch in the area since The Nassim back in 2015. But that's not the only thing that makes this Keppel Land development stand out. Unlike the exclusively large-format apartments at nearby condos, 19 Nassim offers 1 and 2 bedroom units that are temptingly priced from $1.91m onwards. (By comparison, The Nassim started at over $6m.)
That said, it's also a leasehold tenure, whence the lower cost of entry.
---
The Boulevard Brief
– Who it's for: Downsizers looking for the convenience of a condo in an unbeatable location; an Orchard pied-à-terre; or a first home close to the family estate.
– What's to love: Location, entry price and the option of smaller-format apartments in this coveted area.
– How much it will set you back: Pricing starts from $1.91m and $3,234 psf.
– Our pick of the crop: The only 1 bedroom units available in this neighbourhood.
– Standing out from the crowd: The 3 bedroom Deluxe features double-height ceiling and an extended family room.
---
Skip ahead to the unit mix, facilities, and floorplans
---
19 Nassim key info
District: D10 Tanglin
Area: Nassim
Address: 19 Nassim Hill, Singapore 258482
Completion: 2023
Developers: Keppel Group
Tenure: Leasehold
Number of units: 101
Towers: 1 with 10 storeys
---
19 Nassim unit mix and listings
19 Nassim is unique in the area for offering a range of smaller-format units – and a key attraction has to be the flexibility here to choose from the optional study formats, as well as the premium "deluxe" apartments with private lift lobby.
View the current unit availability and pricing.
---
19 Nassim floorplans
---
19 Nassim 1 bedroom units
Ranging from 538 – 570 sqft, there are 17 one-bedroom units in two stacks.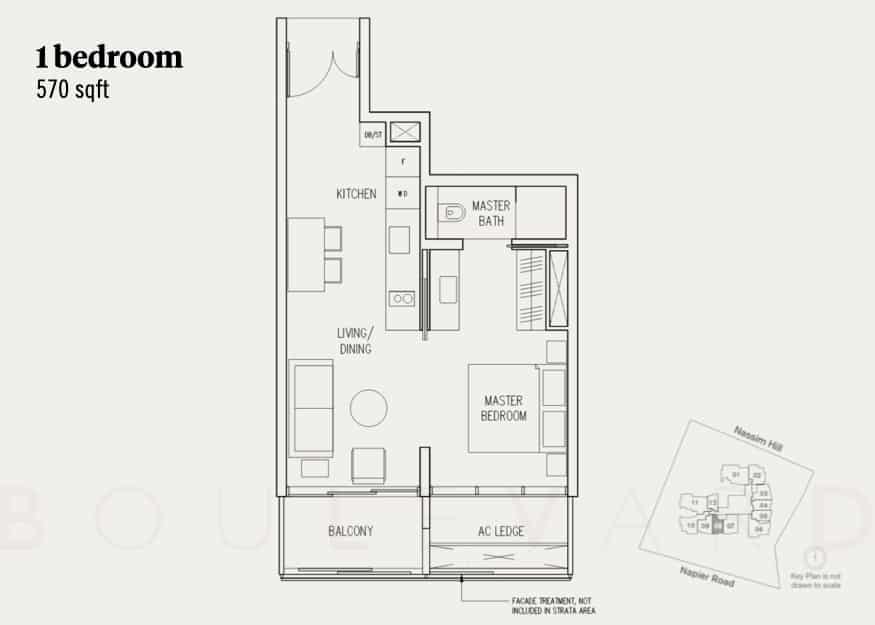 19 Nassim 1 bedroom unit highlights
So flexible: Open up the bedroom to convert this 1br to an open-plan studio.
Lovely large bedroom with wardrobe and vanity.
Eat-in kitchen with high-end V-Zug appliances.
View the 19 Nassim one-bedroom apartment listing.
---
19 Nassim 1 bedroom + study units
These 16 apartments are slightly larger and accommodate a semi-enclosed study – perfect for work-from-home arrangements.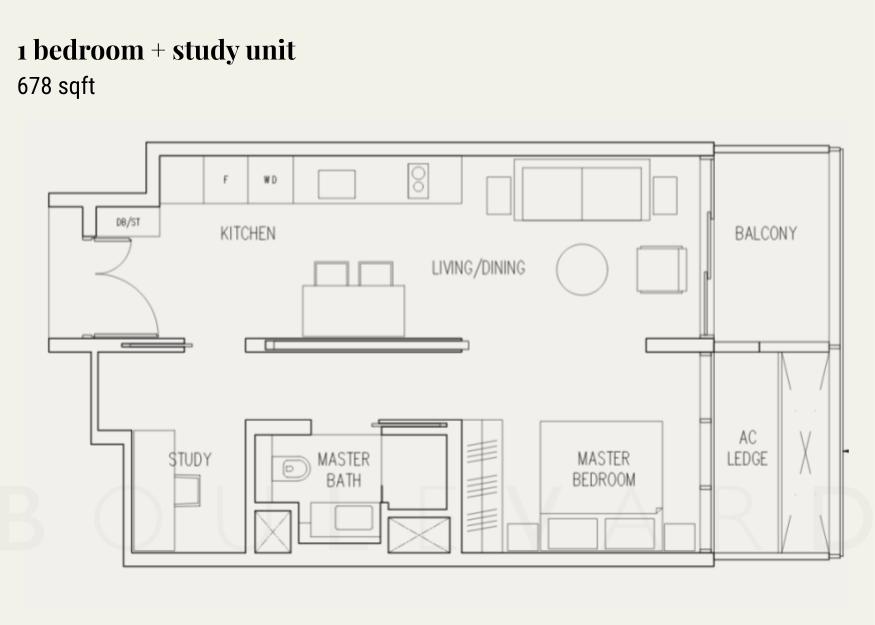 19 Nassim 1 bedroom + study unit highlights
Larger master bedroom with semi-private study.
Contemporary open-plan living with an eat-in kitchen.
Tailor-made for young professionals.
---
19 Nassim 2 bedroom units
One third of the units at 19 Nassim are two bedroom, with several options spanning the good-sized 807 sqft to the generous 1,119 sqft.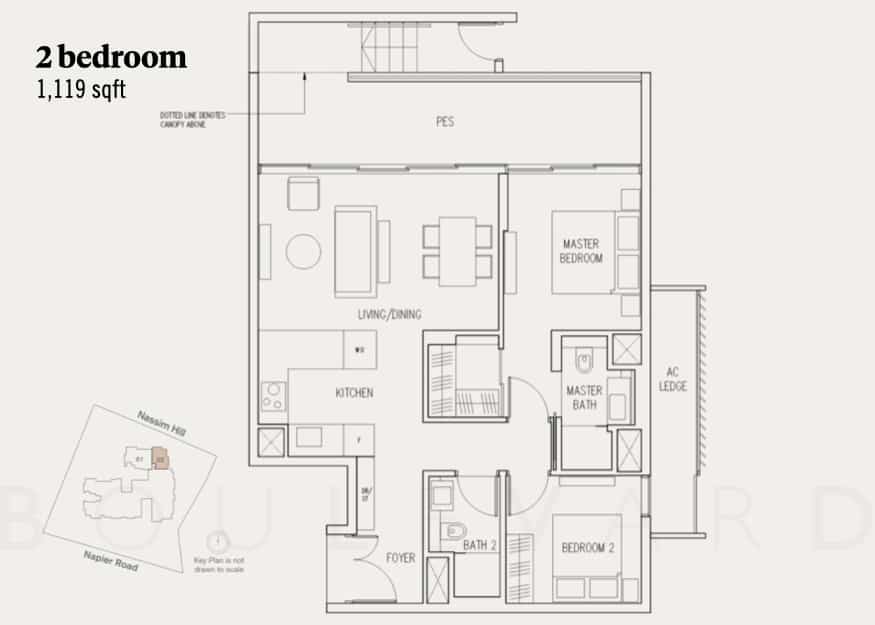 19 Nassim 2 bedroom unit highlights
The ground floor units are exceptional: The open-plan living area spills onto a balcony that stretches across the width of the unit, with private access to the pool and facilities.
Plus, the stunning open kitchen.
The generous master bedroom features a walk-in wardrobe (so rare for a 2br).
969 sqft units on the higher floor (with a smaller balcony but the same interior layout) are priced from $3,622 psf.
View the 19 Nassim two-bedroom apartment listing.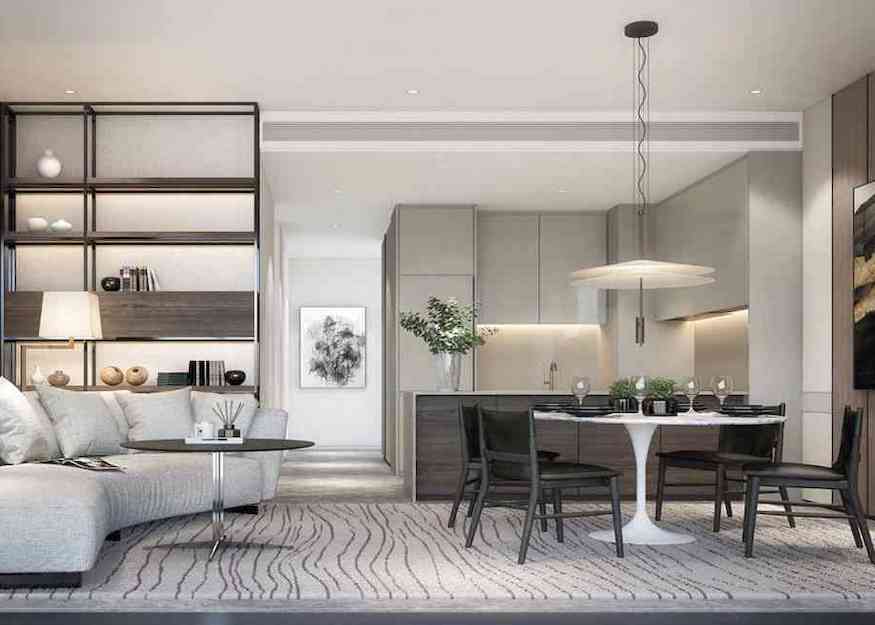 ---
19 Nassim 2 bedroom + study units
Spread across 1,055 sqft, there are only 8 such 2 bedroom units + study from Level 2 to 9.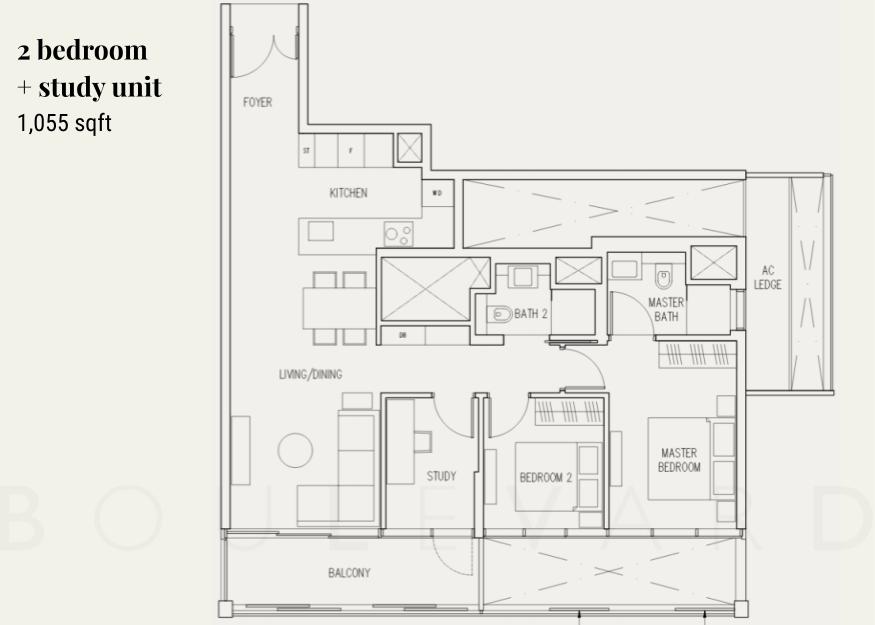 19 Nassim 2 bedroom + study unit highlights
These large 2 bedroom units come with a fully enclosed study that opens onto the balcony – who doesn't want a dedicated space for those WFH days!
Open-plan entertaining area stretching from the luxe kitchen with V-Zug appliances to the dining and living areas and out onto the balcony
Comfortable master bedroom with master bath and a built-in wardrobe.
---
19 Nassim 2 bedroom deluxe units
19 Nassim's "Deluxe" units step it up with a private lift lobby, service entrance and yard.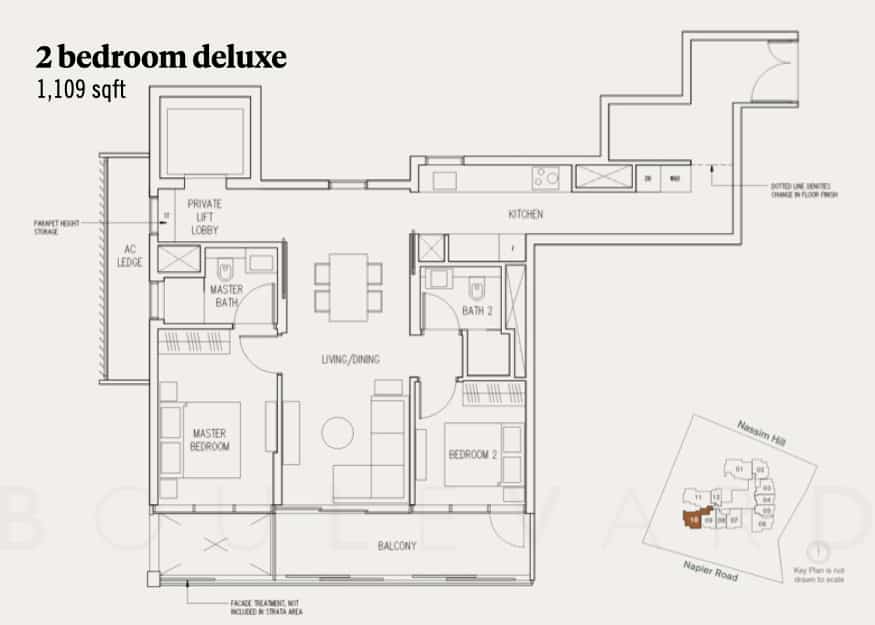 19 Nassim 2 bedroom deluxe unit highlights
Contemporary open-plan living and dining area.
Long enclosable kitchen that extends to a laundry area, yard and service entrance.
Second bedroom with wardrobe and private access to the balcony.
Spacious master bedroom.
View the 19 Nassim two-bedroom deluxe apartment listing.
---
19 Nassim 3 bedroom deluxe units
The flagship residences at 19 Nassim spread across 1,324 – 1,830 sqft.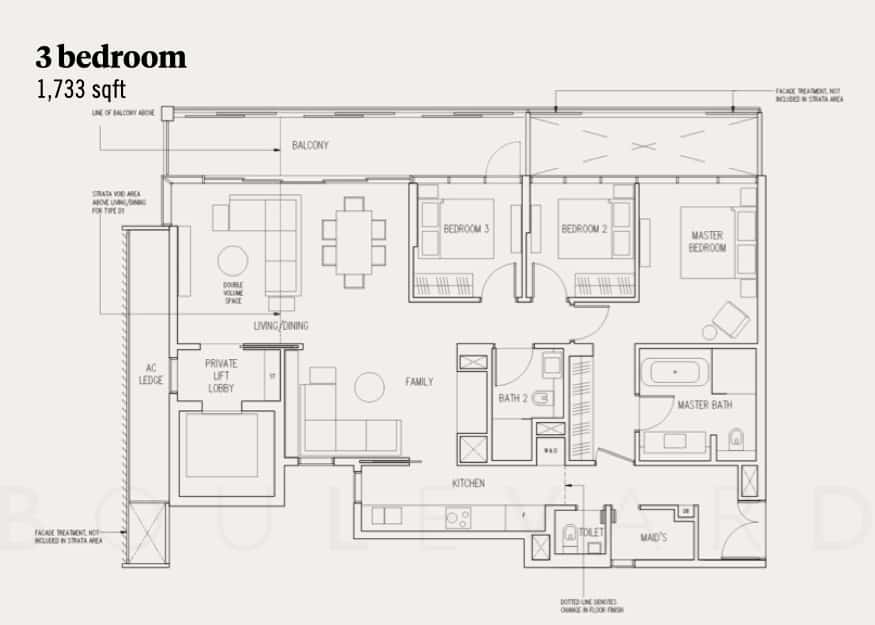 19 Nassim 3 bedroom deluxe unit highlights
Impressive living area with double-height ceiling
Additional family or media room.
Wide balcony with access from one of the bedrooms.
Indulgent master bedroom with space for armchairs, walk-in wardrobe and ensuite with built-in tub.
Spacious kitchen with laundry area, yard, maid's room and service entrance.
Premium appliances from V-Zug and fittings from Dornbracht and Villeroy & Boch.
View the 19 Nassim three-bedroom deluxe apartment listing.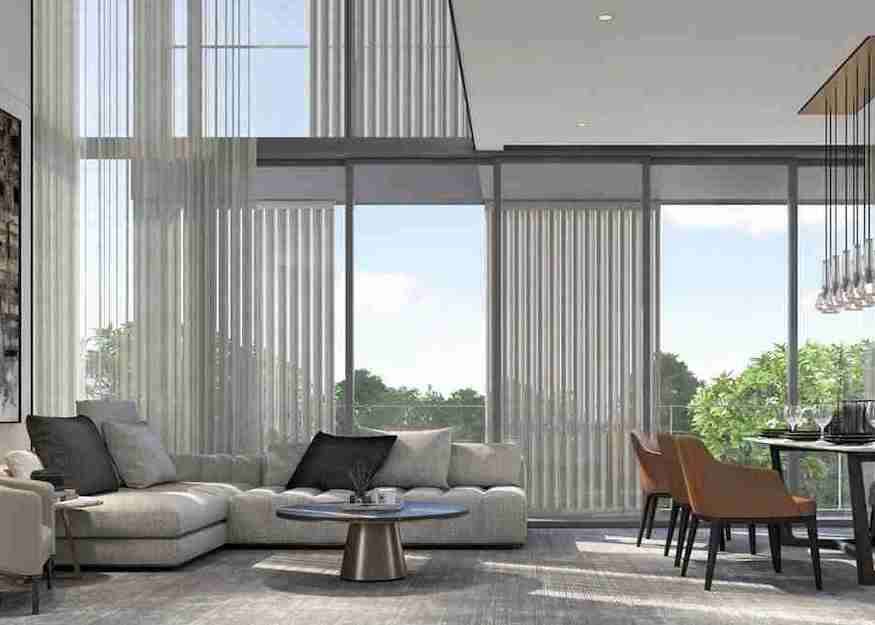 ---
19 Nassim interiors
Developer Keppel Land pulled out all stops for 19 Nassim. With award-winning SCDA Architects helming the project, the interiors and architecture are sophisticated and sublime.
These smart homes will be the first condo in Singapore to be powered by AI that learns and adapts to improve the living experience for residents. With this technology, homeowners can control their home and access services using only their smartphones.
Luxurious interiors include gourmet kitchens with V-Zug appliances, from the combi-steam oven, gas hob and integrated 60cm fridge to the washing machine and dryer. Deluxe units also include a dishwasher and wine chiller. The hotel-grade bathrooms feature Villeroy & Boch, Claybrook (3br only) and Dornbracht fittings.
---
19 Nassim location
Without a doubt, Nassim Hill is one of Singapore's most prestigious enclaves. This embassy district is known for its Good Class Bungalows and record-breaking prices (Facebook's co-founder Eduardo Saverin bought a freehold mansion for a head-spinning $230 million in 2019).
Spot check: 19 Nassim is a low-density condo with 101 units and a plot ratio of 1:6 with about 40% of the site dedicated to landscaping. Spread across 62,268 sqft, the block opens onto Nassim Hill on one side and Napier Road on the other.
As for immediate neighbours, 19 Nassim residents will live alongside some of the most sought-after condos in the country (The Nassim is across the road), along with prominent institutions including the American and Australian Embassies, the British Council and Gleneagles Hospital.
When complete in 2023, it will be walking distance from the new Thomson-East Coast Line's Napier MRT station (to be completed in 2021). Residents can easily stroll to Singapore Botanic Gardens or grab a bite at the dreamy Dempsey Hill enclave that's five minutes away.
Best of both worlds: Tucked away in a peaceful residential neighbourhood, this upscale development is a skip away from the bright lights and entertainment of Orchard Road too.
---
19 Nassim facilities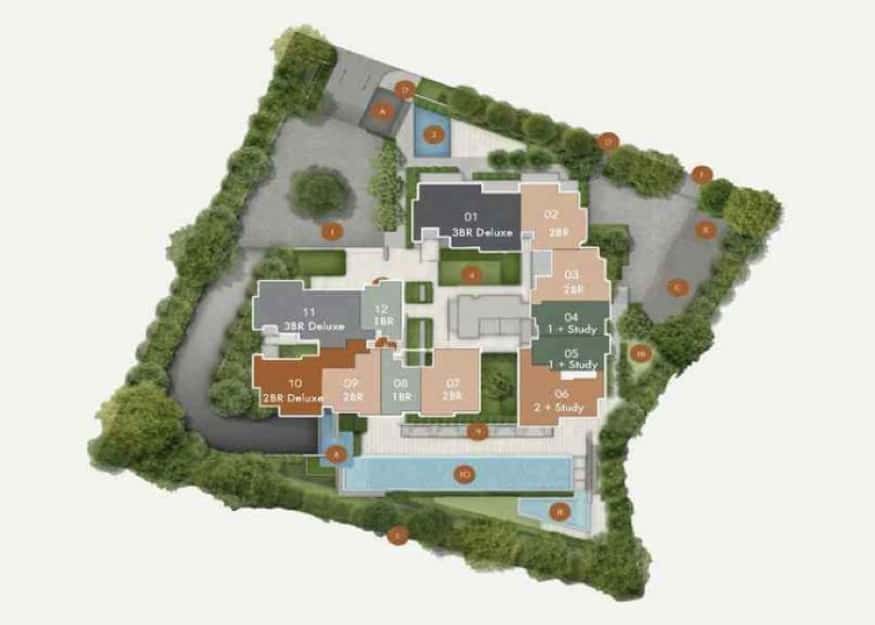 19 Nassim has everything you'd expect in a luxury condo of this calibre including a 50m pool, kiddie pool and gym on the level 1.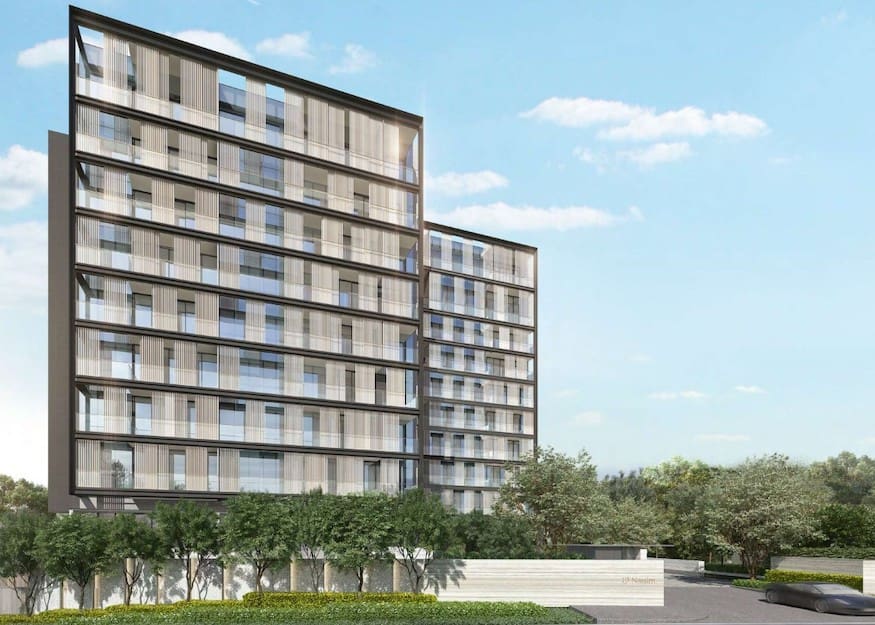 the Level 10 rooftop ups the ante with a relaxation pool with a spa bed and floor foot massage, BBQ nook and a clubhouse. Residents can book out the entire clubhouse and the terrace area for private parties with an indoor-outdoor vibe.
19 Nassim facilities include
Level 1
The arrival
The lobby, garden and pond
Grand staircase leading to the garden lounge
Feature pool and cabanas
Lap pool and kids' pool
Gym
Kids' playground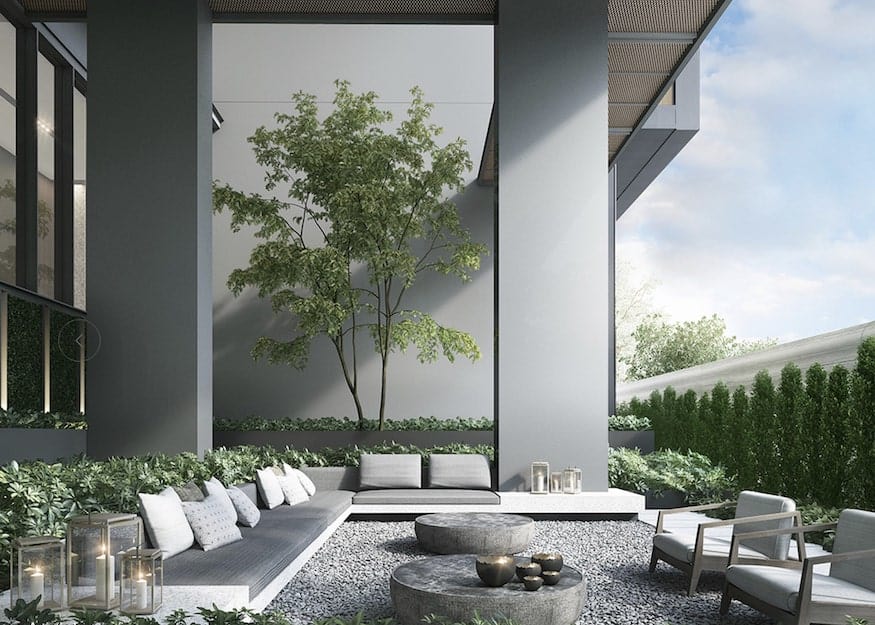 Level 10
Relaxation pool and heated jet pool
Sun deck and terrace
Barbecue
Lounge and club
---
19 Nassim pricing
That Nassim postcode comes at a cost. This is, after all, Singapore's most exclusive enclave, surrounded by GCBs, embassies and a handful of largely freehold condos that rarely hit the market. The chance to buy in simply doesn't come around that often (there have been just 61 condo transactions in the last two years in the Nassim area).
What makes 19 Nassim unique – and, depending on your perspective, uniquely desirable – are the smaller-format apartments and leasehold tenure, which allow Keppel Land to offer comparably low entry pricing for this coveted neighbourhood.
The lowest resale transactions in the area over the last two years include The Nassim ($6.7m for 1,927 sqft), Sage ($13.98m for 4,682 sqft) and Nassim Park Residences ($10.6m for 3,466 sqft) – all large, freehold units. By comparison, 19 Nassim starts at $1.91m – a completely different ballgame.
Here's a quick look at the transactions for existing condos over the past two years.
| | | | | | |
| --- | --- | --- | --- | --- | --- |
| Project | Av. Price | Av. Psf | Av. Area | TOP | Tenure |
| The Nassim | 11,064,754 | 3,296 | 3,500 | 2015 | FH |
| Sage | 13,988,000 | 2,987 | 4,682 | 2012 | FH |
| Nassim Park Residences | 13,355,000 | 3,154 | 4,328 | 2011 | FH |
| The Loft | 2,396,154 | 1,563 | 1,565 | 2002 | LH 99Y |
| Nassim Jade | 5,183,333 | 1,932 | 2,774 | 1997 | FH |
Based on transactions from 2018 – 2020
From a price psf perspective, however, 19 Nassim starts from $3,234 – which looks less competitive against some of its freehold neighbours. So it becomes a trade-off: freehold vs leasehold, high quantum / lower psf vs low quantum / higher psf, old vs new. And of course: available — for now.
Go further with 19 Nassim: current availability and enquiries.
---
Where to now?