Maserati Grecale Trofeo: High-performance driving for everyday life
By Mike Huynh
As the perception of everyday driveability continues to evolve, the modern concept of a sports car is also beginning to shift. What was once the exclusive domain of exotic two-door coupes married to an exorbitant number of cylinders of the naturally aspirated persuasion, has now made way for something a little different: the humble family SUV.
The new Maserati Grecale Trofeo falls squarely into this category, but it is not like any other SUV. Beyond sharing the common requisite of transporting multiple passengers comfortably, the latest model to wear the iconic Trident badge has been elevated to new heights in every other aspect. Part sports car, part passenger car and part luxury saloon, the Grecale Trofeo is what the Italian marque is calling 'The Everyday Exceptional'.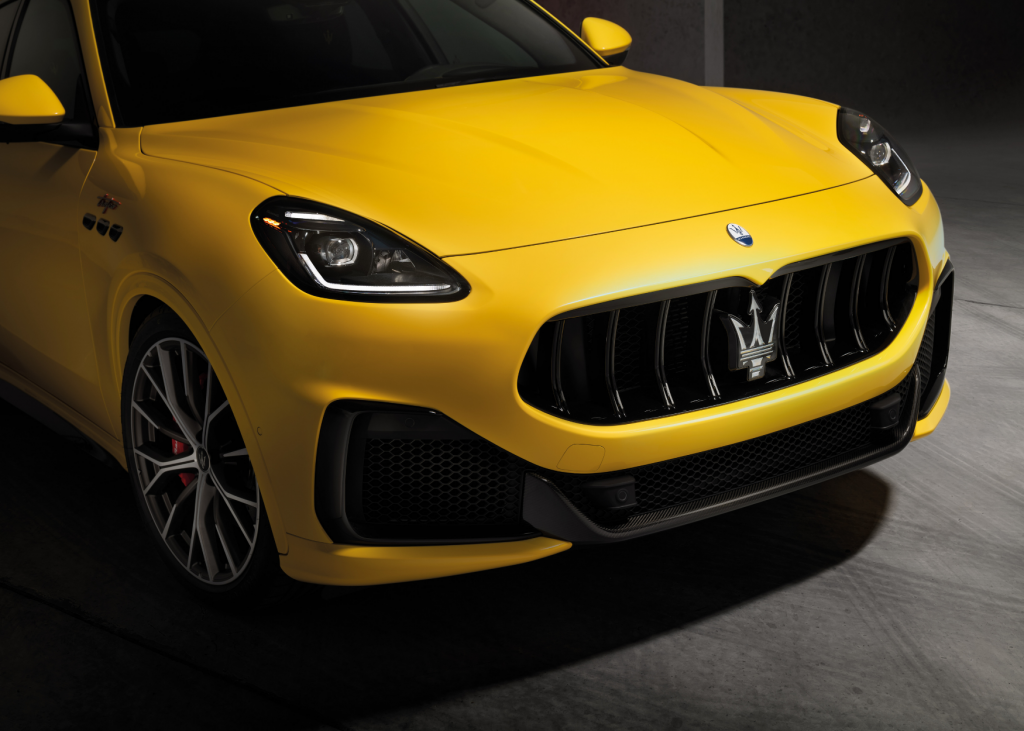 Perfecting premium performance
It's only fair that naming a new car model after a type of wind demands the type of swift performance to back it all up. The Grecale satisfies this checkbox with its direct translation as a powerful north-easterly Mediterranean wind.
Under the bonnet of the flagship Grecale Trofeo variant resides a familiar power plant that is also shared in the company's halo MC20 supercar. This particular Grecale is powered by the company's high-performance 3.0-litre petrol V6 Nettuno engine capable of delivering 390kW of power and 620Nm of torque – more than enough poke to ensure the children will never be late to school again. This setup is also enough to see the Trofeo sprint from 0 to 100km/h in 3.8 seconds before topping out at a max speed of 285km/h.
The rear wheel track of the Trofeo has also been increased by 34mm compared to the GT model. This gives the Grecale flagship variant a more dynamic aspect. Performance isn't the only defining trait of the Trofeo. This Grecale is an SUV that stands out in terms of spaciousness and comfort, backed by an impressive set of best-in-class features – acceleration being just one of them.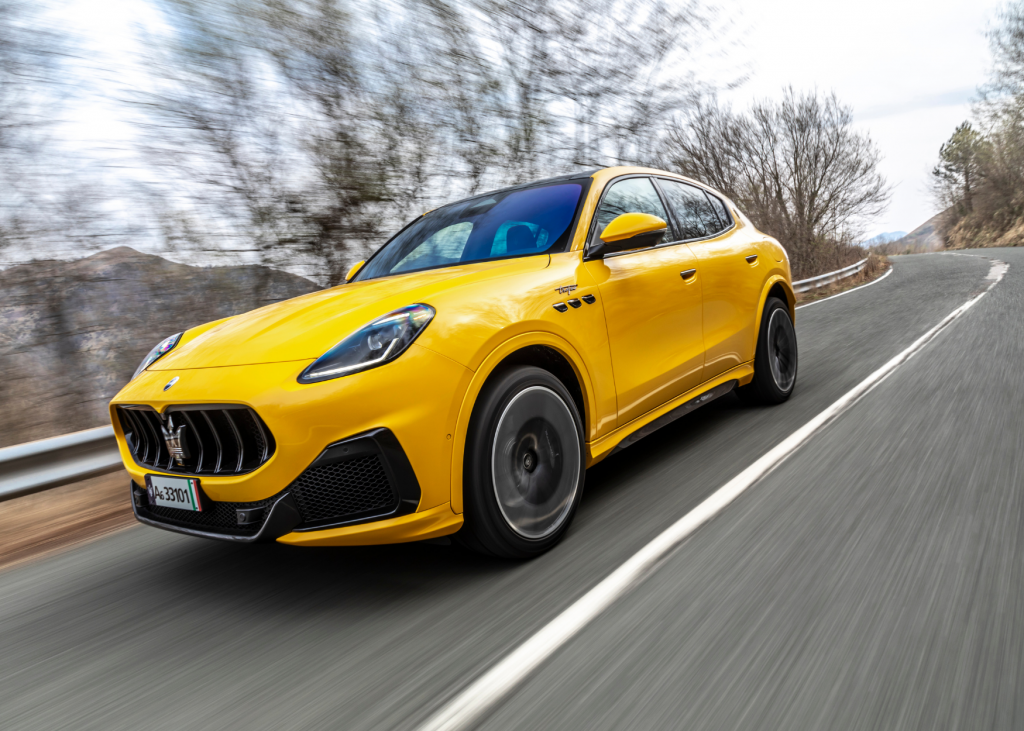 Designing distinct Italian flair
Hailing from Italy means style and elegance come by default. The Grecale Trofeo delivers on this front with strikingly unique lines to ensure it stands high above the saturated SUV crowd. More specifically, Maserati has focused their model around the key elements of 'Visual Longevity', 'Unique by Design', 'A Balance of Opposites', 'Colours' and 'Innovative by Nature'.
A summary of this alludes to a shape that is devoted to performance with timeless proportions that evoke elements of high fashion. This is all tied in with the marque's signature trapezoidal C pillar featuring the Trident symbol – a feature sneakily echoed in the new 21-inch wheel design.
The front fascia features a low and imposing grille without being overly excessive, a sign that reinforces the fact the car is a Maserati. In the Trofeo, the grille is shifted slightly forward to make it bolder while accentuating its sporty character. The company wanted to emphasise a clear contrast between its highly fluid, soft body with the use of more technical components such as carbon fibre gracing the front and rear bumpers and side skirts. Out back there are sleek boomerang tail lights inspired by the Giugiaro 3200 GT. The sports persona is further depicted in the Trofeo with a special new split exhaust design.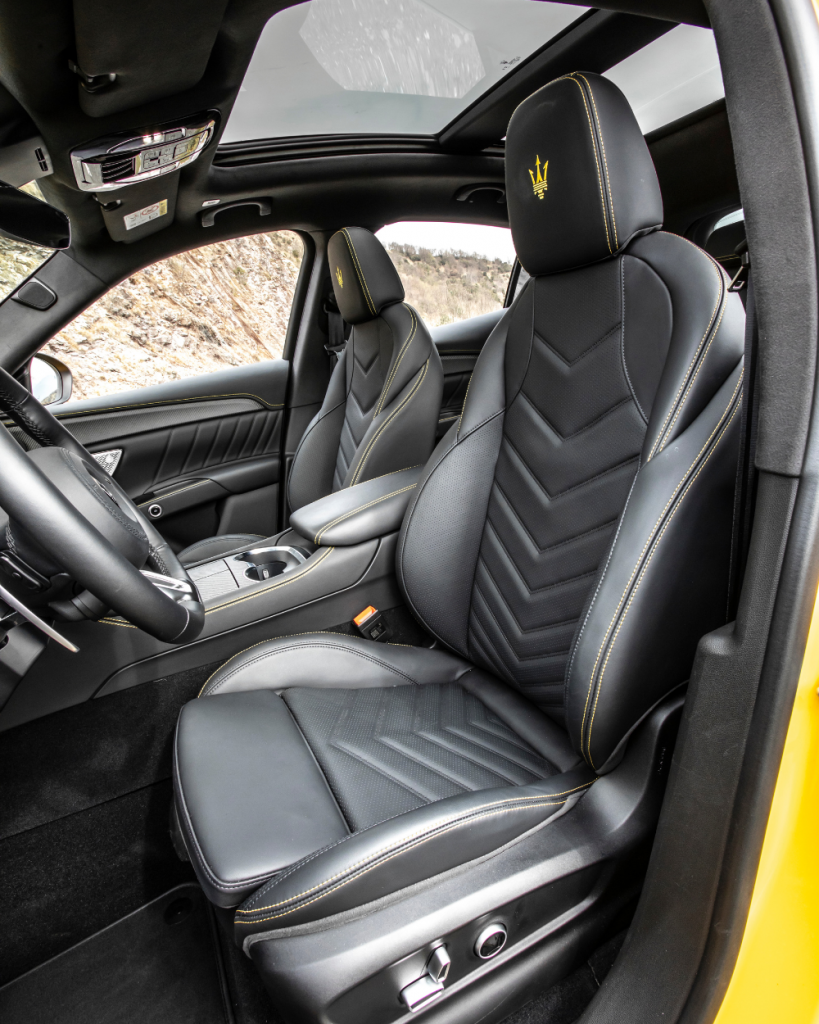 Fine Italian interior appointments
Maserati truly aimed for a best-in-class all-rounder for this generation's Grecale. Not only does it deliver this in the performance stakes, but also across interior space, sound quality, materials selection and standard equipment. For example, the excessive attention to detail extends to features such as privacy windows that guarantee optimal sound absorption without losing the pleasure and uniqueness of the Maserati sound.
Elsewhere, occupants get to indulge in a stellar audio experience through the immersive Sonus faber multi-dimensional sound system. This 21-speaker system boasting an output of up to 1,200W is backed by Maserati's latest Intelligent Assistant (MIA) Multimedia system featuring a 12.3" screen – the largest ever included in a Maserati – with a resolution of 15 million pixels in Ultra HD. Trofeo once again gets its own unique interior treatment, of course.
As the most extreme aspect of Maserati, this variant needs an interior that exudes an explicit focus on performance without ever sacrificing comfort. As a result, its trim level is suited to sports enthusiasts and flanked by appointments such as exposed, three-dimensional carbon fibre and perforated leather paired with chevron motifs that emphasise the car's dynamism.
Visit Maserati to register your interest.
---
Read next: