JH Cutler Tailors: A Cut Above
There aren't many businesses in the world — let alone a country as young as Australia — that have passed down from one generation of the founding family to the next for nearly 140 years. JH Cutler is one such firm.
The oldest bespoke tailors in Australia, Cutlers was founded in 1884 by Joseph Handel Cutler. Joseph had learnt his craft at the knee of his mother, who'd run a dressmakers back home in Staffordshire, England, before emigrating to Australia.
"She taught him everything — he never did any training, never went to an academy, had nothing but his mother's tuition," explains John Cutler, OAM, Joseph's great-grandson and the fourth generation to work sartorial magic under the JH Cutler banner. (John was awarded an Order of Australia Medal for services to the fashion industry last year.)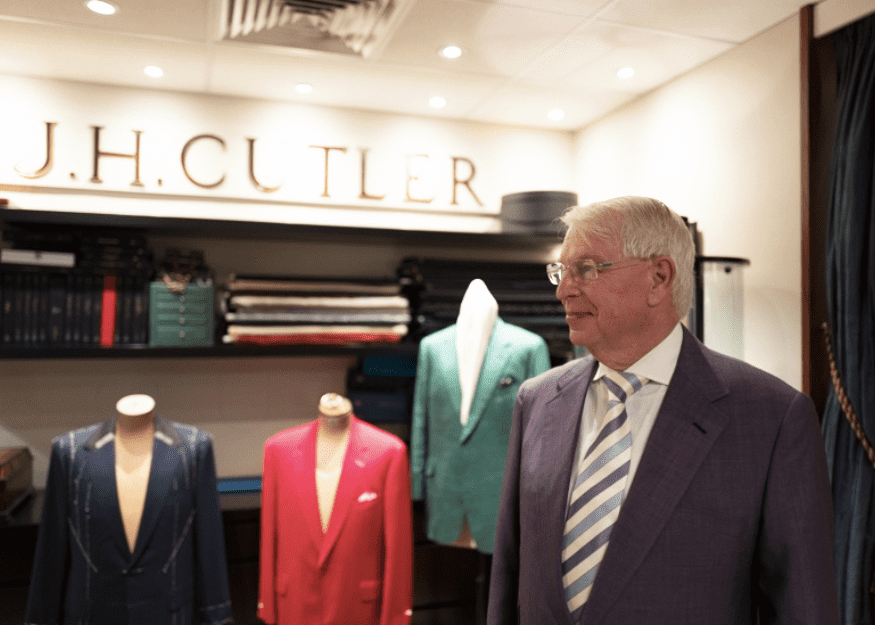 Though Joseph enjoyed great respect as a men's bespoke clothier, John says, "His son, Leslie Frederick Cutler, was not only a very good cutter — he was also a very good businessman. You don't often get the trade and the business together," says John, who readily admits that his own strength lies on the creative, rather than the mercantile side.
"Grandfather was on the board of several companies, including Peter's Ice-Cream, had extensive commercial interests, and his clients held his business mind in high regard," John explains. "It was grandfather who really put the company on the map."
When John's own father Bruce took over the firm, physical realities dictated that his involvement be limited to an executive role. Before serving in World War II, he'd suffered the type of injury that would give any tailor nightmares.
"Father unfortunately lost a thumb, on his right hand, and he wasn't able to sew or use scissors," John explains. "Sadly, he had an accident while employed at a gear-making factory his father had a share in. Grandfather wanted him to work in a few different places before he came into the family business, you see."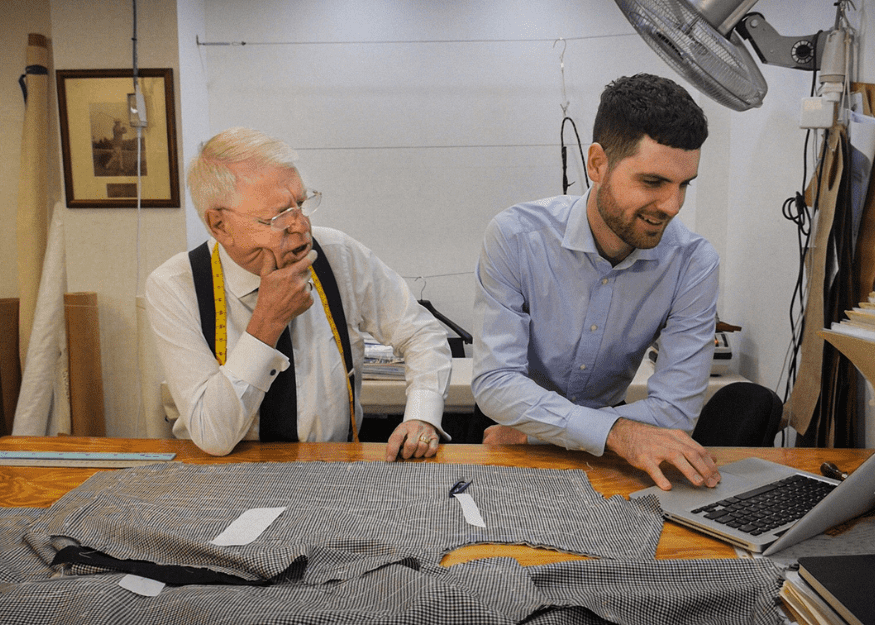 John himself took up the tape measure and shears in the 1970s, determined to have a more active hand (if you'll pardon the pun) in daily operations than his father. "I'd always been passionate about the business, starting from my early teens," he says. "I came in under the condition that I would be the cutter, because I knew that's where the power was situated. The client doesn't really care who owns the business. They don't want to see the managing director; they want to see the cutter. That's where the relationship is."
Over the years, John has built relationships with countless prominent members of Australia's political elite and captains of industry: Sir Frank Packer and his grandson Jamie. Prime Ministers William McMahon, Malcolm Turnbull, Bob Hawke and Paul Keating. Governor General Sir John Kerr. Aussie icons Jack Thompson, Don Walker and Richie Benaud. Leading surgeons, barristers, financiers, corporate titans — and a few flashy criminal types.
Asked what the most important aspect is to keeping customers such as these happy, he replies, "I often say that a really good bespoke tailor has to have something of a servant's heart, because they're serving their client in a particular way. We pride ourselves in being able to listen to the client. My job is to make what the client wants, to fulfil a commission."
John laughs softly, "If someone comes in and wants a suit with three sleeves, you make a suit with three sleeves, because that's his order. It's just the same as if you visit Goodwood, and you want a giraffe-stripe Rolls-Royce — you will get a giraffe-stripe Rolls-Royce."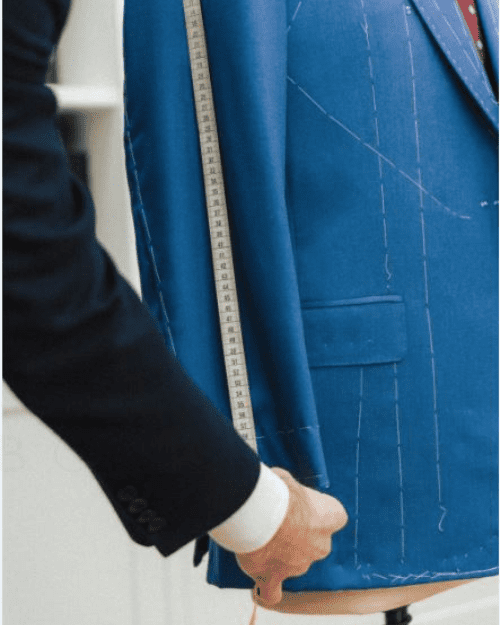 According to Cutler, his grandfather used to say, "You have to fit the mind just as much as the body. In other words, you can make something that's technically perfect, but if it's not what the client wants, it's useless."
In order to cater to the desires of a new crop of customers and ensure the continuity of the business, in 2008 Cutler hired a young protégé, Sam Hazelton, and began preparing him to assume the reins. Though John has four adult children, they've chosen other professions and John says he's happy to see them pursuing their own passions.
"With Sam here, it puts a lot of the younger clients at ease, that there's someone who understands their perspective," Cutler says. "The new generation of clients are encouraged by seeing a new generation of tailor coming through."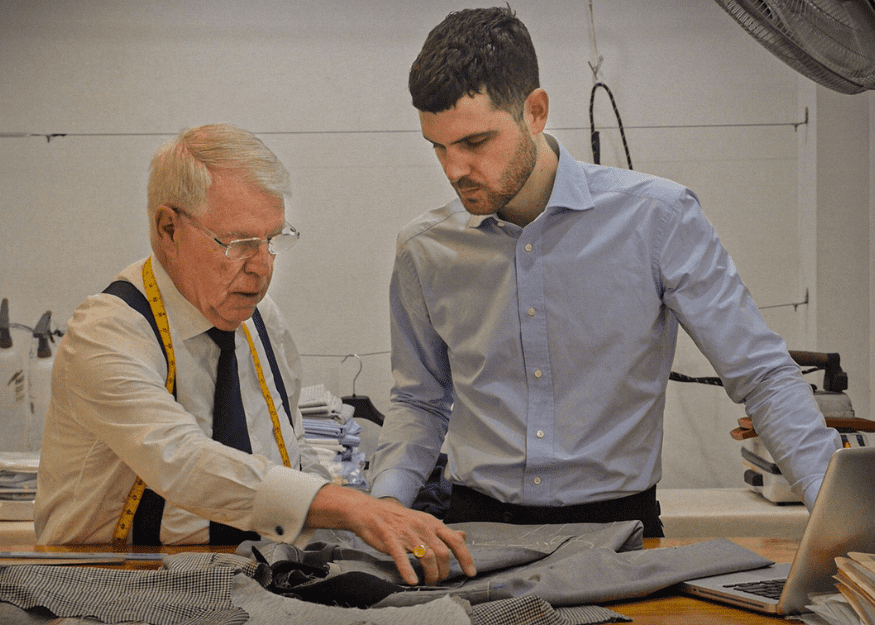 John recently suffered a serious illness, accelerating succession plans. Though Cutler will continue to cater to a handful of regulars, effectively, the baton has now been passed to Hazelton.
"It means a great deal," to be given the honour of carrying on the JH Cutler name, Hazelton says, clear emotion in his voice. "I feel very much a weight of responsibility, because there's no other business like this in the country. It's one of a kind, it really is unique. You've got four generations that have devoted their lives to it. There's such a rich history."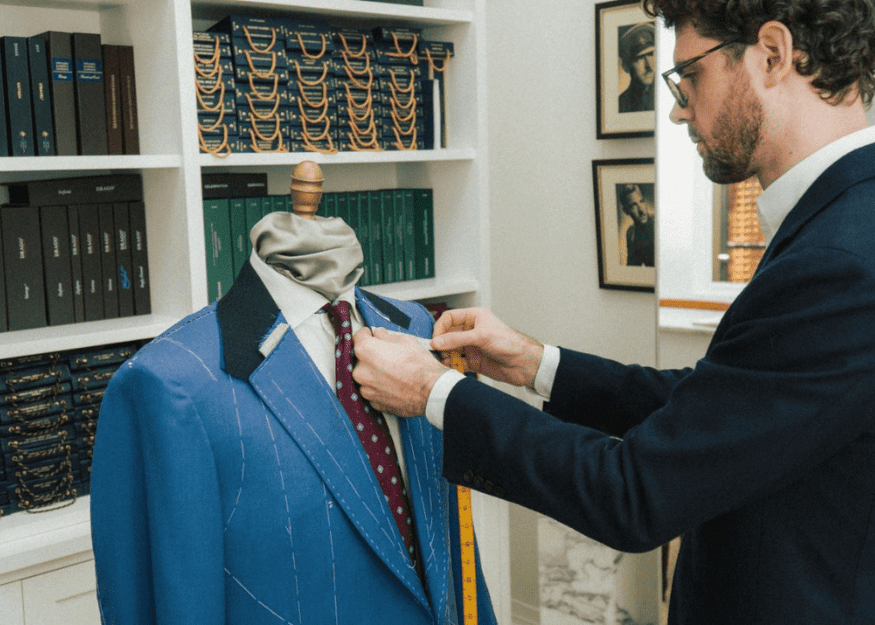 Hazelton says he has big plans to grow and modernise the brand, while maintaining the values of artisanal craftsmanship and individual customer service that have characterised JH Cutler throughout its century-plus in operation. He is committed to doing his mentor proud.
"John has really put his heart and soul into the business for his entire life," Hazelton says, "and I think that the fact that he that he trusts me to look after it — I can't express how much that means. It means an awful lot, it's really saying a lot."
To learn more about JH Cutler or make an appointment, visit the website.