The interview: famed French graffiti artist Kongo
The acclaimed aerosol artist discusses his collaborations with Chanel, Richard Mille, Hermès and Airbus — and what motivates him to create, in the streets or the stratosphere.
By Christian Barker
Photography by Jin Cheng Wong
Today, he's sought-after by art collectors and luxury brands. But it wasn't so long ago that French graffiti artist Kongo was hotly pursued by the law. "Graffiti hasn't always been regarded as 'street art'. Until quite recently, we were just considered to be vandals," Kongo says. "The police would arrest me. I'd say, 'But I'm making art, making beauty!'"
Back in the day, he explains, "I didn't exhibit my work, except in the street. I didn't do any shows. I didn't have any deals with galleries, no dealings with the art world. What I was doing was really underground. I was only known in the graffiti world."
Things began to change after Kongo was approached in 2008 by Hermès artistic director, Pierre-Alexis Dumas. "Hermes asked me to do a window display at a boutique in Hong Kong — they gave me carte blanche, so I did something," Kongo recalls. "I guess they liked it, because a few months later, Monsieur Dumas gave me a call and proposed another commission."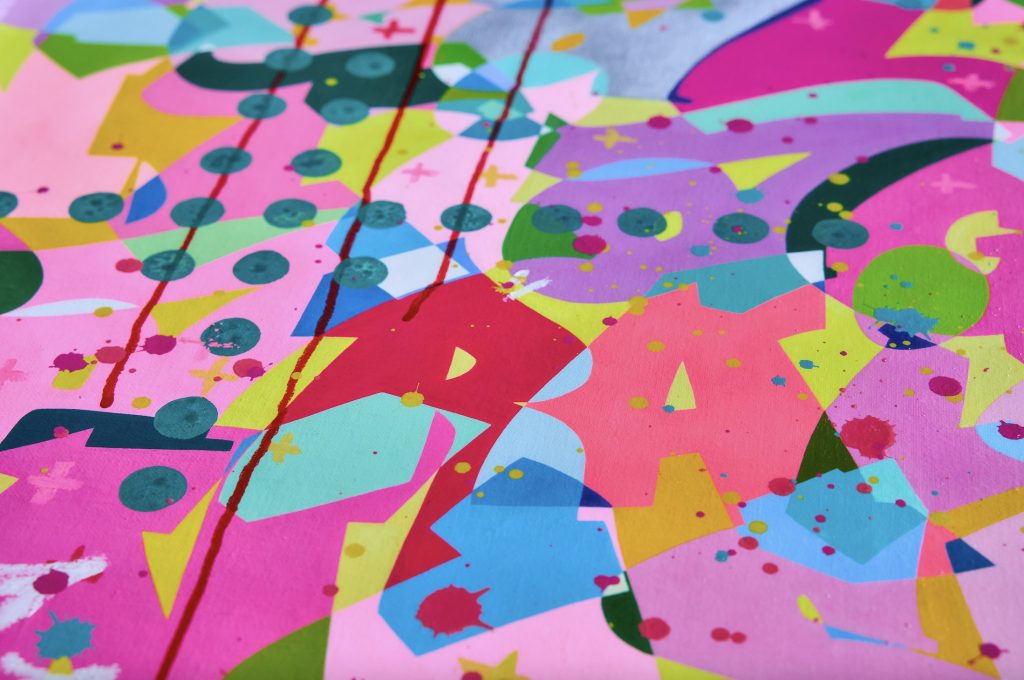 The enviable task: to design one of the brand's trademark Carré scarves. "It was a big challenge to me to be doing something really close to my graphic vocabulary in the luxury world. At the time, I thought, okay, 'Why not?' I didn't realise the impact it would have in the art world and the luxury world," Kongo says. "That brought my work into the spotlight, which allowed me to begin working with galleries, holding shows, and pursuing more collaborations in luxury."
Subsequent to his successful Hermès mash-up, Kongo forged alliances with several other luxury powerhouses, including exclusive watchmaker Richard Mille. That collaboration resulted in the creation of the 30-piece limited-edition RM68-01 watch, which originally sold for over US$700,000 each and today change hands for millions.
Kongo explains: "I first met Richard Mille at a dinner a friend invited me to. This really nice guy introduced himself, told me he had a watch brand — I didn't know it. He asked me, 'What do you do? Oh, graffiti? You mean painting on the walls?' I said, 'Yeah, walls, trains, trucks, everywhere.' Richard asked to see some pictures of my graffiti, so I showed him some, on my phone. We started drinking and laughing together, had a really nice night."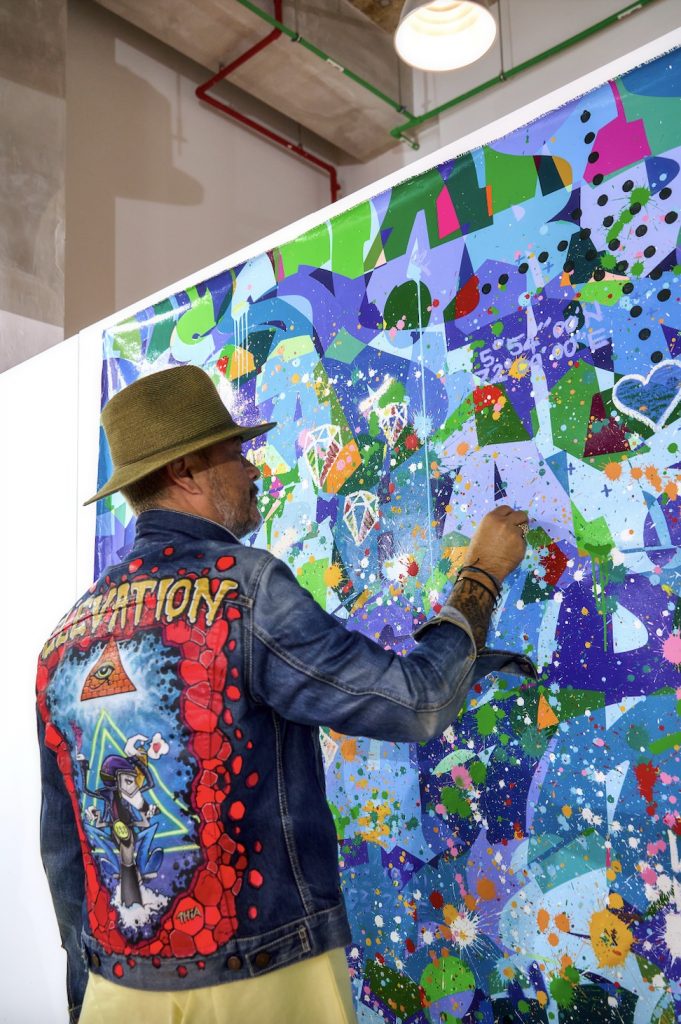 A few days later, Kongo says, he invited Mille to the opening of his new show in Paris at the renowned Gallerie Matignon. Mille turned up to the exhibition with former Ferrari boss Jean Todt and his partner, the actress Michelle Yeoh. "We stayed in touch and soon after, Richard proposed to me doing a watch. He said, 'I think we can do something that has never been done in the world of horology: painting the tourbillon movement.' The tourbillon is an intricate movement, Richard informed me. 'This will be a challenge.' I told him, 'Hey, no problem. I'll burn it.'"
What Kongo did not realise was that he would spend the next two years on the project. "I worked for all that time in Switzerland with the best hands in horology, going through all these headaches. Because this is an haute-complication watch, it's not only a matter of painting. You have to be careful with the weights, you have to get the good balance of the painting on the movement, and the paint has to stay on forever. It was an immense challenge — I spent one year just to develop the techniques — but we had so much fun. Despite the difficulties, it was a great journey."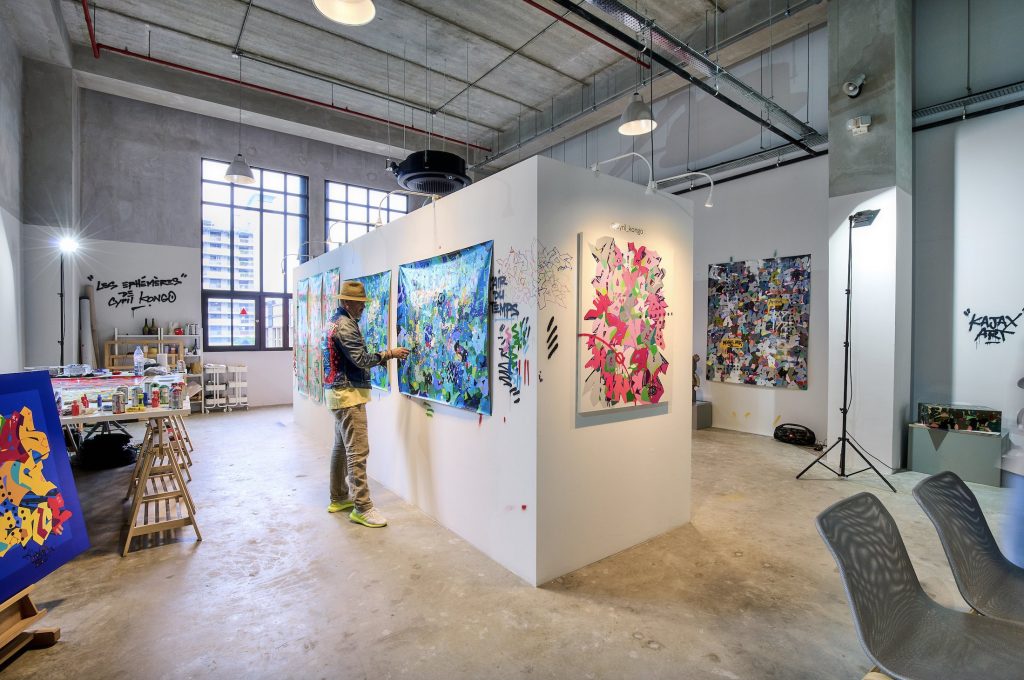 Of having the chance to work with the late, great Karl Lagerfeld — on what would unfortunately turn out to be among his last designs for Chanel, Kongo says, "That was crazy. That was crazy! Even now I cannot believe it. You know, Chanel had never done a full-scale collaboration with an artist before. Only maybe for one bag or for one shirt — but not an entire collection. I feel so blessed to have had the opportunity to get to know Karl Lagerfeld."
'The Kaiser' called on Kongo when he was conceptualising the Chanel Métiers d'Art 2018/19 collection, which would be shown at The Met gallery in New York just a few months before Lagerfeld's death. "I spent one month in the studio, not a Chanel studio but Karl's own studio in Quai Voltaire, in the heart of Paris," Kongo recalls. "The energy there was so, so crazy. I did many paintings and Chanel bought 12 for creating the collection. Meeting someone like Karl Lagerfeld, as an artist, that was really inspiring — seeing his work ethic, how full of ideas he was, his culture, just crazy."
In the years since transitioning from the streets to gallery walls (not to mention tourbillons and couture gowns), Kongo has held successful exhibitions all around the world, including the establishment in 2019 of a hybrid studio / gallery at The Mill in Singapore. Kongo recently returned to the space to brush the dust off part-complete works he hadn't seen since the outbreak of the pandemic.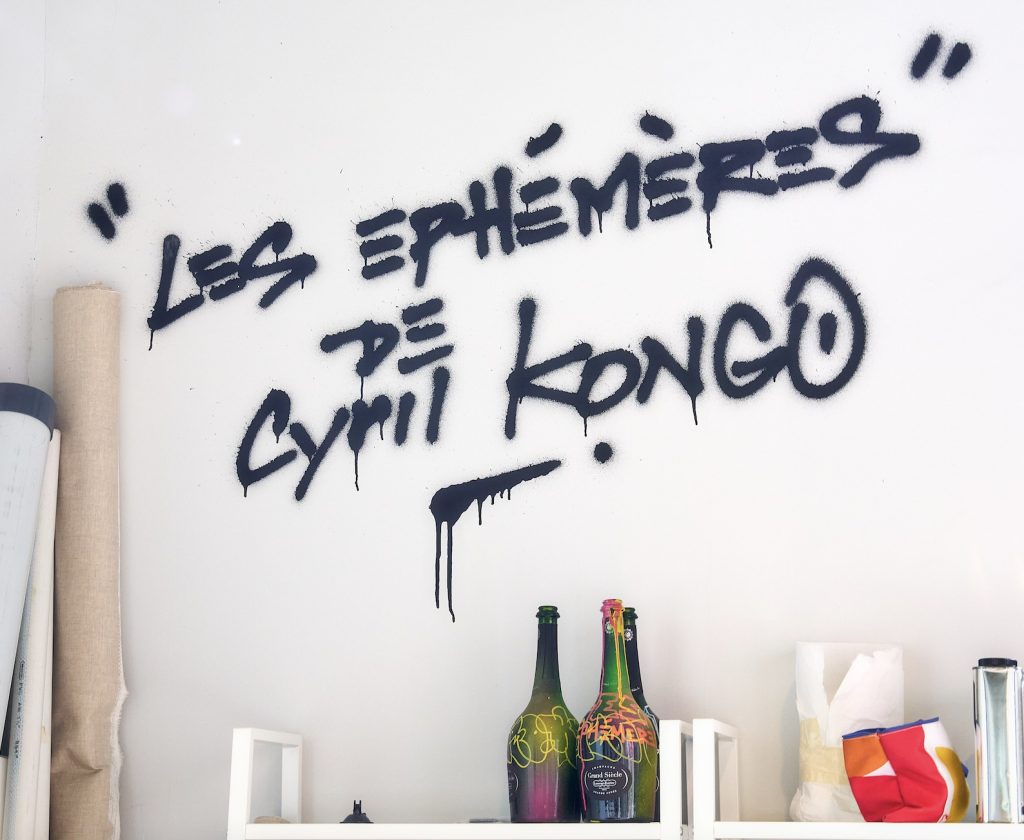 "It's the longest I've ever left any of my works unfinished," Kongo says, walking Boulevard around his current show at The Mill. In addition to brand-new pieces and recently completed pre-pandemic art, the collection includes Kongo's one-of-a-kind Medicom 1,000% BE@RBRICK figures, embellished in leather handcrafted by bespoke trunk maker, Pinel et Pinel of Paris.
"Excellence is my mantra," Kongo says. "Ten years ago they asked me to do a BE@RBRICK, and I refused, because they had many artists doing it, it would have been factory-made. But doing it this way, the way we have done it now — in leather, which no-one had done before, working with the maroquiniers, where they're handcrafted, unique, painted by hand… Then, it's interesting."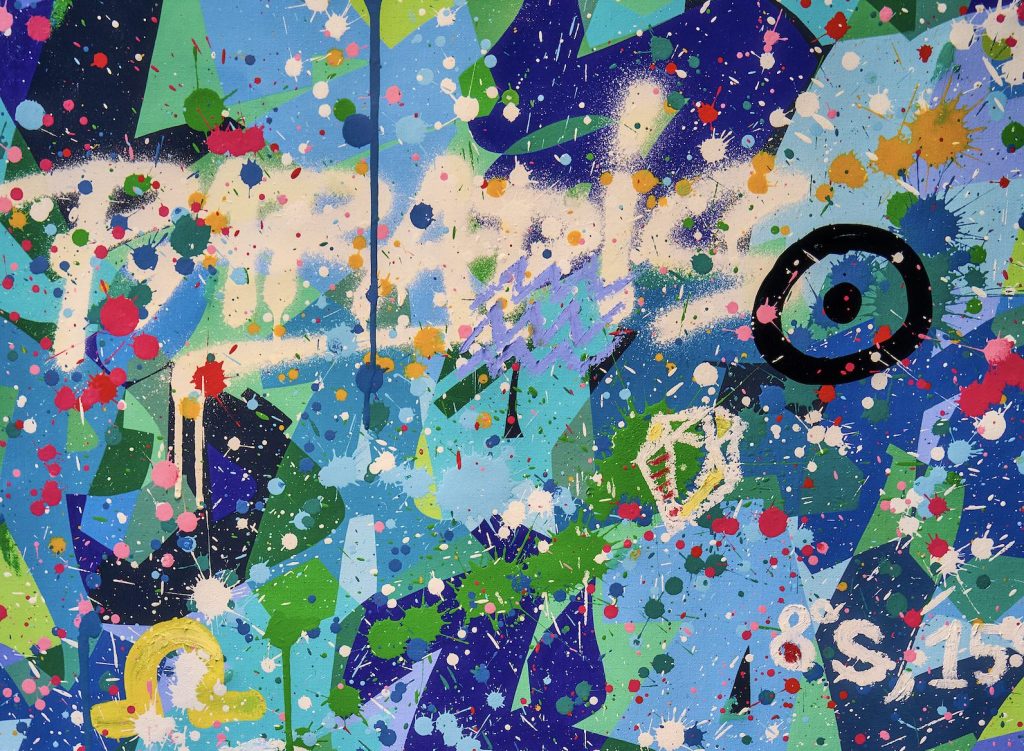 With refreshing candour, Kongo says, "Of course, I like to get a good cheque, but for me, it's not about that. I'm really selective about who I work with. I refuse 90 percent of the projects I'm offered. To me, what's important is telling a story together with the collaborator. This is why, I think, I get the chance to work with people like Richard Mille, Karl Lagerfeld, or Airbus, who recently asked me to do a business jet cabin."
Kongo says he found that aeronautical opportunity particularly exciting because it allowed him to work with specialists in numerous different metiers. He loved seeing his art on carpets, woodwork, engraved metals and so forth, and grasping the manufacturing challenges involved. "For me, it's not about money. It's about how to bring the same energy I used in the streets, to make something elegant. To make it not simply clothing, or a watch or a plane, but a piece of art."
He strokes his beard philosophically, and ponders, "Maybe I'm wrong. I see so many artists, they put their name on a product, they take a cheque — and they don't care. Me, I need more meaning. I need to be telling a story."
---
Read next: