BMW XM Label Red debuts as the most powerful M model ever
Two decades ago, not many at BMW or their M performance division would have predicted that the most powerful M car today wouldn't take shape in the form of a coupe or grand tourer, but a Sports Activity Vehicle – the modern amalgamation of the sports car and sports utility vehicle.
This is where the automotive world stands in 2023 and the BMW XM Label Red is the German automaker's ultimate answer to its most discerning driver demands. All 550kW or 748hp of it.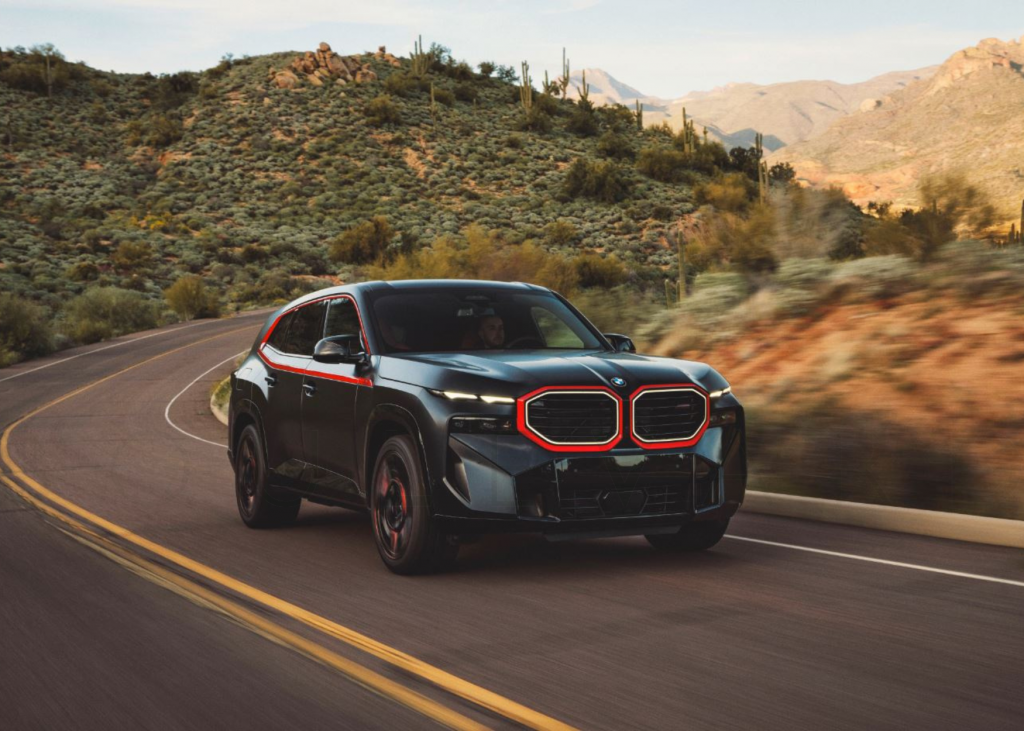 Enter the Label Red
BMW M have taken their latest XM model, the very first generation of its super SUV, and added even more enhancements to the equation. More power, more exclusivity and more extravagance to create the flagship version of its first-ever high-performance car with an electrified drive system.
It's a lot to ask of an entirely new platform which is already groundbreaking in its initial debut, but the XM Label Red is looking to corner the final segment of a growing niche market which demands nothing but the absolute best in design and craftsmanship. BMW calls these specific individuals: "customers with a taste for extrovert lifestyle and a passion for ultimate performance in a car reaching beyond traditional conventions."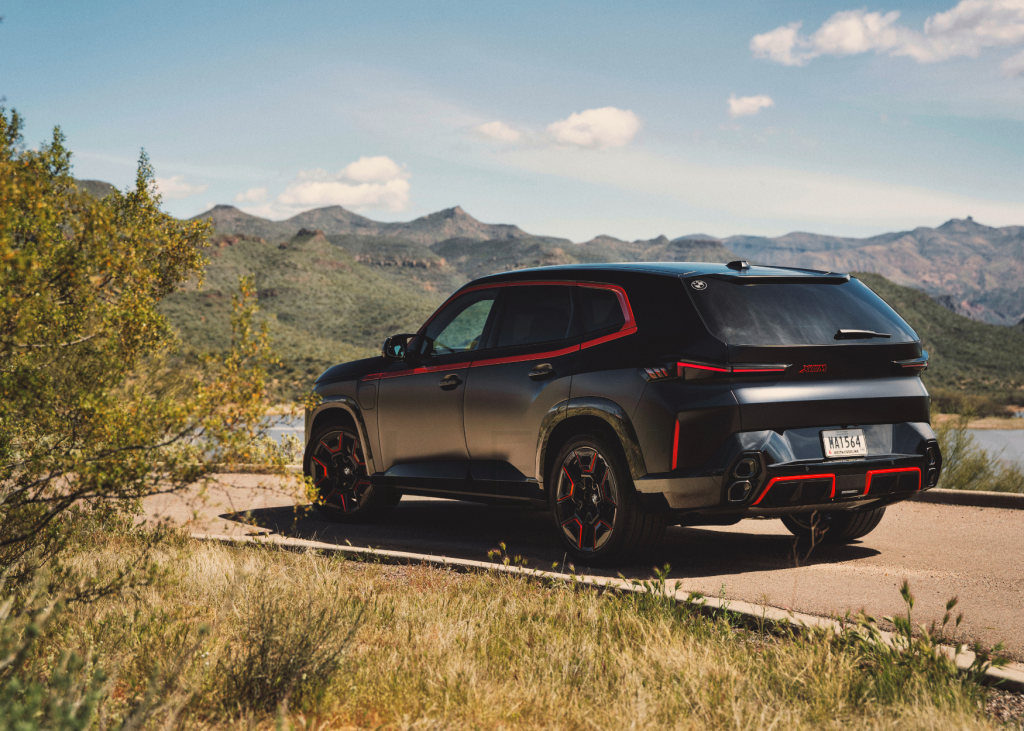 A bold new powerhaus in performance
The Label Red showcases what's possible from a range of racing-derived tweaks and enhancements to the standard XM platform. The precisely honed interplay of the electric motor and V8 engine ensures an instantaneous delivery of power which builds emphatically and continues completely uninterrupted as drivers step into the highest reaches of the rev range. This combination of combustion engine and electric motor also mirrors the drive concept of the new BMW M Hybrid V8 endurance racing car.
It's a tandem setup which sees a system output of 550kW or 748hp, a substantial step up of 70kW or 95hp from the base XM. Torque is also up by 200Nm and now peaks at a staggering 1,000Nm. All of this power is evenly channelled to the road via the latest M xDrive all-wheel-drive system paired with a model-specific composition of chassis technology and fast-acting, high-precision powertrain and chassis control. These engineering appointments create a unique performance experience targeting driving dynamics and agility on an entirely new level.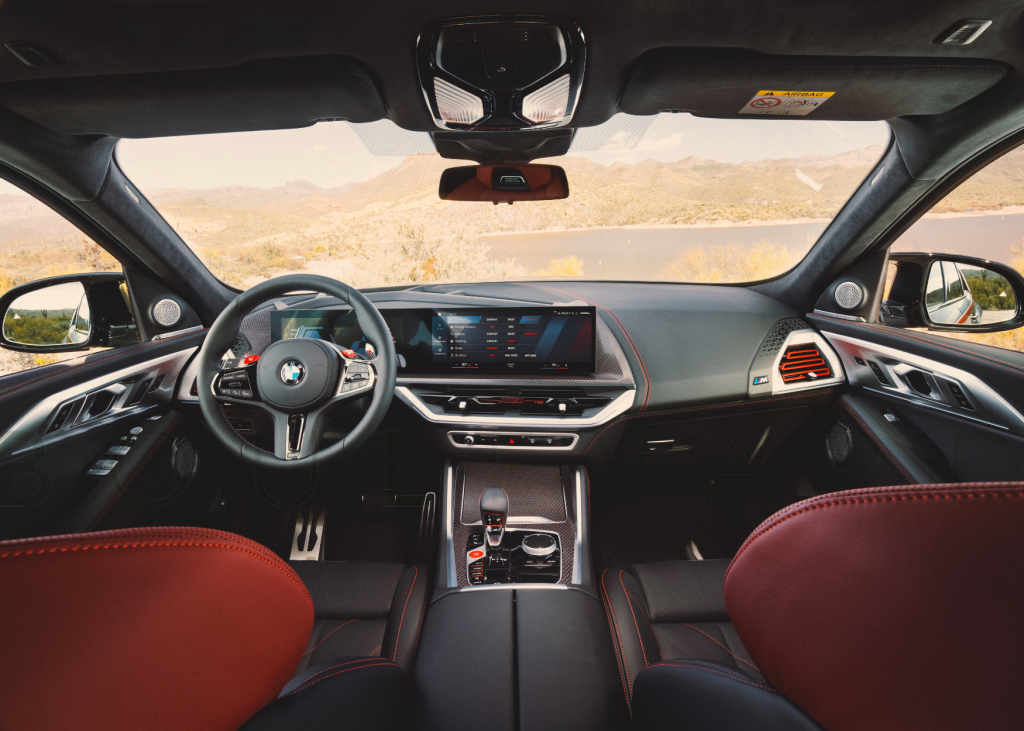 Showcasing the electric evolution
The utilisation of fifth-generation BMW eDrive technology underscores a battery unit in the XM Label Red which is capable of delivering a host of efficiency features. It provides a constant flow of power across a wide temperature range as well as under the heavy loads brought on by sportier driving styles. Together with the electric motor's excellent efficiency and the system of intelligent energy management, the SAV is capable of an electric range of 75 to 83 kilometres. In the real world, that means emission-free journeys around town or local cross-country routes all completed in near silence.
The top speed achievable in pure electric mode is 140km/h. What's truly special is the journey towards electronic top speed. The power delivery of the electric motor gains a soundtrack of its own thanks to the BMW IconicSounds Electric developed as part of a collaboration between the BMW Group and film score composer Hans Zimmer. If the sound of automotive performance is going to be artificially derived in the future, it may as well be from one of this generation's finest composers.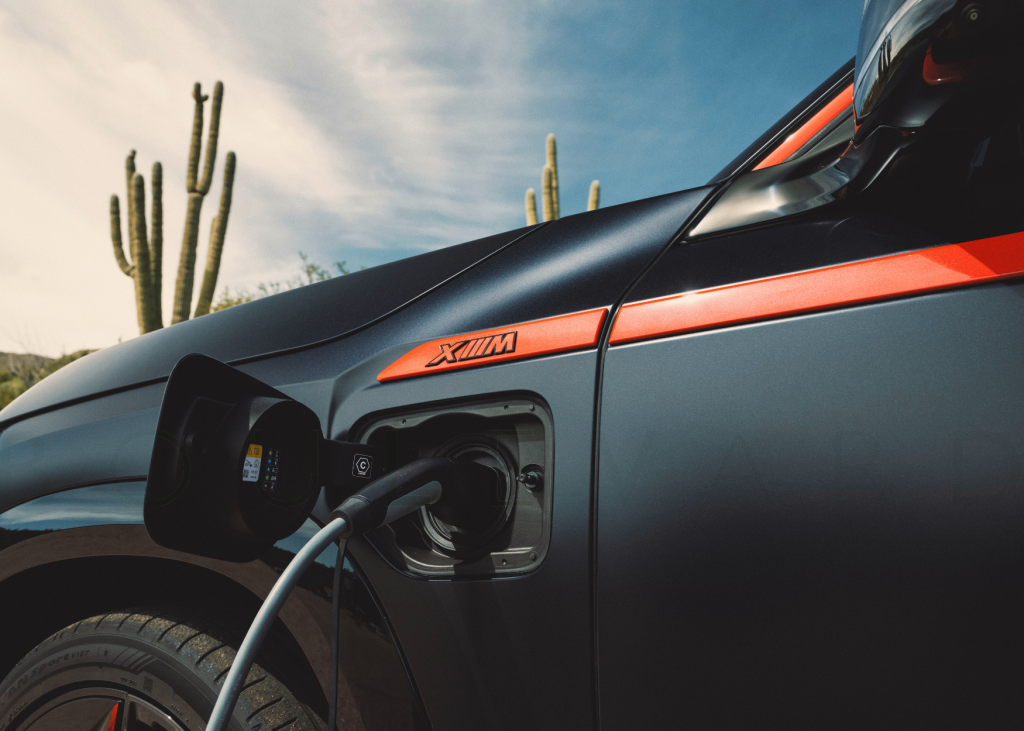 With the Combined Charging Unit of the M HYBRID system, the high-voltage battery can be replenished from zero to 100 per cent charge in just 4.25 hours. Supplied as standard are both the Flexible Fast Charger for use with domestic or industrial sockets and the charging cable Professional. This mode 3 cable for topping up at public charging stations can be kept in a stylish and exclusive weekend-type bag and secured in the boot area.
Supreme traction and driver feel
The XM Label Red comes equipped with a rear-biased setup, which enhances the vehicle's athletic agility which is particularly pronounced in 4WD Sport mode. There's also a host of driving modes including ones optimised for driving over dunes or similar loose surfaces for those adventurous enough.
Standard equipment for the BMW XM Label Red includes the adaptive M suspension Professional package. These are electronically controlled dampers equipped with active roll stabilisation where Active Roll Comfort eliminates body roll from occurring when cornering. There's also Integral Active Steering while an M Sport braking system with six-piston callipers ensures superior stopping power to back up the most spirited drivers.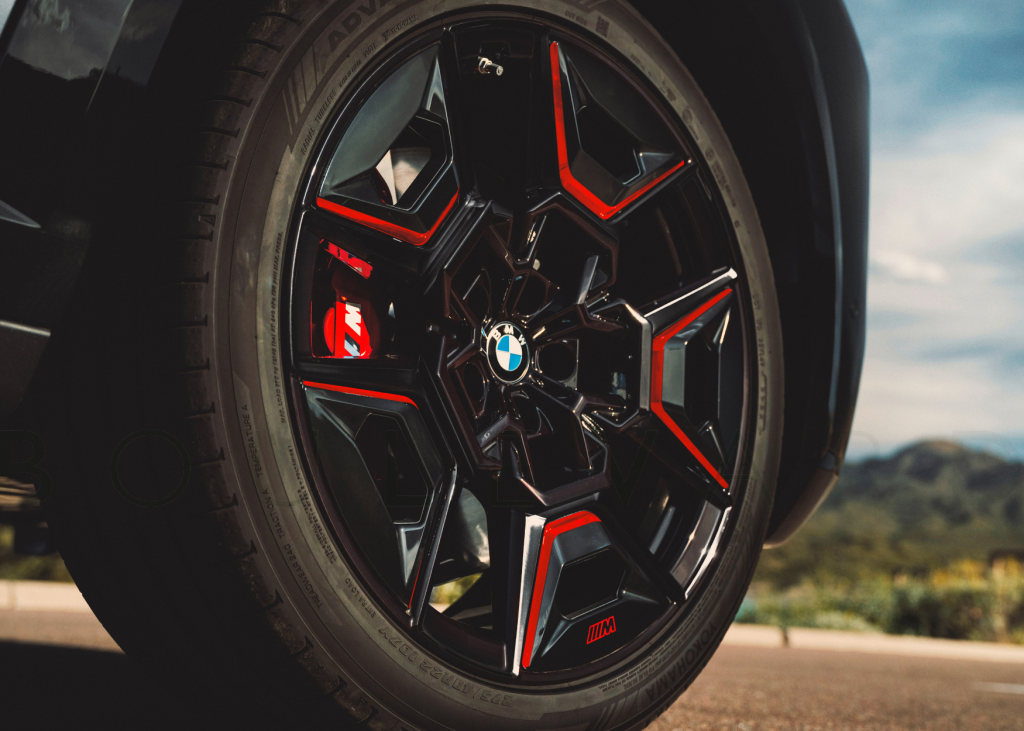 Exceptional exterior and interior design
Design presence takes the highest order in the BMW XM Label Red. The model is officially the first since the iconic BMW M1 to be conceived solely as a high-performance car from BMW M GmbH into exclusive territory.
As a result, the XM exhibits distinct muscular lines that converge seamlessly with a front fascia reserved for luxury-class BMW models. The Label Red moniker adds an accent band in Toronto Red metallic which extends to the model's badges and wheel inserts. Lightweight 21-inch alloy wheels are included while finer details include high-gloss black adorning the kidney grille and diffuser elements. The spectrum of exterior paint shades available comprises of one solid and eight metallic variants. Customers can also choose from over 50 BMW individual special paint finishes.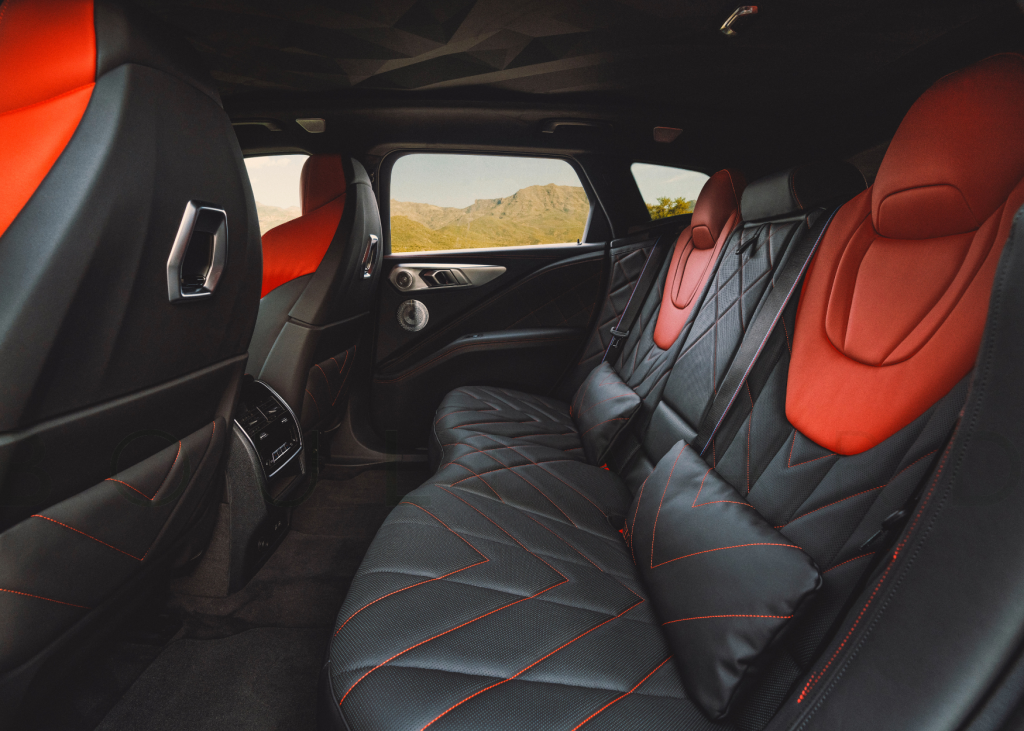 The exclusivity of Label Red extends into the cabin with the distinctive three-dimensional headliner and the trim for the body pillars finished in black. Red is used to bring an extra sense of exclusivity to the diamond-shaped upper sections of the backrests and the integrated head restraints of the seats for the driver, front passenger and the outer rear seats. Occupants will find red contrast stitching throughout other black surfaces, culminating with a special plaque noting "1 of 500" in the model's limited production run.
The interior offers occupants a generous feeling of space with luxurious materials and extravagant design that transforms the rear cabin into an exclusive M Lounge. There's optional heated backrests that extend into the sides of the cabin and cushions in Merino leather. Ambient lighting, four-zone automatic climate control, a Harman Kardon Surround Sound System and the Travel & Comfort System which all come standard. Audiophiles also have the option to upgrade to the Bowers & Wilkins Diamond Surround Sound System.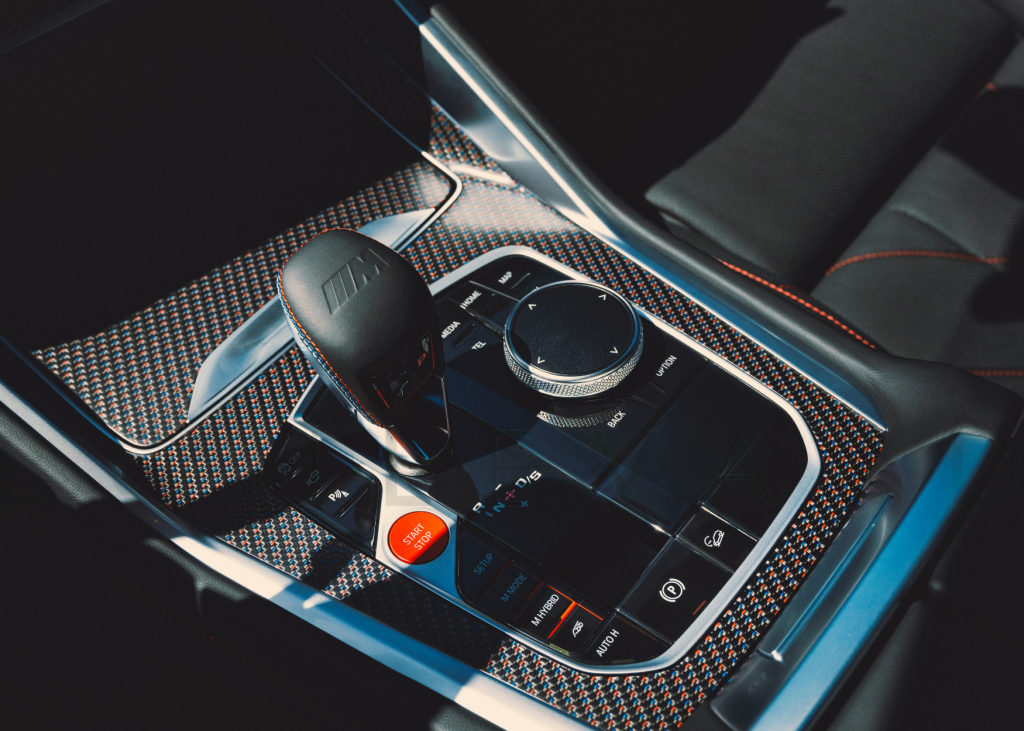 Complete driver assistance and safety
BMW has included the full suite of technological safety appointments and latest driver aids in the XM Label Red to make automated driving and parking a breeze. Among the technologies fitted as standard, there is Driving Assistant with Front Collision Warning, Lane Departure Warning including lane return with steering assistance, the Evasion Assistant, Alertness Assistant and the Speed Limit Info system. Parking Assistant Plus is also part of standard specification. The Reversing Assistant, this system adds Parking View, front and rear Panorama View and 3D View to the repertoire of functions.
Ready to embrace Red
The limited-edition BMW XM Label Red will only exist in 500 examples worldwide. Production will begin in August 2023 at BMW's Group Plant Spartanburg in the USA.
Interested parties can now get in touch with BMW.
---
Read next: