Vintage and antique furniture finds in Singapore: when old is gold
We're suckers for vintage furniture and decor that tells a story: sure, we tend to fall for good looks, but it takes a bit of soul to be invited back home, you know. We swoon over sideboards, get turned on by tapered legs… pour us a drink from an heirloom carafe you've plucked from an art-deco era home bar, and we're yours.

If you get that same treasure-hunting high when you come across stash of art deco, mid-century or antiques, read on for our favourite browsing spots in the city. And because we all know that great vintage pieces are like gold dust in Singapore, you might want to refrain from sharing one of our stories just this once. When it comes to amazing one-of-a-kind interiors, it's every man for himself…

---
Journey East
The folks at Journey East sure know how to curate a swoon-worthy selection of vintage furniture. We hear that the team sources most its art deco and mid-century pieces in Indonesia, where there are still gems to be found, so our hot tip is to follow this store on Insta and Facebook for hints of new drops. Or better yet, visit its showroom at Tan Boon Liat every now and then to browse their interesting finds in the flesh. Fair warning: you will fall in love with the refurbished art deco chairs, colonial cabinets solid wood sideboards with those irresistible pencil legs…
website: journeyeast.com
phone: +65 6473 1693
address: 315 Outram Road, #03-02, Tan Boon Liat Building, Singapore 169074

---
Past Perfect
This one is for unabashed lovers of colonial chic. Owners Pieter and Marie-Hélène van Houten moved to Singapore from India, and their showroom in Tan Boon Liat is filled with unique, vintage pieces sourced from their former home. Expect British, Dutch and Portuguese influenced high colonial furniture and decor, lovingly restored where necessary. There's everything from grand four-posters and armoured chests to silverware, maps and linens.
website: pastperfect.sg
phone: +65 6737 3078
address: 11-05, Outram Rd, Tan Boon Liat Building, Singapore 169074
---
Hock Siong & Co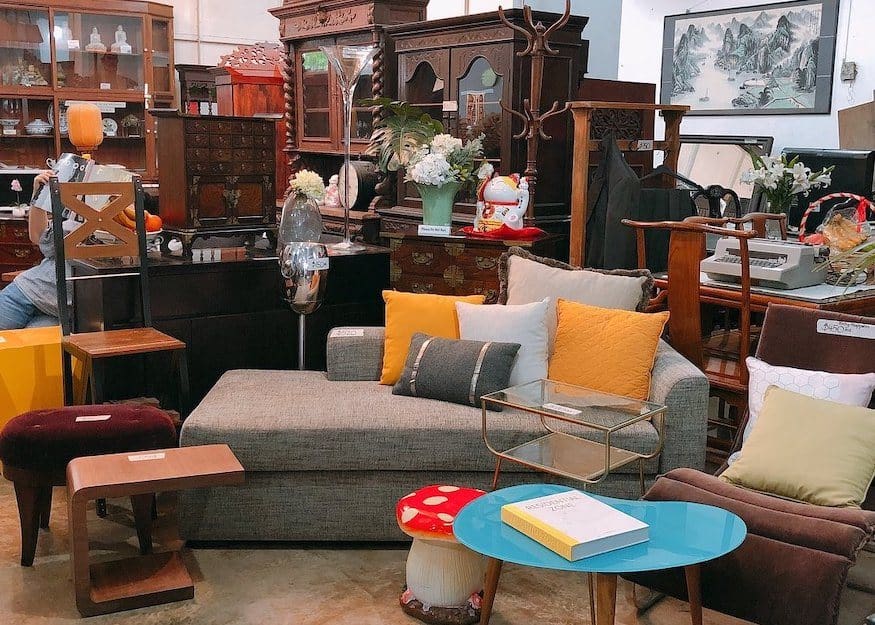 A long-time favourite with interior stylists and vintage lovers in the know, Hock Siong & Co has been around since the '70s and is still owned by Toh Chin Siong, but is drawing a new crowd courtesy of his social-media-savvy business grad daughter, Brillyn. If treasure hunting is your jam, Hock Siong & Co is your Mecca: furniture, decor and knick-knacks (think decorative doorknobs and vintage typewriters) sourced from hotels and local homes make their way to this self-described "humble jungle of good quality products". Follow the Insta feed for a steady stream of reclaimed and refurbished goodies you'll want to take home yourself…
website: hocksiong.com.sg
address: 153 Kampong Ampat, #01-03 Junjie Industrial Building,Singapore 368326
---
Noden
Watch Noden's social media feed like a hawk, because its beautiful finds get snapped up in a flash. Leaning towards the mid-century Danish and Scandi vibe, Noden knows what presses all of our buttons: chairs and tables with curves in all the right places, and those tapered legs that make everything look better. Noden also deals art prints from Copenhagen based designer Berit Mogensen Lopez, whose collage works complement the mid-century look, and the curation of vintage German and Scandi ceramics will make you want to become a serious collector. Take our money.
website: nodenhome.com
address: 39 Ubi Rd 1, #04-03, Singapore 408695
---
Just Anthony
Just Anthony has been the name in Chinese antique furniture in Singapore for coming up on 50 years. With an enormous old bungalow showroom in Paya Lebar, this is the place to go for that duck-egg console with brass latches, one-of-a-kind carved room divider, or a stunning wooden painted drum. (We also have our eye on a pair of brilliant old wooden water buckets.)
website: justanthony.com
phone: +65 6283 4782
address: 379 Upper Paya Lebar Road, Singapore 534972
---
Möbler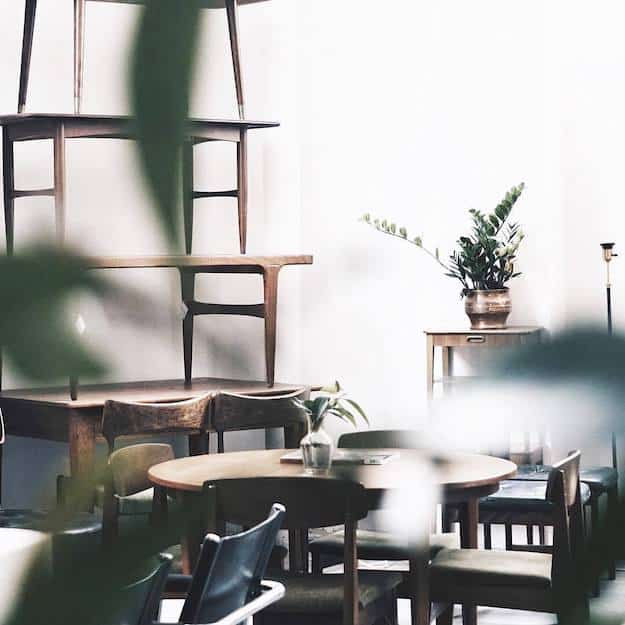 Got a thing for old-school Scandi style? You've been waiting for this. Swedish sisters Emilie and Ellen Hedén are behind Möbler: a collection of furniture and bits bobs from the 1800s to mid-century, and their mission is to introduce Singapore to the Scandi style of mixing old and new. We've spotted everything from drop-leaf dining tables to art deco marble desk sets, designer chairs to maps sourced from school rooms and and amber glassware. And yes we want it all.
Singapore-based Emilie heads back to Sweden three times a year to source her treasures, which she restores herself. What we love? Möbler's pieces are reasonably priced. While there are often special offers online, it's just the tip of the iceberg. The Mobler showroom out past Ang Mo Kio is worth the trip.

website: möblersingapore.com
phone: +65 8328 8810
address: Tag A 81, 02-11 Tagore Ln, Singapore 787502
---
Lorgan's The Retro Store
Finally, for something a bit more out there, Lorgan's The Retro Store is floor-to-ceiling full of retro finds, standout vintage furniture pieces and, yes, some eclectic junkstore flotsam. But it's all brilliant – think beaten up barbershop chairs, lime-green high-mod sofas and surgery lamps through to chic industrial stools, mid-century living suites and the perfect bamboo bar for your poolside sundowners.
website: facebook.com/lorgans
phone: +65 9455 0133
address: 160 Paya Lebar Rd, #02-07, Singapore 409022
---
Where to now?