Property Insiders: Is it a good time to invest in the Singapore market?
Even as Covid-19 rocks the world's markets, attention is turning to the inevitable economic recovery – and when and where to invest. So is it a good time to get back in to the Singapore property market, and if so, what are the best buys?
Property Insider and real estate agent Roland Lek, associate group director at PropNex Realty has been here before. We sat down with him (online) to talk through past financial crises, how the property market performed and what we can expect in the months ahead.
---
Given the global crisis, the local circuit breaker, and the emerging recovery particularly in key Asian markets, how resilient is the Singapore property market?
Roland Lek: There are a few things to consider here. Back in 2008-2009, the Lehman Brothers bankruptcy and the global market crisis that followed saw property fire sales in Singapore. At that time, there were no restrictive measures over investments. Those who couldn't hold on to their properties desperately tried to dispose of them.
Since 2013, Singapore has been practising financial prudence in the property market with a list of measures like Additional Buyer's Stamp Duty (ABSD) and Total Debt Servicing Ratio (TDSR). As a result, Singapore consumers have been largely forced to buy properties within their means.
Also, for the past few years, the property index has ranked Singapore's property to be the most affordable as measured against income. So I think we'll see more resilience in the property market this time round, especially in the resale market.
At the same time, we are seeing some discounting in the new launch space, as well as developments that are priced more attractively than they might have been had they launched under more favourable conditions.
Let's talk precedents. We've been in similar-ish situations before with SARS (2003-2005) as well as the Swine Flu outbreak of 2007-2008. Walk us through what happened to the Singapore property market after those outbreaks.
Roland: If you look at the data, during the SARS and Swine Flu outbreaks, property prices were at their lowest.
Warren Buffet once famously said, "Be fearful when others are greedy, and be greedy only when others are fearful." We must understand that in every problem, there is also a great opportunity.
Right now, people are waiting for more certainty, or at least for signs of confidence and recovery. But time and again, savvy investors have proven that it's precisely at this point before the market rallies that you can achieve the strongest returns. The market saw 115% growth in just three quarters following the low of the SARS crisis, and 88% in the four quarters after Swine Flu.
This is the best time to enter the market as developers are not selling high and you'll be able to reap higher returns in the long run.
Should property investors rethink their strategy?
Roland: As a buyer, you must always be cautious when you enter the property market.
Having said that, I always advise and help my clients with careful financial calculations and planning. This helps us anticipate our profits and reduce risk through the investment journey. The end goal is to reap the highest returns without exposure to risk.
It's a good time to restructure your portfolio. If you're waiting for the market to fall even further, my suggestion is don't wait any longer. The property market has proven quite resilient in Singapore and when the situation becomes better, you might not have the chance to react before the market turns around.
Take China, for instance. As per a report in the South China Morning Post, China's housing market tripled in 30 major cities, despite the global pandemic.
For investors who are ready to take the next step, which districts offer the most opportunity?
Roland: Prime district like D11, D02 and D03 are looking very attractive at the moment, and a few launches in these areas have been priced lower than expected.
And are there any projects in particular that have caught your eye?
Roland: There are a couple of projects that are certainly worth looking at. You should consider Marina One Residences and Avenue South Residence (pictured below). Both these projects have good entry prices as compared to nearby launches.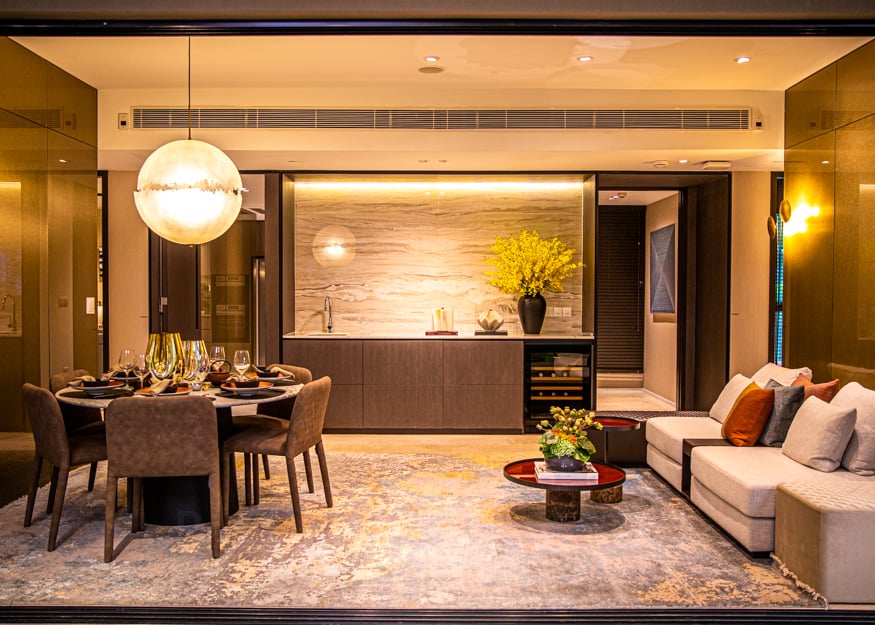 Get in touch with Property Insider Roland Lek for more information on the Singapore real estate market:
EMAIL | WHATSAPP | CALL
---
New launch condo listings to consider
– Modern three-bedroom apartments in Avenue South Residence
– Two-bedroom deluxe apartments at Kopar at Newton