Making a splash: The eight best condo pools in Singapore
From those early morning laps and poolside BBQs to a spot of sun-catching or splash around with the fam – where would condo life be without swimming pools?
Here's our take on the best condo pools Singapore has to offer…
---
South Beach Residences
We've said it before and we'll say it again. South Beach Residences has one of the best infinity pools in the country. Where else can you get a view of MBS, Marina Bay, National Gallery, the CBD and beyond (you can even catch a glimpse of the cable cars at Harbourfront). High up on the 22nd floor, it's without a doubt among the best views money can buy. There's nothing quite like catching the sunset from this spot and waiting till the city lights come alive.
Go further with South Beach Residences: amenities, interiors, pricing.
---
Rivergate
Every year developers out-do each other to create ever more astonishing pools to wow us and take our money. But this pool at Rivergate remains one of our all-time favourites, and perhaps the top family-friendly condo pool going around. For one thing, it runs along the riverside, and you have this peaceful, waterfront vibe as you loll about. For another, you can lounge / play / picnic next to the pool on a sprawling lawn – which is pretty hard to come by these days, and almost unheard of in Robertson Quay (although new launch condo The Avenir is upping the lawn ante). But it's also the sheer size and meandering length of the pool that we love, from the lap area to the long windy bit that wraps around the towers, offering space for kids, quiet, laps, you name it.
---
Wallich Residence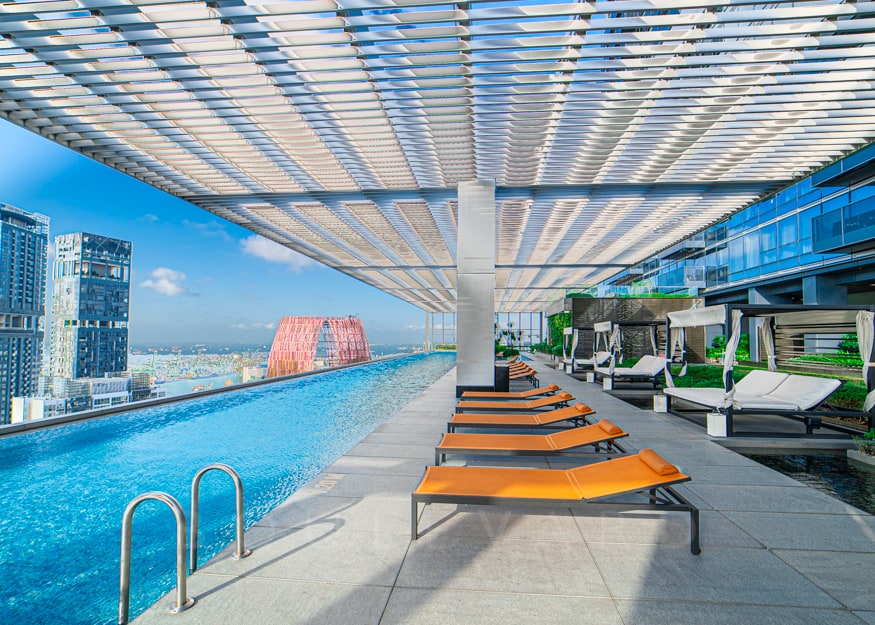 The tallest tower in Singapore is also home to an exclusive collection of luxury homes, where residents enjoy a prime CBD location, swanky apartments, world-renowned neighbours – and jaw-dropping facilities. At 180m above sea level, this loooong infinity pool overlooks the iconic Tanjong Pagar skyline and the Singapore Strait. Cabanas and in-pool loungers let you relax and take it all in.
Go further with Wallich Residence: amenities, interiors, pricing.
---
Grange Infinite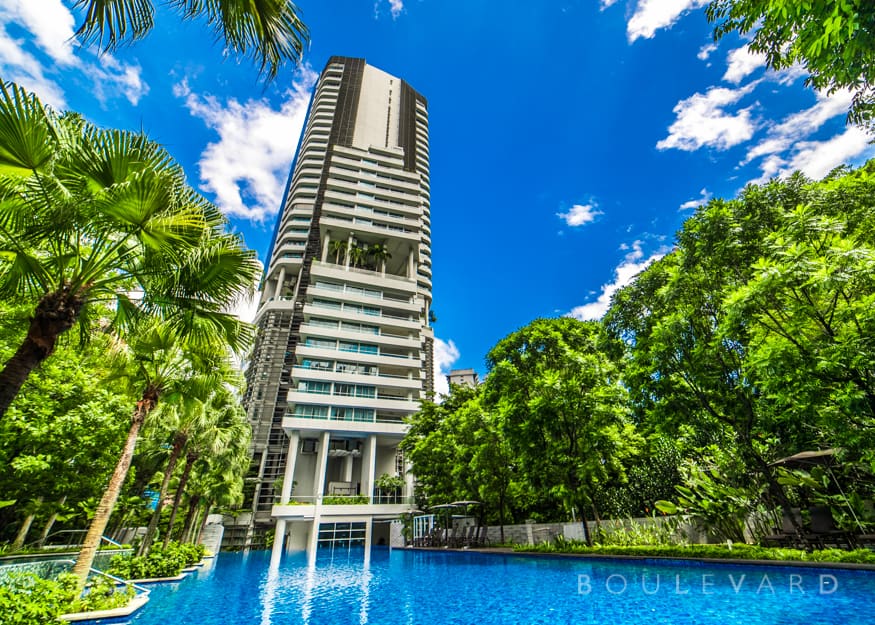 Grange Infinite turns heads – and it's not just the pink balconies. The site is extravagantly large (with equally generous interiors), and boasts an Olympic-length swimming pool surrounded by greenery. Plus, running alongside it is a spa pool with in-pool loungers for multitasking: catching up with a riveting book while working hard on a tan.
---
The Balmoral
The Balmoral condo in District 10, with its art deco embellishments, Brutalist slabs and signature curved cylinders, is a nostalgia lover's paradise! And this might be the best retro pool in town, complete with islands full of palm trees, winding shallow rivers and expansive poolside terraces.
---
OUE Twin Peaks
Residents of this luxury condo are treated to more than just sophisticated apartments, enviable convenience and Orchard views. OUE Twin Peaks features some of the best amenities in the district and a pool that'll trick you into thinking you're on a holiday. The Balinese resort-style swimming pool is a catalyst for relaxation and Insta-worthy pool shots. After all, it was designed by renowned architect Bill Bensley who gave us Capella Ubud, Four Seasons Resort Koh Samui and Chiang Mai and other luxury resorts.
---
The Marq on Paterson Hill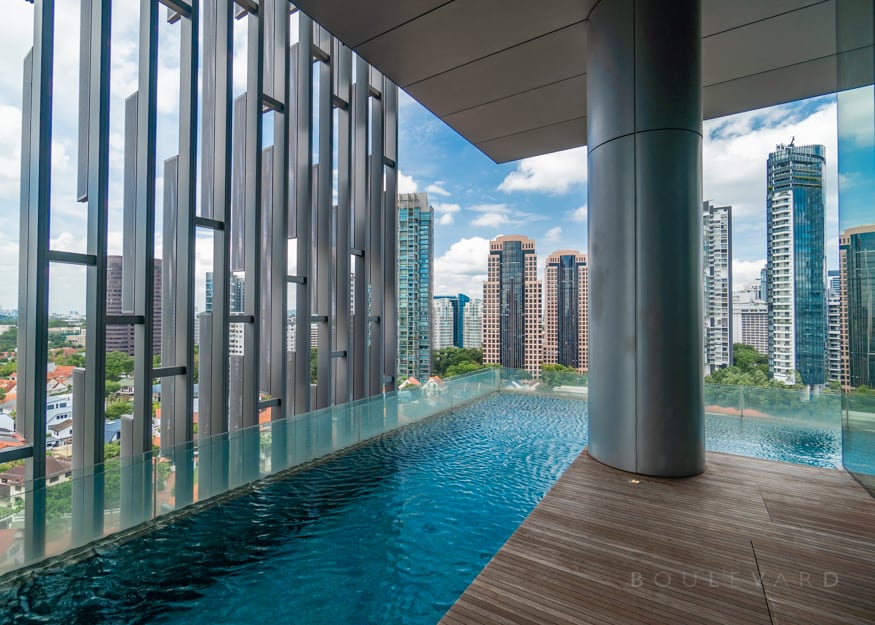 Can't have a best condo pools roundup without drooling over the world's first cantilevered private pools! Never mind the lovely, resort-style shared pool, The Marq's Signature Tower features a 15-metre wrap-around private infinity pool for every apartment. And before you ask, yes it's got those jacuzzi jets, an architectural screen for privacy, and unblocked views of the Orchard Road skyline.
---
Bonus: Boulevard 88 (new launch condo)
We just had to rave about our namesake, if unrelated, new launch condo Boulevard 88. Set to become a new luxury landmark in Orchard, this two-tower, 28-storey residence by Moshe Safdie is bridged by a rooftop sky terrace featuring the acclaimed architect's signature infinity pool. Think MBS without the crowds.
Go further with Boulevard 88: unit mix, amenities, pricing.
---
Where to now?