The most luxurious penthouse apartments in Singapore
Sky-high and seriously stunning, the penthouse life epitomises luxury. Interestingly, Singapore happens to have its fair share of ultra-luxe homes in the clouds. In fact, 6 out of the 11 super-penthouses (it's a legit term, more on this later) in the world are right here on the Little Red Dot.
So how about a little peek at Singapore's (super and almost-super) penthouse apartments worth snapping up…
---
Wallich Residence penthouses by GuocoLand
Can't talk penthouses in Singapore without fawning over Wallich Residence. One of the most enviable addresses on the island, this luxe condo has 4 penthouses and 1 super penthouse.
And we've just listed the last new Wallich Residence penthouse that's going for a sweet $19.28 million – take a look around this 4-bedroom, 3,509 sqft penthouse with breathtaking sea views and indulgent proportions.
As for Wallich's super-penthouse – it sold for S$73.8 million in 2019 to Brit entrepreneur James Dyson. It takes out three floors (62 to 64) of Guoco Tower in Tanjong Pagar and spans a whopping 21,000 sqft. What's inside? About 5 bedrooms, an entertainment room, family room, dining room, living room with bar, private garden, 12-metre swimming pool, jacuzzi, insane views and such. Apart from this palatial super-penthouse, Wallich Residence also has four regular-penthouses apartments for around $20 million each.
Circling back to the concept of 'super penthouses'… If penthouses weren't uncommon enough, the ones labelled 'super' are absolutely rare. As of 2019, there are only 11 super-penthouses in the world and six of them are in Singapore! To qualify, it ought to be at least 10,000 sqft and housed in a building 1,000 to 1,900 ft in height.
Psst: Want to peek inside a 4-bedroom with study unit at Wallich Residence?
---
Twenty-One Angullia Park penthouse by TCRE & Y Developments
Twenty-One Angullia Park is one incredible development and it's home to a swanky triplex penthouse that spans three floors at 7,717 sqft. On offer: insane double-height ceilings, unrivalled views from Orchard to the CBD, private lift, large terrace, 4 bedrooms, 6 bathrooms, a glittering private pool and a whole lot more.
One penthouse apartment is currently for sale at $38m; see the listing on Boulevard for details – and enquiries.
---
Hilltops super penthouse by SC Global
Turns out Twenty-One Angullia Park isn't the only penthouse around Orchard Road. At SC Global's Hilltops condo there are four penthouses apartments (including one super-penthouse). Ranging from 5,300 – 12,600 sqft, each luxe home in this resort-style condo features a private pool and roof terrace.
---
Concourse Skyline super-penthouse by Hong Fok Land
Taking over levels 39 to 41 of the Concourse Skyline on Beach Road is one unique super-penthouse that spans over 11,000 sqft. Aside from sweeping views of Singapore, this high-end home is decked with the most luxurious labels and custom-built furnishings made by some of the world's greatest artists, designers and craftsmen. Oh and there's also a private spa and a private pool on the second floor for the ultimate unwind.
---
Boulevard Vue penthouse by Far East Organization
Another one in the general Orchard Road area situated in the 28-storey Boulevard Vue has one apartment per floor. Here the top three floors house a majestic super-penthouse. This 11,098 sqft triplex is believed to have sold for $52 million. On the rooftop, there's an open-air 25-metre swimming pool with unblocked views of the Singapore skyline. Goes without saying, it's fitted with only the best appliances by luxury brands from around the world.
---
The Marq on Paterson Hill penthouse by SC Global Developments
Wallich Residences' super-penthouse asked for $108 million but The Marq on Paterson Hill's 17,500 sqft penthouse tops it at an indicative price of $128 million. Taking over the top three levels of the Signature Tower is an impressive and enormous home with a private pool, 5 bedrooms and even a secret den behind a rotating cabinet. It's also entirely furnished by Hermès.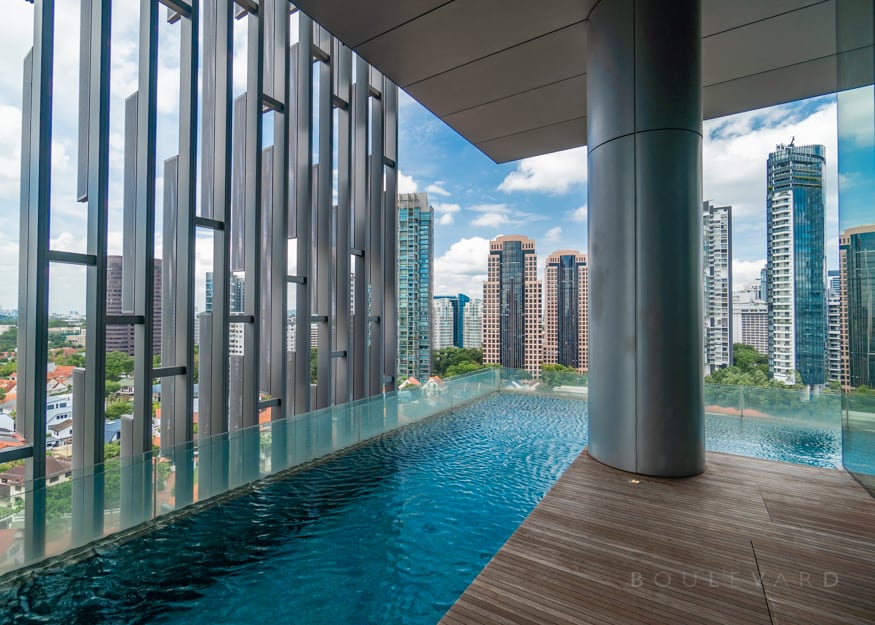 How about a peek inside a grand 4-bedroom home with a private pool at The Marq that just hit the market?
---
Reflections at Keppel Bay penthouse
Designed by architect Daniel Libeskind, Reflections at Keppel Bay is a stunner – as is its penthouse. It's got it all: 6 bedrooms, an entertainment lounge, a private pool and one incredible view of Sentosa and the sea.
---
New launch condo: 15 Holland Hill by Kheng Leong
One of the well-appointed residences in D10, this new launch condo offers exclusive garden homes in the sky. Get the complete low-down on 15 Holland Hill's stunning units here.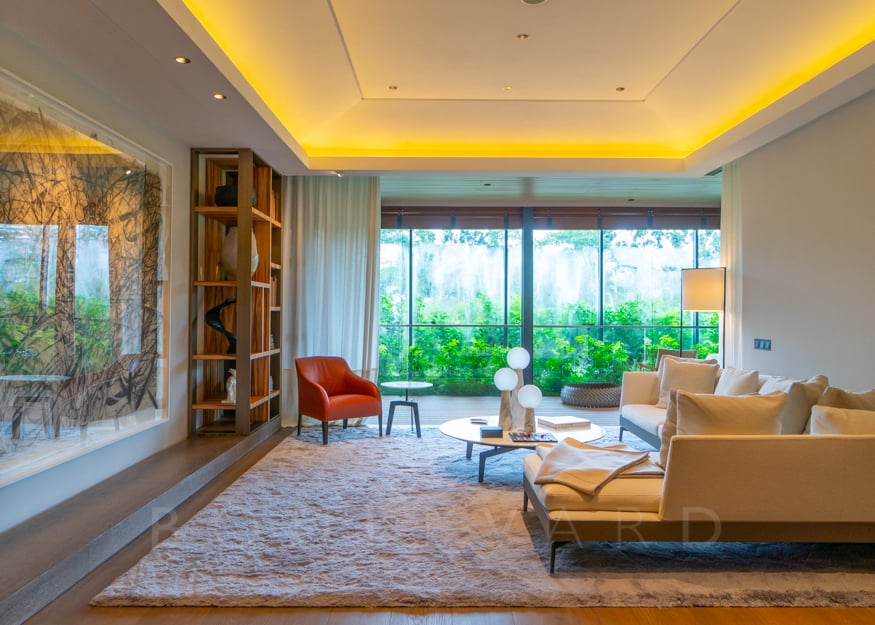 Out of the 59 freehold units on sale, there are just three penthouses sitting atop each tower. Premium 5-bedroom homes weighing in at a whopping 5,425 sqft, these penthouses occupy one single floor. Kitted out with unique amenities and enormous proportions, these trophy penthouses are listed on Boulevard Homes!
---
Where to now?